Why not let your social media 'peers' decide? All 3.5 billion of them.
With over 3.5 billion global checkins, ten of millions of individual reviews, over 30 million people in its social media network and a comprehensive search engine built into its site, Foursquare is quite simply, a monster. And growing quickly.
Some large cities in the States now have 'best of' lists. Looking for the best burgers in Atlanta? top things to do in the great outdoors in Chicago? look no further.
Foursquare isn't quite as popular in mobile-friendly Spain.....yet, but its growth is staggering. Let's take a quick look at Malaga.
Where are today's top 10 places to visit in Malaga according to Foursquare?
Heladerías Inma and Kalúa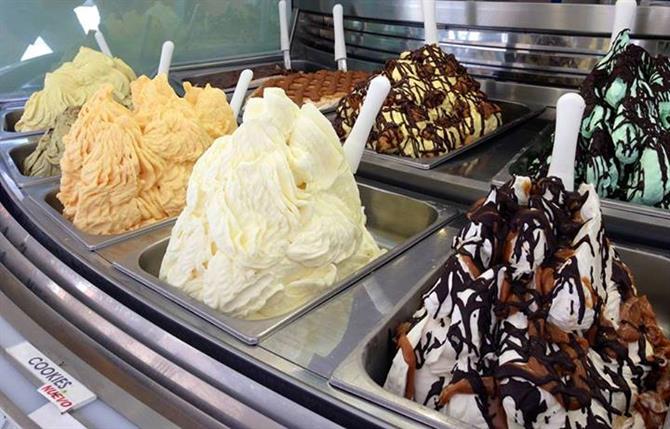 Top of the list are two ice-cream parlours, Heladerias Inma and Kalúa Helado Artesana. They both gained almost mythical fame over the summer months. And the queues to go with it.
Heladerias Inma is situated near carretera de Cádiz (C/ Moreti, 15), top tips include their Kinder and Ferrero Rocher chocolate ice-cream.
Kalúa Helado Artesanal is situated in Av. de Plutarco, 75 (on the corner with C/ de Eolo) - Foursquare reviews and map. As its name suggests, Kalúa specialises in homemade, artisanal ice-cream.
Top recommendations include the banana splits, Kinder and Turron flavours. They also offer promotional discounts for 1st time 'checkins.'
Restaurant Matahambre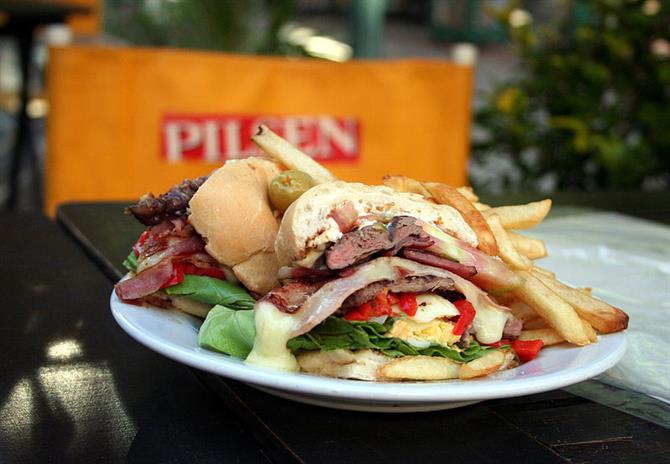 The Matahambre 'hunger killer,' restaurant chain is a popular venue wherever you are and none more so than in Malaga's city centre.
Famed for its quality tapas, extensive menu and exceptionally slow service...if looking for an authentic 'Malaguena' experience, you can't go wrong. Come with time to spare though. Service is painfully slow.
The meat-rolls come most highly recommended. Located on Calle Calderería, 7 - for more Foursquare information.
Plaza de la Merced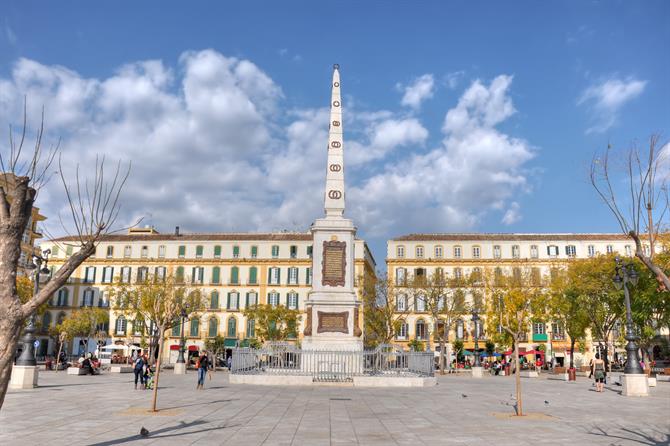 The heart of Malaga.
Plaza de la Merced is a hive of activity with bars, restaurants, numerous shops, the famous obelisk in memory of General Torrijos and, of course, Picasso's birthplace - now the Museo-Casa Natal Picasso - map.
Little surprise Plaza de Merced ranks so highly….it is usually top of anyone's list when visiting Malaga.
For more information, see a photographic journey through Malaga's top 15 sights.
La Rosaleda football stadium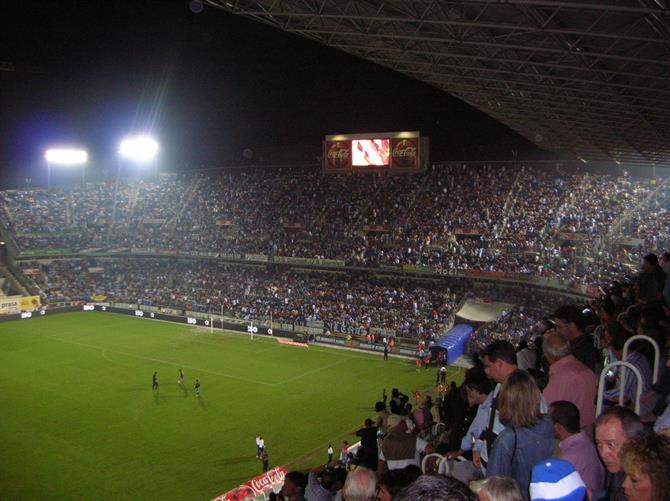 Home to Malaga Football club and a special place in the heart of all Malaguenos.
The Rosaleda football stadium is situated just outside of the city centre, in a fairly characterless neighbourhood, but with Malaga's continued footballing success it is an increasingly popular 'check in,' map.
Top tip by submitted by Ideanto 'there's always a good excuse to see a game. Malaga's fanatical fans are always a 10 out of 10' - Foursquare.
La Tetería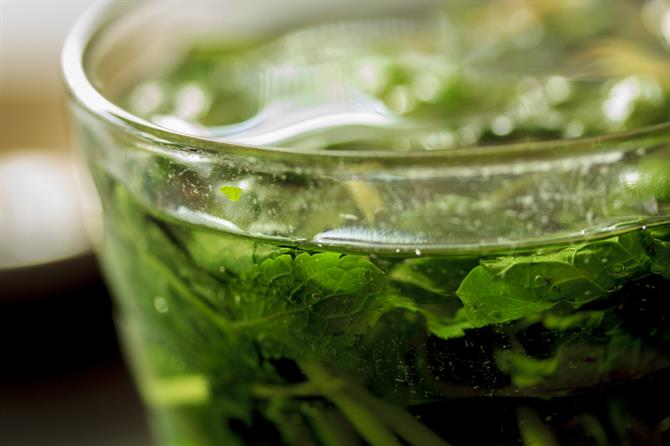 An 8.6 out of 10 and popular with popular with 'out-of-towners'
La Tetería is situated right in the heart of the city on Calle San Agustín. Offering an impressive collection of teas, cakes and sweets, its appeal is easy to understand.
If wanting to try some traditional Arabic mint tea with all the trappings, look no further. First one free with your 'checkin' Foursquare.
Bodega-Bar El Pimpi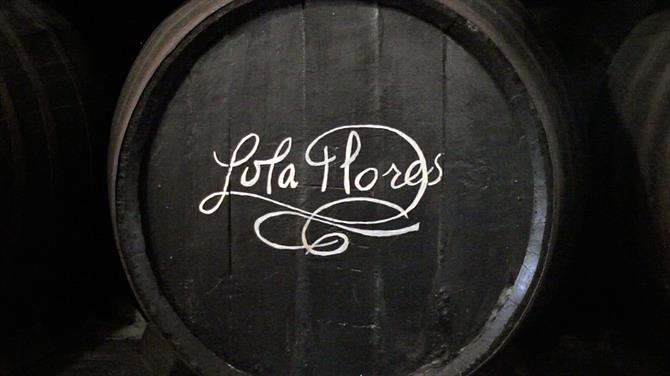 No Malaga list would be complete without the Bodega-Bar El Pimpi. We were surprised it didn't come further up the rankings.
More of an institution than a bar, the Pimpi has to be seen to be believed. Tapas, wines and some of the best ambience to be found.
See Spain Holiday's Bar Pimpi video for more information.
Muelle Uno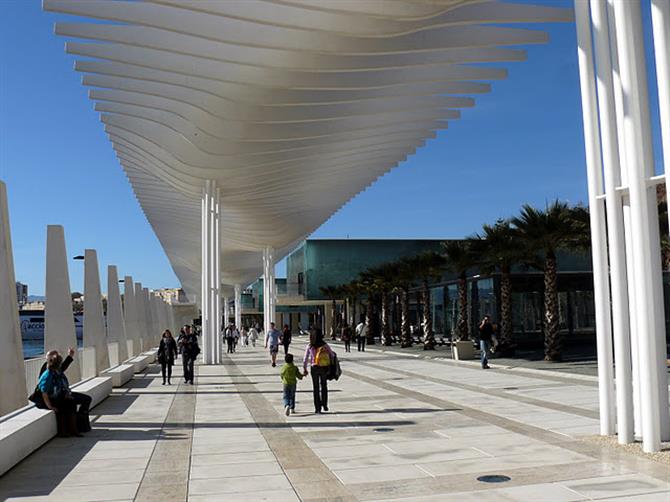 Malaga's new port area, with Muello Uno and Dos (docks 1 and 2) and the waterfront promenade invitingly named "The Palm Garden of Surprises," "Palmeral de las Sorpresas" in Spanish are popular spots and with good reason.
Tastefully designed, with plenty of green areas, children's parks and some of Malaga's best restaurants, including the Michelin starred, José Carlos Garcia restaurant. There's no better place for an evening 'paseo' and a bit of people watching.
For more information, check our article on Malaga's port Muelle Uno.
Mercado de Atarazanas
Malaga's central market is always a hive of activity. The former Arabic shipyard is steeped in history. The entrance arch from the original building is still standing today. A walk through it is guaranteed to be a feast for the senses.
Fruit, vegetables, fish and every conceivable kind of spice and olives type are all being sold (loudly).
If feeling hungry, the Cafe-Bar Mercado Atarazanas and the newer el Yerno are recommended for tapas.
For more information, check our article on Malaga's Atarazanas market.
Los Gatos Restaurant
Los Gatos restaurant comes in at number 9. The restaurant is quickly gaining a reputation for itself as one of Malaga's best.
Traditional Spanish cuisine with a distinct Andalusian twist. Top tips include its Iberian ham and the 'expertly pulled beers. Situated in Plaza de Uncibay - map, it is one of the last quality restaurants in Malaga that gives free tapas with a drink. Price/quality ratio is fantastic.
For more information on Los Gatos in Malaga.
Novembre
Just round the corner from Los Gatos is another up and coming restaurant - Novembre. Situated on Calle Álamos, 18 - map. The emphasis is on salads and gourmet hamburgers. Responsibly priced and great value for money.
Top tips include, unsurprisingly, the hamburgers and sandwiches. For more information - Foursquare.