If you are looking for a stylish seaside resort with a nice mix of local life and good tourist facilities, consider Sitges. Just 20 miles from Barcelona, it attracts people from the city and has excellent local restaurants. Sitges tends to have better weather than Barcelona as it is protected by the green mountains of Parc del Garraf which are a wonderful sight!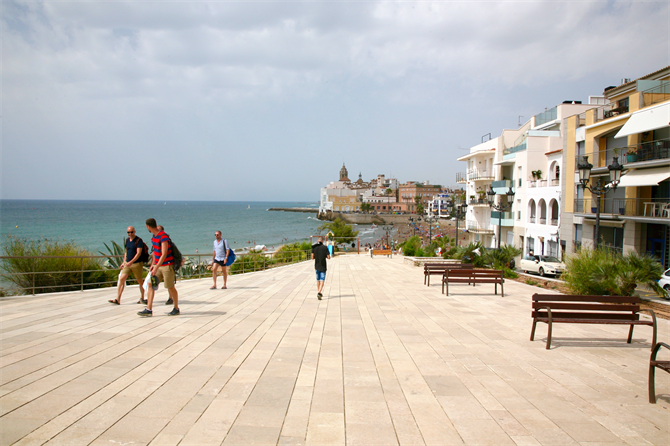 The former fishing village with its whitewashed church and lovely sandy beaches is a beauty for the eye to behold and has a laid-back atmosphere, while at the same time it is one of the Spanish towns with the most festive events per year. And even if you don't run into a local festival during your stay, there are plenty of other things to do during your
Sitges family holiday
!
1. The beautiful beaches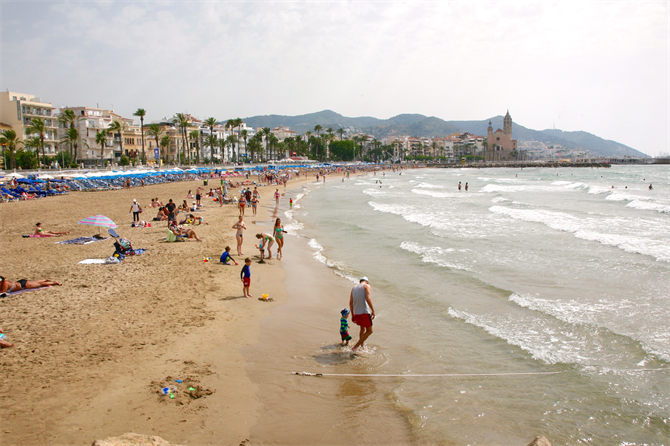 Sitges is a fantastic family destination with more than 300 days of sun a year. Its wide golden beaches alone are great to keep your children happy and entertained. There's a variety to choose from and most have basic facilities such as showers and refreshments.
The sandy beaches closer to the town centre are the most suited for families, as they offer the best facilities and run along the promenade, where children can cycle and roller skate. Another nice place for children is the spacious Terramar Park, which has playgrounds, trees and shady spots and picnic areas for the whole family.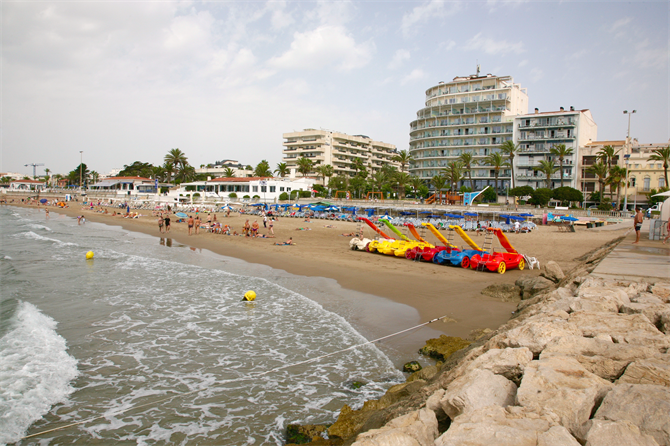 If you check our
Sitges beach guide
, you will find that several beaches have rental services for kayaks and pedalos.
Fragata beach,
for example, also offers space for volleyball and football. From June to September, there are extra activities at the more central beaches, such as lessons in water aerobics and workshops for children.
2. Experience a local festival with the whole family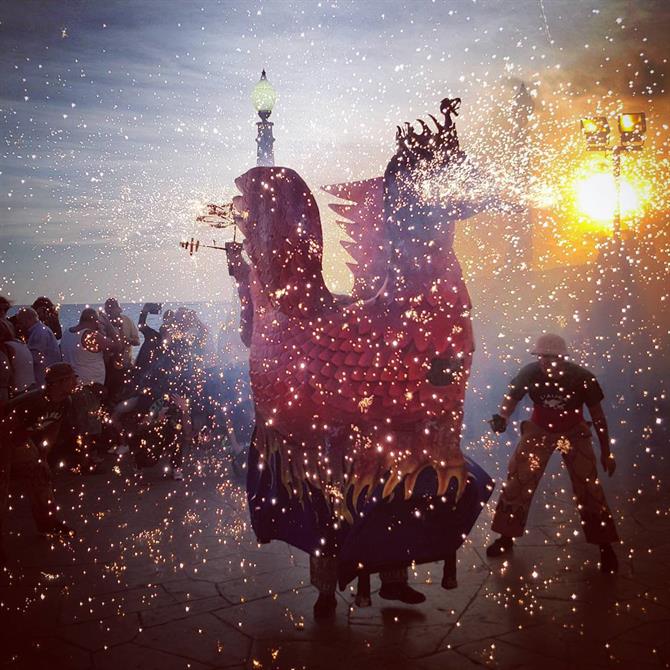 You may not even need many of these activities in the summer, as this is the time of the year when the most festivals take place. The Sitges Festa Major and Santa Tecla, for example, include family-oriented parades with dragons, giants and impressive fireworks you can watch from the beach. Not to mention local traditions like the Catalan human towers. They will offer you and your children a spectacle you'll never forget!
Or how about a festival where giants dance on the most amazing flower carpets in the streets of Sitges? Even the world famous Carnival of Sitges in February offers special junior parades in the afternoon. You can read all about these fantastic
fiestas
in our
Sitges festival guide
. There are events all year round!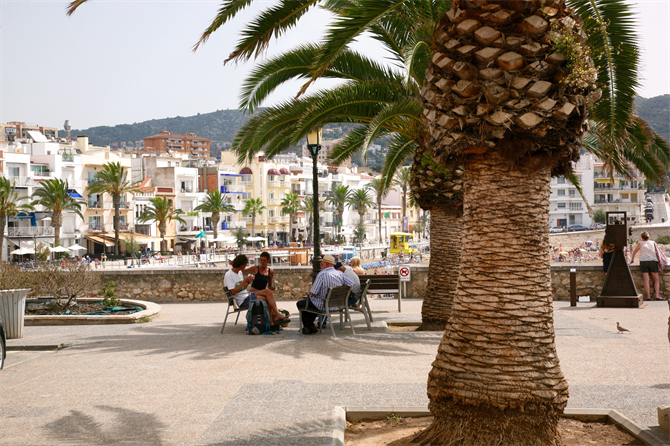 If you visit Sitges with its mild microclimate during the Christmas holidays, the town offers special activities and workshops for children in the 'Parc de Nadal' (Christmas Fun Park). On the 5th of January, your kids can even experience the magic of the Reyes Magos parade (Three Wise Men), which we explain in our Sitges festival guide.
3. Explore the town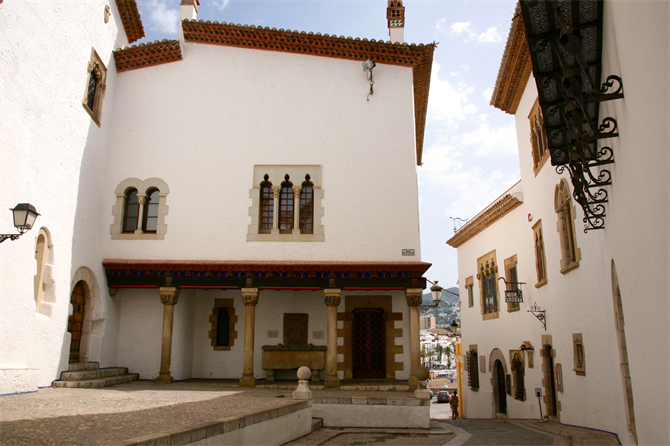 The old town of Sitges offers picturesque cobbled streets and squares with beautiful white houses, flower decorations, nice little shops, bakeries, bars, restaurants and plenty of terraces - don't forget those overlooking the sea at the San Bartolomè i Santa Tecla church, which you can also visit inside.
After a lovely day on the beach, you can go for a stroll along the promenade, where people traditionally go on summer evenings, all dressed up. A night out can be dinner and cocktails on a terrace but there are also a few areas in town with bars and clubs for those who want to dance or party.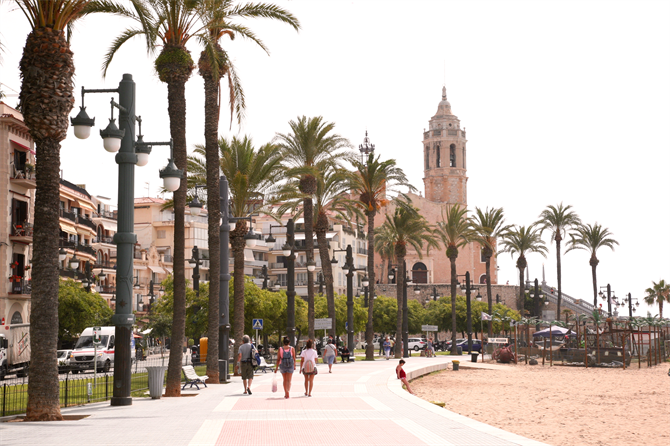 The cosmopolitan town is lively all year round, especially at the weekend, when more people come to visit Sitges from the city of Barcelona. It never feels too crowded or touristy though, while at the same time there is always enough to do.
For those who like cultural activities, there are a few museums in Sitges, such as the beautiful Cau Ferrat Museum, once the home workshop of Santiago Rusiñol, an artist of Catalan modernism. It has all kinds of art, from ceramics to paintings by Picasso and other artists.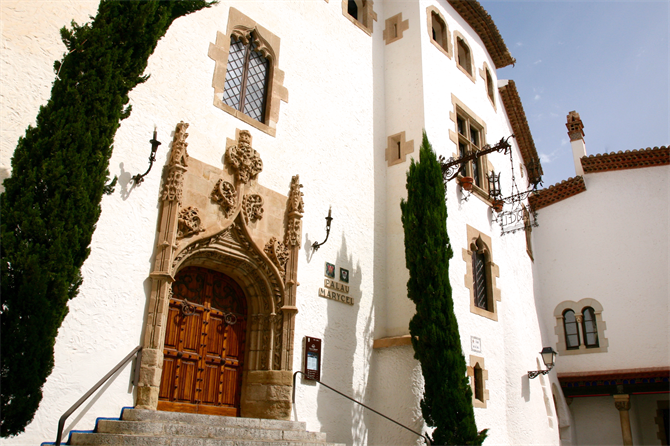 Or you can visit the Palau Marycel, which houses a wonderful medieval collection of art. The museums in Sitges offer family workshops, they are free for children under 12 and there's is an adult pass which gives you a better price than paying separately for each museum.
4. Enjoy outdoor activities in the sun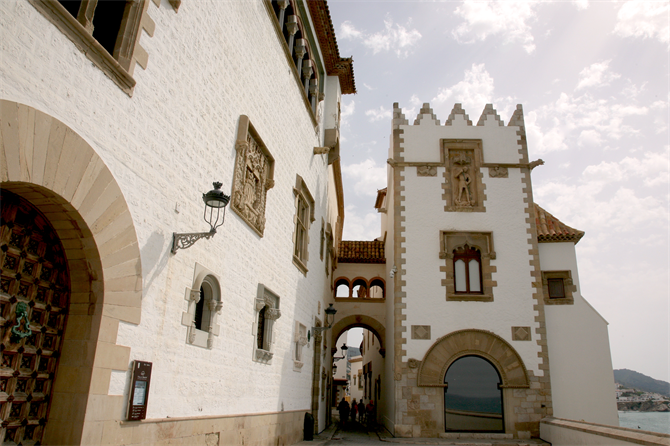 Sitges has no fewer than three marinas and where you can take part in a selection of water sports, especially at Sitges' Aiguadolç port area. So if you are looking for more activities for your children than the usual playing and swimming on the beach, you can sign them up for lessons in sailing, surfing and more. Booking a
Sitges beach villa or apartment
close to a beach with these activities is ideal for a comfortable stay and fun holiday for your kids.
Activities such as water skiing, windsurfing and kite surfing are usually possible in surrounding areas like Garraf. There and in Sitges you can also find companies which organise outdoor activities such as horse riding and mountain biking.
A glass bottom boat trip for the whole family is available in Sitges and always relaxing on a sunny day. Or you can try a different type of sailing excursion - there are plenty of options.
5. A visit to Garraf Natural Park
Sitges has stunning surroundings to discover. How about, for example, an excursion to the beautiful
Garraf Natural Parc
? It has a lovely Mediterranean feel and offers workshops, exhibitions and a variety of both sign-posted walks and guided itineraries (at weekends), among other things. Specially adapted itineraries for the disabled are also available. You can even opt for a guided tour in a mini bus which leaves from the tourist office in Sitges.
One of those lovely sign-posted walks is the one to the castle
Castillo de l'Eramprunyà.
It starts at la
Ermita de Nuestra Señora de Brugués
(see map at the bottom) along the
Gavà a Begues
road. Right next to this
Ermita
or chapel there is the traditional
Señora de Brugués
restaurant but you can also take a picnic to enjoy near the castle, where you have breathtaking views from above.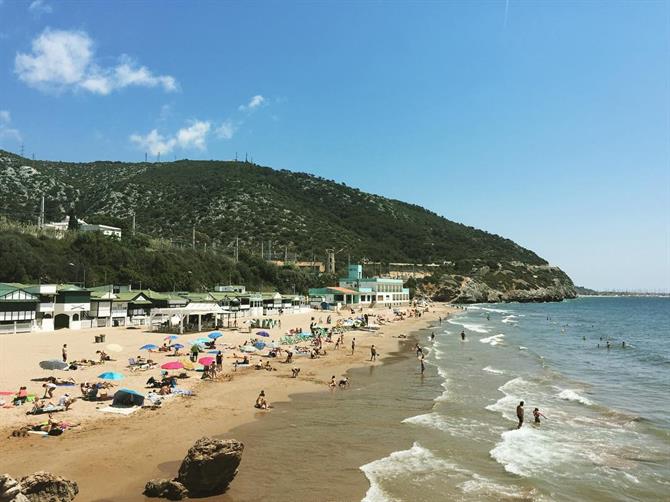 If you are looking for just a relaxing day trip with the kids, why not pack a lunch and simply take the train to Garraf for a day on its charming beach? It has kayaks and pedalos for rent too.
6. A day trip to Barcelona
Sitges is only 20 miles south from Barcelona (40 minutes by train) so you can always visit this fantastic city when you are ready for something different. Barcelona is so varied that it has lots to offer for adults and children alike.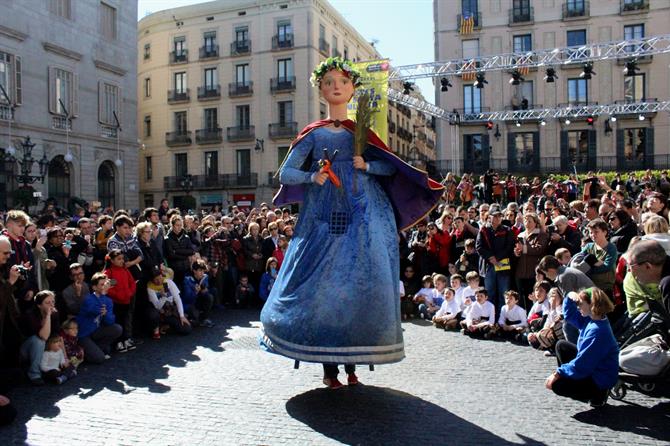 Like in Sitges, there are summer festivals but per neighbourhood, such as La Festa Major del Poble Nou and the more famous Festa Major de Gràcia. The biggest Barcelona summer festival, La Mercè, involves the whole city and takes place in September. Several of these festivals have family-oriented activities in the daytime, including dancing giants.
7. Exploring the world of cava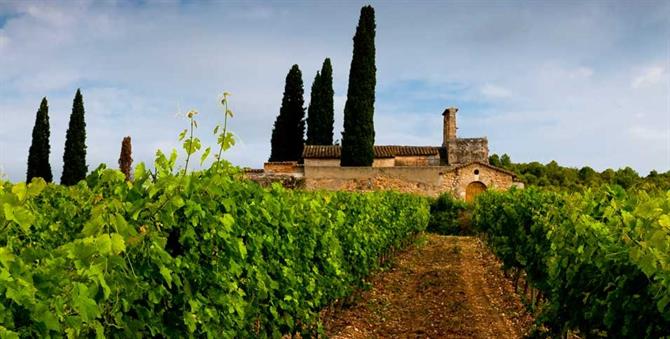 Sitges is located in the heart of the Penedès wine region, famous for its cava but also its beautiful nature. It is less than half an hour by car to Vilafranca del Penedès, the capital of the wine region. So why not go there?
If you fear a wine tour may be too boring for your children, have a look at bodega Freixenet, for example, in our Penedès Cava Route guide. This vineyard offers tours specifically designed for families with children. They include an entertaining audiovisual presentation and a miniature train ride, after which children can taste juice while their parents taste the wine.
8. Fun with the kids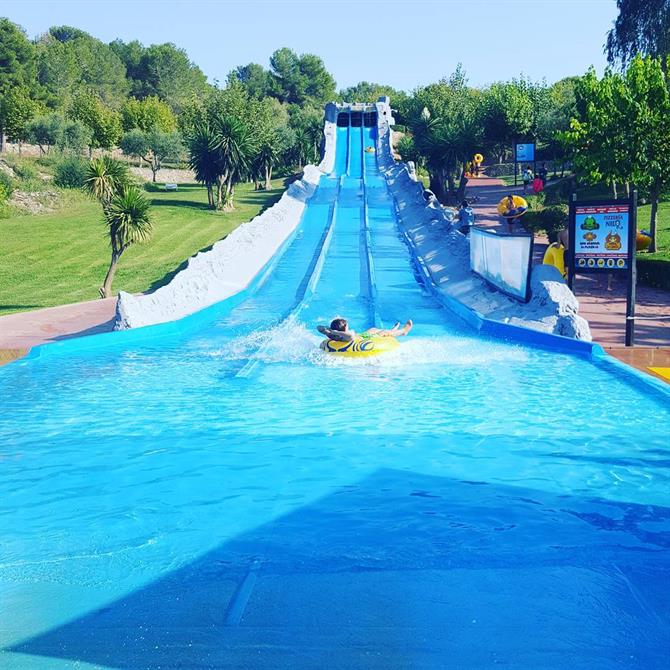 Tarragona is just 40 km south from Sitges and you can also go there just to have fun with your kids in the huge Aqua León Water Park and Zoo, with slides and all kinds of fun water attractions. A ticket gives you entrance to both the water park and zoo. There is a bus leaving from the Sitges tourist office which takes you straight to Aqua León (Reservation and info: +34 97 768 7656).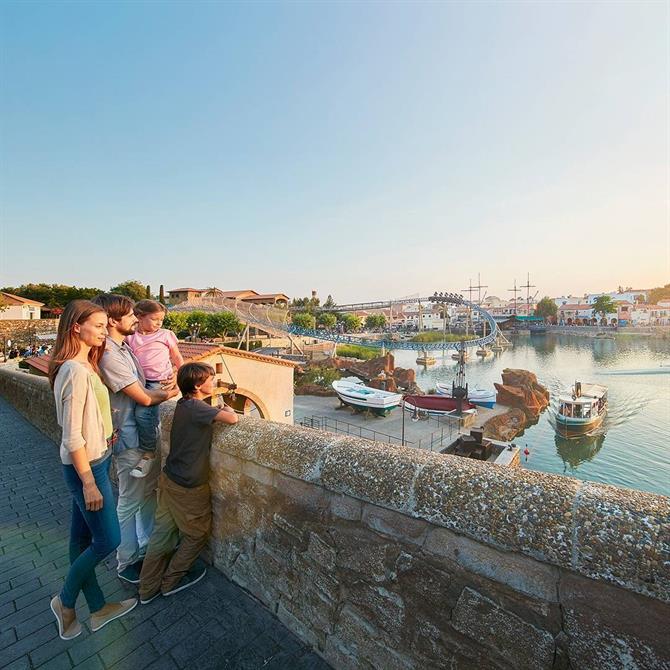 Another option near Tarragona is the impressive theme park Port Aventura, based on the huge Florida theme parks. It has its own train station so you can go there by train from Sitges, first to Tarragona and then just a short train ride to Port Aventura. Check the Renfe train website for more info.