Taking your teenagers on holiday may not be an easy feat, some days they can be full of energy and other days they want to be left alone. With eyes often glued to their smartphones, it is not an easy time for either party, however, a family holiday to Spain could be just what's needed to bring everyone together.
Although teenagers do not always consider their parents as the best travel companions, engage them with fun holiday ideas and entice them with the most instagrammable locations in Spain.
Where To Go On Holiday In Spain With A Teenager?
1. Barcelona
Barcelona - the city of Gaudi, with countless museums, trendy cafes and pubs, designer shops and a million ideas for teenagers. If you do not know where to stay in Barcelona, the city centre is ideal. Apartments in Barcelona overlooking the harbour, the busy streets of Eixample or charming squares of the Gracia district are undoubtedly places that will suit all family members. On a warm day, you can visit one of the beaches of Barcelona, and in the afternoon take teenagers to the bustling La Rambla.
Head to the Picasso Museum, and if you have a contemporary art enthusiast at home, a visit to the Barcelona MACBA is compulsory. You can also rent bikes and take a ride from the port to Barceloneta beach and spend the afternoon there. Barcelona is a very child-friendly place, you can treat your teenagers to an evening on one of the trendy terraces on the top floor of the city's tallest buildings. A non-alcoholic cocktail alongside some of the best views in Barcelona.
2. Lanzarote, Canary Islands
An island of volcanoes, black beaches and spectacular views, if your teenager likes physical activity and trying new things, there is no doubt that a holiday in the Canaries is a great option. If your teenager dreams about learning to surf, stop in Caleta de Famara. This local beach is long, wide and perfect for surfing lessons in the morning organised by local schools, it is also one of the most beautiful beaches in Lanzarote. The village is small, but the atmosphere of positive vibrations and the magnificent views of the monumental hills towering over Famara makes this beach an ideal destination for the whole family.
Lanzarote is a small island, but with lots to do, if surfing isn't their thing you can go for a bike ride or rent cars and visit the white towns scattered around the island. Those who like to stay near tourist facilities should look for apartments in Lanzarote in places such as Playa Blanca, Costa Teguise and Arrecife.
3. Majorca, Balearic Islands
The ever-increasing and the most diverse island of the Balearic Islands, Mallorca attracts millions of families every year. Insane, turquoise beaches? No problem. Awesome trails for hiking? There is a whole list of them. Discover beautiful houses and apartments with swimming pools in Mallorca, where you can enjoy some family pool parties.
What to do in Mallorca with a teenager? Discover the cuisine, explore the island and play sports! Be sure to rent a car and go to Es Trenc, the best beach on the island. For the adventurous, visit some of Mallorca's hidden coves or take a boat trip and go to some of the deserted beaches on the Island.
4. Málaga, Costa del Sol
The city of Málaga has recently become a favourite destination in Spain, not only for long beach holidays but also for short, weekend trips with access to the best beaches of Málaga being easy from every point of the city. Find holiday apartments in Málaga, from those located in the historic centre of the city, located near monuments, restaurants or tourist attractions, to those in Malagueta right next to the beach. Walk around the city and discover the most emblematic points or get to know Malaga on a bike. In Málaga city, there is an abundance of free entertainment for families in teenagers such as visiting the museums, where youngsters go free.
Whilst in Málaga, be sure to take your family on some free excursions around the Costa del Sol, try kayaking in the nearby town of Nerja, hike through the route marked out by the Chillar river or choose to swim in Lake Bermejales. Málaga is the perfect place to combine a city trip with holidays in the heart of nature.
5. Tenerife, Canary Islands
Amusement parks, the sea, mountains, hiking and water sports, Tenerife has it all. With a great variation of holiday accommodation, from apartments by the sea in Tenerife to houses located in the mountains. The mild climate throughout the year makes it a great place take your children on holiday even in the middle of winter.
There are plenty of free things to see and do in Tenerife; swim together in the rock pools in Garachico or discover the famous tree that is over a thousand years old in Parque del Drago.
A family holiday with a teenager - 10 tips on how to prepare for a trip with an adolescent
1. Joint planning. Involve your teenagers in the holiday booking process, ask them where they would like to go and what they would want to do on a family holiday. It may turn out that their friends have just come back from a crazy journey, where they had the opportunity to dive with manta rays, others have gone through a canyon in the south of Spain.
2. Pre-departure shopping. The fact that the teenage body is changing from day to day is a given, engage your teenagers by taking them shopping for some new holiday clothes to get them in the spirit of going away.
Often teenagers put a lot of emphasis on how they look and their physical appearance if they feel comfortable with the clothes they will bring on holiday they may be more enthusiastic about the trip as a whole.
3. Where to stay with a teenager. Teenagers need space, it's not about taking them to a home in the middle of the woods, but their own room will definitely be appreciated. Family apartments and villas with a swimming pool in Spain are perfect for family holidays. Every family member can find their own space, morning meetings in the kitchen or evenings by the pool provide the perfect opportunity to relax together and plan the coming days. Peace of mind is not necessarily what teenagers seek, so instead of staying away from the city, you should think about accommodation close to shops, cafes and the beach, where your children (especially the older ones) may be trusted to go out for a couple of hours alone.
4. Holidays for everyone. Your younger children will probably participate in your trip willingly, but if you want to spend the evening as a couple, you can seek a qualified nanny abroad. For example, on Miss Baby Sitter website.
5. French fries or patatas bravas? When going abroad we definitely think about the culinary experience and Spain will not disappoint. If your child likes to try new flavours, make a point of trying the local cuisine. If, however, your child would resist and prefer to order pizza and burgers at every restaurant, the majority of establishments in Spain are prepared for this too.
6. Difficult topics. A lot of free time means you may want to talk about school, what went wrong and what to do next as well as other difficult subjects. Most teenagers run away from these conversations, so if you do not want your child to spend time in the room and put on headphones for the rest of the trip, it is better to leave heavy subjects at home, as this is a time for everyone to relax and clear their heads.
7. Fewer plans are a good plan. Teenagers love weekends when no one is standing over them telling them what to do and the alarm has been silenced. When planning a trip and everyday activities, it is worth bearing in mind what time everyone has to wake up. Eating and sleeping are favourite activities for teenagers, which is why a less rigorously planned schedule will certainly be better received by them. Also, consider the diversity of holiday plans, even the most patient teenager after entering museum after museum, will start to rebel.
8. Internet. Being in touch with friends and sharing holiday photos via social media is often compulsory for teenagers. You will probably want to limit access to social media, but it is worth considering whether you want to completely deprive your children of contact with friends. If from the beginning of your holiday you determine that the use of the Internet will be unlimited, but only in an apartment or villa, you will be able to enjoy the company of your teenagers outside of the villa.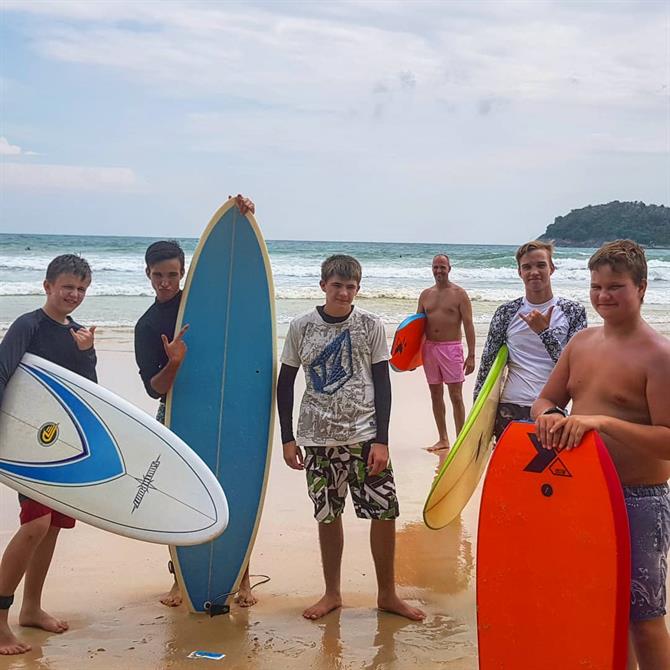 9. New experiences. Sometimes the best way to communicate with a teenager is to venture outside of your comfort zone and turn the role of a parent into a travelling companion. The point is not to put aside authority, rather try new things and challenge yourself. Your son wants to learn to kitesurf? Sign up for lessons with him. My daughter dreams about a diver's course, maybe suggest you do it together. Try something new and fun for both of you, the best way to build memories together.
10. Take them by surprise. Teenagers often have a much greater respect for the opinions of friends, online celebrities or their favourite vloggers. Do some research and maybe you can rent a holiday home in a Spanish destination where their favourite influencers have stayed. You may be able to make a reservation in cafés made famous by bloggers or influencers, where the photos of your food which will be sure to feature on your teens Instagram feed. These seemingly small things could make your life a little easier on your return from holiday!