A holiday should always be synonymous with a sense of luxury and the feeling that you are treating yourself. Wherever you choose to go, you want to return home feeling well-rested and invigorated. The idea of luxury within travel can mean something different to everyone - from culinary experiences to wellness retreats. We have rounded up the best destinations in Spain for a luxury travel experience as well as the most exclusive excursions.
Eat Michelin Star Food In Bilbao
A trip to Bilbao is nothing short of luxury - a wealthy and vibrant city full of flavours, stunning architecture and art. Bilbao is a mecca for Michelin star food, where the chefs are famous for producing traditional Basque dishes. Not only do their creations melt in the mouth but the presentation is perfection.
One of the best places to sample the cuisine from Bilbao is Victor Montes restaurant and Pintxos bar. Established in 1849, they continue to serve authentic Basque-style dishes. For Michelin star food, reserve a table at Nerua Guggenheim Bilbao with innovative Basque cuisine and a terrace with exclusive views of the city. Azurmendi was the first restaurant in the city to be awarded two Michelin stars and is located just outside of Bilbao in a luxury farmhouse setting.
Head to Andra Mari for exquisite food overlooking the Ibaizabal river and across to the mountains. This Michelin star restaurant is also located just outside of the city in an old Basque-style country house. If you are looking for Michelin star food around the city centre, Mina restaurant has one Michelin star and is located on the estuary. Their exquisite menu is served in a rustic setting, with exposed stone walls above a former mine, giving it its name "Mina". Enjoy the taste of local ingredients and after your meal take a stroll down by the river Nervión.
Another luxury travel idea in Bilbao is to visit the Indautxu district. Here you will find individual boutiques with exclusive jewellery and made to measure clothing. Wander around streets like Rodríguez Arias and Alameda de Urquijo or visit Plaza de Campuzano and come across traditional Basque-style taverns, The Museum of Fine Arts as well as picturesque terraces and waterfront parks.
More reading:
Travel Through Northern Spain On A Luxury Train
San Sebastian is a truly special part of Spain. The landscape is characterised by lush green hills and a beautifully rugged coastline perfect if your idea of a luxury holiday to Spain is to be at one with nature and relax.
Discover Northern Spain by train. The Luxury Train Club specialises in excursions through spectacular scenery. Relax in exquisitely designed suites and savour mouth-watering cuisine throughout your journey. The train stops in iconic locations such as Santiago de Compostela, Bilbao and Santander where you can alight and enjoy spa's, scenic walks, vibrant cities and quaint hilltop towns.
This region was historically the favoured holiday destination for Spanish royals, due to its wild stretch of stunning Atlantic coast. Take a few days and rent a holiday home in the countryside, or by the sea. Wake up to the sound of wind rushing through the hills or waves crashing on the sand. Fill your lungs with fresh air and hike to the top of Monte Igueldo. At 184 metres above sea level, it offers unparalleled views of Concha beach and the beauty that is the Basque landscape.
For a luxury mini-break to San Sebastian, stay in the most stylish part of the city, The Old Town or "Parte Vieja". Wander around the charming streets packed with history and culture, lined with rustic Pintxo bars. For Michelin star food, head to Kokotxa located next to the iconic Basilica of Saint Mary.
Another idea for a luxury activity in San Sebastian is to visit the island of Santa Clara. Located in the middle of La Concha bay, reach it by boat. Spend the day soaking up the scenery, enjoying fresh food and discover secret natural pools along the island's shores.
More reading:
Escape To A Luxury Wellness Retreat In Ibiza
Ibiza has always been in the spotlight, from when hippies called it home in the '60s to the infamous party reputation that it continues to uphold today. However, apart from the party scene, the island is becoming synonymous with health and wellness.
More people are choosing Ibiza for luxury travel with the aim of completely switching off, relaxing and focusing on their health. Choose from all-female retreats and mindfulness workshops to yoga-focussed breaks and spiritual healing escapes. Yoga Rosa Retreat is a holistic wellness paradise, tucked away in a peaceful pine forest. Stay at the retreat or just go for the day and enjoy a combination of yoga asana flow, pranayama meditation, quiet reflection and delicious plant-based meals.
If you aren't after a retreat per se, stay in one of the islands typical white-washed villa's. In the area of Portinatx, you will be within walking distance of the pristine beaches and intimate coves backed by hills with beautiful pine forests. Stay in Eivissa and wander the cobbled streets of Ibiza's Old Town. Pick up trinkets in one of the markets and admire the historic buildings. For designer clothes, the most prestigious shopping area in Ibiza can be found in Marina Botafoch where you can dip in and out of high-end stores, nestled amongst stylish restaurants.
Of course, if your idea of a luxury holiday to Spain is to attend the most exclusive events and frequent the most stylish clubs, you won't be disappointed in Ibiza. Two of the most luxurious clubs in Ibiza are KM5 in Eivissa and Nassau Beach Club on Platja d'en Bossa. Reserve a table and party with the elite, or spend the day relaxing to music on the beach, soaking up the sun and cool vibes of Ibiza.
Take A luxury Wine Tour In La Rioja
La Rioja is a region known for its quiet towns, rolling hills, ancient monasteries and wine production. Ideal for a luxury short break, stay in a small village, overlooking stunning vineyards and indulge on wine accompanied by traditional northern cuisine.
One of the best vineyards in Rioja is Bodega Mugas, the only cellar in Spain with a master cooper and three in-house barrel-makers. Located in the Obarenes Mountains, they offer daily tours where you can immerse yourself in the wine production experience. Take your luxury tour up a level and see La Rioja from above with a hot-air balloon ride. The winery will pick you up at an agreed location an hour before sunrise and you will fly over the vineyards. Watch as the sun lights up the landscape displaying colours of lush green, rich red, ochre. Afterwards, enjoy tapas and of course a glass of the good stuff.
If getting out in nature is your idea of luxury travel in Spain, the
Camino de Santiago
has many routes winding throughout the north of the country.
Part of this Christian pilgrimage route
goes through the region of La Rioja, via its capital Logroño. Spend a day wandering around the city's historic centre - a mix of medieval houses and Gothic churches. Enjoy a glass of red in hidden squares and traditional Pintxos down romantic streets.
Luxury Yacht Charter In Marbella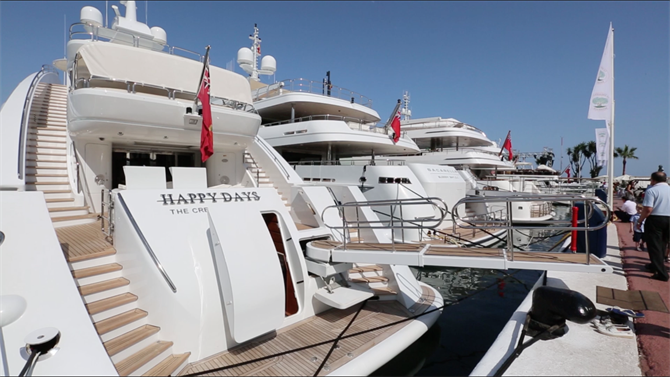 Marbella has long been associated with luxury holidays to Spain, where the rich gather to relax, dine and party at the most exclusive venues. As the jet-set reside here, there are a plethora of luxury activities on offer in Marbella.
One of the most exclusive activities in Marbella is to charter a luxury yacht. Spend the day cruising up and down the Costa del Sol. Enjoy the neverending flow of champagne, exquisite food, watersports and soak up the Mediterranean sun. Maia Fair Marbella offers a choice of charter experiences from day trips to overnight stays equipped with a crew to attend to your every need.
Designer shopping doesn't get much better than along the famous strip of Puerto Banus. Here you will find all the top designer brands in one place, from Gucci and Tom Ford to Hermes and Dior. The backdrop of superyachts moored in the harbour and the abundance of champagne bars only add to this luxury retail experience.
Combine your love of golf with a spa, health and well-being. The Western La Quinta is situated in the "Valley of Golf" surrounded by the Sierra Blanca mountains - a true oasis for relaxation and a haven for golf enthusiasts. Take the morning to tee-off around the 27-hole course and treat yourself to an afternoon in the soothing Moorish-style spa. Choose from a range of beauty treatments and massages to therapy baths and body wraps.
One of the most luxury travel ideas in Spain is to spend the day at a beach club and Marbella is home to some of the most exclusive beach clubs in Europe. Lounge around at La Sala by the Sea or Amàre Beach where the champagne flows all day long under the Spanish sun. For the most opulent clubs and extravagant parties, head to Puerto Banus and be sure to reserve a table at top spots such as Olivia Valère and Pangea to receive the ultimate VIP treatment.
Luxury Shopping Experiences In Madrid
With decadence on every corner, Madrid is a city that oozes luxury. The most exclusive neighbourhoods are Chamberí, Salamanca, Retiro. Chamberí was historically known as the aristocratic part of Madrid and today is identified by art galleries, swanky bars and up-market restaurants. The Salamanca district has some of the finest buildings in the city with elegant foyers, facades and interiors and is just a stone's throw from Spain's most expensive shopping streets - Calle Serrano.
One of the best luxury travel ideas in Madrid is to hire a personal shopper to take you around the most exclusive shops. Taking 3-4 hours, they will ensure that you have the best shopping experience, visiting Calle Serrano - where you will find many top-end designers all in one place, as well as little boutiques reserved for only those in the know.
See some of Madrid's most famous art collections and book a private tour at the Reina Sofia Museum. Admire Picasso's masterpiece, Guernica, (one of the greatest and most influential works of art in the world) away from the bustling crowds and round off the evening with a cocktail reception. The Thyssen and Prado museum also offer exclusive tours. After the tour, surprise your partner to dinner and entertainment in the luxury setting of a museum.
For luxury dining experiences, Madrid is home to some of the best chefs in the world. David Muñoz is currently one of the most famous chefs in Madrid and his menus are constructed around the concept of "a journey through hedonism and greed". With a 3-hour dining experience featuring more than 20 dishes, taste his sublime Avante-Garde creations at DiverXO in the Chamartin neighbourhood. For more expertly crafted dishes, Santceloni restaurant in the Salamanca district has a critically acclaimed 2-star Michelin menu. With space for just 45 guests and a smoking club, book in advance to secure your table.
Suggested articles for you: