Gothic cathedrals, a romantic church on a rock or rather an intimate beach celebration at sunrise: these are all examples of destination and location ideas that excited future brides might have for their wedding day.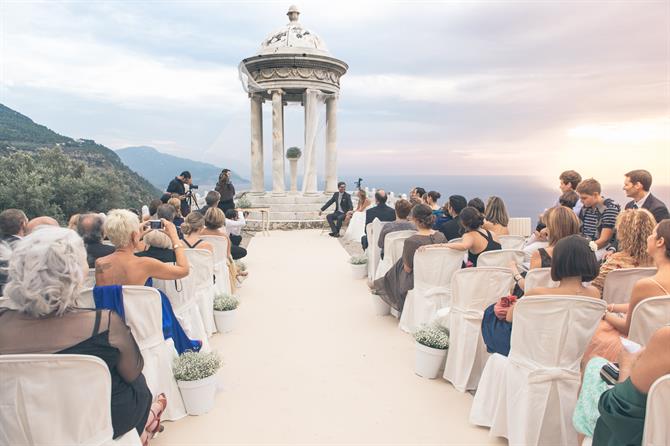 Couples tend to have quite some criteria when it comes to selecting an amazing location for their wedding day. Does it have that special touch that they are looking for? It doesn´t get a lot more romantic than a wedding accompanied by the soft Mediterranean climate, the sea in the background and great food and wine during the wedding.
A Spanish Wedding - Where to start?
Organising a wedding can be overwhelming, as there is a lot to take care of and couples will experience more stress as the date gets closer. The minimum amount of time that is needed to organise is about three months, mainly because of the paperwork that needs to be taken care of. However, it is of course recommended to take your time, especially when deciding to get married in a different country.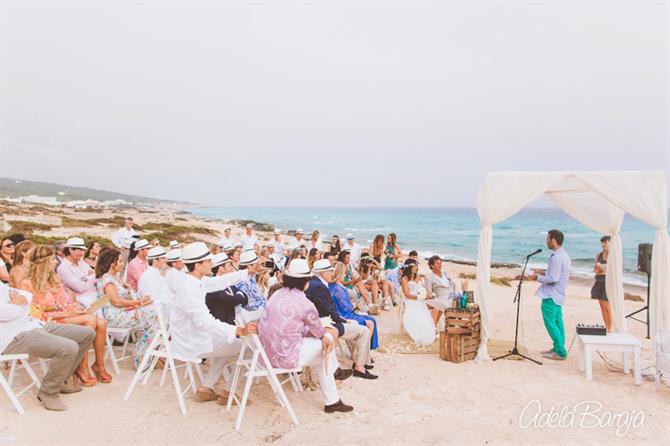 The most important aspect of the wedding is the location, as this makes or breaks the whole event. Whether you would like to get married in a forest, on the beach or on a mountaintop: it needs to be arranged well in advance.
It may be useful to ask the help of a wedding planner, as he or she is specialized in negotiating with suppliers and knows where to find the best locations. Making arrangements like these are easier when you speak the language, another aspect that a wedding planner might help you with. If you decide to organise everything yourself, try to find suppliers that have a decent level of English to avoid miscommunication.
After finding a suitable location, there are still many things that need to be taken care of. Examples include finding a good photographer and choosing decorations for the setting. Having a professional photographer is crucial, as you obviously won´t be able to repeat the day and if you are not satisfied with the pictures, you will regret not spending a bit more on a good, reliable photographer. You might even decide to bring the photographer with you on the destination wedding if that's what you prefer.
Just like at a regular wedding, the list of things to do is endless. We recommend having a look at Pinterest, as this platform offers loads of inspiration and information regarding weddings (abroad).
Wedding Legal Issues
Legalizing a marriage can be complicated, even more so if you want to do it abroad. In Spain, there are a couple of requirements one needs to fulfil in order to get married by law. In comparison to countries such as Italy, it is not possible for non-residents and foreigners to legalize the marriage in Spain. Either one of the two needs to either have a Spanish nationality or have been a Spanish resident for at least two years.
Assuming that the majority of the couples having a destination wedding in Spain do not fulfil this requirement, there are several other options. The easiest choice is to legalize the marriage in your home country and then have the wedding ceremony abroad. That way, all the paperwork is easily arranged at home and have the celebration abroad at a later date.
Note: As we previously mentioned, the legal aspect of a marriage and the level of difficulty depends on the country. If you decide to get married in a different country, make sure to check the requirements and possibilities well in advance. That way you avoid trouble and disappointment at the last moment. You can usually check this out on the government website of your home country.
Legal stuff aside, let's move onto picking a location for your perfect day. If you have always dreamed of having a fairytale wedding on the Mediterranean, then definitely read along.
Location, location, location
We've mentioned it before: the location can make or break your special day. With that many options, it may be easy to become overwhelmed and lose sight of the bigger picture. To help you choose, we will now discuss the most popular options.
Beach Weddings
If you ask people what word they associate with Spain, it´s probably ´beach´. This is not very surprising, as Spain´s got almost 5,000 kilometres of coastline. It is one of the most popular options for a destination wedding, due to the tropical image it provides. Who wouldn't like to make it official with their feet in the golden sand? Bear in mind that you can't just have a wedding on any beach as some of them are prohibited, make sure to do some research first to find the perfect beach for your day and avoid disappointment.
Forest Weddings
Imagine birds chirping and sunlight coming through the trees while you look into your partner's eyes and tie the knot…if this is music to your ears, then a forest wedding is perfect for you! The whole fairytale feel is something that draws many people to this type of wedding location. The advantage is that not a lot of decoration is needed; the lush vegetation and the sunlight already add a lot of enchantment to the setting.
Church Wedding
Traditional yet beautiful: a wedding in a church. In order to legalize the religious part of the wedding, all documentation must be officially translated into the language of the country where the ceremony is taking place. Other than that, it is perfectly possible to have a church wedding abroad if you have a Catholic background.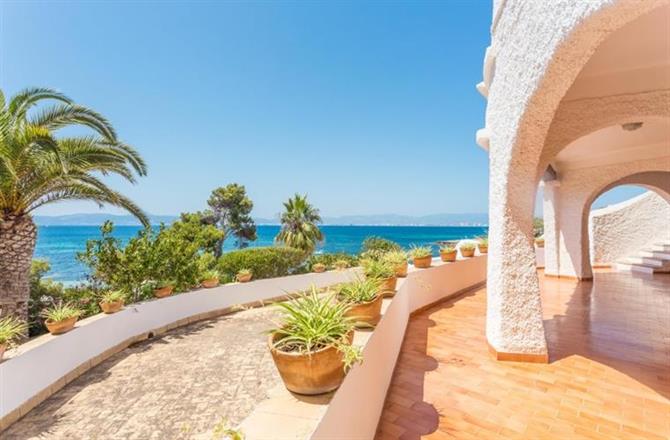 On top of a mountain, underwater, in the jungle… you choose!
There are no limits when it comes to your wedding day. If you want to get married in an extraordinary location it might be a good idea to ask the help of a wedding planner, however everything is possible.
Read on to discover some of the beautiful locations in Spain which are perfect for the wedding of your dreams.
A Wedding at the Beach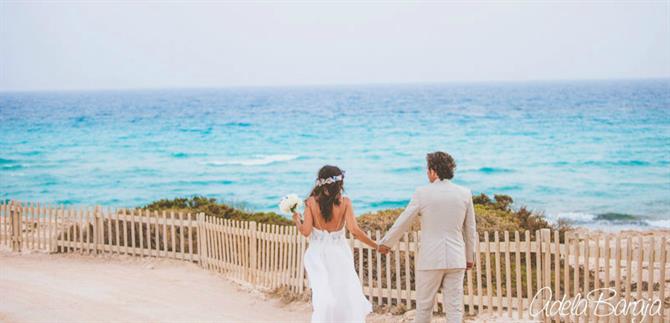 If you imagine a destination wedding, the idea of getting married on the beach probably pops up in your head. The soft white sand, the sound of the waves breaking on the shore and a sunset on the horizon make the beach wedding a very popular option.
Many say that Bolonia Beach is one of the most beautiful beaches in Spain. With its incredibly soft sand and crystal clear, shallow water it certainly is a lovely spot to celebrate your white wedding. Another area with great beaches is Cadiz, where you can find loads of lovely villas to celebrate your wedding with all your loved ones.
If you want to make sure you have a sunny wedding day, then the Costa del Sol is a great option. With more than 325 sunny days a year, the chance of getting rain on that day is relatively small. We made a list of the best beaches on the ¨Sunny Coast¨ to make the location selection process even easier.
Spanish Churches and Monasteries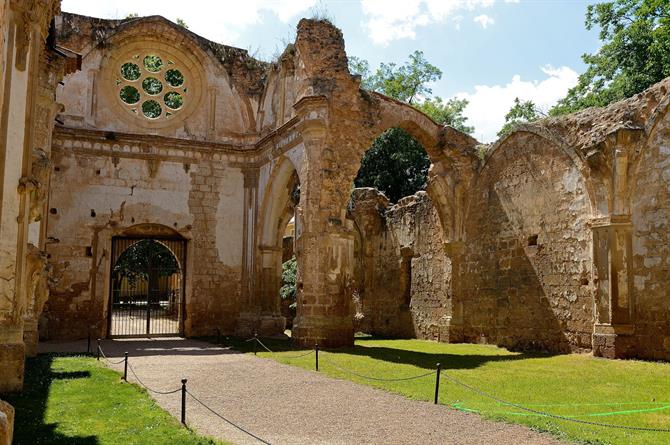 If you'd like a historical touch on your wedding day, then getting married in a church or a monastery is the perfect choice. Be surrounded by impressive walls, pillars and remains of old times while you walk down the aisle. Below are two of the most unique, historical locations in Spain, giving you a taste of what this country has to offer.
The Cistercian Abbey, Navalus, Aragón
The Cistercian Abbey in Navalus is located in the heart of in the spectacular Monasterio de Piedra Park (Aragón). This place is well known for its wonderful surroundings and a huge variety of flora and fauna. If you dream of sealing the deal in a real medieval monastery with big walls and impressive columns that go 800 years back in time, you might have just found the perfect location for your wedding.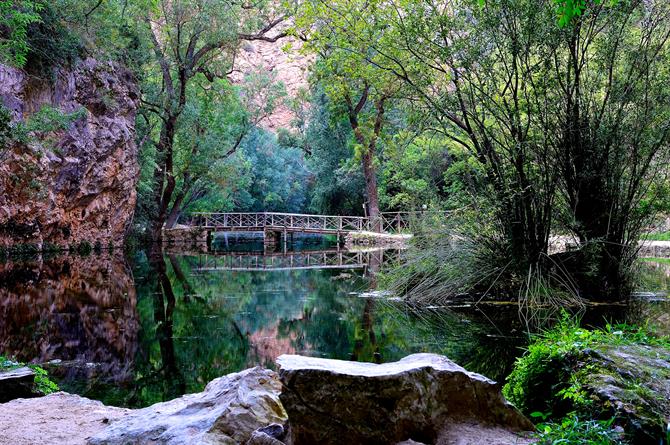 If you decide to get married at this monastery, there are several options. The ceremony can take place either inside the abbey or outside of it, surrounded by waterfalls and mountain streams. It is a paradise for nature lovers, so we would definitely recommend renting a holiday home in the Aragón area. Mountains, hiking paths and stunning views are right around the corner!
La Ermita de San Juan, Vizcaya, Basque Country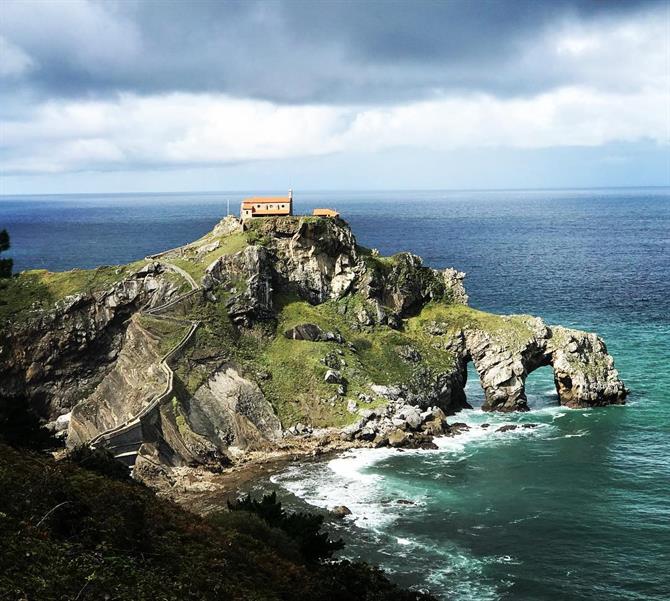 If you are looking for a really unusual spot, then keep reading. Just by looking at the pictures, you will get an idea of how truly unique and magical this place is. We are talking about La Ermita de San Juan de Gaztegulatxe, a medieval church dating back to the ninth century. It is located on a tiny island which is connected to the mainland of Vizcaya, Basque Country by a narrow bridge. A wedding in this place is perfect for those wanting to be surrounded by nothing more than open sea and lush greenery on the hills.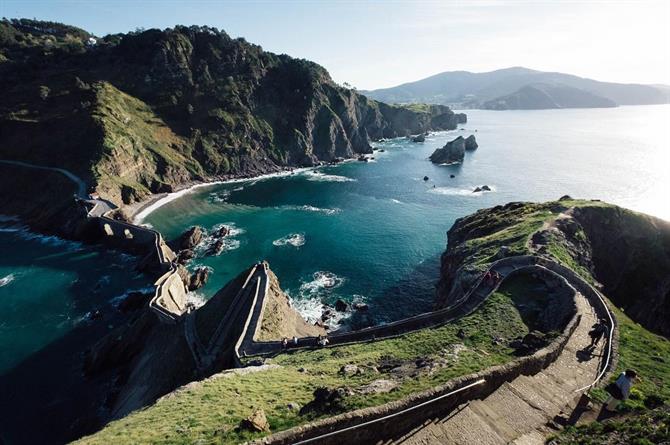 Before you decide on booking this location, keep in mind that you need to climb 231 steps to get to the church. This is definitely something to think about, especially if you have guests with physical limitations. The best time to have a wedding here is during either spring or autumn, to make sure that the wind or the high waves do not spoil the wedding day.
This incredible place gained even more popularity in 2017, as it was used as a filming location for the popular TV series ¨Game of Thrones¨. Go to the spot where The Mother of Dragons herself - aka the gorgeous blonde Daenerys - has been as well.
If you decide to get married in the Basque Country, look for accommodation in San Sebastian. It's a vibrant city full of charm, that offers amazing gastronomy as well as plenty of attractions to keep your guests entertained.
Spanish Wedding Destinations
Spain is a very diverse country, so it's got something for everyone´s taste when it comes to wedding settings. Each area has got its own charm and climate, so it's worth taking that into consideration.
The Spanish Coasts
Having a wedding at one of the Spanish Coasts is a great option in case you want to get married at the beach. There is a difference between the coasts, however.
The Costa del Sol is probably one of the most well-known coasts in Spain. With Malaga being an international airport, this part of the country is very well connected to the rest of Europe, making it very popular. The climate is hot and the beaches are great, so the chance of bad weather on your wedding high is low.
If you are looking for something different, then Costa de la Luz might be perfect for you. It is not as well-known as the Costa del Sol, however, it´s definitely got its charm. The beaches here are softer and have a beautiful golden colour.
Inland Spain
You might be drawn to the image of getting married at the southern and eastern coasts, however let's not forget the beautiful areas in the rest of Spain! Especially the north of Spain, which is known for its gorgeous green areas making it the perfect location for a wedding. Provinces such as Galicia and Asturias might not be as suitable for a winter wedding, however in summer the temperature is very pleasant. It might not be the first area you think of to have your wedding, however you might just be surprised by its beauty!
Spanish islands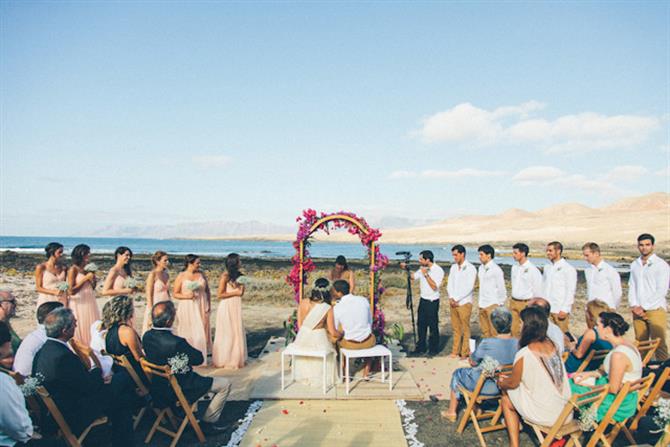 We think it speaks for itself why getting married on a Spanish island is such a great idea. With both the Balearic Islands and the Canary Islands there is enough to choose from.
The secret bays of the Balearic Islands with their crystal clear, deep blue water offer an amazing environment to put a ring on it. Add amazing architecture and lush vegetation to this and you can understand why so many people choose to have an intimate, romantic celebration with their friends and family here.
In a little neighbourhood called Portals Nous, part of the town of Calvia which is located just to the west of Palma de Mallorca - there is a little church situated just above the sea. It's a fantastic option for your destination wedding, as the views over the Mediterranean sea, the green surroundings and the endless blue sky will add a magical touch to your special celebrations. The church is very easy to reach and is located next to a small port, which is a great place to take the wedding pictures after the ceremony.
No matter how you decide to organise your wedding, we definitely recommend celebrating it under the Spanish sun.
With a glass of Rioja in your hand, a nice tapa in the other and family and friends around you dancing and having fun, there is not a lot more you could wish for. Prepare it well, take your time but above all - enjoy this amazing experience.