The municipality of Los Realejos on Tenerife claims it celebrates more fiestas in a year than anywhere else in Spain. As there are more than eighty each year, Los Realejos' boast might not be that fanciful. Add another thirty municipalities, who each seem to have more fiestas than working days, and the result is there's an awful lot of fiestas on Tenerife. All are a frenzy of fun and some are downright bizarre.
This is our choice of the top 10 fiestas on Tenerife.
Carnival on Tenerife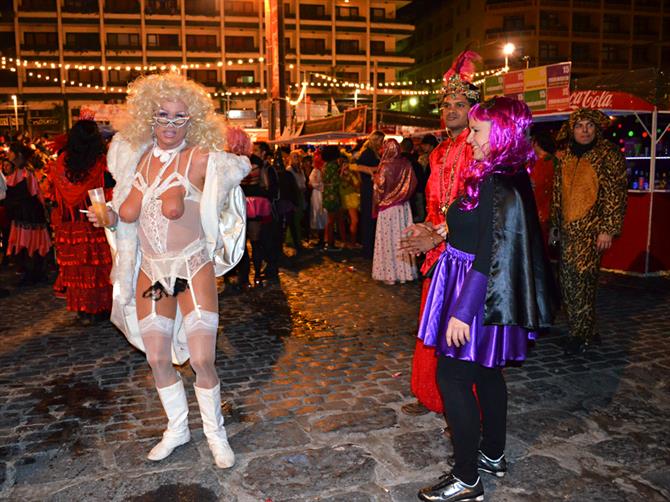 The biggest fiesta bash of the year on Tenerife and a whirlwind of vivacious parades and addictive street parties. Carnival takes place in towns all over Tenerife during February or March (exact dates change yearly), but the biggest and best known celebrations take place in Tenerife's capital, Santa Cruz. Everyone dresses up for carnival street parties. The Canarios were into onesies long before they became fashionable, if that's the right word, in Britain. Young Canarios have been wearing dog, cow and Eskimo onesies for at least a decade. It's traditional for men to 'drag up' and no costume is too shocking. Turn up as a bare-breasted nun in fishnets and you'll barely get a second glance – whether you're male or female. The key to experiencing an unforgettable carnival is to costume up, dive in and party all night.
The Flower Carpets of La Orotava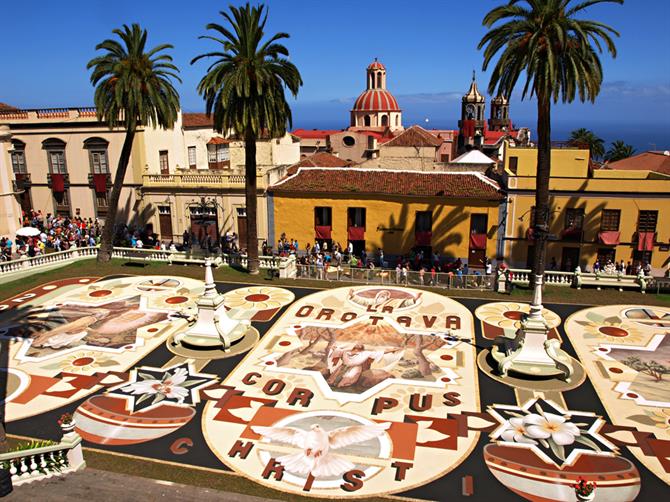 The most visually stunning and sweetest smelling fiesta on Tenerife takes place in La Orotava during May or June (most fiestas are linked to religious events so dates jump around). To celebrate Corpus Christi, flower carpets are laid on the historic streets surrounding the town hall. The carpets are created with vibrantly coloured petals, seeds and moss. Some feature intricate religious images whilst others carry poignant and topical messages; all are guaranteed to put a goofy smile on your face. These are only the starter. For the main course, a record-breaking tapestry made entirely from sand and soil from Teide National Park covers the plaza in front of the town hall. Cast your eyes on this masterpiece and prepare to have your breath whisked away.
Goat Bathing in Puerto de la Cruz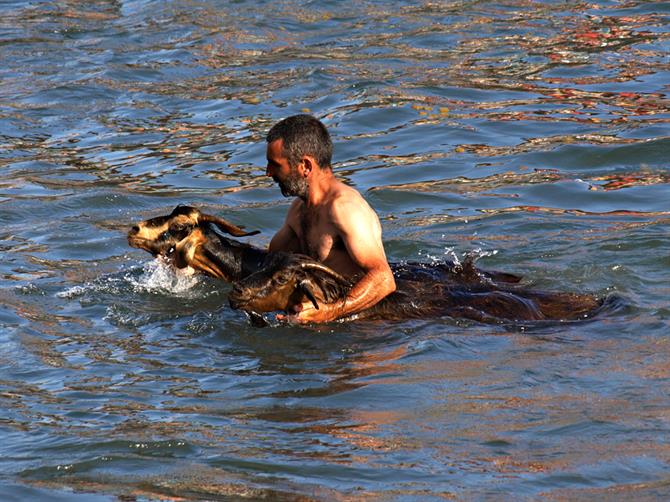 At midnight on Midsummer's Eve in Puerto de la Cruz, just about the whole of the local population take to the water at Playa Jardín to ensure good health, romance and heightened fertility. The water, of course, being magical at Midsummer. Next morning at the harbour it's the turn of the local goat population who are much more reluctant bathers and have to be dragged kicking and screaming into the magical ocean.
Fuegos de Mayo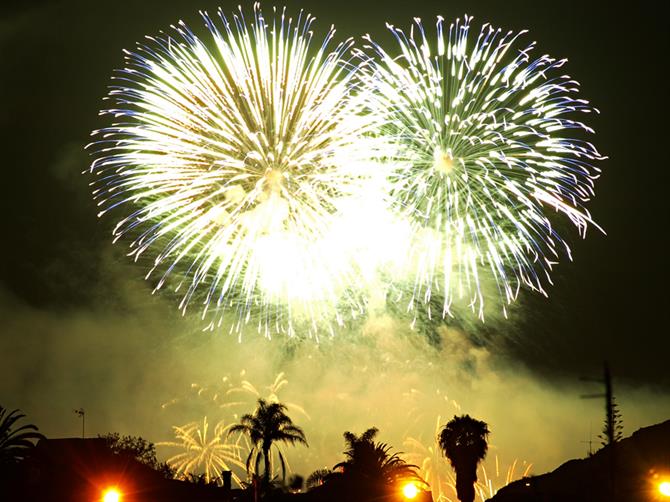 The settling of Tenerife is celebrated in Los Realejos on the 3rd of May in explosive style with the longest firework display in the Canary Islands and possibly Europe. A pyrotechnic battle between two streets lasts for three hours (not continuous) and includes the first performance of the most incredible and innovative fireworks. A night of many 'oohs' and 'aahs'.
Hearts of Tejina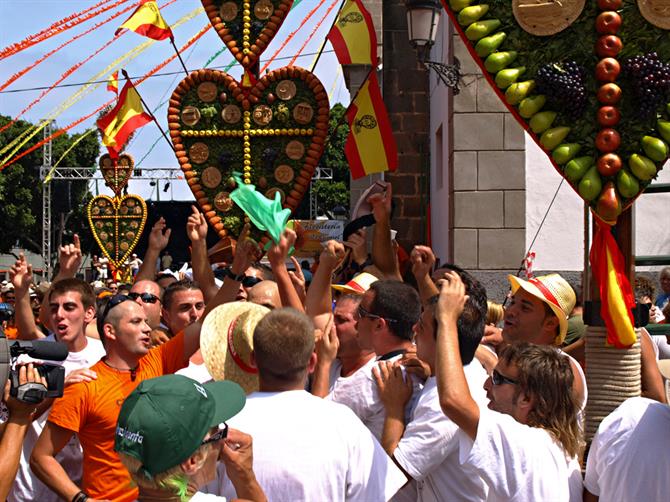 This tasty and less well known fiesta takes place in the small town of Tejina in late August. Los Corazones de Tejina involves the construction of giant hearts made from fruit and pastries by three of the town's neighbourhoods. It might sound very sweet, but after the hearts are paraded through the streets and erected in front of the church things get a bit Houses of Parliament with rival streets hurling abuse at each other's hearts. It's all good natured fun, honest.
La Librea in Tegueste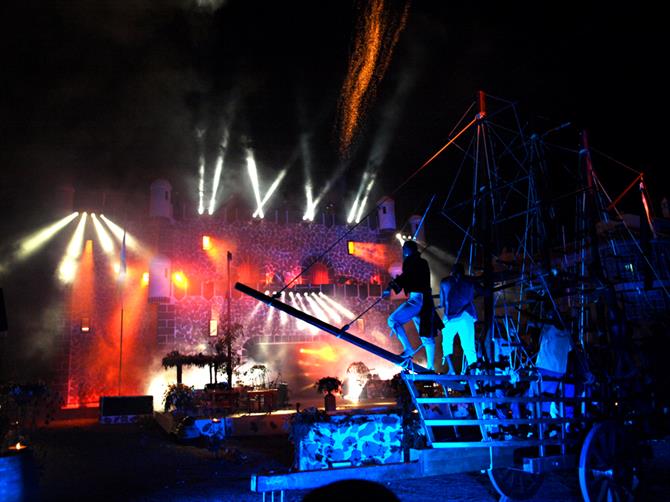 A re-enactment of a battle between pirates, Moors and the British on one side and Tinerfeños on the other doesn't sound so unusual on an island that was constantly fighting off invaders from the sea. But Tegueste is totally landlocked. Once every three years (next is September 2014) the town hall is turned into a fortress and the whole town steps back in time to once again repel dastardly invaders... in ships on wheels pulled by teams of oxen.
Romería de San Isidro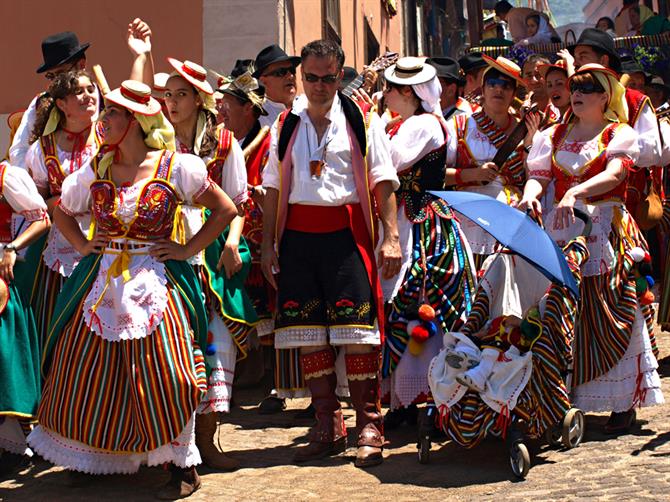 Romerías are like harvest festivals and are celebrated throughout the year. My favourite is in honour of San Isidro in La Orotava and takes place on the Sunday after the Corpus Christi flower carpets. The old streets are a perfect backdrop for the townsfolk in their scarlet traditional costumes as they parade on foot, in decorated ox-drawn carts and even on camels, dishing out local nosh and lashings of wine. As there can be seventy plus carts passing by, it's a lot of food and wine to get through, especially as it's rude to refuse.
Fiesta del Carmen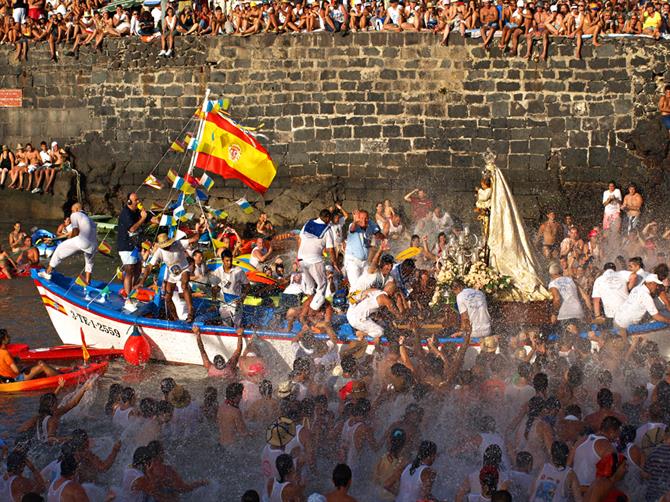 The fishermen's fiesta in Puerto de la Cruz in July in honour the Virgen del Carmen used to be a lot more fun than it is now. In recent years the mayor banned water pistols from what was a wet and wild affair. Now the local youth have to settle for throwing each other off the harbour walls until the Virgen del Carmen and her crony San Telmo are carried through an emotional crowd to be placed on specially chosen boats and taken on a sea trip.
Tall Tales in Los Silos
The town of Los Silos becomes the haunt of storytellers from around the world for a week in December during the Festival Internacional del Cuento. It's one of Tenerife's quirkier festivals, with the charming plaza and fairytale church acting as a backdrop to enchanting tales during the day and stories of horror and eroticism after dark.
San Andrés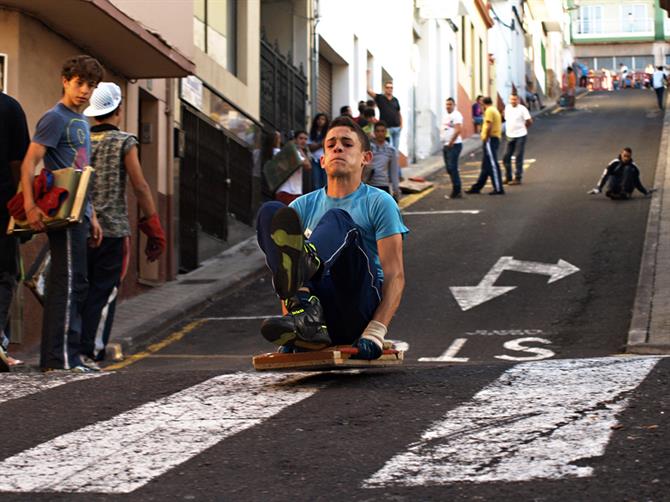 The opening of the island's wine cellars at the end of November to launch the season's new wines is definitely something to be celebrated. In Icod de los Vinos, the locals go a bit over the top... and then come screaming back to the bottom on what looks like tea trays. The arrastre de las tablas is a loose interpretation of the days when barrels of wine were transported on wooden sleds from bodegas in the hills to the coast. The modern day take is to quaff a load of the new wine, carry your sled to the top of one of Icod's ridiculously steep streets and dry sled your way back down to crash into a mountain of tyres. The word 'loco' must have been invented for this one.
These are only ten out of hundreds of fiestas on Tenerife. Lambs in fancy dress, exploding devils and fireballs being hurled down a mountain will have to wait for another time.