Torrevieja is one giant playground with many fun activities for children of all ages and interests. As well as the beaches, there are beautiful parks, walking routes around the salt lakes, museums, a submarine museum, one of the best sports complexes in Europe, boat trips and family entertainment by the score.
It is a fabulous beach resort to visit with children as there is so much to offer. We have a few suggestions of the best places to visit so you can enjoy plenty of family time and fun.
Spain is a family-friendly country with children welcome at many restaurants. You'll find plenty of choice in Torrevieja with restaurants serving cuisine from around the world including typical Spanish dishes like paella, pizzas, Chinese, British and fast-food outlets. For the ultimate visit with the whole family see here for our luxury apartments in Torrevieja.
Heading to Torrevieja beaches
Obviously, most families will go to Torrevieja to enjoy time on the beach, either lazing with a book or playing beach volleyball or cricket.
The most popular beach, Playa del Cura is next to the port. It's a pretty, sandy beach with a promenade full of restaurants, bars and ice-cream kiosks for much-needed refreshment to help you cool down.
Further north is the Playa de la Mata sandy beach which is a larger beach so you may have more space to play or go for a stroll along the boardwalk. If you would like to be situated closer to the beaches for your holiday, staying in an apartment in Playa del Cura will be a great option.
Taking a walk in the park in Torrevieja
Torrevieja has plenty of green spaces to run around and let off steam. Favourite places to take the children are the Parque de Naciones, Molina del Agua park and the fascinating salt lakes, one of which is pink while the other is green.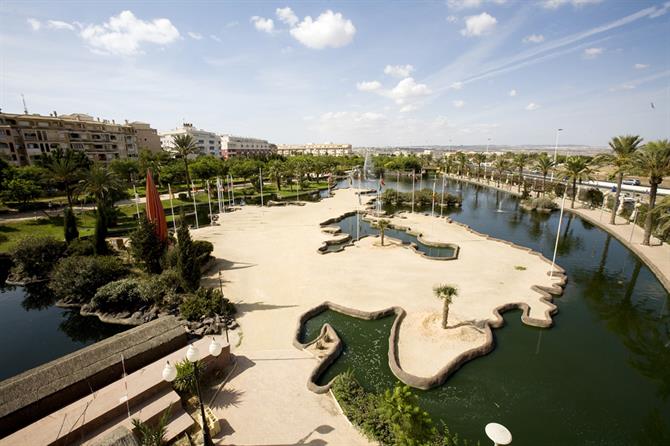 Torrevieja is a multi-cultural city so it seems only fitting that it should have a park dedicated to the European nations.
The Parque de las Naciones or Park of Nations, just off the main N332 coast road, has 20,000 square metres of parkland to play in. It includes an interesting scale reproduction of the map of Europe as well as a large lake with geese, ducks and fish, plus a children's playground.
Between the salt lakes next to the coast is the curious little Parque Molino del Agua. The seafront nature reserve has beautiful walks among the pine trees and sand dunes as well as interesting features and the water mill.

You can take a stroll around the Torrevieja salt lakes at the same time. These lakes provide 700,000 tonnes of salt which is exported around the world for commercial use. You can see large hills of salts by the side of the lake.
Your children will be fascinated by the unusual pink lake and will love to find out why it is such a bright pink. The reason? The lake's colour is partially caused by bacteria which lives in very salty conditions and is also found in the Dead Sea, The lake also has algae which turns the lake a bright red colour. The shrimps feed on the algae and in turn are eaten by the flamingos which also turn a lovely shade of pink.
Your children may also be fascinated to see the unique handcrafted salt boats in Torrevieja's Sea and Salt Museum in Calle Patricio Perez 10. Free entry. Closed Mondays and bank holidays. Open Tuesday 9.30am to 2pm, Wednesday to Friday from 9.30am to 2pm and 4.30pm to 8.30pm, Saturday from 10am to 2pm and 4.30pm to 8.30pm. Sunday from 10am to 2.30pm.
Witness life in a submarine in Torrevieja
Torrevieja is full of surprises with unusual lakes, salt boats and a rare chance to look inside a submarine.
The Delfin S-61 was the Spanish Armada's first submarine which is now a floating museum in Torrevieja harbour. It's quite claustrophobic and is amazing to think that sailors actually worked on board the submarine as it patrolled the oceans.
You can also visit the Albatross III patrol boat and the Pascual Flores schooner which is a replica of the original boat used by Torrevieja sailors to sell salt.
Entry to Torrevieja floating museums in the harbour is €2. There is a minimum height of 1.15 metres. Open Wednesday to Sunday from 10am to 2pm in winter and 6pm to 10.30pm in summer. It's closed on rainy days for safety reasons.
All the fun of the fair in Torrevieja
Next to the harbour is a traditional little funfair with great rides and plenty of action. You can grab some candyfloss and enjoy the noise and mayhem of the merry-go-round or bumper cars.
There is an evening market nearby where you can pick up souvenirs, T-shirts and handmade crafts.
The family will also have a good time at the Aquopolis water park in Avenida Delfina Viudes, which is open during the summer season.
You'll find exciting rides to get the adrenaline pumping as well as gentler rides and slides for the younger children.
It is open from June to September from 11.30am. It's best to book online to get the cheapest tickets at around €18.90.
Dive in to the action at Torrevieja Sports City
Torrevieja Sports City in Avenida Monge y Bielsa has something for all sports lovers and attracts professional teams from across Europe, so you're in great company.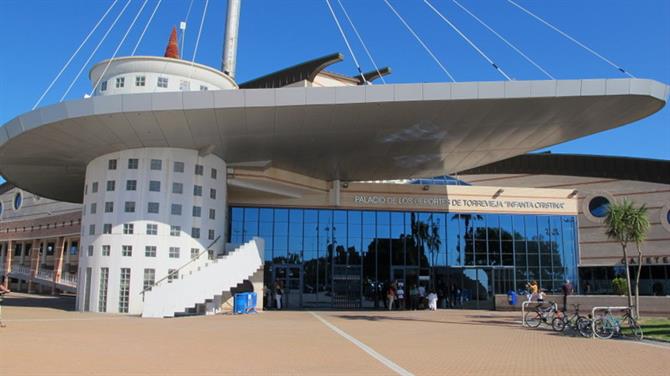 On the agenda are football, athletics, gymnastics, swimming in the outdoor or indoor pools, squash, handball, tennis, basketball, rugby and rowing as well as a first-class gym and fitness classes.
As well as taking part in individual sessions, it is worth checking with the Torrevieja Sports City for special summer schools and activities.
Torrevieja football fun for the family
CD Torrevieja football club has a very loyal British following and 10 years ago it received more than 3,000 supporters turning up to support the matches. The number of Torry Army supporters has dwindled but it is still great to turn up for a match and support the local team.
Torrevieja are in the third division with the season running from the end of August to the middle of May. With tickets at €10, €5 from 16 to 21 years old, and free for Under-16s, it's an inexpensive afternoon of football in the sun. The ground is the Municipal Vicente Garcia stadium situated in the Torrevieja Sports City.
Shopping with the family in Torrevieja
The best shopping centre in the Alicante region is just south of Torrevieja. Zenia Boulevard has more than 150 shops and restaurants including Primark and Don Dino toy shop. Upstairs, the centre has various restaurants and a very colourful children's play area.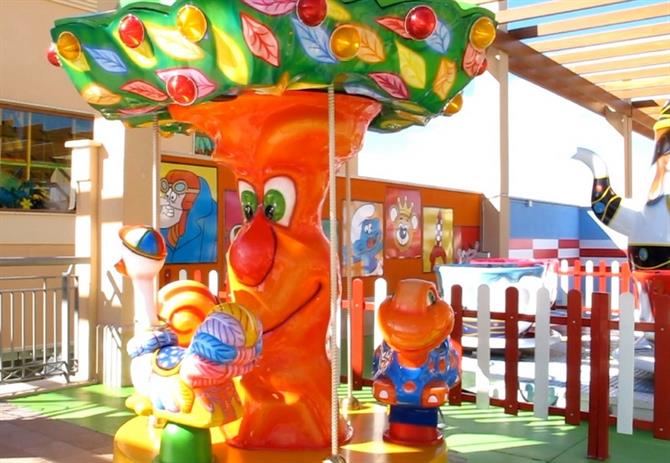 They can also go to Animoli's to find a toy animal to ride on around the shopping mall. The Zenia resort offers a variety of great beaches which are ideal for families, as well as golf courses, shopping, and restaurants. Consider a La Zenia apartment which will keep you close to all the action of this family-friendly area.
There is plenty of family fun for all ages in Torrevieja. The only difficulty may be trying to fit them all in!