Torrevieja is a delightful place for a walk along the seafront promenade. With 14 kilometres of coastline including golden sandy beaches, quirky statues to discover, beautiful Mediterranean views and boats including an historic submarine to see along the way. It's an easy flat walk and there are plenty of bars, restaurants and kiosks where you can stop for refreshments.
In the summer, good times for a walk are early morning or just before dusk when it's cooler. You can time your walk to end as the sun sets to enjoy an even more beautiful view as you stroll along the seashore.
You can take in many varied sights as you stroll from Torrevieja port to the popular Playa Cura. It's suitable for all ages, including young children, and all abilities including people using mobility scooters.
The scenery changes as you stroll along with several monuments and sculptures paying tribute to Torrevieja's rich heritage, the interesting Casino building and fountain in the town centre, and the gentle sands being lapped by the cool Med as you head north to Playa Cura.
Yachts and fishing boats in Torrevieja port
During the stroll along the port from the nautical club to the Levante walkway, you will see a variety of boats from hundreds of chic and sleek yachts to traditional fishing boats bringing home the catch of the day.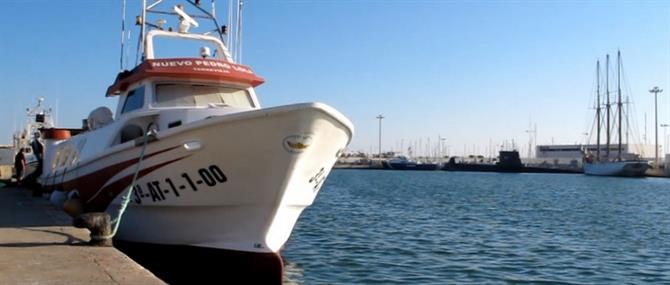 Much of the port's activities today are to do with the salt industry and pleasure boats or sailing as the dependence on fishing declines.
More unusually, Torrevieja also has a submarine sitting in the port, which was the first Spanish navy ship to be turned into a floating museum.
You can take a wander inside the S-61 Delfin submarine to sense just how cramped conditions were for the sailors and imagine how claustrophobic it must feel when submerged under water.
Alongside are two further floating museums, the Albatross III patrol boat and the Pascual Flores schooner, which is a reconstruction of the ships used by Torrevieja sailors to export salt.
Entry to Torrevieja floating museums is €2. There is a minimum height of 1.15 metres. Open Wednesday to Sunday, 10am to 2pm in winter and 6pm to 10.30pm in summer. Closed August 15. It's also closed on rainy days for safety reasons.
During your walk alongside the port you will come across two fine sculptures in homage of Torrevieja's place in musical history.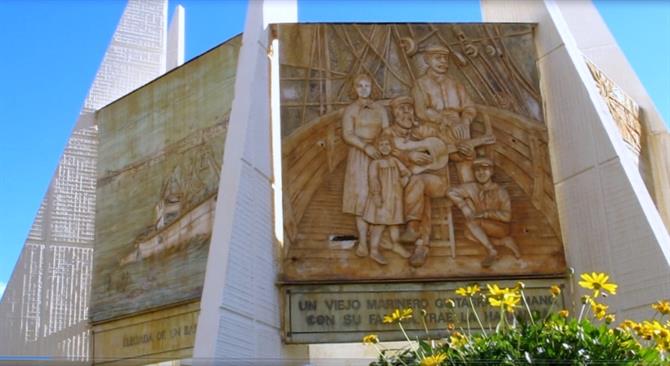 The Monument to the Choir Singer, in Paseo Vista Alegre, was created by sculptor Pedro Llorente in honour of all those connected with the Torrevieja choir.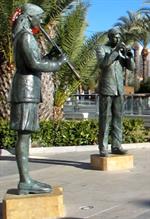 A little further along are five quirky characters forming a band where the old bandstand used to be.
These remind us of Torrevieja's importance on the world stage as it hosts an annual international habaneras competition with its roots dating back to when Torrevieja sailors traded with Cuba and bought their traditional shanties back with them.
As you continue along the Paseo Vista Alegre, you will come across the historic and beautiful Torrevieja Casino founded in 1867 as an entertainment venue.
It's an interesting architectural mix of styles with an Arab room, a Granada-style patio with arches and ornamental bows, carved external columns and an incredible modernist ballroom with decorative motifs and dragons.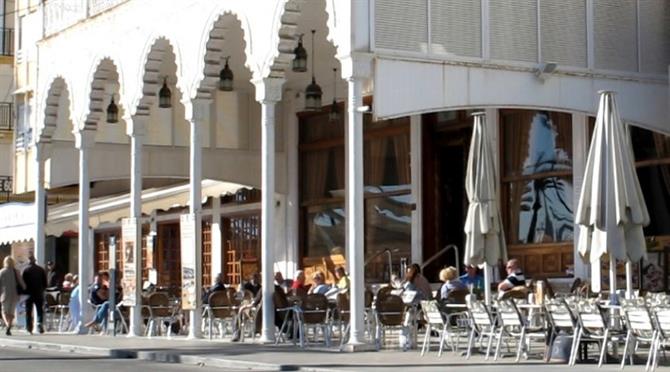 Nearby is a beautiful cooling fountain and mosaic bench, where you can rest and watch the rest of Torrevieja meander past. This is a beautiful and restful part of Torrevieja town centre with the bench resembling a wave and the noise of the fountain reminiscent of the nearby sea.

Time permitting, you can visit the Museum of Sea and Salt to find out more about the importance of salt production, which is still a major industry in Torrevieja today.
Don't miss the interesting display of artefacts delicately made from salt as well as photos and model boats.
It is in Calle de Patricio Pérez, 10, 03181 Torrevieja, Closed Mondays and public holidays. Open Tuesdays 9.30-2.00pm. Wednesdays to Fridays 9.30am to 2.00pm and 5pm to 9pm. Saturday 10am to 2pm and 5pm to 9pm. Sunday 10am to 2.30pm. Entry is free.
In the evenings along the Paseo de la Libertad is the craft market with dozens of stalls selling arts and crafts as well as football shirts, bags and clothes. It's lovely to walk around the stalls to see some of the wares on offer which could make interesting souvenirs or mementoes of your stay.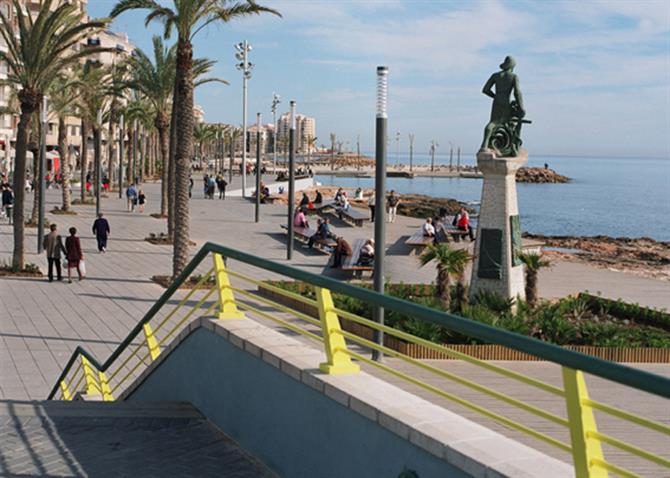 From here, you can take a walk out to sea along the Dique de Levante promenade leading to the lighthouse. This is one of the most iconic pieces on the port and is an easy walk, with wheelchair access, although at about 1,400 metres long, the return trip may be too much for young children.
From the lighthouse you can enjoy panoramic views out to sea or back over the town and the port.
Along the boardwalk you will come across a beautiful sculpture of a woman looking desperately out to sea. This is a fine tribute to the fishermen's wives who realised the dangers their beloved faced daily as they sailed out from Torrevieja.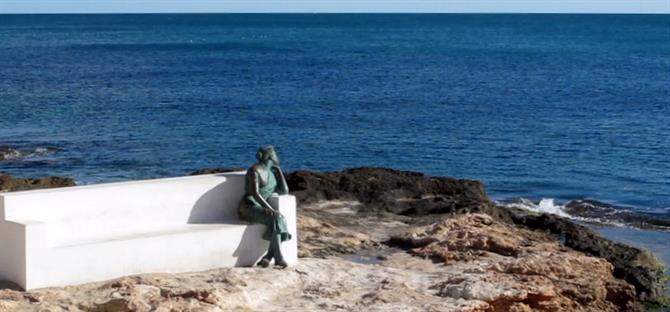 Nearby is also the iconic sculpture depicting the lonely figure of Bella Lola sitting on a bench and also looking out to sea. She is probably the most photographed lady in Torrevieja as she wistfully waits for her loved one's return.
Heading along the Paseo Juan Aparicio to Playa Cura, the promenade is lined with restaurants and bars with outside terraces, to choose a spot for a snack or meal.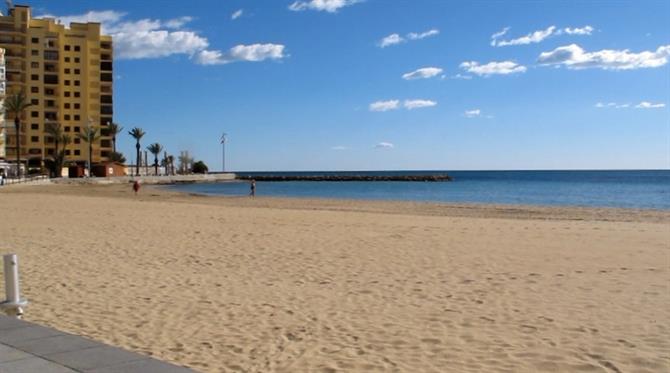 This is a popular part of Torrevieja with restaurants offering cuisine from around the world including fast food, pizzas and Italian, tapas, Chinese, Spanish and Belgian.
A favourite place for enjoying a cool drink while watching the locals enjoy an evening stroll is the Soraya café-bar with a large terrace overlooking the sea.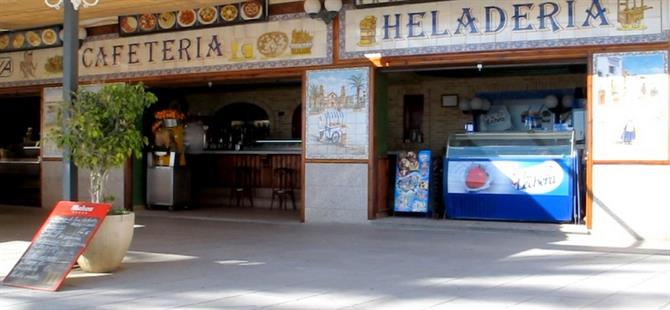 You'll find a few shops along the strip as well selling souvenirs and shoes as well as the well-known Ale-Hop with its eclectic mix of jewellery, accessories and household items at fabulous low prices.
The walk can end here at Playa Cura which is Torrevieja's most central beach, and, therefore, gets very busy. Its soft sand makes it ideal for families and is also popular with joggers.
For those still feeling energetic, continue along the Avenida de los Marineros and Avenida de la Purisma to Cala del Palangre to explore its rock pools, enjoy the views or try out the bars and restaurants in this area.
You can read another article about leisure in Torrevieja or another walk while tasting tapas on Spain-Holiday.