Thinking of the Costa Blanca conjures up visions of soft, sandy beaches and long, sunny days. At the southern end of the 'white coast' is the popular coastal resort of Torrevieja, which draws thousands of holidaymakers to its beaches, golf courses and shops.
With an average of 320 days of sunshine, it is no wonder that Torrevieja remains a top holiday spot throughout the year.
Visitors can choose from several beaches during their stay depending on whether they want to a secluded, small bay or a bustling busy central beach.
Playa La Cura
A firm favourite with residents and holidaymakers alike, Playa La Cura is Torrevieja's most urban beach.
It is easy to see why this is often voted to be the best beach in town. It's in a great location, just north of the marina and the pedestrianised promenade is lined with bars, shops and restaurants.
You can easily spend all day here with so much choice for dining out or entertainment after a hard day's sunbathing on the fine, sandy beach.
This is one of Torrevieja's best beaches for families because of its central location as well as having many places to buy an ice-cream or cold drink.
Many locals also head for the beach or a stroll along the promenade after work, so it really does have a cosmopolitan feel.
It's not a massive beach at 375 metres long and 27 metres wide so it does get crowded in the summer but it's worth getting there early to bag a spot.
Torrevieja's natural pools
Just south of El Cura are two beautiful natural swimming pools. Lined by palm trees, these pretty bays are ideal for gentle bathing or snorkelling as the colour of the water is so intense.
These natural pools have been created by a group of small breakwaters to provide these little beaches surrounded by rocky areas.
These pools are a very unusual feature on the Costa Blanca to provide charming spots in a great location in Torrevieja. Being central, you will find many bars nearby to get snacks and drinks or for a spot of lunch.
One sandy pool is just south of the Paseo Duque de Levante breakwater while the other is found a few metres further south.
They're both fairly compact - one is 58 metres long and 10 metres wide while the other is 208 metres long and 25 metres wide.
Playa Los Naufragos
South past the marina and port, Playa Las Naufragos provides another popular sandy beach for the town.
It is also very central with easy access from the centre of Torrevieja, so it can get busy.
However, it is a lovely long and wide beach - 325 metres long and 77 metres wide – where you can enjoy beautiful views of the boats once you have picked your spot.
This Blue Flag beach is very family friendly with palm trees on the sand to provide some shade as well as a small water park for the children. It's just one of the many fun things for families to do in Torrevieja.
It is accessible to everyone and has lifeguards along with a first-aid centre during the holiday season.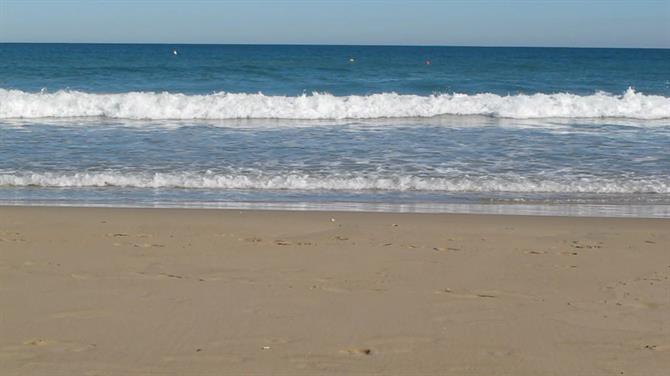 It is great to stroll along Torrevieja's seafront to enjoy the different beaches.
Cala Ferris
At the southern end of Torrevieja is a less well-known oasis with palm trees, small dunes and crystal-clear waters.
It's only a small beach but beautiful. It's great to visit at dawn or dusk with the birds twittering in the trees. You'll also hear squawking parrots and may get a glimpse as they fly from tree to tree.
This is a perfect little beach for swimming or snorkelling as you can see the different types of fish in the clear waters here.
If Cala Ferris is busy, you can head a little further south to Cala Piteras which is just as alluring.
Cala Piteras
Perfect for swimming or snorkelling, the Blue Flag Cala Piteras beach has one of the most impressive meadows of Posidonia in the area. Posidonia seagrass, which is an important part of the ecosystem, grows best in clean water so if you spot it, it is a sign that you're swimming in one of the best parts of the Med.
It's not very big, just 123 metres long and 15 metres wide, but that only adds to its appeal.
Playa de los Locos
Crazy name for a beach we agree but the Playa de los Locos (beach of the crazy ones) is named after a former hospital nearby.
It is a lovely sandy beach just up the coast from Playa la Cura. It stretches 760 metres long and 27 metres wide with plenty of parking nearby so it's a popular spot to enjoy a day in the sun.
Again, it is a great choice for families as there are restaurants and bars nearby with all amenities.
It can be crowded because of its location but you can enjoy a quiet swim early morning or early evening.
Watch out for the surfers who also tend to head for Los Locos when the waves are right.
Las Calas
The beautiful blue hues of the Mediterranean in and around Torrevieja have turned the resort into a lovely spot for diving or snorkelling. You can see what lies beneath as you swim among the different coloured fish and other marine life.
Heading north from Torrevieja towards La Mata, there is a beautiful little rocky area with small coves to enjoy the peace and tranquillity of the seaside.
Cabo Cervera
A sandy cove with beautifully clear waters tempting you to enjoy a swim or go snorkelling, Cabo Cervera is one of the most attractive beaches in Torrevieja.
It's just 100 metres long and 25 metres wide with soft sand surrounded by Mediterranean plants.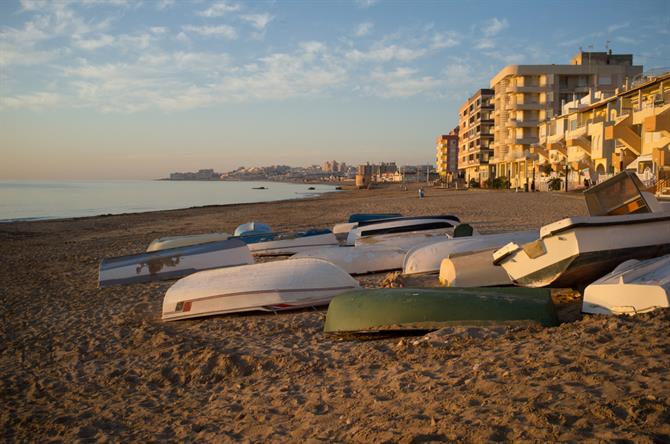 La Mata
La Mata beach really has the Wow factor for lovers of long, golden sandy beaches.
It is a great spot for families and water sports enthusiasts.
There are about a dozen beach bars dotted around the beach in the summer months so you're never far away from a cool, refreshing drink.
There's no fear of getting bored either as La Mata beach has eight volleyball pitches, one beach football pitch and pedal boats to try.
La Mata is the biggest beach in Torrevieja stretching for 2,363 metres in length and 47 metres wide. There are several accessible ramps so it's a beach for everyone to enjoy.
It's perfect for a morning stroll or jog, or for enjoying the beautiful sun setting over the sea. You could even indulge in a small beach bar crawl before dinner to make the most of your day on the beach.