Torrevieja, located about 100 km from Alicante on the Costa Blanca, is becoming an increasingly popular resort for holidaymakers from many countries. You hear English, French, German, Russian and of course Spanish spoken all day long in the streets and shops which gives the place a rather cosmopolitan feeling.
The main attraction apart from the weather, are several beaches along the coastline of Alicante, ranging from sandy and shallow like Playa del Cura to rather rocky or a mixture of the two like Playa de Los Locos. Something for every taste.
Discover the best things to do in Torrevieja and in the surrounding area as it is located within an easy distance from several beautiful destinations for you do have a perfect day trip.
What To Do In Torrevieja
Torre del Moro
A historical landmark from the 14th century used in its day to defend the Mediterranean coast from pirate attacks. It is located in Cabo Cervera, one of the highest points of Torrevieja. Precisely one of the most popular areas for holiday accommodation in Torrevieja.
Torre de la Mata
Like the Torre del Moro, the origin of this tower dates back to the 14th century. In front of the tower, there was a jetty in which salt from the lagoon of La Mata was loaded.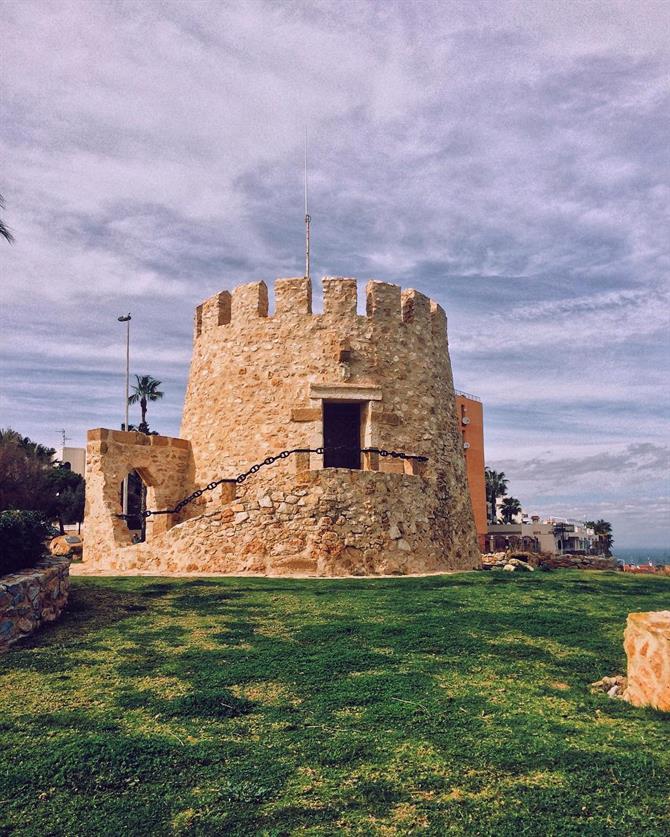 Calas
It is worth visiting some of the rocky coves of Torrevieja simply for the views. One of the best known is the Cala Ferrís, located to the south of the town centre and surrounded by numerous palm trees.
Parque de las Naciones
One of the best green spaces in the town of Torrevieja. In its interior, there is the Hermitage of San Emigdio, as well as a small lake and the old cisterns of an old farm.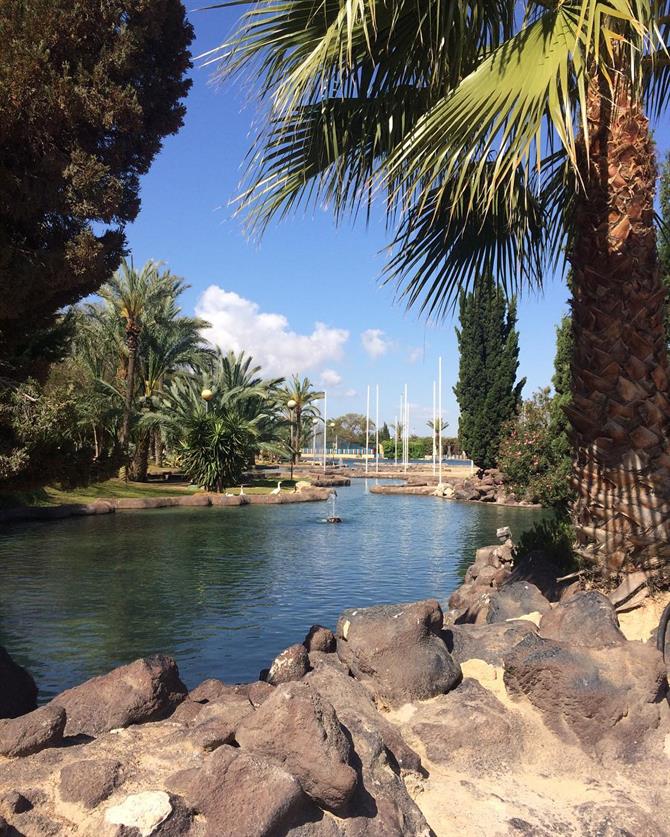 Cultural Society Casino of Torrevieja
Do not forget to visit this beautiful modernist building from the late 19th century. It is worth entering to see the interior decorated in a Nasrid style from the Morrish times in its main hall.
Paseo de Vista Alegre
The best-known walk in Torrevieja. A space in which you will find interesting sculptures and monuments dedicated to the Habaneras. It is located next to the Royal Yacht Club and the Eras de la Sal.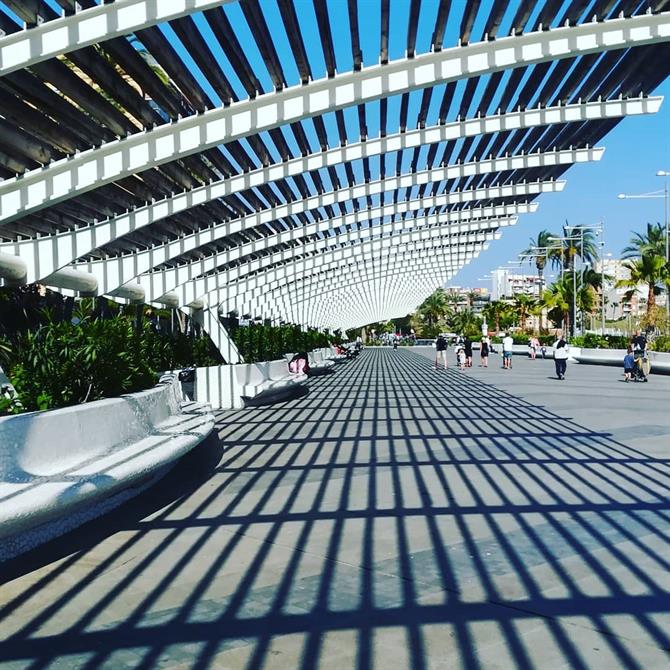 Best Day Trips From Torrevieja
You can go either by boat, car, bus or a combination of bus and train. The journeys themselves are as exciting as the chosen destinations. They lead you past salt lakes, through mountains, orchards, vast vegetable plantations and orange groves as well as different beaches and tiny villages.
If you prefer to go by bus rather than taking your car, Torrevieja is well connected by the bus company Costa Azul. Buses in the direction of Cartagena or Alicante run up to 12 times a day, leaving from the central bus station. A trip to Alicante, for example, costs you € 4.50, takes approx. 1 ¼ hours and saves you parking problems. Particularly in the summer months, traffic is heavy which means you aren't much faster going by car, but the choice is yours.
Isla Tabarca
This is a day trip from Torrevieja that you can only make by boat and only from May to October. The island of Tabarca is all of 2 km long and 400 m wide but has a colourful history of pirates and Genoese settlers, documented by fortified walls, churches and a lighthouse.
Forming part of a protected Nature and Maritime Reserve, the small beaches are inviting to snorkel in crystal clear water. Walk the streets of the village, enjoy typical food in one of the small restaurants and have fun on the 40-minute glass bottom Catamaran ride from the Marina in Torrevieja, watching maritime life.
Altea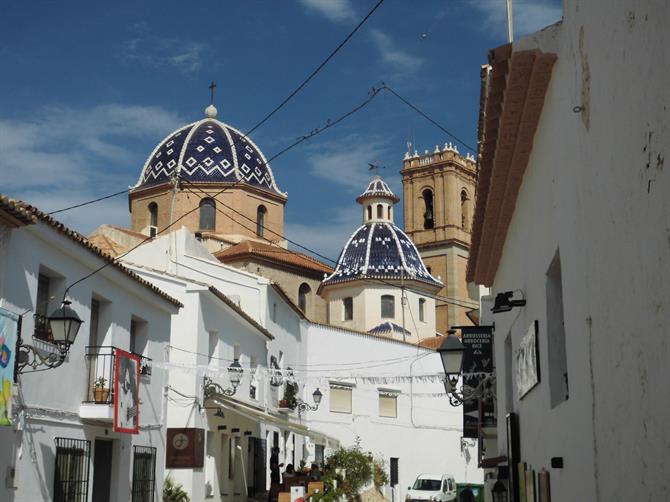 An experience of a very different kind is a trip to Altea. Famous for many artists who have their galleries and studios there, Altea is a little paradise for art lovers.
In addition and dominating the scene are the distinctive blue tiled roofs of churches, particularly those of Nuestra Senora del Consuelo, a landmark of Altea. Despite Altea Old Town being a popular tourist attraction, Altea preserves a distinctive Spanish small town charm. Located 15 km north of Benidorm, this is a day trip to be made either by car or a bus/train combination from Alicante.
Algar Waterfalls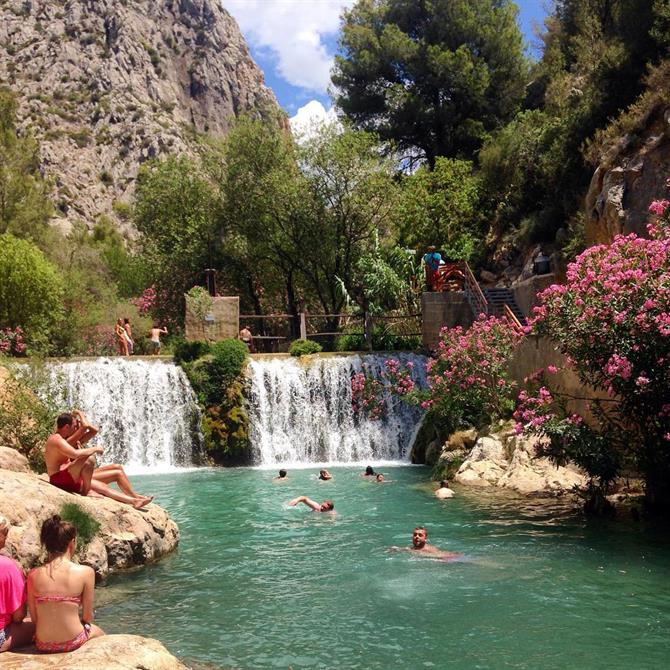 Head towards Benidorm and then inland to Callosa d´en Sarria for a day in unspoilt nature. Walk along the 1.5 km marked route along the bed of the river Algar, admire the cascades of waterfalls and have a dip in the naturally formed pools of clear and refreshing water. Visiting the Algar waterfalls is one of the most highly recommended day trips from Torrevieja.

Cartagena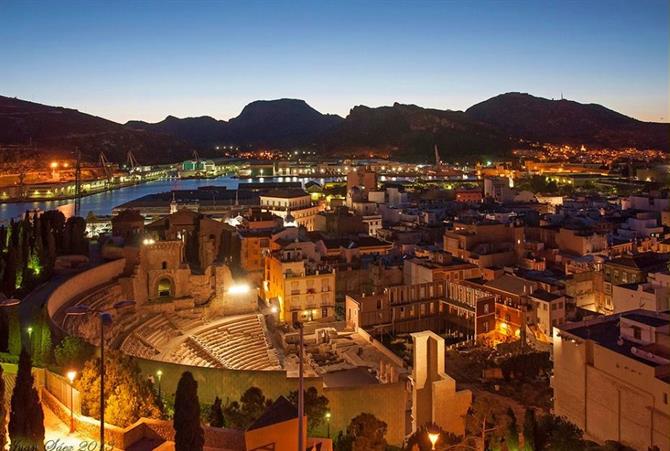 If ancient history and monuments are your passion or you just want to experience the ambience of a beautiful, modern city, Cartagena must be your day trip destination.
The bus ride with Costa Azul takes just under 2 hrs and costs €6.20 per person, leaving you at the central bus station of Cartagena within an easy walking distance of all the major sights.
Visit the Roman amphitheatre and the forum, the Punic walls, Casa Fortuna, a Roman villa, walk along Calle Mayor to admire art deco townhouses and take a boat trip around the harbour with a view of the city line and the two fortresses which guard the entrance. It's also ideal to do some shopping and to have tapas or a meal in one of the many restaurants.
Guadalest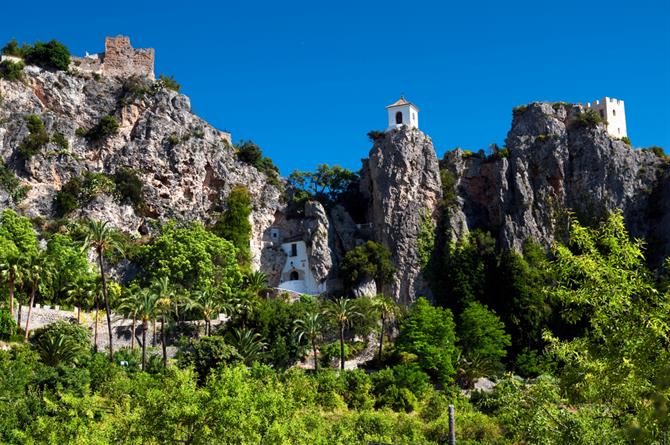 A combination of splendid nature, historic buildings and surprising museums, A day trip to Guadalest leads you back into the mountains, this time the Sierra d´Aixorta, north of Benidorm and inland.
The river Guadalest forms a spectacular reservoir, which you can admire once you arrive at the public parking of the town. You can also walk along it or take a small boat trip.
Head along cobbled streets towards the medieval castle of San Jose with its distinctive clock tower, perched on a rock of its own, then through a tunnel to the old town and great old houses. For a town that small, Guadalest has a surprising number of very interesting museums, among them the Museum of miniatures, torture instruments, salt cellars and toys.