As evident in City of Arts and Science in Valencia: Part 1, this museum is one of the major emblems of the city of Valencia.
We've already presented the first great work of Calatrava, featuring incredible modern architecture and competitive entertainment systems: the Hemisphèric. We then explored the Prince Felipe Science Museum, which was also designed by Calatrava, as the second structure in the City of Arts and Sciences.
Allow us to show you the other buildings belonging to this attraction, and why you won't want to miss out on visiting the next time you're in the area! Our tour continues with the following structure, inaugurated on December 12th, 2002, and holding the title of largest aquarium in Europe...
The Oceanogràfic
The Oceanogràfic has an area of ​​110,000 square meters and houses 45,000 animals of over 500 different species.
Its spectacular design is the work of Spanish-Mexican architect, Félix Candela. The impressive underwater restaurant as well as the recent completion of the building were done by engineers Alberto Domingo and Carlos Lázaro.
Up close and personal with sharks, anyone?
Each of the aquarium's rooms and sections are both intriguing and unique! For example, in the shark tank, you can watch with wide eyes as several divers swim and interact with the large monsters of the sea.
Its facilities also feature one of the largest dolphinariums in the world, filled with 26 million cubic meters of water and a depth of 10.5 meters. In the summer, you can attend a beautiful evening light show showcasing the dolphins performing an amazing synchronized swimming demonstration for the crowd. It's really quite breathtaking and popular amongst the children!
In this impressive marine complex, advanced research is continuously being conducted. Many endangered species are given a home here, such as a group of 200 sea turtles! This aquarium also happens to be the only European marine center where you can visit walruses and beluga whales.
As of today, the Oceanogràfic has received over 15 million visitors.
The ongoing work that went into this incredible aquarium definitely paid off - it is now one of Spain's most visited and admired attractions.
Next, let's explore "Palau de les Arts", opened later in 2005.
A palace for the Arts!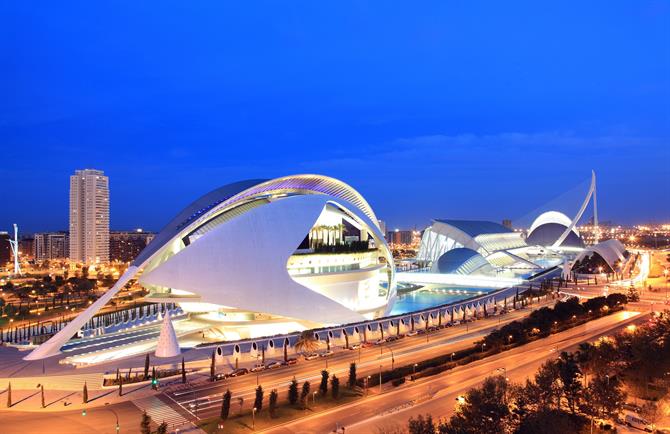 Yet another addition to the City of Arts and Sciences, following the same strikingly modern design of the other buildings, is the Palau de les Arts Reina Sofia. The Reina Sofia Palace of the Arts (as we might call it in English) was developed to host international opera shows and other distinguished musical performances.
This majestic building was also designed by - you guessed it - architect Santiago Calatrava.
The Palace of Arts has four main rooms:
Sala Principal: capacity of 1400 people, ideal for opera, ballet and other artistic performances.
El Aula Magistral: capacity of 400 people, smaller musical performances.
El Auditorio: accommodates up to 1400 spectators.
El Teatro Martín y Soler: an annex of Palau, capacity of 400 people.
This "palace" is truly a work of art in and of itself.
Lastly, the City of Arts and Sciences is also composed of the Agora, the Umbracle, and the Assut de l'Or Bridge.
The Ágora and L'Umbracle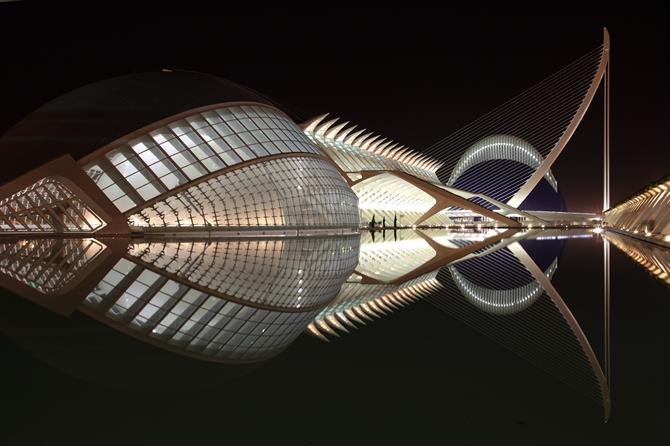 The Ágora has the structural shape of an ellipse, with an area of ​​4188 square meters.
Many different events are held in this building, such as the Tennis Open, conventions, concerts, exhibitions, and various others.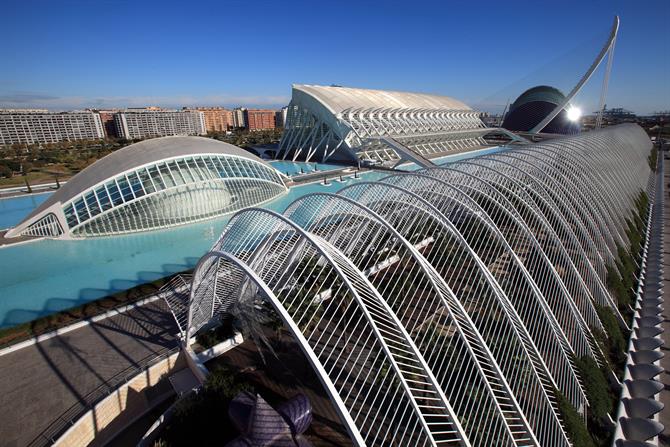 The Umbracle offers panoramic views of the entire City of Arts and Sciences, including its amazing "pond" on which visitors can literally set sail for a cruise, and the green Turia riverbed gardens which are great for taking a stroll.
Inside this incredibly designed building, you'll find a sculpture garden, split in the middle by a walkway for visitors. Over 17,500 square meters of the Umbracle is covered with Mediterranean and other tropical vegetation. The contemporary sculptures on display are a chance to see some of the works of internationally renowned artists.
In summer particularly, this building is a popular place for entertainment - both day and night - with its vibrant and colorful atmosphere. Moreover, it has been noted as the most chic place to be while out at night in Valencia.
We hope to see you in Valencia!
We end our chronological journey of the construction of Valencia's City of Arts and Sciences here. This incredible, incredible complex has given the city an international reputation and instills pride and honour to the city's inhabitants.
It is something that you truly must experience for yourself.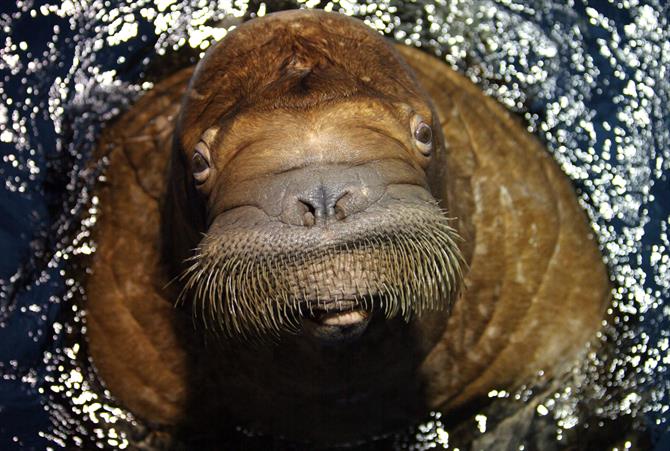 How to get there
The easiest way to get to the City of Arts and Sciences is by public transport.
You can take buses 19, 35, 95 and 40. Some of them leave from the Plaza del Ayuntamiento. Another option is to go by Metro. Lines 3 or 5, will drop you off at Alameda and you can stroll along the beautiful Turia riverbed, a pleasant walk of about 15 minutes. Of course, there are also bike routes that can get you there!
Stick around for part two of this article, outlining more of the incredible buildings that make up the City of Arts of Sciences.
Further information
Valencia is a resort on the eastern Mediterranean coast of mainland Spain. In addition to this guide on the City of Arts and Sciences, here is some information that may interest you when planning your next holiday to Valencia:
Video Tourism on Valencia City
Eight cool things to do and see in Valencia!