Valencia, the third-largest city in Spain, offers a great combination of cultural attractions, sun and beach, with fantastic Valencia beach villas to choose from, and plenty of cool things to do!
Valencia has a mix of old and new buildings, giving it a real special feel of its own. From medieval castles and towers to modernist and art deco architecture, from nice little shops to big shopping centres, Valencia has it all. And of course, there are plenty of great places to eat and drink too! It's a great money-saving option to consider if you are looking for a cheap holiday to Valencia.
And this city is full of surprises! Did you know for example that Valencia has the largest inner-city urban park in the whole of Europe? The famous Turia park, which used to be a river, is only one of five perfect public parks in Valencia. And did you know that the Holy Grail, the cup that Jesus was supposed to have drunk from at the last supper, is said to be kept in the cathedral in central Valencia?
We look at eight cool things you can do in Valencia, most of which are either free or very cheap and we also suggest some great holiday rentals in Valencia city!
1. The central squares
The plazas or squares in Spain are often tree-lined, with gloriously cool shaded spots to escape the intense summer sun. They are normally ringed with various lanes, access points and obscure roads, leading out onto different courtyards, and in some cases, even more, pretty plazas or squares.
One of the most beautiful squares in Valencia is the Plaza de la Reina, or 'Queen's Square' in English, located in the old town.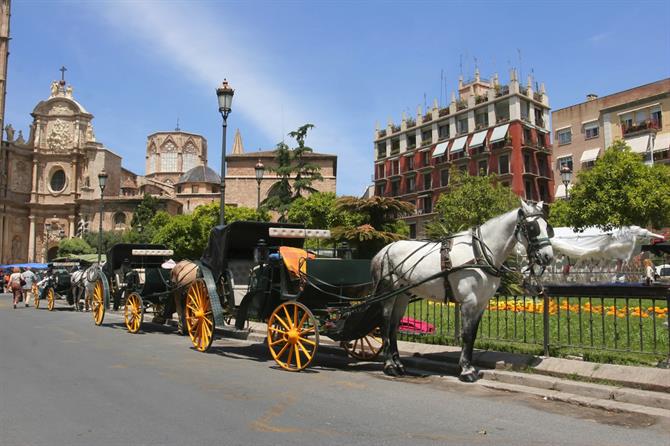 It's a great place to hang out, with plenty of places to eat too. However, be careful not to pay top tourist prices here. You can enjoy drinks in the square and then head back through the winding streets surrounding the plaza for real quality lunch or tapas, and within a few minutes, you will find somewhere completely random and probably cheaper too.
Eat where the Spanish eat, that's best, although in this area you have to be really 'in the know' to find a good Valencian paella if you fancy sampling the famous local dish at some point. One of the best places to sample a paella in Valencia is at the beach, for example at one of the traditional places at the Malvarrosa city beach, or also in El Palmar, in the Albufera natural park.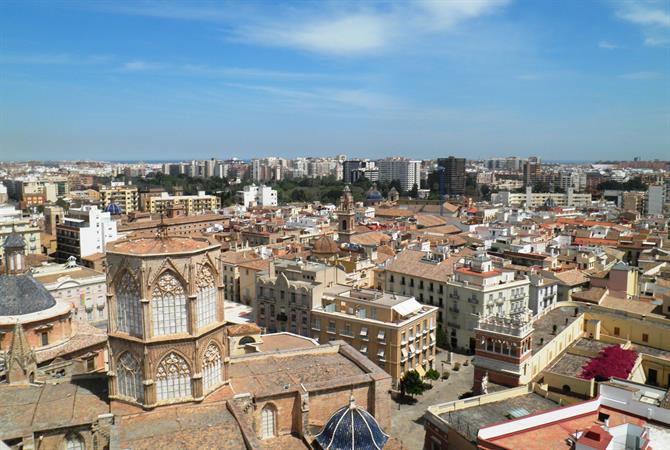 There is another, more quirky plaza just off the Plaza de la Reina, called the Plaza Redonda, which is a must-see because of its peculiar design. This little cosy square is circular and lined with quirky stalls or shops selling haberdashery, lace, aprons, bibs, crafts, souvenirs and even pet birds.
Due to regeneration works by the city council it has become rather tourist-focused, sadly resulting in losing some of its rustic charm. However, it is still a cool square to see, and it has a beautiful fountain dating from 1850 right in the middle. Also, this plaza lies right next to Plaza Lope de Vega, where you can try and spot what is said to be the narrowest building in Europe!
The historical centre is one of the best areas to stay in Valencia city, not only for its charming architecture but also for discovering the local cuisine, to go shopping and be in the heart of the city's vibrant nightlife.
2. Valencia Cathedral and The Holy Grail
One of the cities' more controversial claims to fame is that it has what is supposed to be the Holy Grail, the actual cup that Jesus drank from at the last supper, although that claim is also upheld by several other places around the world.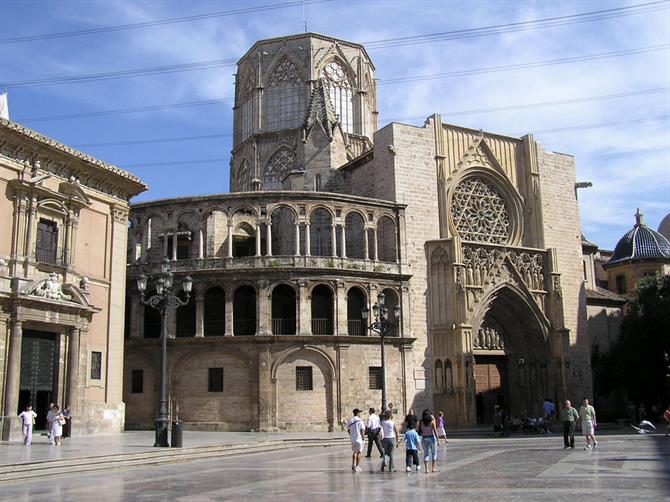 The cathedral is a lovely old place and is one of the top attractions in Valencia. You can actually climb to the top of the Miguelete bell tower and admire great views of the city.
Inside the cathedral, the Holy Grail is one of the must-see attractions for those of a religious following.
Legend has it that the cup travelled from Rome centuries ago. However, when the Muslim rulers took over Spain, it was placed into hiding for centuries and only returned to the city in 1427 by the gloriously named King 'Alfonso the Magnanimous'.
The former mayoress of Valencia, Rita Barberá, once suggested that the city should be named the 'City of the Holy Grail' to attract more tourists, which would mean moving it from its current location in a quaint little side chapel to the main cathedral area.
There are also two unmissable Goya paintings in the San Francisco de Borja chapel of the cathedral. Valencia is the perfect destination for art lovers; apart from its impressive architectural heritage, don't forget to visit the city's top museums.
3. Valencia's Central Market
Whilst the prospect of wandering around a food market is not everyone's first choice of what to do whilst on holiday, the historic Central Market of Valencia is another one of the top attractions in the city.
Not only is it a great modernist building to admire, but it is also somewhere where visitors get a closer insight into the daily life of the Valencianos.
The market itself is divided into sections, depending on the type of food available such as fish, a meat section, a fruit section and so on. There are some really interesting stalls here: some of the fruit and vegetables may look strange to visitors, and so may some of the traditional meat products which are still popular here but not in northern parts of Europe.
Even if you get bored, there are loads of traditional shops, bars and cafes around the perimeter of the building. It is a really nice area to stroll around.
4. The beaches of Valencia
Many would say that a holiday in the sun is incomplete without a visit to the beach. Luckily, the city of Valencia has many beaches along its coastline, several of which are unspoilt and undeveloped places to sit down and chill, and maybe take a dip in the lovely blue sea here.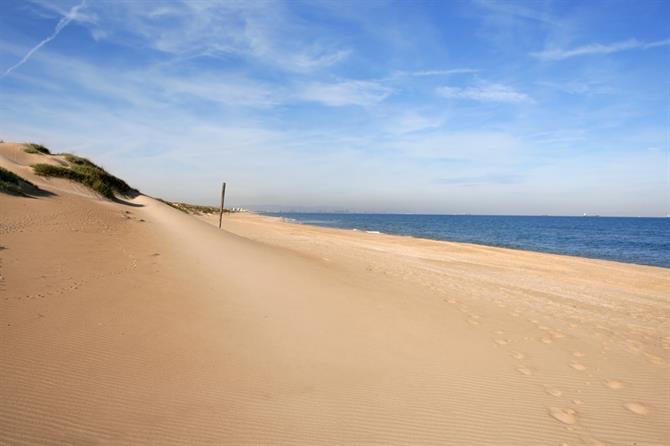 The city has a great location beside the sea, and the beaches are wide and long, with clean soft sand.
Try the most popular beach, La Malvarrosa, which starts around the port area and is split into sections such as the Playa las Arenas and the Playa Cabanyal, eventually stretching up to the Playa de Patacona.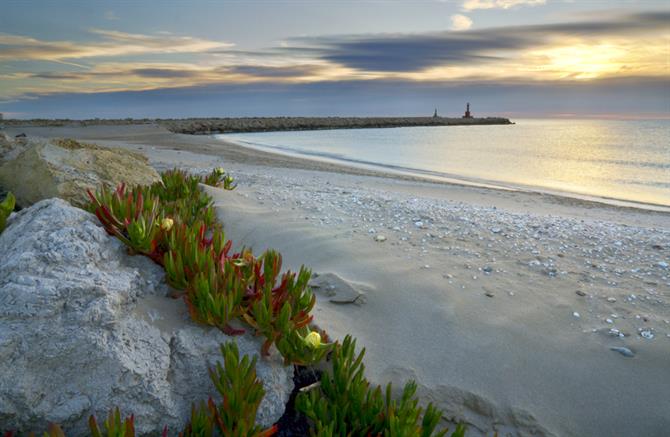 A bit further away you will find the other local beaches such as Playa de Pinedo and Playa el Saler, which also has a golf course nearby. North of the city you will find Playa Port Saplaya, and a bit further still, the Roman area of Playa Sagunto. If you prefer to stay near one of the relaxing beaches around Valencia, rent holiday homes in Valencia city.
5. Going shopping in Valencia
Like most large cities, Valencia offers a lot of opportunities for some great retail therapy, and you will find all the major brands have a presence here.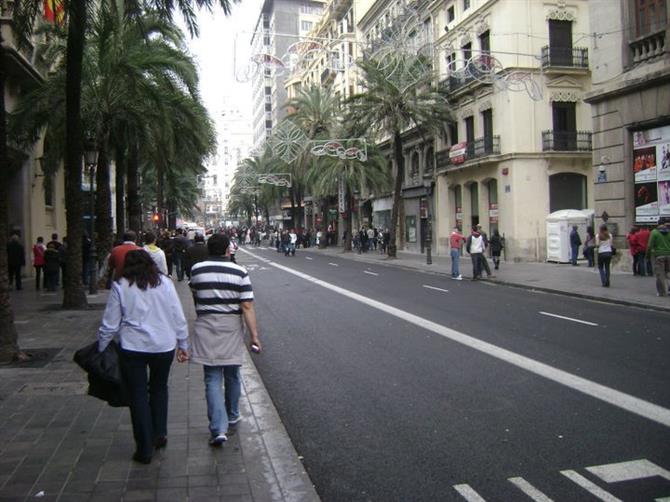 In addition, each barrio or area has its own street market once a week. In the main central part of the city, the streets are wide, tree-lined and bordered with high-rise buildings of quite beautiful architectural merit.
Away from the high street shops, there are a lot more interesting and independent shops dotted around where you can get all manner of things, many with an international flavour.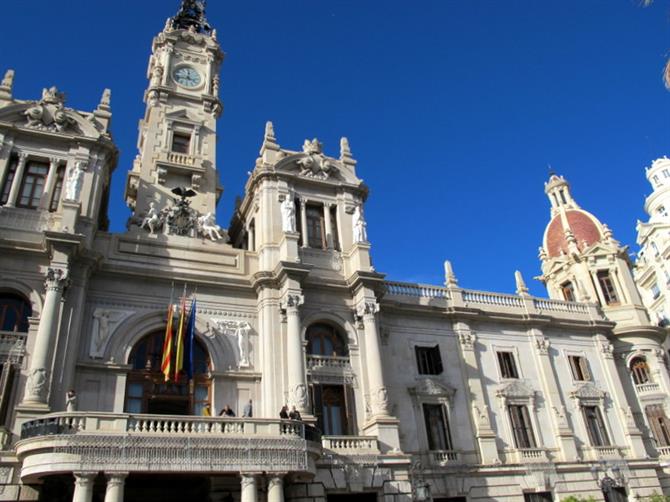 Valencia has several purpose-built shopping malls too, known as 'Centros Comerciales', and they include Nuevo Centro, El Saler, BonAire, Parque Ademuz, Aqua, or if you are feeling generous, the high-end mall of Galería Don Juan de Austria, near the Plaza del Ayuntamiento. There are also several malls on the outskirts such as El Osito in La Eliana and several other smaller ones dotted about in the various outlying areas. If you like to spend time discovering authentic markets and browsing independent boutiques, read more about where to shop in Valencia.
6. The insanity and spectacle of the Fallas festival
The Fallas festival is by far the weirdest, loudest and most spectacular thing you are ever likely to see go on in a city.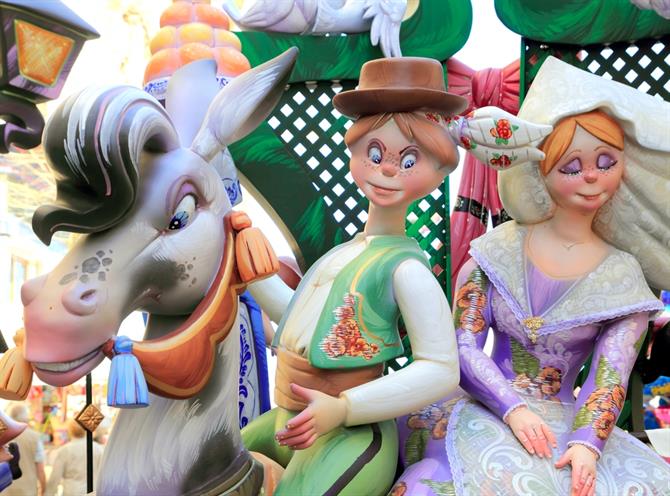 It's hard to describe unless you have experienced it, but in a nutshell, each area of the city, and some outlying towns too, spend a whole year constructing large and exuberant statues, then exhibit these statues on the streets for a whole week, throwing fireworks at each other - yes, even small children, letting off firecrackers 24 hours a day, with street parties and plenty of dressing up and parading in fancy outfits.
The entire city is gripped with fervent fiesta fever when Fallas starts and many businesses close for the whole week and get involved themselves. There is a religious element to it and the women dress up in very elaborate old-fashioned dresses, which are multilayered, very expensive and apparently not very comfortable to wear.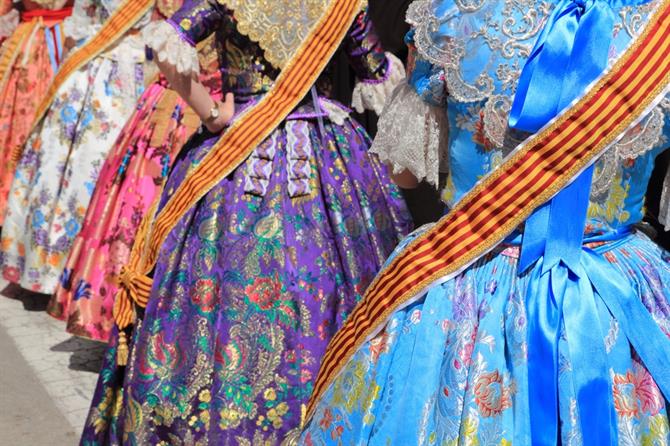 Towards the end of the fiesta, they all gather within the centre of the city for various parades, one of the most important being the offering of flowers to the Virgin Mary, a huge wooden statue erected in the centre, and each fallera girl or woman brings flowers which are then attached to the statue via a scaffold and some nimble efforts by the men who dress the effigy.
Each day at around 2 pm, a massive amount of fireworks are let off in the vast square in front of the town hall, and this is known as the mascletà.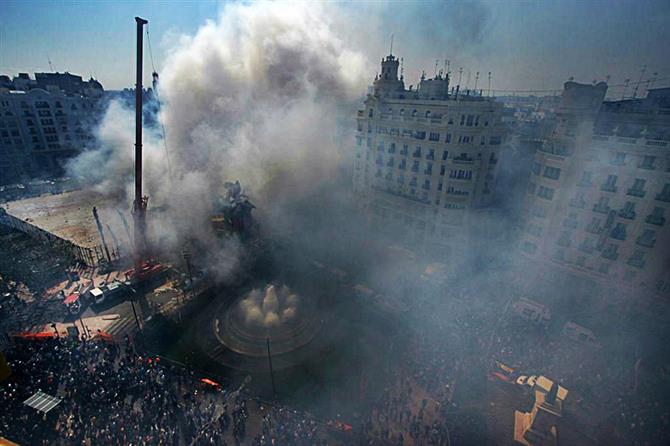 At the end of the fiesta, the statues that took a year to make and in some cases up to 100,000 euros, get burnt down to the ground by their creators, who then start again for the following year!
If you have never experienced Fallas, which happens in March, then it is certainly something you really have to come here and experience first-hand. Insanity on several levels but fun all the same, as are many famous fiestas in Spain. Be prepared for public transport to be absolutely packed with tourists at this time of year.
7. The old Turia river bed.
At one time, a wide and powerful river bisected the city in the same manner as the Thames separates the two sections of London.
The river Turia, which starts way up in the surrounding mountains, ran in the middle of the city and out towards the sea, but in the mid-'50s a horrendous storm and high tide saw the river burst its banks, and it flooded the centre of Valencia to a depth of two metres.
A plan was created during the massive clean-up afterwards to divert the river from its present course and so it was re-routed elsewhere, to ensure that this kind of flooding never happened again. The upside is that this project created a beautiful park right in the centre of the city.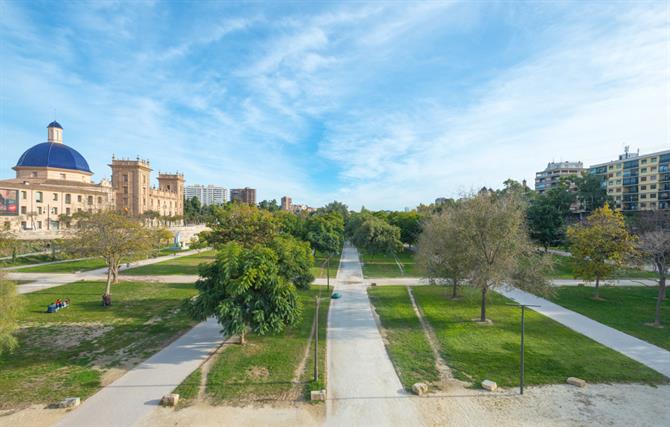 The park can be walked or cycled along, and you can actually rent bikes at one end and then drop them off at the other, although July and August are probably a bit too hot for this pursuit.
The landscaping has been well-thought-out and is divided into various sections. There are sports facilities abound here, including the region's one and only Cricket club, known as 'Levante Cricket Club', located at the 'Campo de beisbol y softbol', which was started by some of the local expatriates. Turia River park is the best place to do some outdoor activities with your children in Valencia centre.
For the green-fingered amongst you, it is possible to see a massive variety of plants and trees along the old river bed, and you will also find the Botanical Gardens right next to it, plus the famous Royal Gardens, which can be found near the Alameda tube stop. As you walk or cycle along the river bed, you pass under the various bridges that connect the two parts of the city, some being hundreds of years old.
There are of course cafes and bars along the way to buy refreshments and also some rather odd additions like Gulliver, which is a model of the giant from Gulliver's Travels, but it has been made so it has slides and places to clamber around for the kids. Entrance is free. It can also clearly be seen from Google Earth!
If you head eastwards in the park, towards the sea, you cannot miss the futuristic buildings of the City of Arts and Sciences, the last cool thing on this list!
8. The City of Arts and Sciences
The 'City of Arts and Sciences' in Valencia is widely recommended as a must-see for any first-time visitor to the city and one of the most popular things to do in Valencia with kids.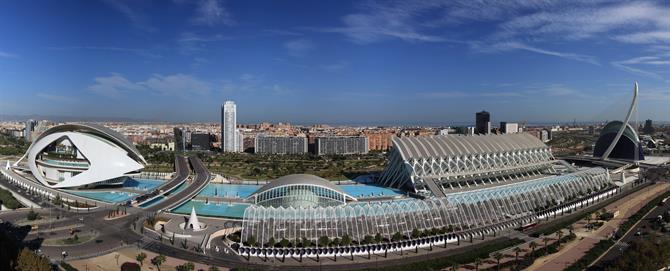 The rather tongue-twisting name for it refers to a group of futuristic buildings designed by local architects, namely Santiago Calatrava and Félix Candela, and who built this amazing place in stages, starting in 1998, at the seaward end of the old Turia river bed.
The City of Arts contains 6 distinct zones or buildings:
- The first one built, L'Hemisferic was designed to look like a giant human eye. It offers, among other things, a 3D panoramic cinema, which is always popular with both locals and tourists.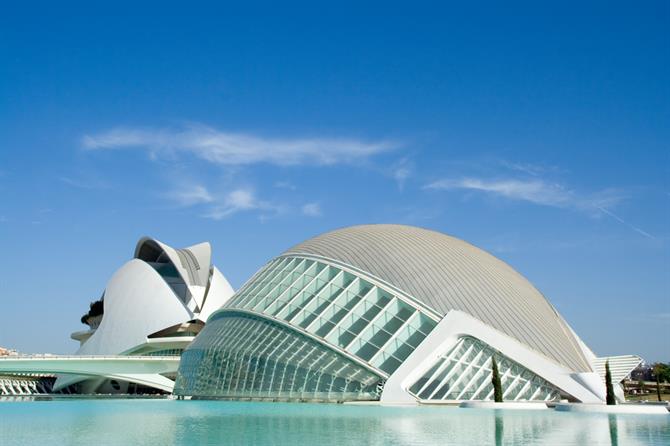 Once you descend into the cinema, you are given 3D glasses which have built-in speakers, programmed to your own language so no matter what country you are from, you can sit back and fully enjoy the movies, of which there are many.
- Then we find El Museu de Les Ciències Príncipe Felipe or the Prince Philip Science museum. It has a programme of changing exhibits at various times of the year and you don't have to be a science fan to enjoy it. It's very educational for children too, with plenty of activities inside to keep them entertained.
- The other part of the complex houses L'Umbracle, which is completely free and is a landscaped walk of plants native to the area and various artistic and thought-provoking sculptures.
- Then there is L'Oceanogràfic, which is basically a small version of Sea World, so expect to pay to visit. It's not cheap, but it is well worth it for sure. They do a dolphin display and it has the largest glass water tunnel in Europe to walk through, directly underneath the massive fish tank, with sharks swimming a few metres from your face!
- El Palau de Les Arts Reina Sofía is the next part, which is an impressive looking opera house and theatre.
- The last and newest bit is L'Àgora, which is a covered exhibition space and sports arena with the shape of an ellipse. The City of Arts and Sciences is, with its stunning architecture, actually a great sporting venue, and Valencia hosts spectacular sports events every year.
Whichever option has your preference, the City of Arts and Sciences is most certainly a recommended day out and many signs and leaflets are there to guide you in English so you don't get lost.
If you come by car, the City of Arts and Sciences does have car parking, although many people 'in the know' opt for the cheaper parking in the large shopping centre across the main road. If you decide to go shopping or have a meal after your visit, your parking ticket is free if you spend a certain amount of money.
For those who stay somewhere in the city, read about how to get there by bike or public transport in 'City of Arts and Sciences: Part 1' and 'City of Arts and Sciences: Part 2', with also more details about this wonderful complex, which will amaze young and old.
Suggested articles for you: