Andalucia is blessed with some truly stunning coastline, over 600 miles of it. It's diversity makes it one of the richest coastlines in Europe. There is everything you'd want and then some!
Sshhh I am letting you in on my personal Top 10 favourite beaches along the Andalusian coastline, starting from east to west. I say, "sshh" because nearly every one of these beaches is off the beaten track. Most of them are situated in protected natural parks and every last one of them is spectacular.
It was near impossible to limit my selection to just ten beaches, I could have gone on, but I'll save it for another post. This short selection takes you to where the Costa de la Luz starts. There are dozens of beaches on that stretch of coast that also deserve a mention, but I'll save them for another day.
Playa el Playazo - Playazo beach
Starting off in the beautiful Cabo de Gata-Nijar Natural Park. Andalucia's largest marine reserve and home to some truly stunning beaches. Playa de los Muertos, Las Negras and Genoveses deserve a mention, but narrowing down the selection to just two; Playa el Playazo and the majestic Playa de Monsul are our favourites.
Playa el Playazo sits almost midway along the coast in Cabo de Gata, not far from the village of Las Negras. It is an ideal place to visit with small children. The access is good, you can drive down and park right next to the beach. The water is also shallow and protected. And as with all beaches in the area it offers some great snorkeling.
For more information on Playa el Playazo
Playa de Monsul - Monsul beach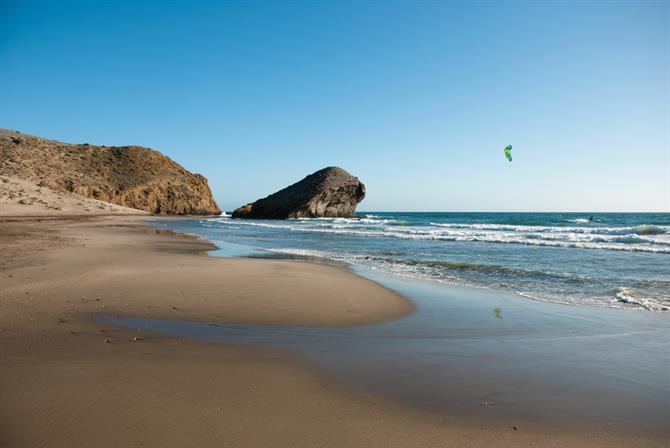 Monsul really does not need any introduction. The picture perfect beach, has featured in Hollywood blockbusters, commercials and several local films.
Monsul symbolises what Cabo de Gata is all about, miles and miles of the most virgin coastline you could hope for.
For more information about Playa de Monsul
Playa de Rijana - Rijana beach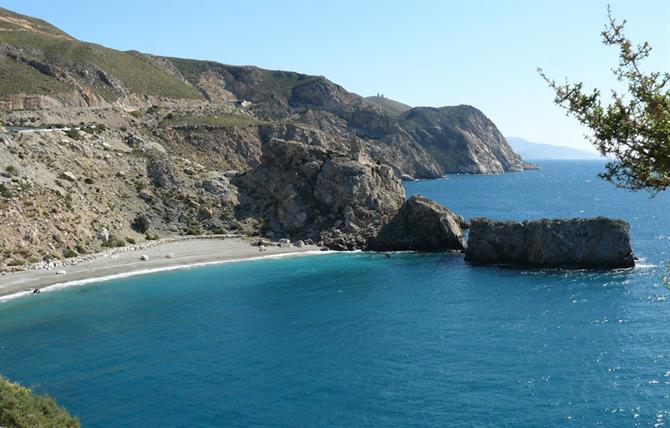 Moving along from the desert landscapes of Almeria and heading westwards towards the beautiful Granadino coastline and the Costa Tropical. The desert starts to give way to mango groves, avocado plantations and citrus fruits. The further west you drive, the wetter and more tropical the landscape becomes. You can fully understand why this 60 mile stretch is known as Spain's tropical coast.
Nestled between the Sierra Nevada mountains on one side and the warm Mediterranean on the other, the resulting tropical microclimate is very pronounced. The mountains drop straight into the sea, creating an almost surreal landscape of hidden beaches, tiny coves and inlets. Driving along the old N-340 and gazing out of the window is a joy, we have often seen pods of dolphins, tuna and every turning seems to hide another beautiful cove….see somewhere that takes your fancy? just pull over and try to make your way down.
One of the best in these parts is Playa de Rijana near the village of Castell de Ferro.
For more information on Playa de Rijana
La Herradura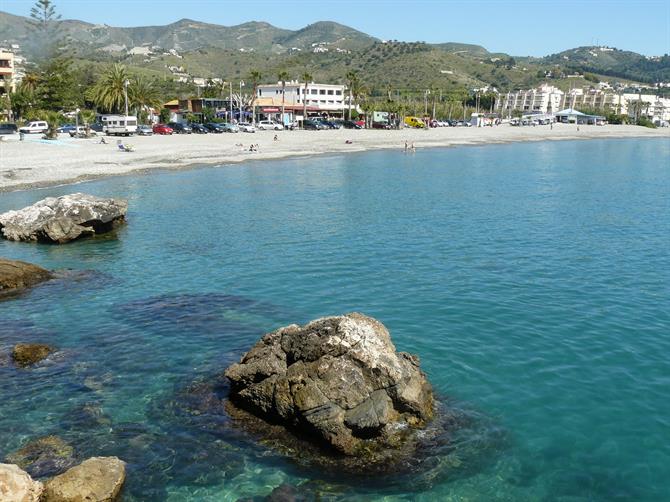 The horseshoe-shaped bay and beach in La Herradura deserves to be on any best beach list. A popular place for watersports and a favourite with windsurfers. It is also a great spot for families. Restaurants, bars and all amenities are all at your fingertips.
When arriving at the beach, take a right and drive down to the end of the road - just in front of the campsite. This is the best place for children, the rocks offer protection and great snorkelling, there are also plenty of crabs to collect. The water is shallow and best of all, there is a floating pontoon with a slide and a diving board.
Just past La Herradura starts another protected marine reserve, the Parque Natural de los Acantilados de Maro-Cerro Gordo. A natural reserve that extends out to sea. The ban on fishing has led to some of the best snorkelling on offer. Every little bay and hidden cove is a world away from your cliché Costa del Sol beach. Every one has its own encanto. The possibilities are too many to mention here.
Falling under natural park status, access is restricted during the summer months. A courtesy shuttle bus is offered on a couple of the larger and more popular beaches. The smaller ones are only accessible by foot.
Playa de Cantarriján - Cantarriján beach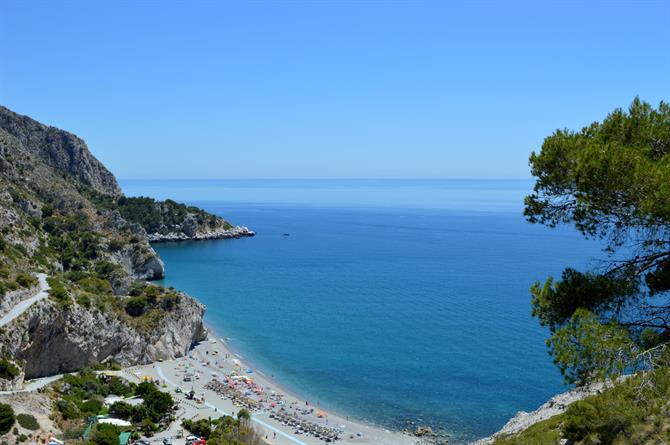 A place to let all hang out. Literally. Playa de Cantarriján is often heralded as being the best nudist beach on the coast, it is certainly the area's most picturesque.
Home to the young and beautiful and the not so beautiful, access is closed in the summer months and you need to take a bus down, but it is well worth the effort. The beach bar/restaurant also offers a kicking night life scene, with concerts and themed parties.
For more information on Playa de Cantarriján
Playa el Cañuelo - Cañuelo beach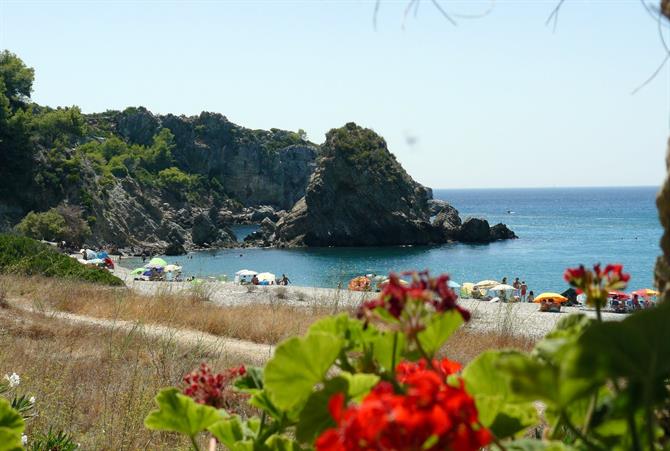 A truly magical beach that sits a couple of coves along from Cantarriján. Its very hard to pick the best, but Playa el Cañuelo is definitely high on our list.
The perfect family beach, with crystal clear waters, numerous coves and underwater formations to explore while snorkeling and some great hiking (such as the walk to neighbouring Cantarriján). We spend most of our summers here!! The place my children learnt to swim.
For more information on Playa el Cañuelo
Playa las Calas del Pino - Las Calas del Pino beach
Las Calas del Pino could be roughly translated as the corner of the pines. Its another one of those spots you really need to know to find and one that 99.9% of all people just drive past without ever realising the beauty that sits right beneath them.
If you want secluded, this is it. There are no shuttle buses, the access is not as straightforward as with some of the other beaches, and involves a steep descent (and climb back up)…..but what a beach!! It is also clothing optional.
For more information on Las Calas del Pino
Playa la Caleta de Maro - La Caleta de Maro beach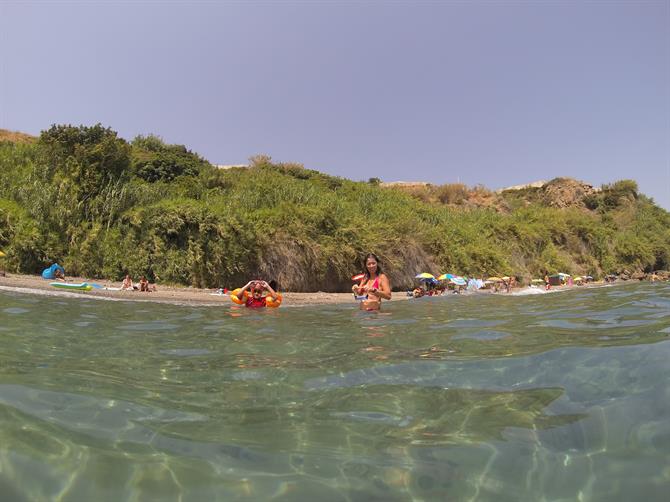 La Cala de Maro was just voted as Spain's second best beach by Antena 3 viewers. The year-long poll pulled in many thousands of votes and has placed Maro firmly on the map.
A beach that we prefer, sits adjacent to the larger and more popular La Cala de Maro and is known as La Caleta de Maro. La Cala de Maro's lesser known and more beautiful little sister. If feeling energetic you can easily swim to the larger La Cala de Maro. Definitely worth a visit.
For more information on Playa la Cala de Maro
Playa Cabopino - Cabopino beach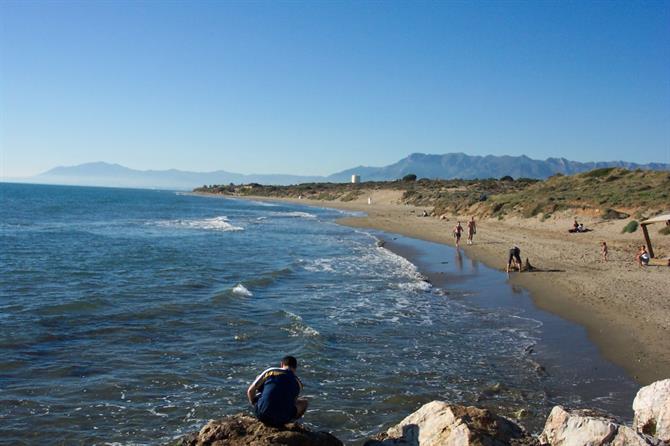 Going a lot further west and towards the more popular holiday destinations of Mijas, Fuengirola and Marbella. You have Cabopino. Probably the best beach in the area.
Offering something for everyone, you have restaurants, bars and activities galore. The beach is divided into two sections, the family orientated Cabopino beach and the neighbouring, gay-friendly and predominantly nudist, Artola dunes. Choose carefully.
For more information on Cabopino beach
Playa de Bolonia - Bolonia beach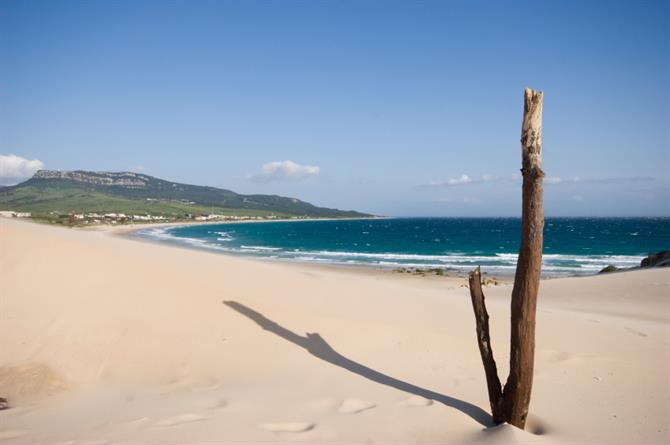 Welcome to the Costa de la Luz. Andalucia's windswept Atlantic - light coast. And what a coast it is. The beaches in this area are without a doubt some of the best in Spain. Picking best ones is near enough impossible.
The whole stretch of coast that runs from Tarifa to the Portuguese border is home to some truly fantastic beaches. Every one of them deserves a mention. However, one exceptional beach and one we always go back to is Playa de Bolonia.
Miles and miles of fine golden sand, crystal clear waters and some great restaurants. If looking to really get away from it all - a visit to Bolonia should be high on your list.
For more information on Playa de Bolonia