Looking for a great spot to vacation with the whole family? Look no further, Fuengirola is one of the best holiday destinations in Andalusia for those travelling with children.
Water activities are a must during holidays, especially on the Costa del Sol where you can expect 320+ days of sunshine per year. Below are five suggestions for water activities in Fuengirola, where both children and adults will enjoy themselves. Read about water parks, parasailing, and boat trips, and if that's not enough, maybe Fuengirola's selection of amazing beaches will convince you to stay in Fuengirola.
1. Parque Acuatico Mijas water park
Parque Acuatico Mijas, also known as Aquamijas, has five water slides - three for older children and two for younger children. Watch the kids play on the slides or join in! You can also play mini golf, climb on the climbing wall, or relax in a jacuzzi.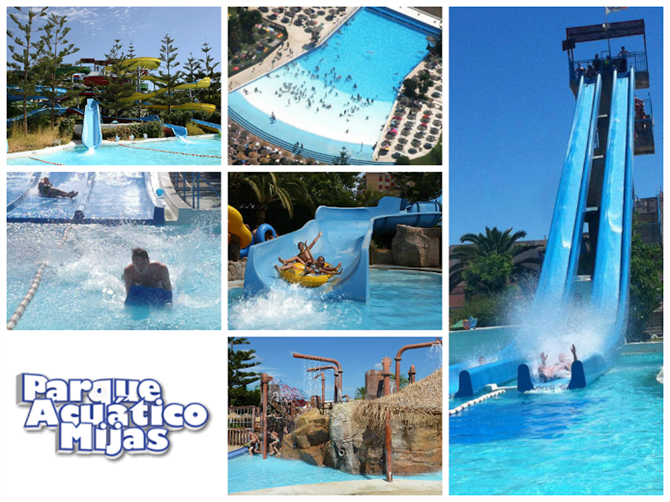 This small water park is ideal for families with small children. It is a good park to visit because it is less crowded than others, even in the high season.
Food: A restaurant, a café, and a kiosk. There are also large areas where you can bring your own picnic.
Prices: Adults €23.50, Junior (8-12 years) €17.50, Children (3-7 years) €12.50.
Opening hours: In 2015, Aquamijas is open from April 27th until October 1st. Opening hours vary:
April 27-May 31st 10:30-17:30
June 1st-June 30th 10:30-18:00
July 1st-August 31s 10:00-19:00
September 1st-September 13th 10:30-18:00
September 14th-October 1st 10:30-17:70.
Discounts: There is discount for booking online. There is also a 30% discount for arriving after 15:30 (or after 14:30 in the low season).
Address: Camino Viejo de Coín, 11, 29651 Fuengirola
Contact: +34 952 46 04 04 / aqualand@aquamijas.com
Get more information on Aquamijas.
2. Aqualand Torremolinos water park
The oldest and largest water park in the Málaga province is located in Torremolinos, about half an hour by train from Fuengirola. There are tons of fun activities here, including 10 slides for adults and 15 for children. There are scenic garden areas between the many water areas and pools. Younger children can also enjoy themselves in a separate child-friendly area .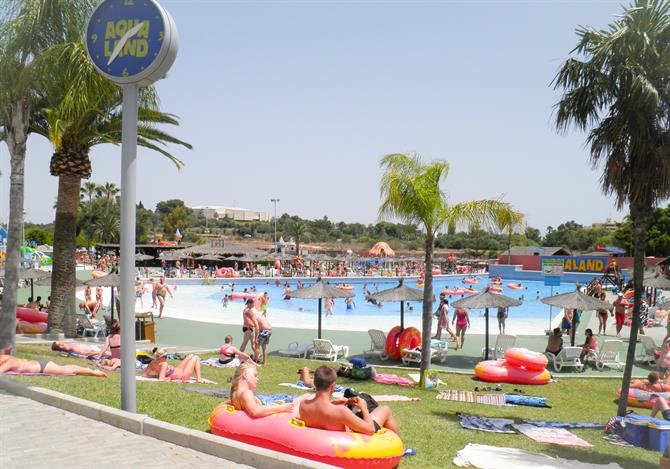 Daredevils can try out Europe's tallest water slide, the 22-metre-high 'Kamikaze'!
Food: There are several restaurants to choose from, but you can also bring your own food for a picnic (glass bottles are not permitted).
Prices: Adults €26, children (4-12 years) €18.50, children (3-4 years) €10, babies free. You can also expect to pay for the rental of a water donut and storage locker.
Opening hours: Aqualand is open every day from May 25th to September 20th. Opening hours for May, June and September are 11:00-18:00. Opening hours for July and August are 10:00-19:00.
Discounts: Save up to 15% by purchasing your tickets online. This may be a good idea during the high season, when the entrance queue can be long. If you buy your tickets for your next visit before you leave the park, you will get about a half-price discount.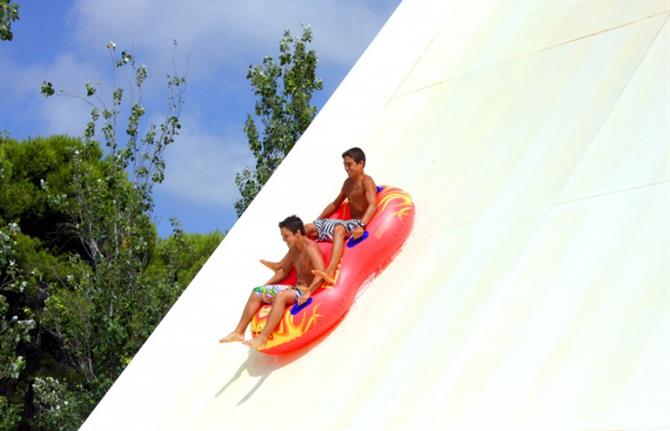 Address: Calle Cuba 10, Torremolinos (about 2 km from the Torremolinos train station makes it easy to get there).
Contact: +34 952 38 88 88
Further information about Aqualand Torremolinos.
You can also read more about other water parks on the Costa del Sol.
3. Parasailing Fuengirola
Sitting comfortably and securely tethered to a boat, you can fly off supported by a huge parachute, with the Mediterranean Sea below and the most beautiful views of Fuengirola. The flight lasts about 10 minutes and up to 6 people can go up together.
Smile High Parasailing is located in the Fuengirola harbour and it is easily recognizable by its red flags and signs. In addition to parasailing, you can go waterskiing, on a fishing trip, or on a boat trip to see dolphins!
Contact: +34 633 82 22 74 / +34 952 46 50 01
Opening hours: Parasailing from March to October between 11:00-18:00. In July and August parasailing is kept open later in the evening. Boat trips are held throughout the year, as weather permits.
4. Costa Water Park
Costa Water Park is an inflatable, floating obstacle course. This place is guaranteed to be fun for children and adults alike. In 2014, three new obstacle courses opened in Fuengirola, in addition to the existing three in Marbella and Estepona.
The waterborne playground is about 70 meters from shore and floats above relatively deep water, so it is important for children to be strong enough swimmers to get there. Some of the courses have set up a small floating rest area on the way out to the obstacle course.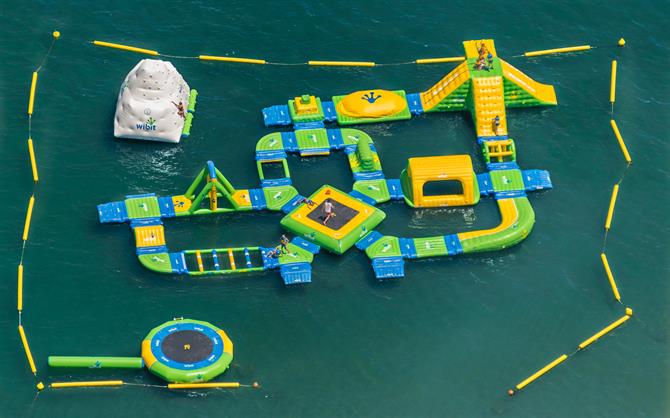 Once you are out on the obstacle course, you can get around by jumping, climbing, crawling, sliding, and slipping around on the inflatable obstacles. Some of the obstacles require using a large floating donut to get to them; these can be borrowed or rented on site.
Opening hours: May, June and September from 11:00-19:00. July and August from 11:00-20:00.
Cost: €10/hour. A day pass costs €25. You can ask if any discount coupons are available in kiosks and nearby shops. Tickets can be purchased at the booth on the beach in front of the obstacle course - bring cash, as credit cards may not be accepted.
Address: The three obstacle courses in Fuengirola are found west of the Los Boliches port and Carvajal beach. See the map on the Costa Water Parks website.
Contact: info@costawaterpark.com
5. The boat trip Fuengirola Benalmádena
From Fuengirola, you can take the ferry to Benalmádena's port (Puerto Marina). The trip takes an hour and offers beautiful views of the sea and the coast. With a little luck, you will also see dolphins along the way, either from the railing or through the boat's glass bottom. This trip is wheelchair accessible and dogs are allowed on board.
Besides the regular boat trip, there are also options to start the the boat tour at sunset or take a special dolphin trip.
Arriving in Benalmádena's Puerto Marina, you can stroll around and admire the luxurious boats and the port's unique architecture, which is based on strong Indian, Arabic and local Andalusian influences. At the port you will find tons of shops and restaurants.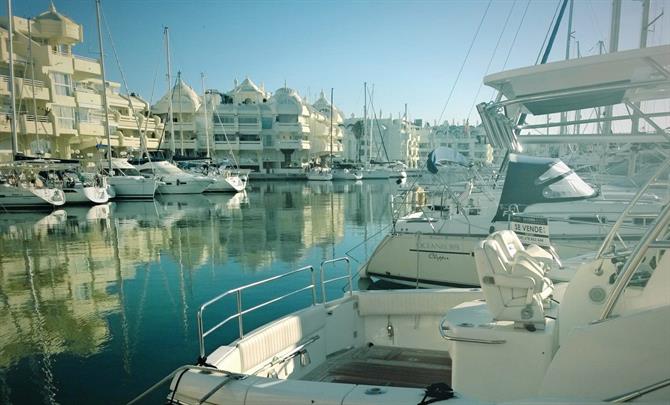 Prices: Adults one way €9, return €14. Children (3-11 years) one way €5, return €8.
Departures: Every day from Fuengirola at 11:30, 13:30, 15:30, and 17:45 (last boat does not offer a return trip). Departures from Benalmádena are an hour before. From November to March, sailing only takes place on Tuesdays and Sundays when there is a market in Fuengirola.
Tickets: Costasol Cruceros' offices in the Benalmádena and Fuengirola ports.
Contact: +34 678 61 85 85
Get more information on Costasol Cruceros.