Fuengirola has the longest seaside walkway in Spain at 7 km in length, and a series of great beaches stretch alongside. Starting at El Ejido in the west and ending at Torreblanca in the east, this beachside walkway is officially known as El Paseo Maritimo Rey de España, which can be directly translated to "the King of Spain's seaside promenade".
Lined with palm trees, flowers, and endless stretches of sandy beaches, the boardwalk is a beautiful place for a sunset (or sunrise) walk or jog. In the harbour, there are lots of great restaurants and cocktail bars to try, and it's the perfect place to hang out and watch the fishing boats go out to sea.
There are seven main beaches in Fuengirola: El Ejido, Santa Amalia, San Francisco, Los Boliches, Las Gaviotas, Carvajal, and Torreblanca. On most, you will find everything from cool beach bars, sand sculptures, shops, recreational areas, opportunities to try water sports, and no shortage of sun beds. There are also bike lanes that line the boardwalk for easy access for cyclists.
Fuengirola has grown at a steady pace over the last 20 years and the beaches have developed alongside. Below you'll find quick information on spots you should check out along the Paseo Maritimo.
Playa El Ejido (Playa del Castillo)
Coming from Marbella towards Fuengirola, the first beach you'll come across is called El Ejido and is also known as Playa del Castillo (the Castle Beach). It is unique because of the colourful boats that line the beach, making for a perfect photo opportunity with the andalusian waves dancing in the background.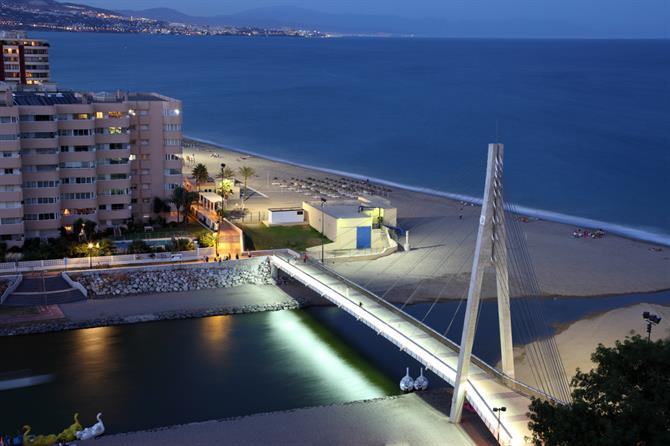 Santa Amalia
Santa Amalia is next and is connected to Playa El Ejido by a suspension bridge that you can see from the highway if you're taking the A7 from Marbella.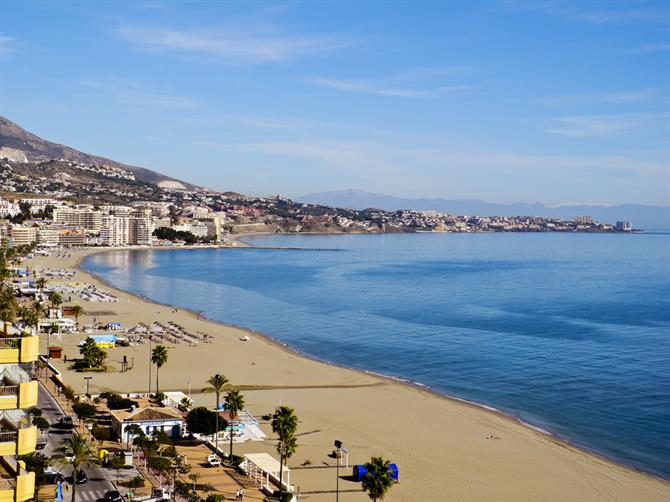 Playa San Francisco
After Santa Amalia, you will come to Playa San Francisco. Playa San Francisco is an extremely well-kept beach full of amenities. At only 300 meters in length, it becomes very crowded in the summertime, but following the high season it is calm and quiet.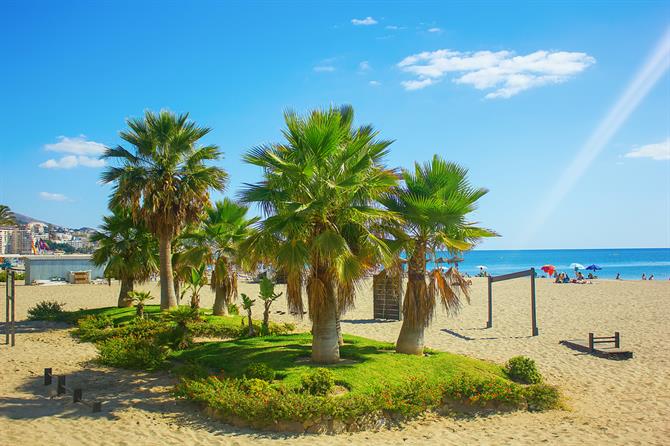 El Puerto de Fuengirola
After San Francisco is Fuengirola's port; a small area dedicated to boats, shops, and water activities, as well as lots of bars and restaurants. People come here for the food, harbour views, shopping, and activities such as fishing, water scooter rentals, diving, and sailing charters.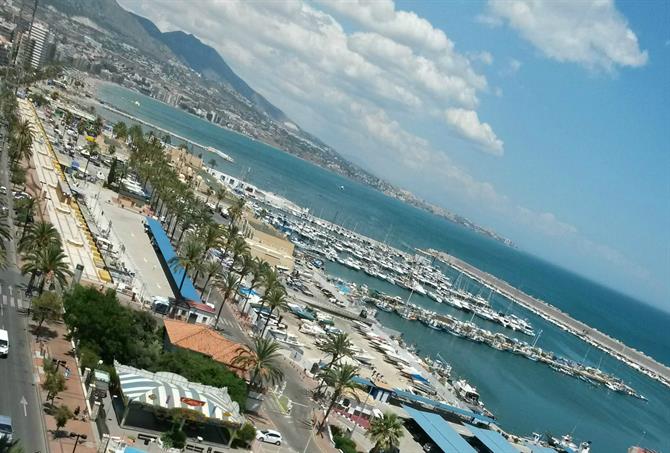 Los Boliches
Los Boliches is one of the most popular beaches in Fuengirola and has everything you need to spend a day at the beach: sun beds, parasols, areas for children, and restaurants.
The chiringuito beach bars here are excellent and you shouldn't leave without trying an Espeto de Sardinas, skewered sardines grilled in the Malagueño style. This andalusian tradition is best enjoyed with a cold caña or a glass of tinto de verano.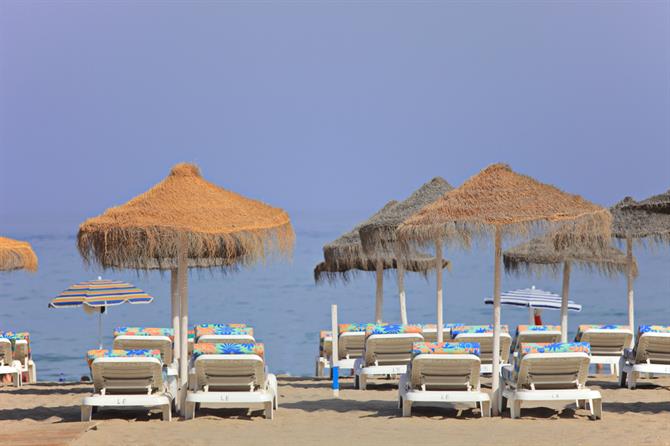 Los Boliches has been awarded the Bandera Azul (Blue Flag) on several occasions. This is awarded to beaches that are well-kept, nature friendly, safe, and that have excellent water quality. It is also one of the widest beaches in Fuengirola, with great access to the sea along the rows of wooden docks.
If you've had enough tanning, you can take advantage of the pedal boats rentals, water skiing, volleyball nets, and kids can head to the playgrounds.
Playa de Torreblanca
If you're coming from Fuengirola or Málaga by train, Playa de Torreblanca is easy to access. All you have to do is get off at the Torreblanca stop and the beach is just a quick walk down the hill.
Playa de Torreblanca is located on the border between Fuengirola and the neighbouring coastal city of Benalmádena, home to southern Spain's best port. Because it is located between the two cities, it often happens to be a little quieter here than at more central beaches.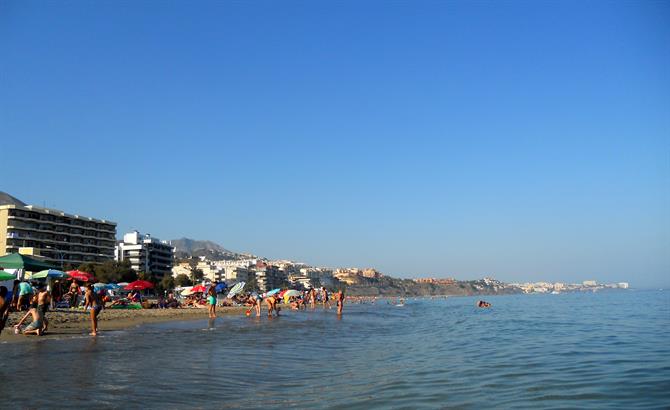 On this kilometre-long stretch, there is a great deal of space to sunbathe, as well as spots to rent boats, try windsurfing, practice kayaking, or go out for some fishing. Fishing is only allowed directly from shore during the low season; during high season it is best to charter a boat and fish from the sea.
Playa Las Gaviotas
Playa Las Gaviotas is a two-kilometre long and 60-meter wide beach that is very popular among the many foreigners who visit Fuengirola over the course of the summer.
Here you'll find a lookout point, lifeguards, public showers and bathrooms, beach chairs and umbrellas for rent, and a lot of nearby shops selling cold drinks, snacks, and beach accessories. There are also many excellent bars and restaurants in the area.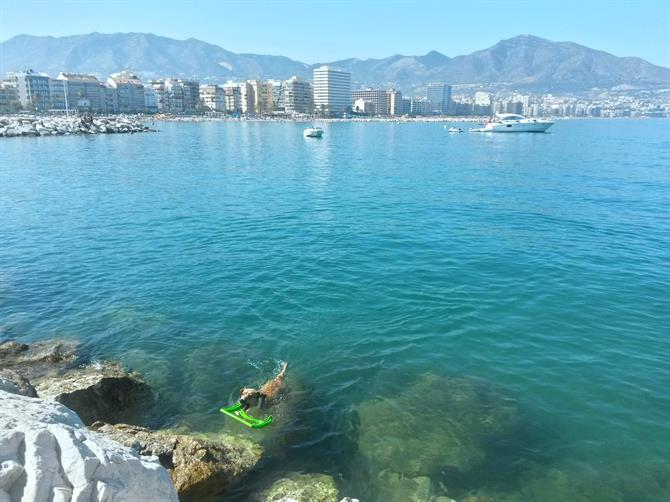 Map of Fuengirola and the coast's most popular beaches