Soho, also known as Málaga's arts district, is here to stay. The reality is that art is filling up this little corner of the city, making everyone forget the dark and shabby area that the neighbourhood was becoming. If you stroll through today, you'll see continual transformations, huge graffiti murals, and charming shops scattered along Soho's busy streets.
The neighbourhood is nestled between Alameda Principal, Málaga's main street, and the Muelle Uno port. Thanks to initiatives taken by neighbours of the community, and to the close association of shopkeepers and restaurateurs, this new cultural district has been created by rehabilitating old buildings and giving them "soul".
Some of these buildings have already become part of street art and graffiti culture, their unique facades making their way around the world under the internationally known "Soho" brand.
Let's head to 9 genuine and authentic businesses with personalities of their own. So, if you want to get a new look, go to a fun cooking class, take a ride on authentic bikes from the 70's, 80's and 90's, try great coffee, then don't resist the charms of this unique neighbourhood any longer.
Let's go to Soho.
1 - Urban Bicycles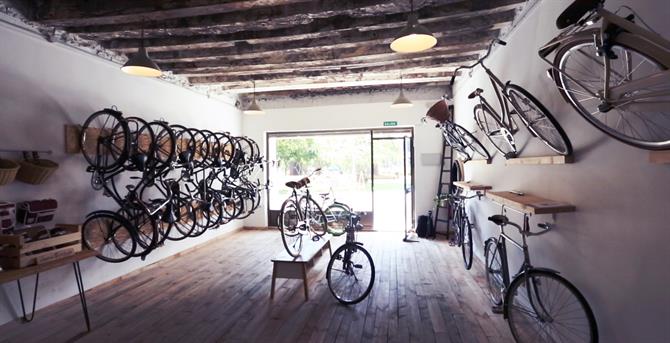 If you want to visit Málaga in a healthy and environmental way, and in true vintage style, Urban Bicycles is the shop for you. Their bikes are beautiful models straight out of the 70's, 80's and 90's - vintage is so fashionable these days - and you can rent, buy, or have your own bicycle repaired here. You'll notice that this project, promoting the use of urban bikes, is gradually taking over the streets. Keep an eye out for the little wooden "Urban Bicycles" signs on the backs of bikes touring Málaga.
What else? You'll definitely be impressed by the hospitality of the owners; they are two brothers, one a product design engineer and the other a lawyer. Because they both share the passion of seeing the world by bicycle, they've paired their ideas to create this great store. Visit them, we promise you'll love their shop!
+ Information:
Calle Vendeja, 8
First floor
Málaga, 29001
Tel.: +34 951 003 812
web: www.urbanbicycles.es
2 - Laboratorio de sabores

Nowadays we scroll through endless photos of mouthwatering dishes created by top chefs and food bloggers alike. What if we told you that you can cook exotic dishes too? The stovetop is hot and your kitchen mentor is waiting for you at Laboratorio de sabores: check out the small group cooking classes you can take here.
This school of gastronomy will teach you the secrets of mediterranean cuisine in a fun and informal atmosphere. Nothing is better than heading into an authentic experience alongside lovers of good food, just like yourself.
+ Information
Calle Duquesa de Parcent, 6
Lower left
Málaga 29001
Tel.: + 34 951 391 487
Web: www.laboratoriodesabores.com
3 - Jorge Mier-Terán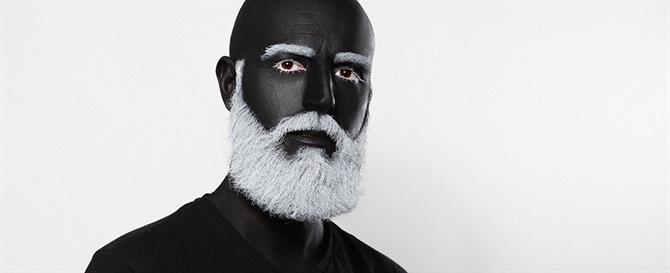 Are you looking for professional photos? Talk to Jorge Mier-Terán and he'll be sure to capture your best side. This fantastic photographer, born in Jerez de la Frontera, is a computer engineer whose fate led him to a love of photography. He is undoubtedly one of the greatest photographers in Málaga.
Moreover, this young and talented artist has worked with a multitude of huge companies including, Auriga-BMW / Caster Jeans / Gargali / CMS Jeans / Soloptical / Vero Moda / Group Gorki / Olimara / Greenlife / Mercedes R.Benet / Doctor Watson.
Don't forget Jorge's work and check out his website!
+ Information:
Calle Barroso, 10
29001 Málaga
Tel.: +34 657 366 977
web: www.mierteran.com
4 - La Barbería de Málaga, Málaga's Barbershop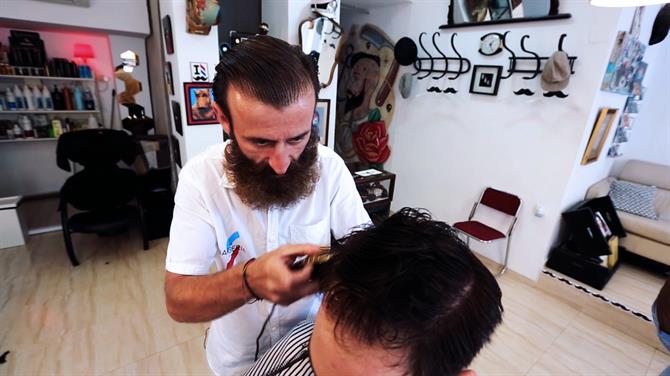 Imagine heading back in time to those classic barbershop-retro-days. Welcome to La Barbería de Málaga, Málaga's Barbershop in Soho. When you walk in, you'll meet two bearded men with large, curiously sculpted moustaches, friendly faces, and incredible tattoos freely roaming their arms.
Owner Daniel Monguela's goal is to recover an "intimate space for men" and to bring back the profession of the barber. Daniel has created an open and inviting space for all men, and he even has another new project geared at tattoo enthusiasts starting-up. Accompanying Daniel on this adventure is a friendly and likeable man named Horse. Expect more great things from these guys!
If you want to know prices, they are very reasonable. A gentleman's cut is 10 euros, while kids and retirees pay 6 to 8 euros. Want a shave, beard or moustache trim? 6 to 8 euros.
+ Information:
Calle Martínez Campos, 2
29001 Málaga
Tel.: +34 952 210 889
web: www.labarberiademalaga.com
5 - CAC Málaga or "Centre for Contemporary Art"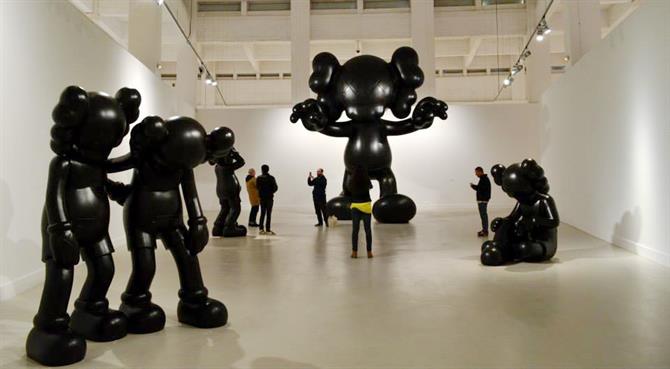 The heart of Soho, the pulse behind these artistic projects, is without a doubt CAC Málaga, also known as el centro de arte contemporáneo, the centre for contemporary art.
Opened on February 17th, 2003, CAC's international recognition as one of the best art centres in southern Spain has attracted crowds of curious art-lovers. You'll get to enjoy great exhibitions and works by major figures such as Louise Bourgeois, the Chapman brothers, Paul McCarthy, Raymond Pettibon and Yoshitmo Nara, among many others.
A must-see during your stay in Málaga.
+ Information:
Calle Alemania
29001 Málaga
Tel.: +34 952 120 055
web: www.cacmalaga.eu
6 - Love is Bakery

By the end your Soho visit, you'll need to have stopped in at Love is Bakery, one of Málaga's favourite American bakeries. Inside the small and cozy shop painted in pastels and decorated with dedication, you'll feel like you're in a 60s Hollywood movie, and I bet you won't be able to resist trying one of the delicious American pastries.
The options are tempting and it's definitely hard to make just one choice. Can't pick? A coffee and a slice of lemon or carrot cake will do just fine. In addition to being tasty, all of their specialty treats are made from high-quality natural products.
+ Information:
Alameda Principal, 37
29001 Málaga
Tel.: + 34 952 609 083
Web: www.loveisbakery.com
7 - Restaurante Meson Iberico
It's probably the most traditional on this list, but the Meson Iberico restaurant is one of those places you have to go to while in Málaga. José Luis Zorrilla opened the doors in April 1998 and today the restaurant has become a benchmark for traditional Malagueño gastronomy. Meson Iberica is known for its high quality foods and high quality service.
People say that their secret is "to have the same enthusiasm and desire to work as they did on their very first day...".
One of the best things about this place is the wide range of products and the wine list; they always have a special spot for local wines. Stop off here for a rest and enjoy this culinary temple during your Soho visit. Recommended are the anchovies, the pil-pil bacalao cod, the jamón, and the "king's" cheese... among other great choices.
Get to know more Malagueño cuisine and check out our article about Málaga's best traditional tapas.
+ Information:
Calle San Lorenzo, 27
29002 Málaga
Tel.: +34 952 603 290
8 - www.comicstores.es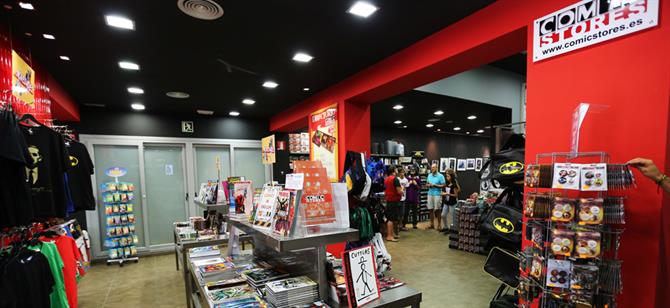 Today no arts neighbourhood is complete without a good comic book store. As Málaga's alternative district, Soho had to have one of these. The shop is well-loved by comic book fanatics, and those intrigued by the vibrant colours and the unique items lining the walls.
If you're nearby, feel free to stop-in to explore this world of adventure and fantasy. Who knows, maybe your favourite character will evoke your inner-child and you'll become comic enthusiast too.
+ Information:
Calle Trinidad Grund, 11
29001 Málaga
Tel.: + 34 952 213 056
Web: www.comicstores.es
9 - Play Planet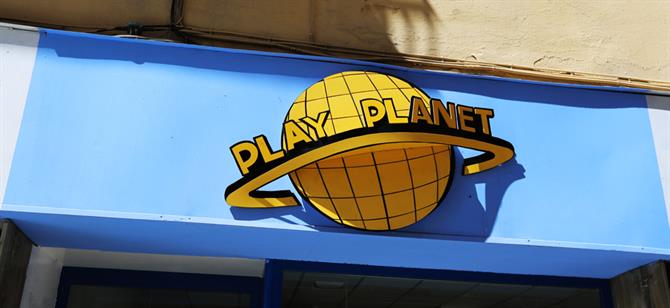 This unusual cafeteria with a fitting design, very friendly staff and prices for every budget attracts people of all ages, classes and tastes. Head here to have a good coffee or refreshment at competitive prices. The best part is that while you're sipping, you can play their wide variety of board games.
Excellent atmosphere.
+ Information:
Calle San Lorenzo, 18
29001 Málaga
Tel.: +34 633 509 339
More interesting places in the Soho neighbourhood:
Restaurante Óleo is one of my favourite restaurants in Málaga and many say that it has the best sushi in the city. The cuisine is defined as Mediterranean with a Japanese flare. Find out more in our article about the best international restaurants in Málaga.

La Canalla is a studio and art gallery which also offers private art lessons. www.infolacanalla.wix.com/lacanalla

Sala Teatro Chelamar is a creative space where you can enjoy intimate shows, such as acoustic concerts and dance performances.
www.salachelamar.com

K-dksa is another great example of the artistic spirit of Soho. This cute little shop sells vintage- and retro-style gifts and decorations. You'll find the shop located just accross from the Comic store at Calle Trinidad Grund, 10.
www.facebook.com/kdksa

Málaga is definitely growing quickly, and you'll notice that the modern and cosmopolitan beat of Soho is getting stronger every day.
Map of businesses in the Soho arts district in Málaga