With the history of tapas dating far back and tapas themselves a form of national identification and culinary importance, each region of Spain is proud of their local specialties.
In the heart of Andalusia, Málaga is an ideal location to get to know Spanish cuisine and the culture of tapas.
Below we have handpicked 10 of Málaga's best traditional tapas that you need to try during your visit, and many that you'll be bound to find in most bars and restaurants.
Video of the Best Tapas in Málaga
Hungry yet? Following this Top 10 list, check out our articles on the 10 best tapas bars in Málaga and 10 best international restaurants in Málaga for more mouth watering dishes.
Ajoblanco - Cold Garlic Soup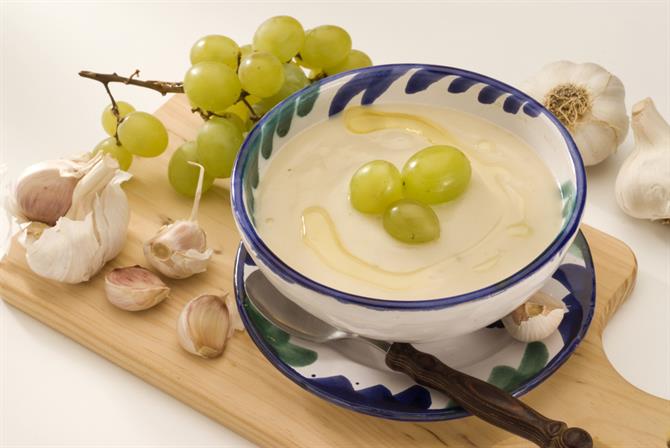 Ajoblanco, translating to "white garlic", is a chilled soup also known as white gazpacho. Made of bread, crushed almonds, garlic, water, olive oil, salt and sometimes vinegar, this savoury dish is traditionally served with grapes or slices of melon or apple in Andalusia. There's even a festival in Almáchar, Málaga dedicated to el Día del Ajoblanco on September 2nd.
Albondigas en Salsa de Almendras - Meatballs in Almond Sauce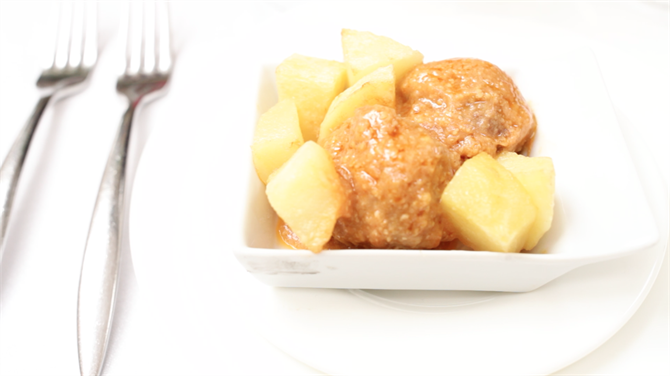 Albondigas en salsa de almendras, meatballs prepared in almond sauce, are one of the flavourful wonders of Malagueña cuisine. You'll find that the almond sauce varies from place to place, but that you'll want to have a more wherever you go! As Spain is the world's second largest producer of almonds and due to its Moorish routes it isn't surprising that almonds are often found in Spanish cuisine.
Boquerones en Vinagre - Anchovies Marinated in Vinegar

You will be sure to find B
oquerones en Vinagre
in every malagueño tapas bar. These fresh anchovies are marinated in vinegar or a mixture of vinegar and olive oil, and seasoned with garlic and parsley.
Order boquerones with a caña of beer
and you'll be living the Andalusian lifestyle in no time.
Ensalada Malagueña - Malagueña Salad

The Ensalada Malagueña is a well known summer salad in the province of Málaga. While it is usually made up of a potato base, accompanied by oranges, finely cut onion, bacalao-cod, and green olives, you'll find both the traditional salad as well as new cuisine takes on this Andalusian classic. Above is Málaga's own Michelin Star chef José Carlos García's artistic version of the Ensalada Malagueña.
Ensaladilla Rusa - Russian Salad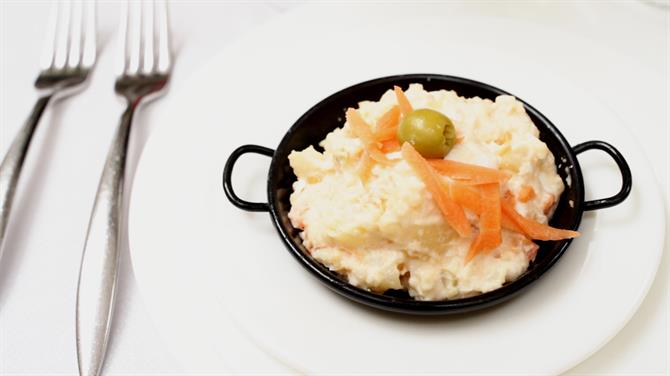 Ensaladilla Rusa, Russian salad, is what we know well as potato salad. It is said that the salad was invented in Russia in the late 19th century, but while the Spanish have kept up the name, every family has a recipe of their own. This is without a doubt one of the most popular tapas of the region.
Fritura Malagueña - Fried Fish Málaga Style


Fritura Malagueña, deep fried fish and seafood served with a slice of lemon, is one of my very favourites. There's nothing better than having tapas, or even a plate full, of various fried fish and seafood from anchovies to mullet to calamari. You'll find the best fritura at chiringuito beach bars where you can order the latest catch.
Gambas al Pil-Pil - Garlic Prawns

Everyone loves
Gambas al Pil-Pil
, delicious garlic prawns, and you'll rarely find a menu without them. Served in a spicy olive oil garlic sauce and seasoned with paprika, chillies, and white wine,
this dish arrives to your table sizzling and hot
. Don't forget to dip your bread in the sauce, and sit back and enjoy the Spanish life.


Pipirrana Malagueña - Malagueña Pipirrana Salad


Pipirrana Malagueña, also known as Salpicón, is a refreshing summer salad made up of a mix of diced onion, tomato, cucumber, red and green peppers, and dressed with sherry vinegar, salt, and olive oil. I've usually found it accompanied by seafood like octopus or prawns, and I'm always impressed by this salad.
Porra Antequerana - Antequera Cold Soup


Porra antequerana originates in the Andalusian town of Antequera, just under an hour off the coast, and is part of the famous gazpacho family. This cold soup consists of tomato, dried bread, garlic, olive oil and paprika, and is much thicker than gazpacho and usually served in the form of tapas. You'll always find jamón serrano-ham overtop, and often tuna and quail eggs too. I order it every time I'm out for tapas!
Tortilla de Patatas - Spanish Omelette

I was surprised and delighted the first time I tried Tortilla de Patatas. This thick Spanish omelette is very different from what we know as omelettes, using fried potatoes along with eggs, chopped onions, and salt and pepper. This hearty dish is served sliced as tapas and is very filling.
El Patio Bodega Restaurant
A very special thank you to El Patio Bodega Restaurant in Málaga for their kind hospitality.

Address:
Calle Salvador Espada Leal, 10
29002 Málaga, Spain
Telephone:
+34 685 03 46 43