Málaga city is fast becoming the shopping destination on the Costa del Sol. If you happen to be on holiday in Málaga, you may want to take home some authentic souvenirs as gifts for friends and family or to remind you of the time you spent here.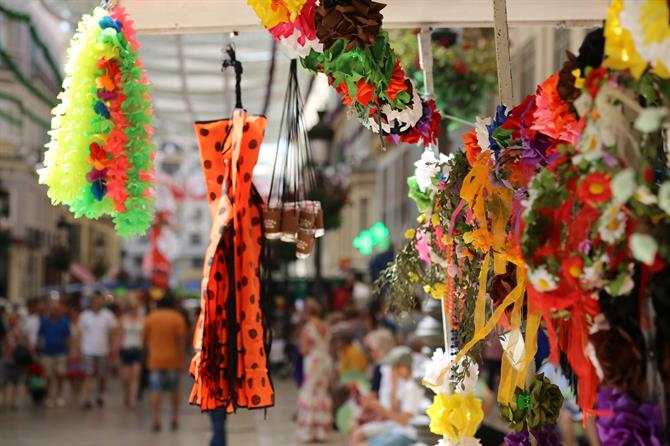 For those who want to return home with a suitcase full of traditional Málagaen flavours and fragrances as well as items related to the culture in this part of Spain, instead of fridge magnets and key rings, here are some ideas of what to buy in Málaga.
Traditional Food and Drink
We buy souvenirs to provoke happy memories when we look at them. Just as important in evoking nostalgias are the smells and tastes we experience from trying traditional dishes, to the sweetness of the fruit you bought at one of Málagas street markets.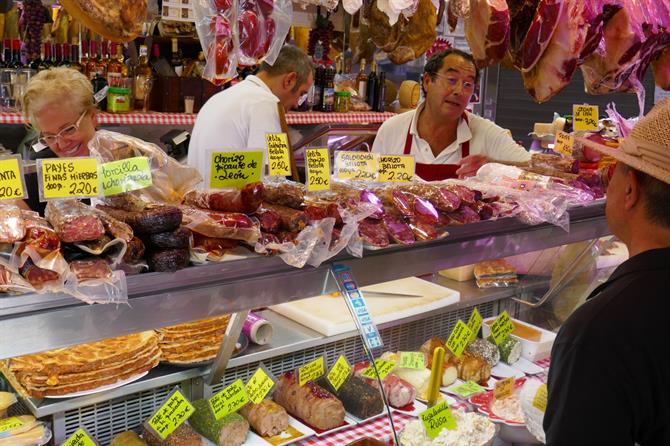 Located on the Mediterranean Sea,
Málaga
enjoys an abundance of excellent fresh local products, traditional products and unique wines. When visiting the capital of the Costa del Sol, you should definitely consider taking some of these delicacies home with you as the ideal gift for those who like to try new flavours.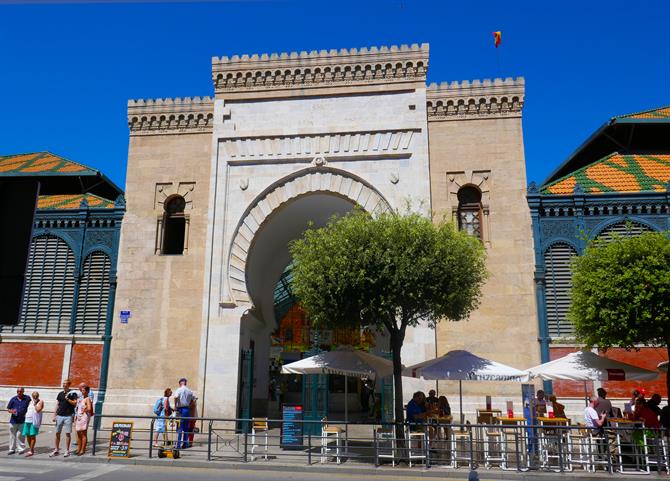 When looking for presents for loved ones, it is definitely worth going to Mercado Atarazanas. Located in the city centre and one of the best places to stay in Málaga for shopping, you will find not only an ocean of textures, colours and smells but also samples of local delicacies.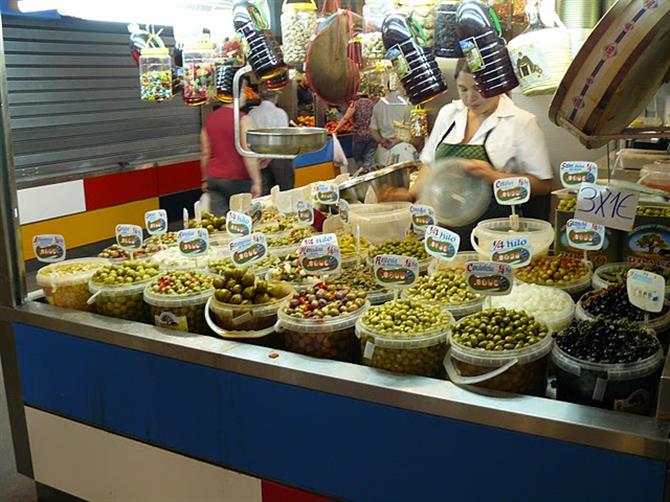 As for some souvenirs, head to the olive stands, sample different types and choose the ones that you liked most. They are typically chupadedos literally meaning 'licking' or aceituna aloreña. The latter enjoy the prestigious title of Denominación de Origen, with a history going back hundreds of years. You cannot compare the taste of these locally grown olives from those from a tin which you can buy at home.
At the entrance to the market, you will find stands with cold meats and cheeses. Not everyone knows that Málaga is the main producer of goat's milk in Europe and is known for its one-of-a-kind Malagian goat cheese. These cheeses win prestigious awards every year at the 'Cheese Oscars.'
The various cheeses and olives, belong to a group of products that you will find under an established Málagaen brand, Sabor a Málaga. This company aims to promote traditional products from Málaga and the surrounding area, local suppliers, and family recipes. Look for a blue label 'Sabor a Málaga' on bottles of oil, wines, jams, honey, nuts, sweets or alcohol.

On the website, Sabor a Málaga has a list of stores where you can buy Malagaen products, although you only have to walk around Málaga and you will come across an array of small local shops where you will definitely find something worth taking home with you.
Whilst you are walking around Málaga, you will no doubt breath in the sweet smell of caramel, especially if you are renting an apartment in the centre of Málaga and strolling through the neighbouring streets. This is the Almendras garapiñadas or caramelised almonds mainly sold on Calle Larios, Calle Nueva and on Calle Santa Maria where there is a small shop called Sabor a España, offering nuts and other delicacies from the region.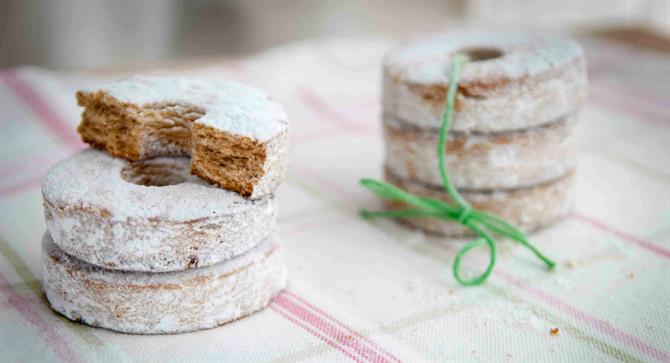 We cannot fail to mention the local pastries, the most famous is 'tart loca' or La Loca. This cake is available in almost all Malagaen bakeries and confectioneries. It is also worth asking about the sweet 'roscos de vino', extremely fragile and literally crumbling in your hands the locals keep the paper to eat them over.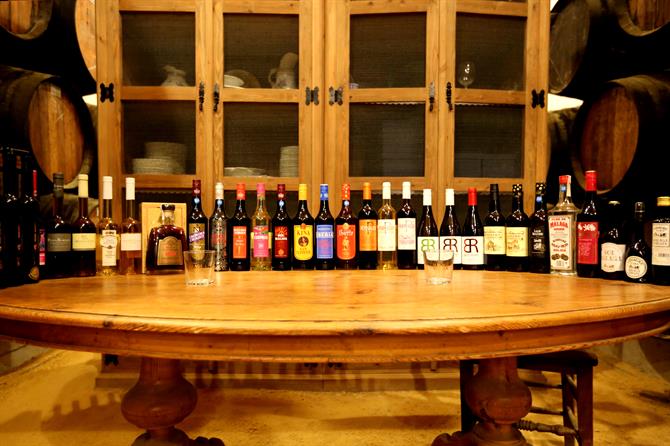 Málaga boasts an array of sweet wines, during the various summer festivals and feria in Málaga they bring out the favourite 'Cartojal.' However, there are more, buy a bottle of this typical sweet wine such as Pajarete or Moscatel. Malagian wines enjoyed great fame and popularity in the time of Al-Andalus, the powerful Moorish kingdoms from Seville, Córdoba and Granada ordering litres of this drink to enjoy at their most sumptuous fiestas.
Wander along to the Antigua Casa de Guardia bar, located at the Alameda Principal, here you can try all kinds of sweet wines made in the region, and before leaving you can stock up on a bottle of your favourite drink as the perfect Málaga souvenir.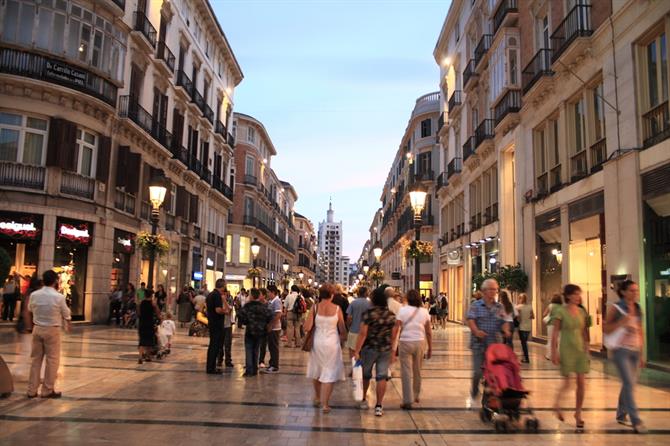 Literally, a few steps away from the wine cellar is the majestic statue of Marquis Larios, with the famous shopping street Calle Larios owing its name to the family. If you are a lover of gin, try a gin and tonic made with Larios, you will definitely want to take a bottle home.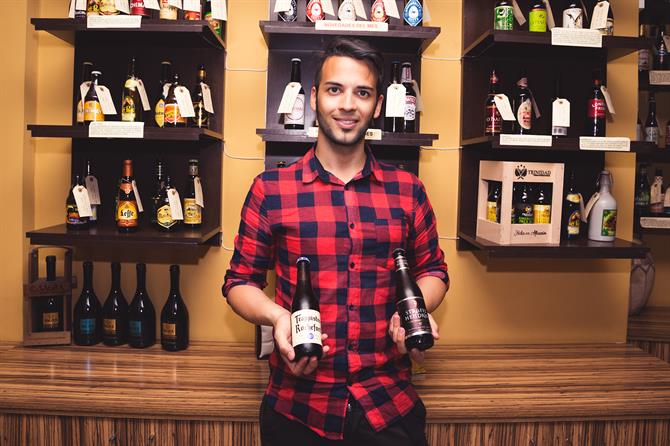 Over recent years the demand for craft beer has boomed and in Málaga, there is no exception. The most famous locally known one is Victoria beer but there are more and more brands, quickly gaining popularity among local beer drinkers. In Spanish, a craft beer is called 'cerveza artesana' if you should ask for it. The brands to look out for are; Murex, Bonvivant, Rebeldia, Malaqa and Trinidad. There are several places you should visit if you want to buy some local beers as souvenirs from Málaga; El Rincón del Cervecero, Central Beers, La Botica de la Cerveza and Cerveceria Arte & Sana.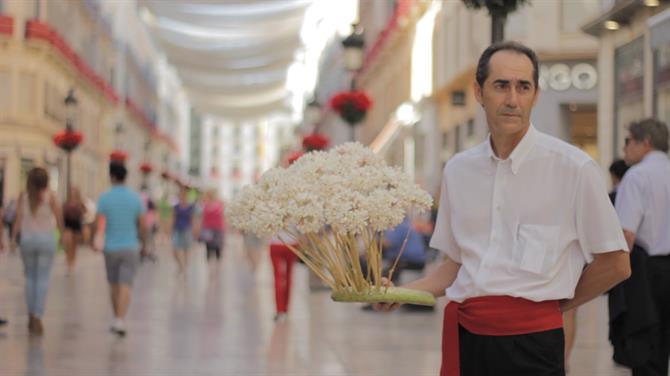 Traditional Items and Clothing
Staying in Malaga, you will definitely be caught by an elegantly dressed man dressed in a red belt selling flowers, called a Biznagero. The name comes from beautiful flowers known as Biznaga. A flower composed of a lot of sweet-smelling jasmine flowers woven thickly on a twig.
You can find souvenirs related to Málaga everywhere you look such as magnets, T-shirts and mugs. Good quality decorations such as jewellery and other items can be found in a small shop in the centre of Malaga, located on Calle Granada - Rincón de la Biznaga. Most of the items available there are handcrafted, porcelain flowers and custom-made items. The prices start from just a few euros.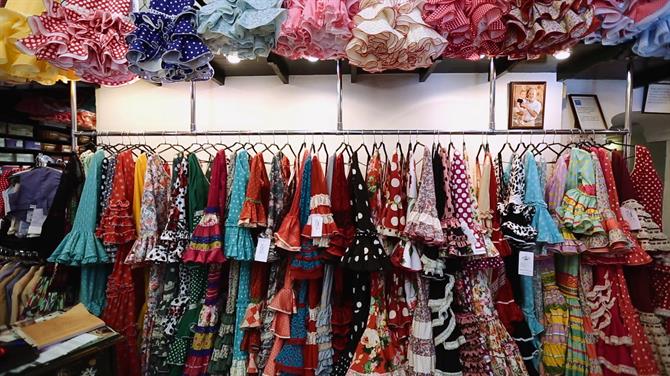 The streets of Málaga have many shops filled with the traditional and colourful flamenco dresses synonymous with ferias. If you like wearing feminine clothing, you can go and get measured for one of these traditional costumes. The city centre is a shopping paradise, also worth visiting, is the Rosapeula store or the beautiful boutique, Viva la Feria.
If a flamenco dress is a bit too much, you can buy a traditional shawl called 'Mantón de Manila' with fringes, whose name comes from the port of Manila, usually, satin or silk and is decorated with flowers or birds. Other great souvenirs from Málaga are a decorative comb to fasten your hair in a classic bun called a 'Peineta,' earrings, brooches and bracelets.
Fans of football or basketball should be sure to check the schedule of the season's games before coming to Málaga. Football matches and basketball tournaments have attracted sports lovers ever since Málaga FC and Unicaja Baloncesto have been triumphing internationally. Keep the ticket as a souvenir or if you do not manage to get a ticket, you can always go to the official shops and buy a blue Málaga shirt or a green Unicaja sweatshirt.
Stores of Malaga FC: Plaza de la Judería 1, Av. de la Aurora 25, Calle Mendívil 7 and Paseo Martiricos - La Rosaleda stadium.
Stores of Unicaja Baloncesto: Avda. Gregorio Diego 44 and Plaza de La Marina 3.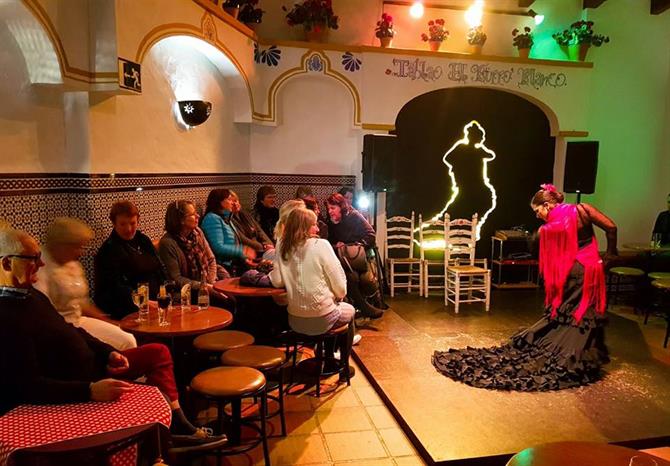 The streets of Málaga are filled with the smell of jasmine and caramelised sugar but also with the sound of local musicians busking, music from passing cars, from the radio in cafes and Malagueños emerging from open balconies.
To take home some authentic music as a souvenir from Málaga, you should consider buying local artists' albums. The best known are Pablo Alborán (pop), Pasión Vega (copla) and Vanesa Martín (pop / rock), it is also worth paying attention to the interesting sounds of well-known bands - Chambao (flamenco / electro) and Efecto Mariposa (rock / pop). The delicate, romantic rhythms of Chambao will surely make you think back to long warm evenings under the Andalucian sky.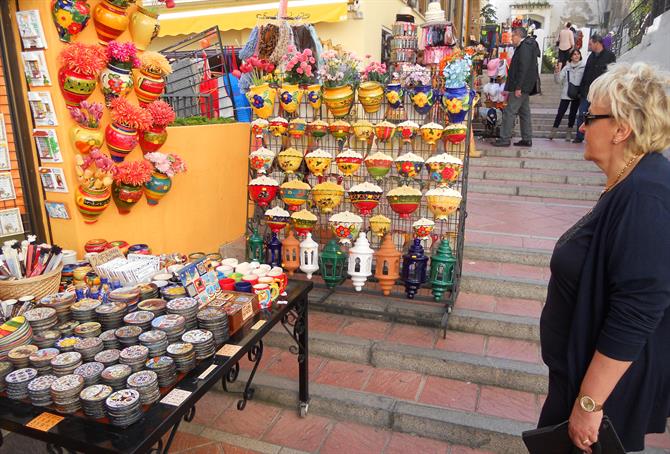 If you are looking for gadgets or small souvenirs to bring home for your loved ones, visit the shops located near the Museums of Málaga. Here, among a multitude of curiosities, you will find something more than just magnets such pages with reproductions of Picasso's works.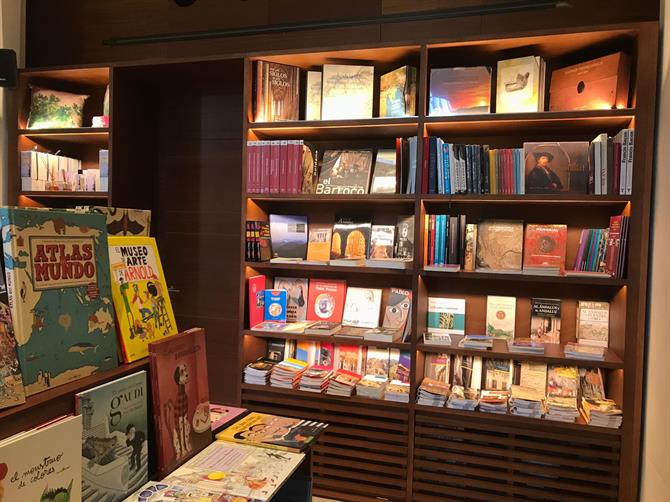 In the shop at the Málaga Museum, you can buy perfumes with typical Málagaen scents, such as bitter orange or jasmine. In addition, they have a lot of games for children and beautifully published books on the history of the city. For books with works of modern art, it is worth visiting the bookstore at the CAC - Contemporary Art Museum or the shop at the Carmen Thyssen Museum. They also offer everyday items (pens, notebooks, stationery) nicely decorated in reference to the history and art of the Málaga.