Malaga is renowned for its excellent gastronomy. Although most of the restaurants offer traditional Andalusian cuisine, with meat and fish dishes predominant on most menus, there is also a decent selection of vegetarian restaurants.
El Vegetariano de la Alcazabilla
El Vegetariano de la Alcazabilla is located right in the heart of Malaga's historic centre, in a small alley overlooking a little square and terrace bar. It's just a few steps away from Plaza de la Merced, the Alcazaba and the Roman theatre. El Vegetariano de la Alcazabilla is one of the historic places in the centre of Malaga and one of the most famous vegetarian restaurants in the city.
Cheerfully and colourfully decorated, it offers a very quiet and pleasant atmosphere. Thanks to its superb location, it's the perfect spot if you are planning on having a romantic dinner.
The restaurant offers a menu del día (set menu for around ten euros), gluten-free food and a selection of vegan dishes. Among the specialties you'll find vegan paella, vegetable croquettes, herb paté, empanadas (like pasties) of roquefort and celery, corn cannelloni with cheese and nuts, mushrooms, seitan burgers, natural juices and organic grain beer.
Calle Pozo del Rey n°5
​El Calafate
Hidden down one of Malaga's narrow streets in the old town, El Calafate offers a pleasant and relaxed ambiance, despite the small premises and the occasional large crowd. It's characterised by an open kitchen and, given its location, it's generally unknown by tourists.
The place does not serve tapas. In return, you can save some money by ordering a menu del día (two courses plus dessert) both for lunch and dinner (from Monday to Thursday) for €12. Making a reservation is highly recommended, especially on the weekend.
Among the dishes worth a mention (offered at a reasonable price, but not always available in the menu of the day): tofu salad and dried fruits, vegetarian lasagna, couscous with vegetables and caramelised onion, creamy risotto, thai wok, chop suey with vegetables and seitan, red hummus, mushroom paté with Pedro Jimenez (an excellent and full bodied Andalusian white wine).
Calle Andrés Pérez n°6
Vegetariano Cañadú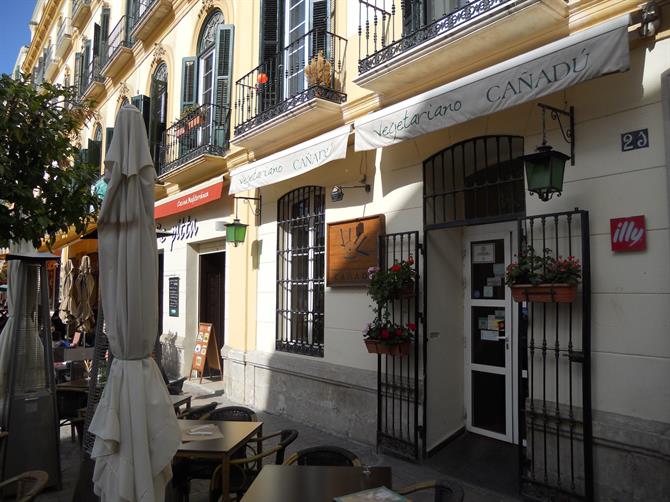 Situated right on Plaza de la Merced, anyone would consider Cañadú's location a tourist trap heaven. It's a favourite and much-appreciated restaurant, however, with vegetarians and non-vegetarians alike. The restaurant has a nice terrace and offers a good atmosphere at any time of the day.
The establishment does not serve tapas, but you can order small portions of some of the house specialties or enjoy a menu del día for about €10. On top of this, there are vegan and gluten-free options available. Portions are always abundant and reasonably priced. Not surprisingly, the restaurant is often filled with a crowd of people.
The cuisine is very varied and tasty. Some specialties that you can't miss out on are cous cous with vegetables and dried fruits, stuffed aubergine, moussaka, seitan scallops with cream and green pepper, very good cinnamon apple croquettes with pine nuts, persian rice with mushrooms, almonds, seitan and curry, vegetable lasagna, yoghurt salad with carrots, apples, pineapple and nuts. They also have some nice fruit and vegetable juices, home-made desserts and a great choice of tea and infusions, which you can enjoy best while sat on the terrace, watching people going by.
Plaza de La Merced n°21
El Tesoro del Puchero
This vegetarian restaurant is located just outside the centre, not far from the train station. In addition to the variety of food on offer and the great environment, the place hosts seminars and cooking lessons and has a library open to the public centered on health and well-being.
The gastronomic offering is quite varied, with elaborate dishes based on traditional Mediterranean and oriental recipes, which are imaginatively interpreted and prepared using only local organic ingredients.

The restaurant offers a day menu, which is always different, as well as menus on Friday night and Saturday (around €15 for two courses and a dessert), inspired by international cuisine and accompanied by ecological wines, artisan beers and vegan sweets.
El Tesoro del Puchero is open from Monday to Thursday from 9 to 18 (the kitchen closes at 16); on Fridays from 9 to 18 and from 21 to midnight (the kitchen closes at 23); on Saturdays from 13 to 18 (the kitchen is open until 16).
Calle Babel n°5
Taperia Astrid
Astrid is a restaurant and a tapas bar, offering vegetarian, vegan and gluten-free cuisine, as well as meat and fish dishes. Located in the centre, with a modern decoration and a relaxed atmosphere, it's not only the perfect spot for dinner, but also for a late-night breakfast or an aperitif or a cocktail.
The gastronomic offer is very varied and is entirely based on artisan organic products. In addition to the main menu, do not forget to ask whether the menu del día (set lunch menu and not every day) is available. The set menu is generally very tasty and rather cheap (around €9), it's a great option if you are vegan, given that Taperia is also included in our list of the best vegan restaurants in Malaga.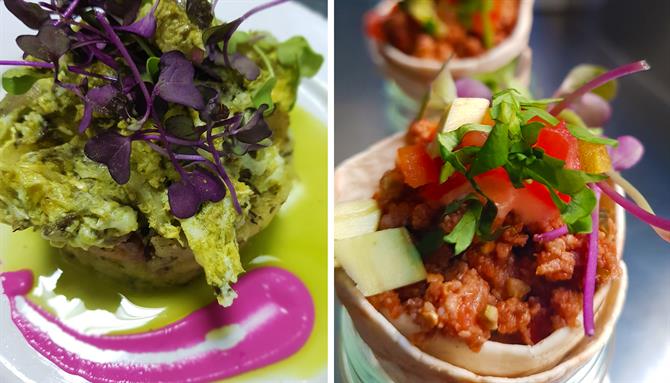 The restaurant is open in winter from 13 to 23, from Thursday to Saturday and Sunday and Monday from 13 to 17. In summer, from 13 to 17 and from 20 to midnight (closed on Sundays).
Calle Calderón De La Barca n°6
Andino Gastrobar
This establishment is situated in the city centre within walking distance of Taperia Astrid. Andino Gastrobar offers its customers an interesting fusion of typical Spanish cuisine and South American gastronomic traditions. The restaurant is characterised by a relaxing environment and good value for money. On offer are meat and fish dishes, as well as numerous vegetarian options.
Among the specialties that you cannot miss out on are fried yuca with vegan mayonnaise al merken, banana au gratin with cheese and chancho sauce (tomato, garlic, onion and coriander), vegan seitan chorizo sausage and corn humitas with spices.
The restaurant is open from Thursday to Monday from 13 to midnight. It's closed on Tuesdays and Wednesdays.
Calle Calderón de la Barca n°3
Green Iguana
Green Iguana is a tapas bar situated in the heart of the historic centre with a wide range of international cuisine specialties including meat, fish, vegetarian and vegan dishes.
The venue exudes a young and friendly atmosphere. It regularly hosts themed evenings with music and even table football tournaments. It's the perfect place, not only for eating, but also for spending a relaxing afternoon enjoying organic juices and infusions, or an evening of artisan beer, cocktails and music.
As we already mentioned, the menu offers a lot of variation, such as traditional nachos with guacamole, hummus, moussaka, vegetarian lasagna, caprese salad and a classic Andalusian spinach and chickpea soup. On top of this, they have modern vegetarian burgers (with lentils, chickpeas or beetroot), vegetarian and vegan toast, with mushrooms or goat's cheese and blueberry jam.
Calle Ramón Franquelo n°8
PideBio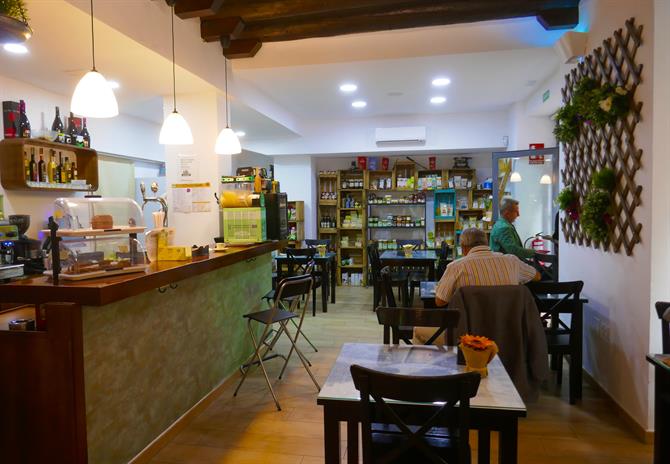 PideBio is located in the Soho district, a few steps away from Muelle Uno (the bar and restaurant area in Malaga's port) and the central Plaza de la Marina. This establishment is part of a chain of shops selling ecological products all across Malaga province. Inside you'll find a selection of products for sale.
About 90% of the food on the menu is vegetarian. You can try rich salads (€5), vegetarian burgers (quinoa, aubergines, spinach, carrots, beetroot for €7), pasta, timballo, burritos and tapas. All dishes are prepared with organic ingredients.
The restaurant is open for breakfast, lunch and dinner from Monday to Friday, from 8 to 19 and on Saturday from 8 to 17. It's closed on Sundays.
Calle Trinidad Grund n°8
Pizzeria La Fainá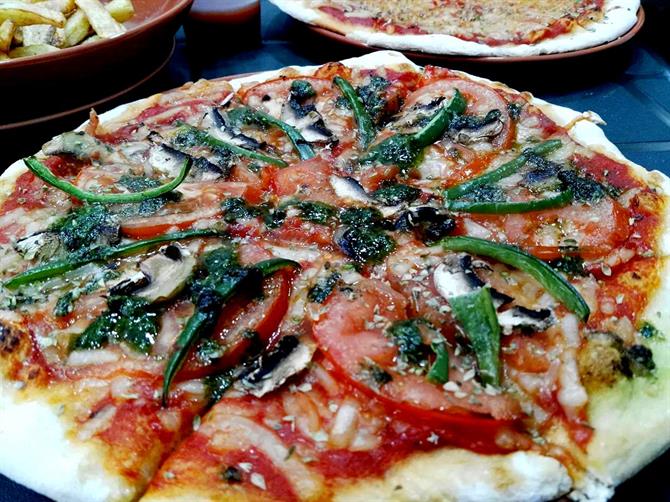 Having a pizza for dinner is usually a great option if you do not have the opportunity to go to a vegetarian restaurant. Generally, it's easy to find more plenty of satisfactory options for a tasty dinner at one of Malaga's many pizzerias.
This is all the more true at a place like La Fainá, which apart from its classic meat dishes, also offers a 100% vegan menu and chickpea flour based pizzas (a further guarantee for vegetarians who are against the widespread habit of using lard in the preparation of dough).
In addition to classic vegetable pizzas, the restaurant offers vegan burgers, vegan lasagna or vegan ragout. They also offer home delivery service.
Avenida San Sebastián n°8
If you are a vegetarian and planning to go on a holiday to Malaga, do not hesitate to discover the many culinary opportunities that the city offers. Given the abundance of vegetarian-friendly spots, it doesn't matter whether your companions share your preferences. All the restaurants in this guide are situated in the city centre or within easy reach of it, so finding a good spot for a nice, vegetarian lunch or dinner during your day exploring the sights is not hard at all.
Map of Malaga's vegetarian restaurants