Several factors help ensure this area remains off the typical route of beach goers. The main coastal highway is a fair distance from the sea, running through the countryside, which tends to result in less frequented beaches. The low cost airports of Alicante and Malaga are located 2.5 hours away on either side.
Though it is relatively well known, especially among Spanish tourists, Mojácar remains something of a sleeping beauty offering up a dazzling array of opportunities to the eager beach enthusiast. Choose among 17 kilometres of gently curving Mediterranean coastline, where some beautiful beaches are accompanied by seaside promenades with direct access by car and others are hidden from sight by impressive cliffs.
We put Mojácar Playa in the spotlight with this curated series of in-depth articles where you can find the latest tips on the best swimming spots, areas for water sports, places to score easy parking and, of course, where to dine and drink in the most irresistible chiringuitos.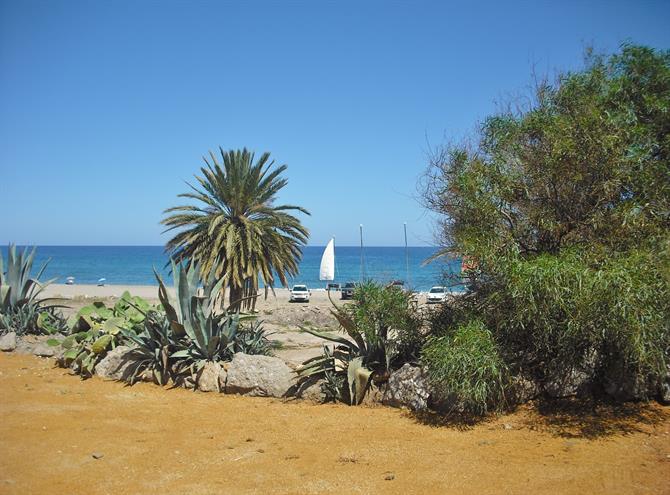 Nature has played a special role in Mojácar where, along the coastline, beaches tend to have a different look and are quite often extraordinarily spectacular. A wide variety of waterfront wonders await, including untouched natural beaches beneath volcanic mountainsides, sandy shores near the Rio Aguas delta, fully developed chiringuito-lined beaches, and hidden naturist spots reachable by a short hike through astounding mountain scenery.
1. Playa Marina de la Torre
One of three Blue Flag beaches in Mojácar, this gem is the first stop when arriving from the east and is easily accessed by way of the neighboring town, Garrucha. Located in a popular hotel zone and visited almost exclusively by international tourists, it offers a number of water sports such as kayaking, sailing, banana boating and wake boarding. Laguna del Río Aguas, a protected natural area, is located at the end of this beach where the river meets the sea. A handful of chiringuitos offer refreshment along the wide stretch of sandy shore which has rightfully earned a hallmark for cleanliness and service.
2. Playa la Rumina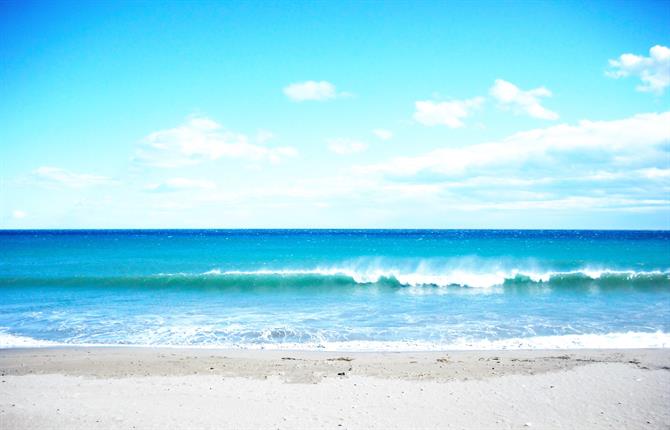 This short stretch of shingle, situated between the lagoon of the Rio Aguas and the popular Playa Descargador, is visited by few tourists and is a place where tranquility and relaxation are always to be found. A nice little beach bar is located here where you are sure to interact with the locals.
3. Playa Descargador
This is the second beach where the Blue Flag flies in Mojácar Playa. In June, traditional equestrian events are held here as part of the annual Moros y Cristianos celebrations. The beach is long, wide, and covered with light gray sand which is coarse to fine and very clean. Many places to leave your car can be found just around the corner and a popular beach restaurant, Neptuno, serves up tasty fish and paellas.
4. Playa Piedra Villazar
A small hill sloping down between the beach road and the sea protects this stretch of shoreline from prying eyes and provides an additional amount of peace and quiet. The beach is easily identified by the rocks protruding into the sea just off the coast. The nearby shopping centre Parque Comercial, is a good place to pick up cold beer and snacks and is also the place to go for much needed swimsuits, flip-flops, hats or towels. Playa Piedra Villazar is the third beach in Mojácar to be awarded the Blue Flag.
5. Playa Vista de los Angeles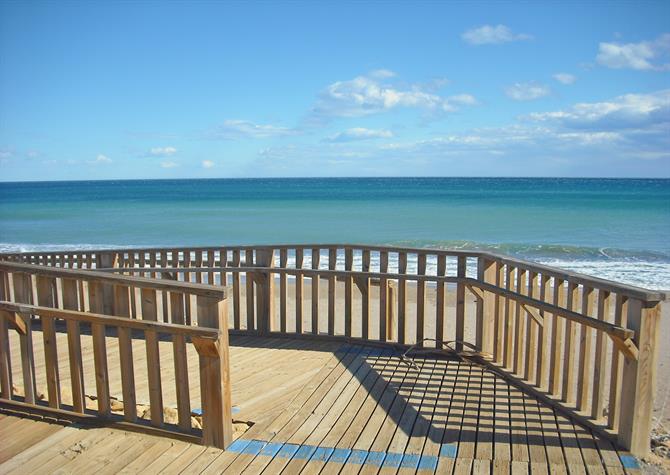 One of the lesser visited beaches of Mojácar, the "View of the Angels" can be reached easily and is surprisingly central. Parking is found effortlessly and a ramp provides convenient access for strollers and wheelchairs. Members of the local sailing club launch their small boats here while undisturbed swimming can be enjoyed in many places. Chiringuito Kontiki is located in the direction of Playa Piedra Villazar and is met with a high recommendation from locals.
6. Playa del Cantal
Approximately 2,800m long, this beach in the heart of Mojácar is a sort of themed attraction, but in the best possible sense. There are many great chiringuitos where you can grab a bite to eat while remaining just a few steps away from the refreshing waters of the sea. Playa del Cantal is the most popular beach in Mojácar for young people who find it a great place to stroll with wine in hand and listen to music. The beach is regularly frequented during summer months but is empty by October.
7. Playa Cueva del Lobo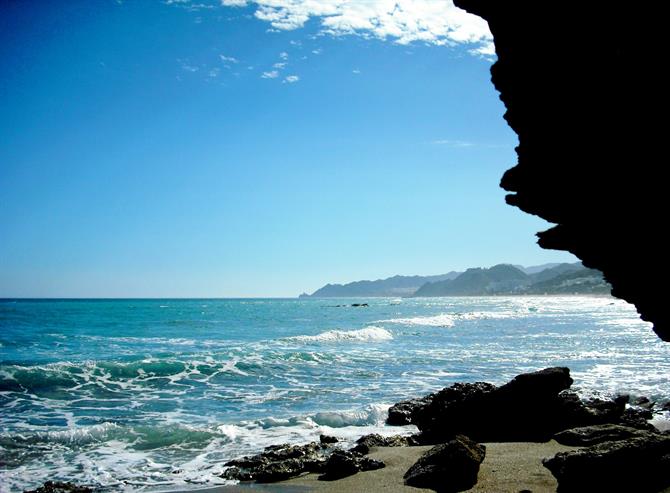 A personal favorite, this short area of coast is hidden beneath a cliff and is little visited. A newly built promenade runs along the hilltop above, but the beach with its small caves and coves can hardly be seen from there. On some days the sea comes lapping very near to the cliffs, leaving little sandy area to lie upon. Nevertheless, it's a great natural beach in a place where you can sometimes jump naked and unobserved into the fresh waters.
8. Playa del Lance Nuevo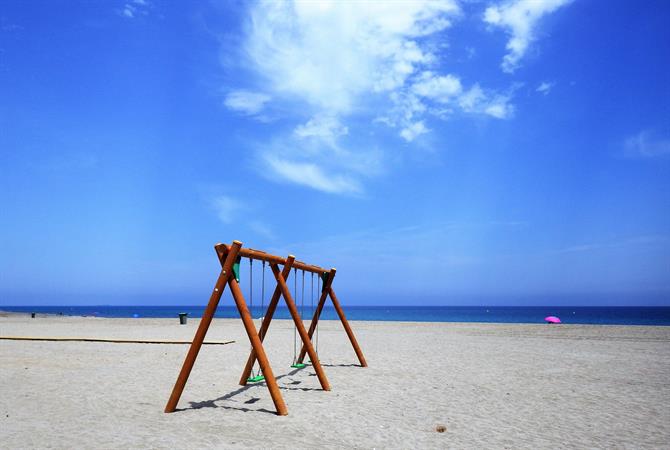 Fishing boats were once pulled ashore here to protect them from rising waves of the sea. Today the only vehicles touching the sand would be pedal boats, kayaks and surfboards. The beach was redesigned in 2016, after the Paseo Mediterraneo (promenade) was extended. Beautiful and wide, there are many nice places for children to play. Chiringuito Samoa Surf offers an excellent place for sipping a Tinto de Verano (summer wine).
9. Playa de las Ventanicas
The longest sandy beach in Mojácar Playa, it's also one the most calm. Here, a nice place can always be found to set up an umbrella and get comfortable for a day of seaside relaxation along a stretch of sand which is not only long, but also up to 80m wide in places. Popular coastal haunts such as Tito's and Lua are located right on the beach and invite you to sample excellent food and ice-cold drinks. This beach is slightly outside the main area of ​​Mojácar making it easy to find parking in one of the many free spaces along the promenade.
10. Playa Macenas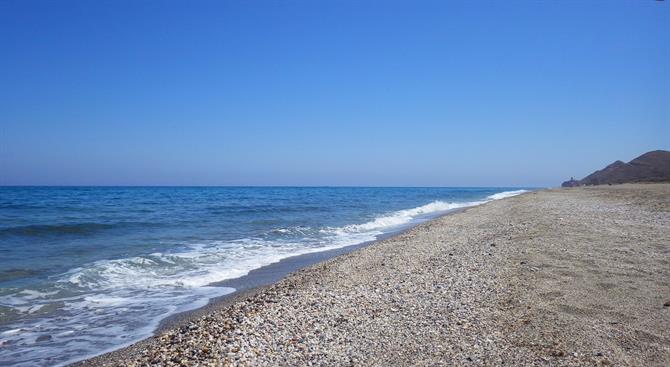 This 1,400m long natural beach in the southernmost part of Mojácar is especially popular among locals who seek more seclusion. A short drive away from more frequented areas, the beach is identified mainly by its large stone watchtower, Castillo de Macenas. Leading down to the beach is a dirt track which can be taken either by foot or by car and offers many views of impressive volcanic rock formations. Along the shoreline friendly dogs are allowed to roam freely and a healthy amount of FBC (free body culture) accommodates all lovers of naturism!
11. Playa del Sombrerico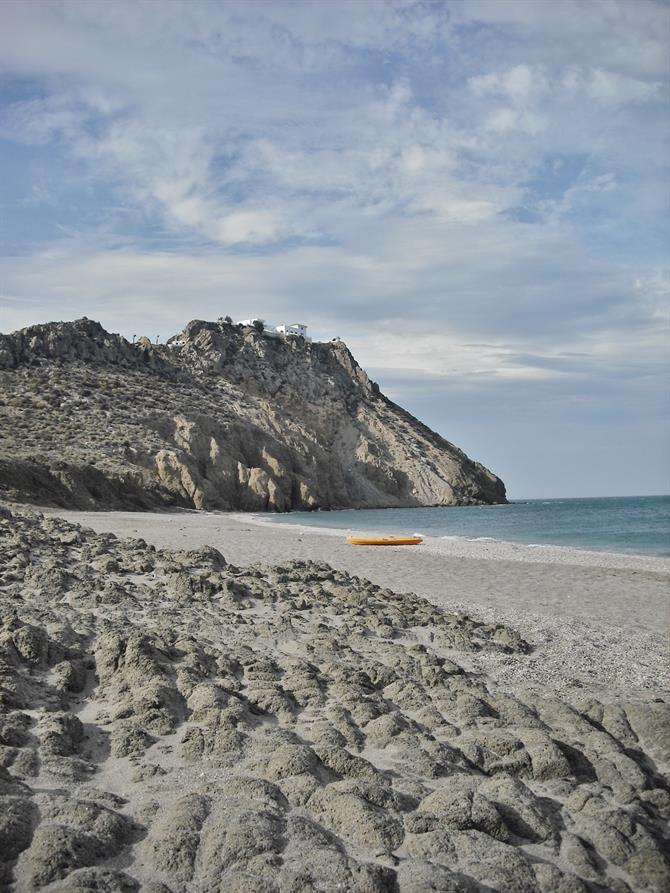 Another natural beach, outside of town, arrived at by a beautiful coastal path by car or, even better, by mountain bike. The enchanted, rugged coastline makes this beach, which resides within the Natural Park Cabo de Gata, a real insider tip. Anyone who so pleases is free to swim in the nude here! Also found on the beach is the nice Chiringuito Manaca, where you can rest beneath the shade of a wide umbrella and have a bite to eat while sipping on your favorite cocktail or ice-cold beer.
Map of the Best Beaches in Mojácar Playa