Last month, I hiked a section of the Barranco de Guiniguada, starting from my Las Palmas de Gran Canaria base.You may have read all about it in How to hike the Barranco de Guiniguada part 1. Here's the follow-up, chronicling my walking of the rest of this ravine.
The Barranco de Guiniguada, the final frontier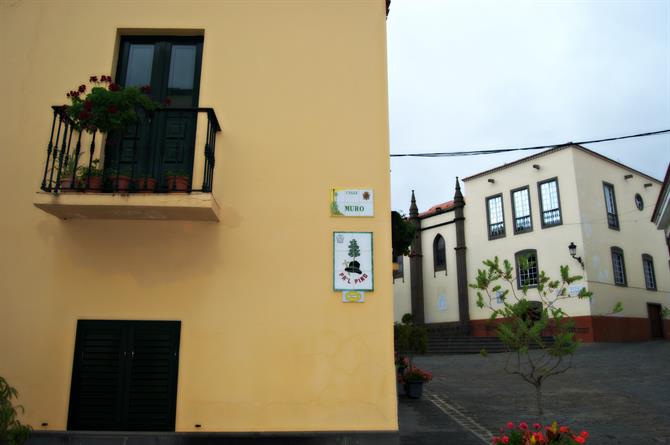 Instead of continuing from where I reached in part 1, Lomo del Maipez, I decided to start at the end of the hike and work my way back. So, I caught Global's 303 from Las Palmas de Gran Canaria's Parque San Telmo to Vega de San Mateo. Getting off the bus, just above Santa Brígida's Casa del Vino.
To follow in my footsteps, head to the village's Calle de Muro, close to the parish church. Here, you'll see a signpost for the P'al Pino footpath which leads all the way to Teror's Basílica de Nuestra Señora del Pino. Just over 6.3 miles and just under 3 and a half miles away.
Gran Canaria's Metro, the Barranco de Guiniguada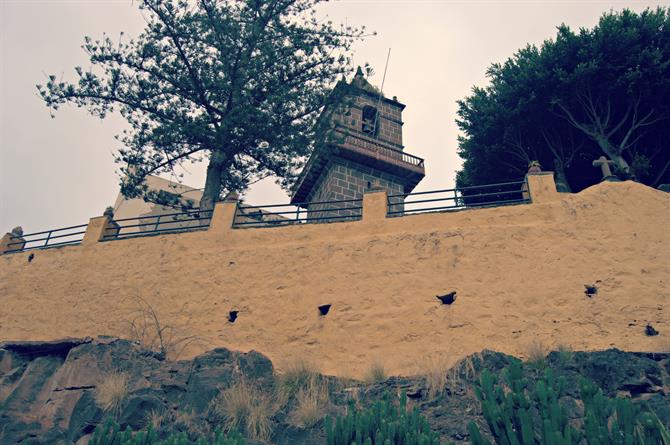 There's no subway on Gran Canaria. But the Barranco de Guiniguada's a metropolitan network, linking the municipalities of Las Palmas de Gran Canaria and Santa Brígida. And, unlike the Barranco de los Cernicalos or Camino de Santiago, you never feel like you're leaving human civilization behind. It's no great escape which is part of its appeal, meaning you can easily join it at various points.
Seasonal Santa Brigida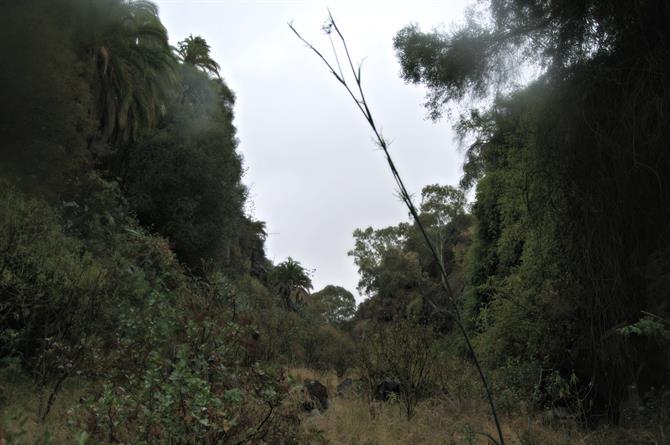 When I first moved to the island, we were the first to arrive on a planned summer family day out in Santa Brigida. We phoned my sister-in-law to tell her it was raining. She was so excited, "We're coming straight up. My children have never seen rain before."
An Italian acquaintance once told me he lives in Santa Brígida because he appreciates the seasonal changes. Except the seasons seem to work in reverse. On the second part of my Barranco de Guiniguada, there was an opening of the heavens above. However, I'd come prepared and was able to shelter under a mac I bought on the Isle of Mull.
Expect the unexpected on the Barranco de Guiniguada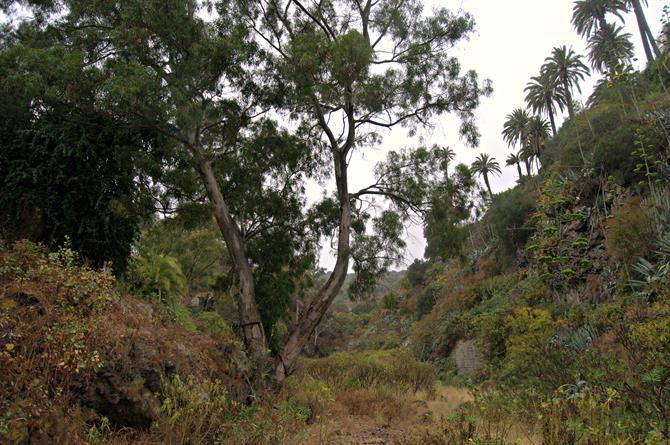 As I continued in the direction of the Jardín Botánico Viera y Clavijo, I became accustomed to the barks of the dogs used as much for hunting as guardians of properties. But what I wasn't prepared for was coming face to beak with a duck. Yes, the ravine path cut straight through a farm.
Another surprise was seeing lots of youngsters whooping and cheering close to a viaduct. I wondered what all the fuss was about. Until I got closer and saw that they were abseiling down to the Barranco de Guiniguada below. Hmm, something to try out next time I'm in the area.