Andalucia is a region full of history. The ancient land is home to amazing people, incredible landscapes, unrivalled gastronomy and some of the prettiest little towns you'll find in Europe. Many of its villages are familiar with the recent influxes of tourism, however, some still remain secluded from the outside world, bursting with tradition and charm! One thing they all have in common? The typical architecture of Andalusian villages that we all love.
In no particular order, discover the most beautiful villages in southern Spain; visit a number of these charming and humble towns from your holiday home in Andalucia.
1. Arcos de la Frontera, Cadiz
Arcos is the gateway to the White Towns of Andalucia (Pueblos Blancos) and is, without a doubt, one of the most beautiful villages in southern Spain. It has been declared a historic-artistic monument.
Views from this village are simply spectacular, as most of the town is built on a large plateau. Its streets are narrow, twisting and turning down steep slopes such that is typical in this region. It's also a place where you can find an appreciation for Muslim art and traces of Gothic, Renaissance, and Baroque art.
Due to its beauty, Arcos is (and always has been!) an inspiration for many Spanish artists, such as the musicians Manuel de Falla, Pio Baroja, Azorin, Damaso Alonso, and Gloria Fuertes.
Whilst staying in Arcos, be sure to also try the wines produced in the area.
Points of interest:
Church of San Pedro

Callejon de Las Monjas

Plaza del Cabildo

San Miguel cultural hall

Casa del Conde del Aguila

Mirador of the new rock (lookout point)

Basilica of Santa Maria
2. Iznájar, Córdoba
In Cordoba, a small village sits on top of a hill that is surrounded by a lake. This beautiful Andalusian village is known as Iznájar. Though still connected to the mainland, the town has a feeling of isolation. Its long and narrow streets bring you to the edges of town where you can enjoy a stroll along the largest lake in Andalusia.
Iznájar is an area of great cultural, patrimonial, and gastronomic wealth. A highlight of its gastronomy includes their stuffed pork, which is filled with such things as sausage, egg, bread crumbs, bits of ham and turkey breast.
Points of interest:
The Castle

Torre de San Rafael

Patio Comedies
Parish Church of Santiago
Plaza Rafael Alberti
Its several viewpoints
3. Cortegana, Huelva
The town of Cortegana is located in the Parque Natural Sierra de Aracena and Picos de Aroche and has been declared a Biosphere Reserve in the province of Huelva. Archaeological remains of the Neolithic age were found here, and the name Cortegana is said to be derived from the word "cork", a great source of wealth for this land in its past.
One of its most impressive sights is the majestic medieval fortress perched on the hill above the small white village. A view to surely impress even the most well-travelled.
Points of interest:
Castle of Sancho IV

Fountain Alley

Stately homes

Bullring

Calvary Chapel

Church of the Divine Savior

Birth Chanza river

Ermita de San Sebastian

Houses Mudéjares
4. Carmona, Sevilla
Another site of Neothilic era remains, Carmona is certainly full of history. The town peaked during the Roman era and has since left a legacy of rich and fertile lands and beautiful architecture. It was also one of few places to mint its own currency. It is one of many towns that the ancient Via Augusta travels through and is also home to perhaps the most important Roman monument in Spain, the Necropolis.
Enjoy the many walking routes in Sevilla; Carmona is one of several Roman heritage routes, the Roman Bética Route, as well as the tourist Artealia Route, whose path is made up of four towns (Carmona, Ecija, Marchena and Osuna). The Route of Washington Irving also passes through Carmona, as that is where the famous writer took up residence for some years.
Points of interest:
Alcazar of Puerta de Seville

Roman Necropolis

Church of San Pedro

Chapel of San Francisco

Mansion in the Aguilar

Roman Amphitheater

Puerta de Córdoba

Fountain of Lions
5. Casares, Málaga
Casares was a prehistoric settlement, proven so by both the prehistoric remains found there and the Ferrete, Crestellina, and Utrera caves. After its first settlers, many civilizations have since passed through these lands.
Casares is also the birthplace of Blas Infante, author of "Ideal Andalusian" which prompted Andalusia's autonomy, anthem, and flag. The town also has its own famous legends. Some of them cite the Hedionda Baths (hot springs), in whose waters "lived a demon who breathed his last breath before being expelled to Santiago". Apparently, because of this, its waters contain the smell of sulfur. Other legends claim that a wounded dog was healed after bathing in its waters!
Points of interest:
Parish Church of San Sebastian

Castle and Arabic Wall

Fountain of Carlos III

Cemetery

Hedionda baths

Antigua tourism office

Mirador del Peurto
6. Alcaudete, Jaen
This beautiful Andalucian village, rich in olive groves and found in the area of Jaen, is an authentic beauty made up of three smaller villages: La Bobadilla, Los Noguerones, and Sabariego. The town's most emblematic buildings are the medieval fortress and the church of Santa Maria Maggiore; from the square, you will see a wonderful view. Another point of interest is the Church of San Pedro, characterized by its Renaissance detailing.
Points of interest:
Castillo Calatravo

Church of Santa Maria Maggiore

Zaide Fountain

Arco de La Villa

Llana Street

Admiralty House

Several viewpoints
7. Guadix, Granada
This beautiful Spanish town, located in the province of Granada, possesses a rich monumental heritage, being one of the oldest human settlements in Spain. Guadix holds a very special title as the European Capital of caves, due to the many homes built into caves.
Let yourself fall in love with the contrasting pastel colours that are interspersed among the white walls and green caves, accompanied by the ever-impressive background of the Sierra Nevada mountains.
Points of interest:
Cave houses

Pantano Francisco Abellan

Cathedral of the Incarnation

Hoya de Guadix bike

Arab Bath
8. Baeza, Jaén
This Jaen town is dominated by a characteristic landscape of olive trees, so trying their amazing oils is a necessity! Baeza is pure Renaissance art, so much so that it was declared a World Heritage Site by UNESCO. It also forms part of two routes, the Andalusian Renaissance Route and the Nazarite Route.
Points of interest:
Former University of Baeza

Cathedral

Plaza del Populo

Plaza de Santa Maria

Jabalquinto Palace

Fountain of Santa Maria

Antonio Machado House
9. The Iruela, Jaen
This village, with its incredible topography, is seated on a rock with its imposing fortress. The fortress itself is undoubtedly one of the best attractions in Jaen, a hidden gem just outside the Parque Natural de Cazorla. It, too, is surrounded by a beautiful landscape whose olive groves are irrigated by the river Guadalquivir.
Points of interest:
Templar Castle

Church of the Immaculate

The spas
10. Ronda, Málaga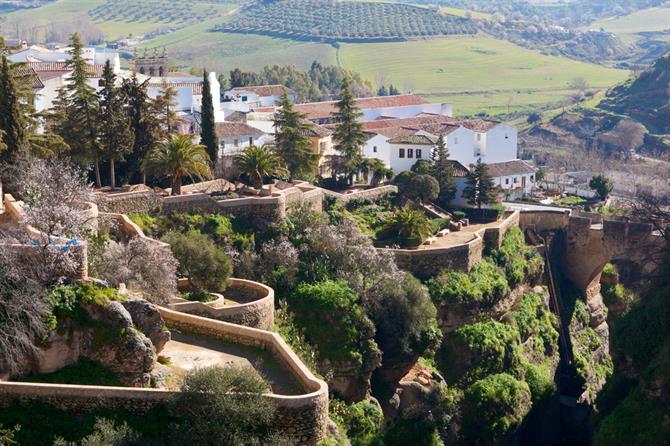 "I have sought everywhere the city of my dreams, and I have finally found it in Ronda"
- Rainer Maria Rilke
Ronda, a city with approximately 35,000 inhabitants, is located only 100 km from Malaga, is known for its famous El Tajo. The views from this incredible bridge have captivated all those who have had the privilege to see it. Ronda is built on a plateau whose homes defy the dizzying altitude.
Besides its dramatic landscapes whose boundaries are seemingly endless, Ronda has many attractions and practically everything else, too! Yummy and varied cuisine with a clear commitment to local products, and some of the most renowned wines in Spain (Ronda's cellars are part of the prestigious Wine Route Spain!). Archaeological sites such as the Roman city of Acinipo, Arab baths, the Palace of Mondragon or del Rey Moro, and its streets full of history make it one of the most visited Spanish towns.
Points of interest:
View from the Tajo

Bullring

Arab baths

Mondragon Palace

Palacio del Rey Moro and Mina

Arab walls

Plaza Duquesa de Parcent

Jardines de Cuenca

Mirador de Aldehuela

Ruins of Acinipo

Wine routes
11. Pampaneira, Granada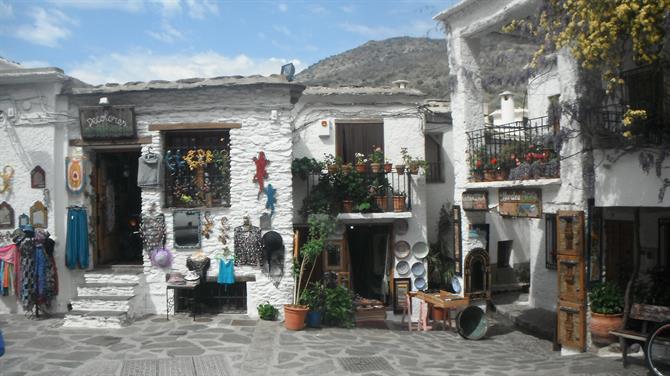 One of the most pleasant and enjoyable experiences you can have is a holiday in the Alpujarras with a group of friends or family. It is ideal for long days well-spent preparing delicious meals and taking long walks in the surrounding mountains looking for chestnuts and mushrooms. Pampaneria is one of the Alpujarra villages where you can enjoy all this. Located in the ravine Poqueira, Pampaneria has maintained its characteristics of Berber architecture.
Points of interest:
Church of the Holy Cross

Craft shops

Bodega la Moralea

Paseo de Garcia Lorca

Chumpaneira Fountain
12. Vejer de la Frontera, Cadiz
Holiday rentals in Vejer de la Frontera are popular as this town is one of the top places to visit in Southern Spain. It boasts simply incredible views, like many of the other towns in Spain; however, it's proximity to the beach is one of the town's most major main attractions.
Vejer has been awarded the National Prize for Beautification and other Andalusian towns can fully appreciate the legacy of other cultures in the streets, such as the Jewish quarter. If you like castles, Vejer has one from the S. XI-XVI, where the architecture is a mix of Arab and Christian.
Visit Vejer de la Frontera and don't be afraid to get lost in its streets. Take long walks and enjoy the beautiful scenery. Furthermore, if you like quality meat, we recommend two restaurants: La Castilleria and Restaurante Venta Tinto.
Points of interest:
Spain Square

Calle Silla Vieja

Los Abuelicos viewpoint

Vejer mills

Townhall

Nacimiento de Agua de Santa Lucia
13. Lucainena de las Torres, Almeria
If you are staying in Almeria and looking for one of the most beautiful villages in Andalucia, Lucainena de las Torres is always cited among the top. This town is known for its cleanly streets and whitewashed houses decorated with beautiful potted plants, painting a colourful canvas around the town.
If you are feeling adventurous and don't have claustrophobia, be sure to visit the Karst de Los Yesos de Sorbas, where you will find over 600 magnificent caves.
Points of interest:
Tabernas Desert

Mirador de Turillas

Karst de Los Yesos de Sorbas
14. Ubeda, Jaen
Located in the province of Jaen, you'll find beautiful Ubeda, a World Heritage Site. This Andalusian village has a rich history, evident by its architecture. Antonio Machado refers to Ubeda in many of his poems!

This town is undoubtedly one of the jewels of the Andalusian Renaissance; the streets and squares are full of incredible palaces, convents, and walls.
Points of interest:
Church of St. Mary of the Alcazar

Plaza Vázquez de Molina

Memorial Square

Sacred Chapel of Salvador Ubeda

Church of San Pablo

Casco Historica
Calle Gradas

Its walls

Clock tower

Barrio Alfarero
15. Zahara de la Sierra, Cadiz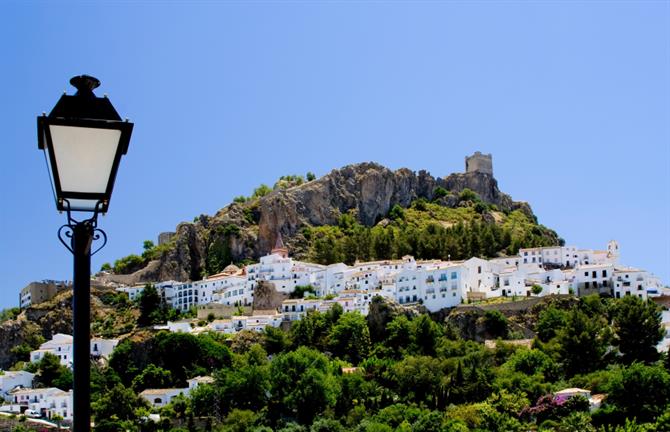 Zahara de la Sierra is located in the Sierra del Jaral, inside the natural park Sierra de Grazalema, and is declared a historic site. Its streets are full of history and you'll be amazed by a very special topography, due to its location along the slope, giving it a unique feel.
You might note la Torre del Homenaje (the Keep) that stands among the beautiful white houses of this village, from which we can see in the distance the landscape that leads to the Garganta Verde and its artificial beach.
Points of Interest:

Garganta Verde

Playa del Arroyomolinos

Mirador (lookout)

Church of Sant

Maria de la

Mesa




The Chapel of St. John Lateran

Bridge Palominos

Clock Tower
16. Priego, Córdoba
This village nestled in the heart of Andalusia has been inhabited since the Paleolithic period. It's no wonder they chose this area! Extensive olive groves and plenty of freshwaters make the area an ideal place to live and a must-visit on your holiday to Andalucia.
Priego is yet another Spanish town that has to be seen in its entirety to realise its true beauty. Its cuisine is local and traditional and people from this area use an essential ingredient in their dishes, extra virgin olive oil.
Points of interest:
Fountain of the King

Barrio de La Villa

Church of San Pedro

Church of Our Mrs. Aurora

House Museum Niceto Alcala-Zamora

Plaza del Llano
17. Frigiliana, Málaga
Maybe it's the amazing views or the bright red geraniums in pots around the village or the winding, cobblestone streets (or maybe all of the above). Stay in a holiday rental in Frigiliana which has been named as the most beautiful village of Andalusia.

Points of interest:
Church of San Antonio de Padua

Nuestra Sra. Del Carmen

Casa Nata de Liborio Apolinario

Adarve Callejón del Señor

Artisan shops

Callejón del Inquisidor

Church Square
18. Mojacar, Almeria
In the Sierra de Cabrera in Almeria, you'll find a hive of striking white houses, with narrow streets inviting you to discover its past from prehistory to the present day. Renting a holiday home in Mojacar you will experience its unique microclimate where the winters and summers are very mild.
Points of interest:
Beaches

Zona de Garitos

Lookouts

The Castle

Antique market
19. Salobreña, Granada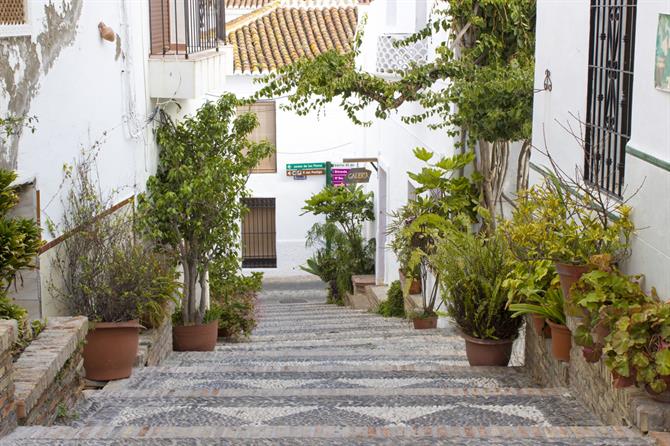 Salobreña is located in the province of Granada and is another example of the beauty that the Mediterranean coast has to offer. It is a huge tourist attraction thanks to its subtropical climate with pleasant temperatures all year round where you can also enjoy its incredible beaches.
Another beautiful white village in southern Spain, full of history and whose past can be seen in its beautiful architecture when touring emblematic neighbourhoods such as La Loma, La Fuente, or Brocal that still retain the medieval structure.
Points of interest:
The Moorish Castle

Tower Brocal

The Paseo de la Flores

The viewpoint of the Albayzín
20. Setenil de las Bodegas, Cadiz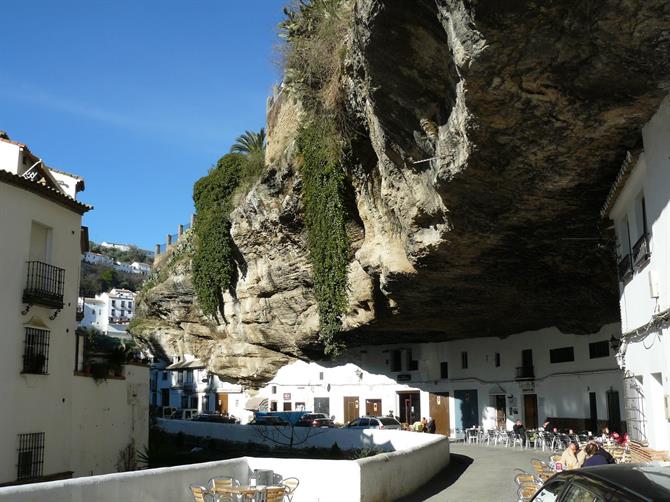 What catches your attention of this town in Cadiz is certainly not hard to miss, the caves. The ancient town was originally built into the rocks for indoor temperature moderations (they're a natural cooling system from the scorching Spanish heat) and has remained so ever since!
The houses, as well as shops and bars, in Setenil de las Bodegas are under the shelter and protection of a massive rock. It's quite a lovely place to spend an afternoon walking around, or even just to drive through... or shall we say under! It's only a 15 km drive from Ronda.
You must see it for yourself next time you're in the area.
Points of interest:
Las Cuevas (the caves)

The many small bars and restaurants
21. Almodóvar del Río, Córdoba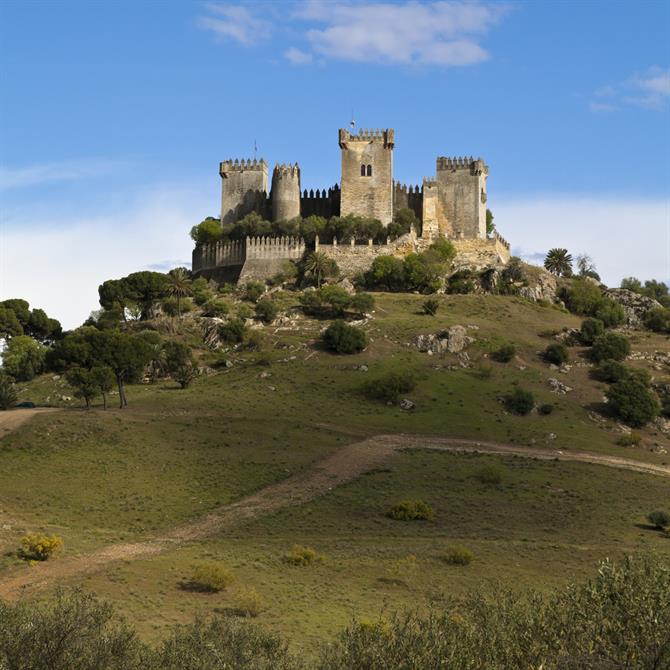 West of Córdoba, you can find Almodóvar del Río in the region of La Vega del Guadalquivir. The landscape that surrounds this wonderful village is simply spectacular. At the top of the hill you will find the grand castle, one that has withstood the trials and elements of time, which together with the white houses make this village truly a place to remember.
It is one of the cities that belong to the path of Roman Andalusia.
Points of interest:
Castillo de Almodóvar del Río

The Red House

Roman Portus

Sierra de Hornachuelos Natural Park

Ethnological Museum Angel Estevez

Mirador of Pairejas

Church of the Immaculate Conception

Ermita de Jesús
22. Genalguacil, Málaga
The village of Genalguacil's landscape is classified as a Special Protection Area. The skies are guarded by golden eagles, peregrine falcons, and owls. This Spanish town has a fairly rugged terrain with lush vegetation of pine, chestnut, cork, and oak.
Rent a holiday home in Genalguacil and enjoy the many routes for hikers and mountain cyclists. After taking in the views, there's nothing better to finish the day but with its traditional cuisine, rich in local products. Try some local and typical gazpachuelo (cold soup), scrambled eggs with garlic and mushrooms. If you're into sweets, do not miss their doughnuts!
Points of interest:
Art in the street

Museum of Contemporary Art Fernando Centeno

Hiking trails
23. Alhama de Granada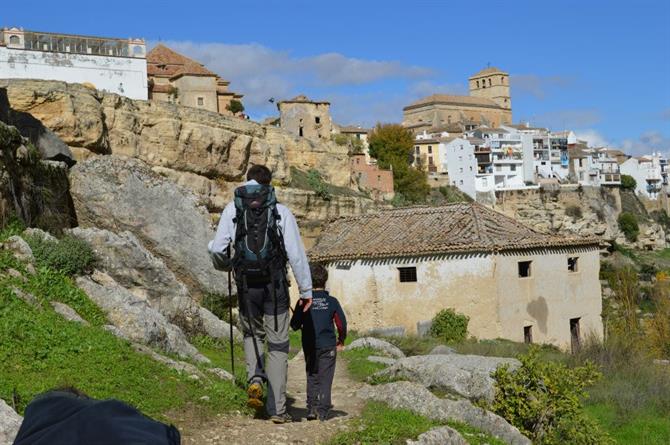 Alhama de Granada is a town that has all the requirements to be one of the greatest points of interest to Granada. Its history dates back to prehistoric times, but thanks to its thermal waters and its great location, both Muslims and Christians have been drawn to this vital geographical location on their maps and pilgrimages. Both religions are portrayed in the town's art, as seen by monuments in the Arab neighbourhood while exploring the noble and religious Christian buildings as well.
Points of interest:
Castillo de Alhama de Granada

Dungeons

Fountain Square of San Diego

Moorish neighbourhood

House of the Inquisition

Chapel of the Remedies

The Devil's Staircase
Suggested articles for you:
Map