Whether you seek a nature escape, beach break, family getaway or authentic cultural experiences, discover the best places to stay in the south of Spain. An area steeped in history, culture and tradition, there is so much more to see than just sandy beaches. With clear blue skies and sunshine practically all year round, each of these destinations offers something special and unique. Find out why holidays in the south of Spain are as popular as ever!
Beach holidays in the south of Spain
The warm climate in the south of Spain means you can pretty much have a beach holiday all year round. Up and down the coast of southern Spain you will find everything from busy urban beaches with all the facilities, to rugged natural beaches with miles of soft sand.
Some of the best beaches in southern Spain can be found on the Costa de la Luz. A lesser-known coastline, many of the beaches and nature surrounding them are under protection. This means they have not seen mass construction of urbanisations and hotel complexes popping up around them.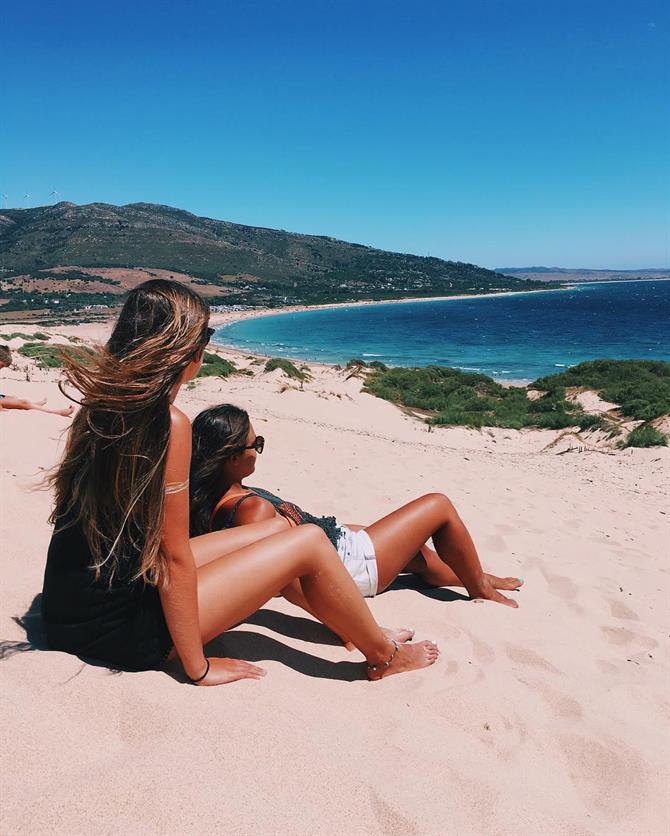 Playa Bolonia is a must-visit beach in Tarifa and has been named as the most beautiful natural beach in Spain. 4 kilometres of fine white sand and turquoise sea contrasting with lush green vegetation. The dune system is moving constantly due to the frequent strong winds. Check the strength of the winds before you go as sometimes they are too strong for bathing.
Rent holiday accommodation in Conil de La Frontera for yet more natural and unspoilt beaches on the Costa de la Luz. Also located in Cádiz, this beautiful fishing village is full of charm and charisma as well as exquisite gastronomy based on sea produce. Swim in the Atlantic Ocean, bathe on white sandy beaches and in hidden coves with crystal clear waters.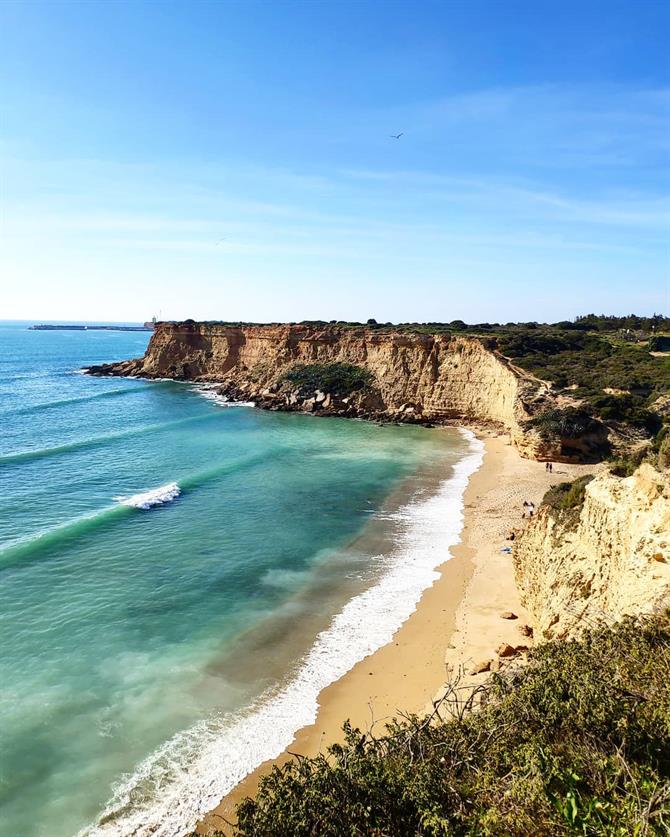 Playa La Fontanilla is the most popular beach in Conil. Located near the town, the golden sand stretches over 1 kilometre - even in the summer, there is no risk of overcrowding. This beach is popular with families as it has all the facilities, the water is shallow and the waves are moderate.
For more intimate beaches nestled in nature, Calas del Quinto and Camacho is comprised of three natural coves; Cala Pitones, Cala Sudario and Cala Merchor. Also popular with naturists, due to their secluded locations, they display a delight of colours with reddish earth, lush vegetation and aquamarine waters.
Not many people have heard about the Costa Almería. This coastline is probably the most underrated in Spain, even though it harbours some of the most beautiful natural beaches. Many of these stunning bays can be found in the nature reserve of Cabo de Gata. This area boasts over 60 kilometres of coastline characterised by majestic cliffs and rich marine life. Cabo de Gata is a protected area, preserving unique ecosystems which host an impressive array of flora and fauna as well as salt pans, lagoons and rock formations of volcanic origin.
If you are renting a holiday home in Almería, spend the day at Playa de Los Muertos. This natural beach is breathtakingly beautiful. Nestled beneath an impressive cliff, the water here is unbelievably clear and aquamarine in colour. You can only access this beach by foot, and due to its rugged location, there are no facilities here. It is the perfect beach in southern Spain for those who like to feel connected to nature.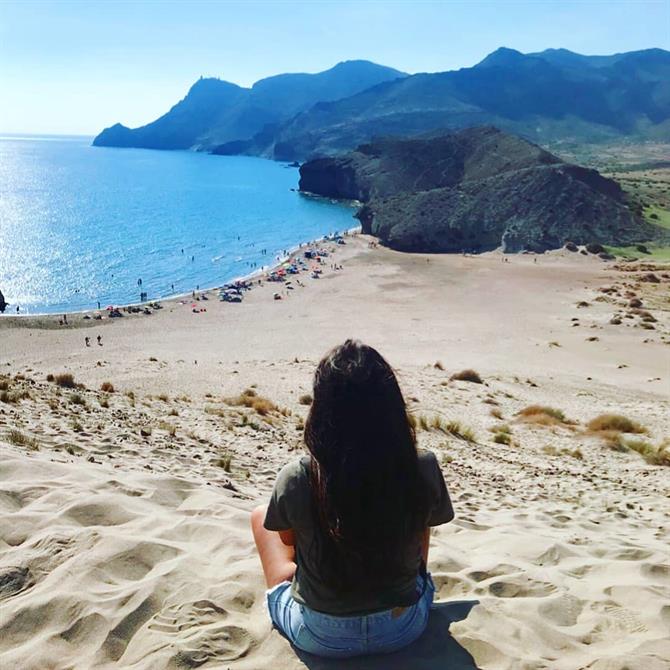 Playa de Mónsul is also located in Cabo de Gata. Divided into two small coves this picture-perfect beach sits at the foot of a large sand dune. The clarity of the water here has made it a popular spot for snorkelling enthusiasts. Take note that during the summer, temperatures in Almería reach scorching heights and due to the preservation of the natural scenery, this beach has no services so you will need to bring your own amenities.
Best Places for Nature in Southern Spain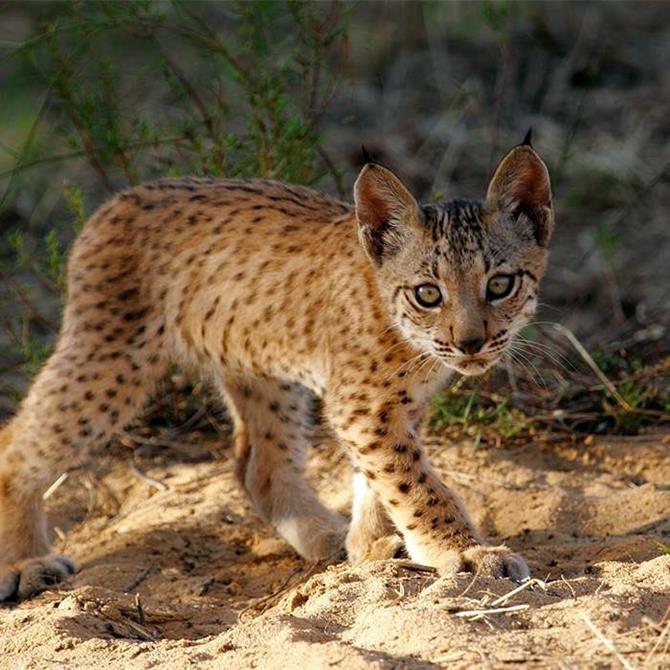 The south of Spain is home to some of the most beautiful landscapes in the country. Miles of rolling hills, mountain ranges and paradisiacal beaches characterise the area. Capture this beauty from the snow-capped peaks in the Sierra Nevada to the pristine beaches on the Costa de la Luz.
Doñana Nature Park is in the province of Huelva and parts also extend into the provinces of Seville and Cádiz. A complex labyrinth of marshes, beaches, lakes and pine forests make up this nature reserve. The wetlands are among the most important for birds in Europe. There is a broad network of walking and biking trails, one of the best ways to enjoy the beauty of this natural park is on horseback. It is important to note that some parts of this nature park are only accessible with a guided tour to reduce the negative impact of tourism. Admire the flora and fauna and look out for Iberian Lynx - native to southwestern Europe, it is now an endangered species and can only be found in this part of Spain.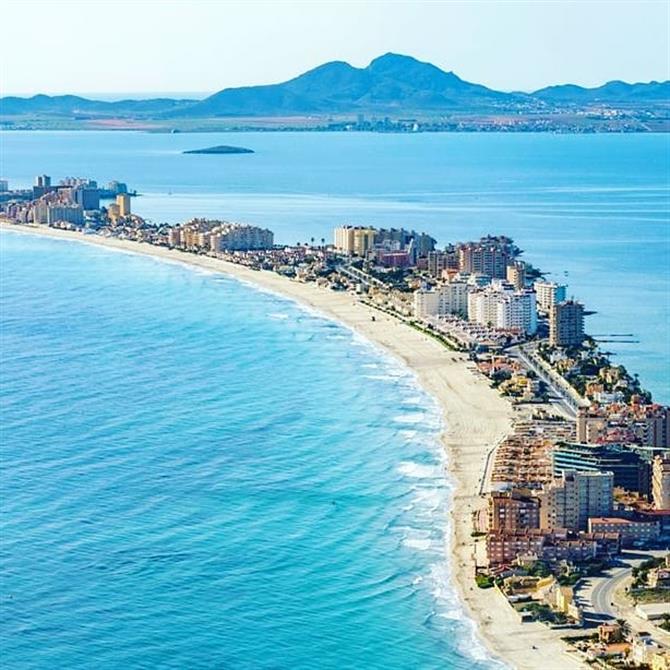 If you are staying in Cáceres, take an excursion to Montfragüe National Park. This spot is famous for being one of the best places in Europe for birdwatching and its stunning scenery. Hike one of the many trails and enjoy the tranquillity to be found here. This park is also home to caves with prehistoric paintings from the copper, bronze and iron age. Also in Extremadura, Cáceres, you will find River Tagus - the longest river in the Iberian peninsula.
Murcia has the biggest saltwater lagoon in Europe - Mar Menor. Separated from the Mediterranean sea by La Manga - a 22km long strip of land. With a complex ecosystem, the lagoon is monitored daily and is one of the most protected parts on the Spanish coastline. The mud and clays pools at La Puntica are famous for their healing properties and the temperate climate allows you to bathe all year round.
Active Holidays in the South of Spain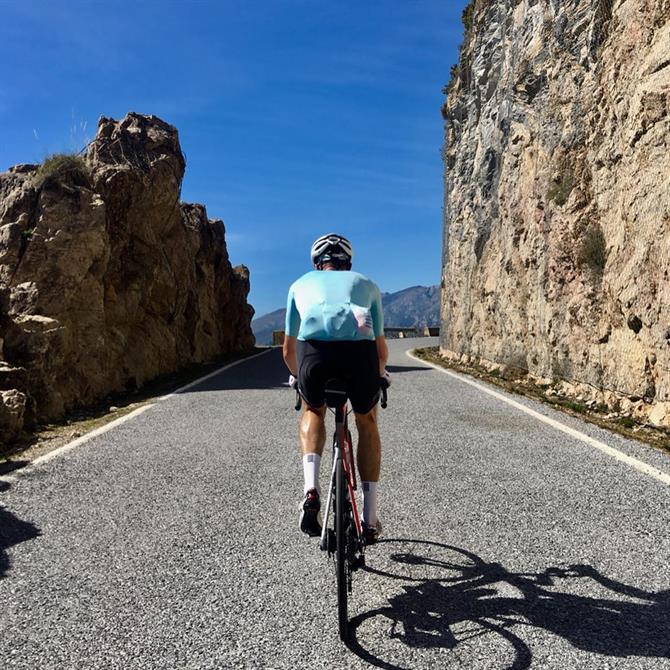 If adventure and adrenaline are what you seek in a holiday, the south of Spain will not disappoint. The diverse nature offering from mountain ranges and nature parks to long beaches and canyons means there is an activity to suit everyone. Choose from canyoning in Málaga to kite surfing on the Costa de la Luz.
Pico de la Veleta is located in the Sierra Nevada mountain range. It is here that you will find the highest road in Europe which has become popular with keen mountain bikers. However, this is not for the faint-hearted with a 40-kilometre ascent, the summit is at 3395 metres, and the total altitude during the climb is 2700 metres. The best time to tackle this climb is in May, early June, late September or October; there is less traffic and the roads should be free from snow. In July and August, the temperatures are too high and the ride would be unpleasant. The Sierra Nevada Park is also home to Europe's most southerly ski resort and offers one of Europe's longest ski seasons, usually starting in late November and running until early May.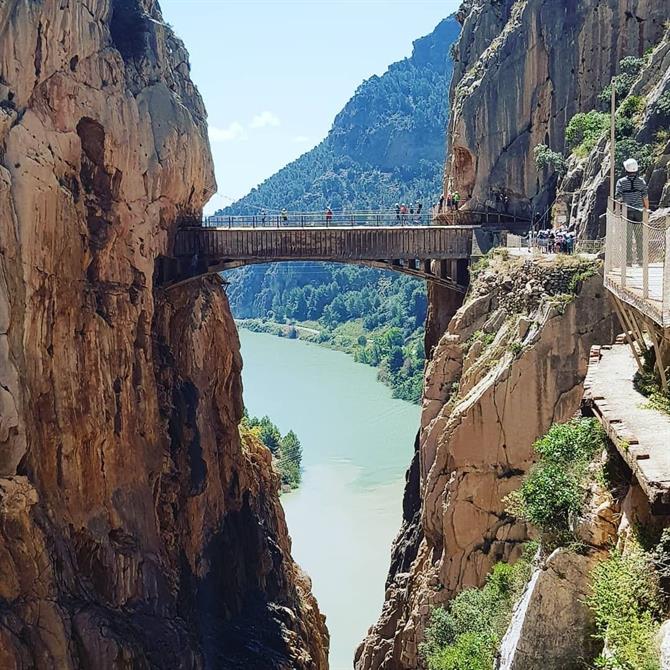 There are many opportunities for hiking in southern Spain. If you are renting a holiday home in Málaga, challenge yourself and hike the Caminito del Rey, which in the past was named one of the most dangerous routes in the world. Nowadays there are handrails, bridges and stairs providing a spectacular but safe experience. It takes around 4 hours to complete the route and you must book in advance. Again in the summer, this hike can be particularly tough due to the heat, so bear this in mind.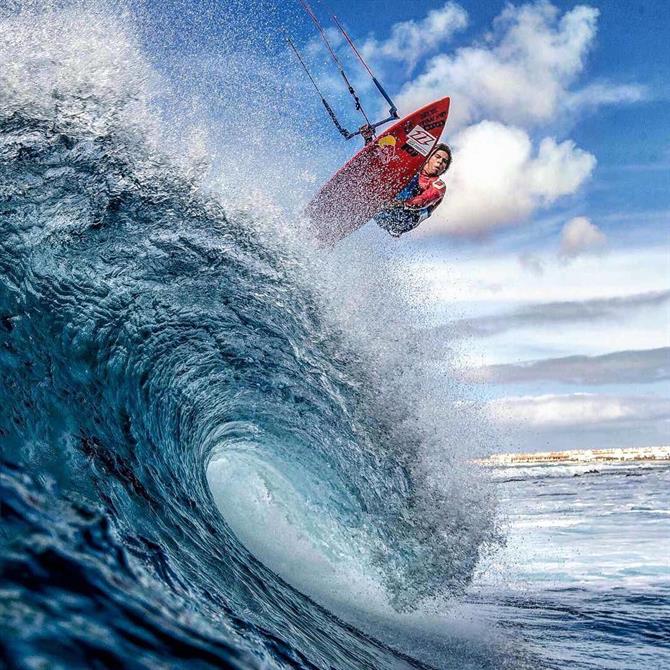 Cádiz is the ideal destination in southern Spain for surfers and kitesurfers. Its location and long beaches provide the perfect conditions for watersports. El Palmar in Vejer de la Frontera is known as the surf capital in Andalucia and is popular for its laid-back atmosphere and unspoiled landscape. Along, windswept beach, lined with bars and restaurants, El Palmar has a lively nightlife in the summer and where surfers hang out after a day catching waves. This stretch is great for beginners and there are a number of surf schools at the top of the beach.
Los Lances de Tarifa beach is a unique place to practice watersports as its located between the Mediterranean sea and the Atlantic ocean. The strong winds create tall waves, drawing surfers from all over the globe to its shores. Bateles beach in Conil is a great spot for more amateur surfers and beginners and there are also several surf schools in the vicinity such as Ocean Surf if you're not confident to tackle the waves alone.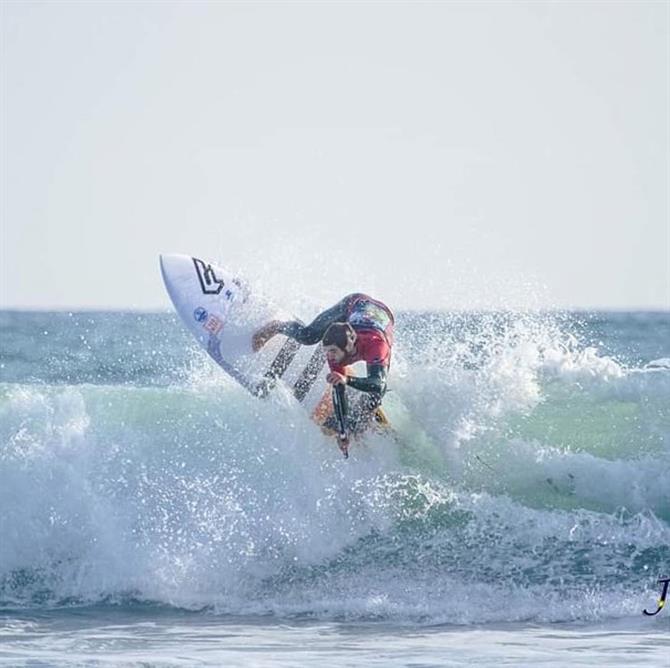 Playa de la Hierbabuena, also in Cádiz, is known mainly by professional surfers and many competitions are held here. The waves are not always guaranteed to be surfable, so check before you go, but when they are, watch the sea fill with local surfers. Go here to get a real feel of life on the Costa de La Luz.
Playa Valdevaqueros in Tarifa is the place to be for windsurfing and kitesurfing enthusiasts. The location and exposed nature of this beach mean it experiences strong winds. During the summer, the sky becomes a myriad of colourful kites. If you are bathing here it is not unusual to have a kitesurfer fly over your head. For a less hectic bathing experience, head towards the vast Punta Paloma sand dune and venture to the western part of the beach to soak your skin in the natural mud baths.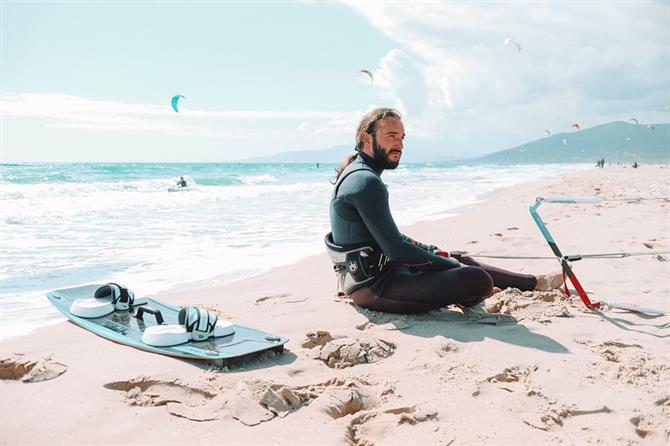 Moving away from the Costa de La Luz and to the Costa Tropical; hidden between Salobreña and Motril you will find Playa de Punta del Río. The waves here are surfable almost all year round and they rarely exceed one and a half metres in height - making it the ideal spot for beginners to mid-level surfers on holiday in the south of Spain.
Andalucia has become a popular place for canyoning due to its numerous high mountain rivers and gorges. An activity designed for the adventurous, one of the most popular spots is in Rio Verde in the province of Málaga. This is a stunning setting with emerald green pools of water and crystal clear rivers flowing through the Natural Park of the Sierra de Tejeda, Almijara and Alhama. Hike through the rugged landscape, full of steep slopes, canyons, waterfalls and natural slides. Not for the faint-hearted, canyoning is very physical and a session can be a full day, although shorter experiences are available. For safety reasons, it is essential to organise these adventures with one of the professional companies in the area.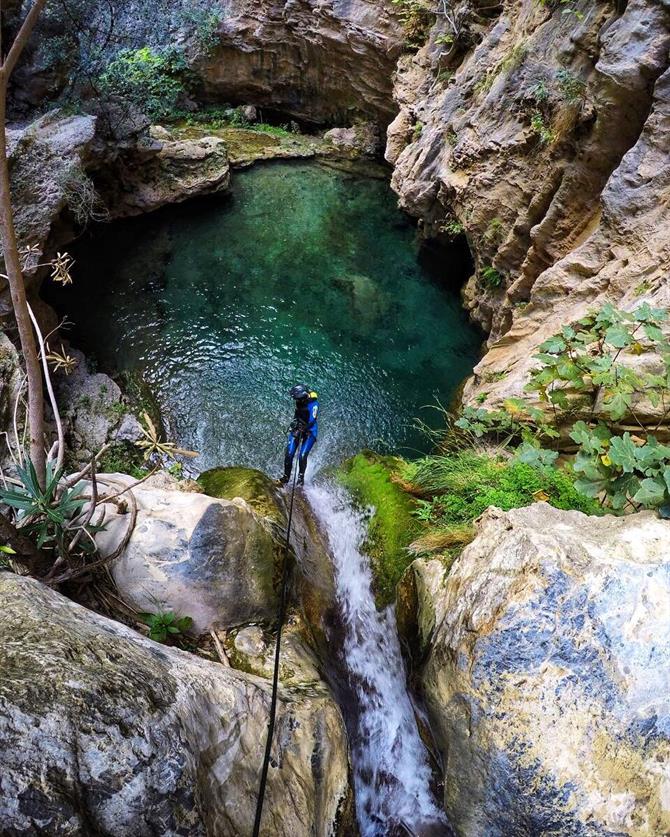 A fun family activity in southern Spain is kayaking in Nerja. The calm waters of the Costa del Sol provide the perfect conditions to hire kayaks and explore the completely wild and untouched landscape. Kayak around waterfalls, secluded coves and beaches that can only be reached by boat and secret caves. It is advised to go with a guide, who will ensure your safety and show you the hidden gems along this coastline.
Family-friendly Locations in the South of Spain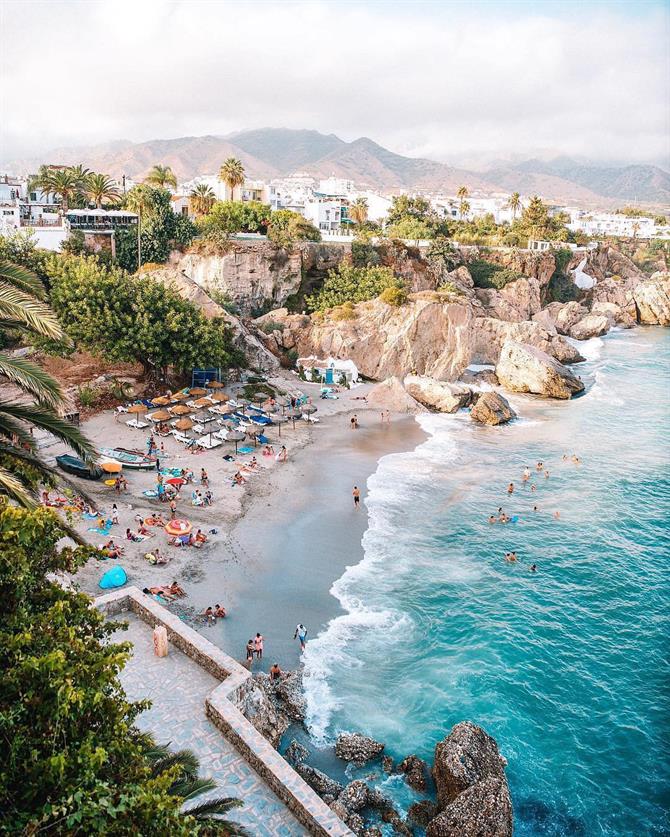 The south of Spain is ideal for family holidays, with an abundance of children's entertainment as well as safe, clean beaches, you can not go wrong by renting a villa on the Costa del Sol.
Nerja was once a sleepy fishing town but today it has become one of the most sought-after holiday spots in the province of Málaga. The town is popular for its pristine beaches, hidden coves, and unique landscapes. Of course, you can spend days on the beach but for families who like to explore nature, go hiking up the Rio Chillar. Children will love splashing in the shallow streams, jumping in the natural pools and get soaked in the waterfalls. Visit the Nerja Caves and explore archaeological artefacts, see paintings created by the Neanderthal men and step inside the world's largest column formed by the merging of a stalagmite and a stalactite - earning its place in the Guinness book of world records.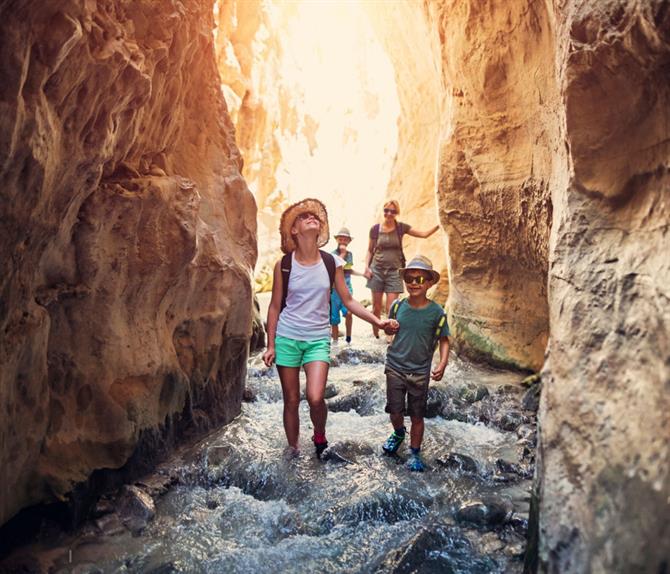 Another great family destination in southern Spain is Benalmadena. Also on the Costa del Sol, Benalmadena has a plethora of children's entertainment. The safe, clean beaches here means you can relax knowing your children will be safe playing on the sand and paddling in the shallows.
Conil de la Frontera is a typical Andalucian white-washed town with a plethora of clean, beautiful beaches and plenty of watersports opportunities. The beaches are all accessible by foot and belong to the Atlantic ocean, they have a gradual change in depth providing a safer environment for young swimmers. The historical centre is a bustling maze of cobbled streets, with restaurants and tapas bars on every corner - you will be able to find food for even the fussiest of eaters.
City Breaks in the South of Spain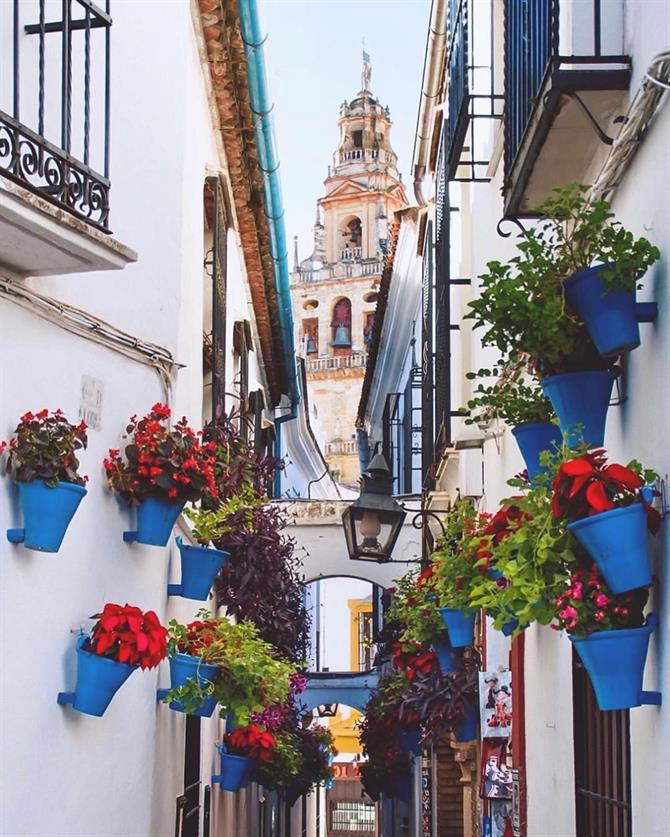 The south of Spain has many stunning cities, full of history, great food and impressive monuments. The occupation of the Romans, Moors, Jews and Catholics have all left their mark, offering a beautiful mix of architecture and cultural practices. The best way to experience traditions from southern Spain is to visit its top cities.
Córdoba is the ideal destination for a city break in southern Spain. Full of romantic courtyards, plazas and emblematic monuments. The most iconic landmark is the Mezquita, inside you will find an impressive structure with more than 850 columns - it is a symbol reminiscent of the Moorish and Christian occupation of the city.
Explore the city on foot and discover yet more of Córdobas colourful history such as the Puente Romano and the old town which has been declared a world UNESCO site, enclosed by ancient Roman walls and the old Jewish quarter - a labyrinth of narrow cobbled streets and whitewashed houses. One of the best times to visit Córdoba is in May during the Fiesta de Los Patios. The city is awash with colour and locals open up their courtyards for the public to admire walls adorned with beautiful flower displays.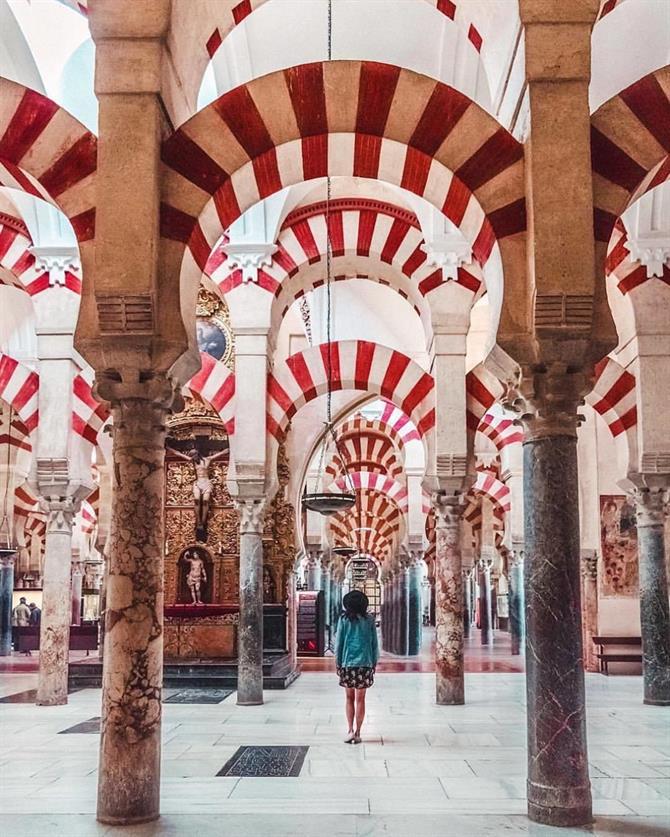 Sevilla has become one of the most visited cities in Spain over recent years and is probably most famous for its flamenco culture. It is also home to one of the most anticipated events in the Spanish calendar - Feria de Abril. People come from far and wide and stay in Sevilla to experience the traditions of this city at their best. Sevilla has a fascinating mix of architecture on offer, from the Catholic King's heritage, castles from the Moorish occupation and the mysterious streets of the old Jewish district in Barrio de Santa Cruz. Whilst walking around Sevilla, don't miss stopping by Plaza de España to capture the iconic image of the city.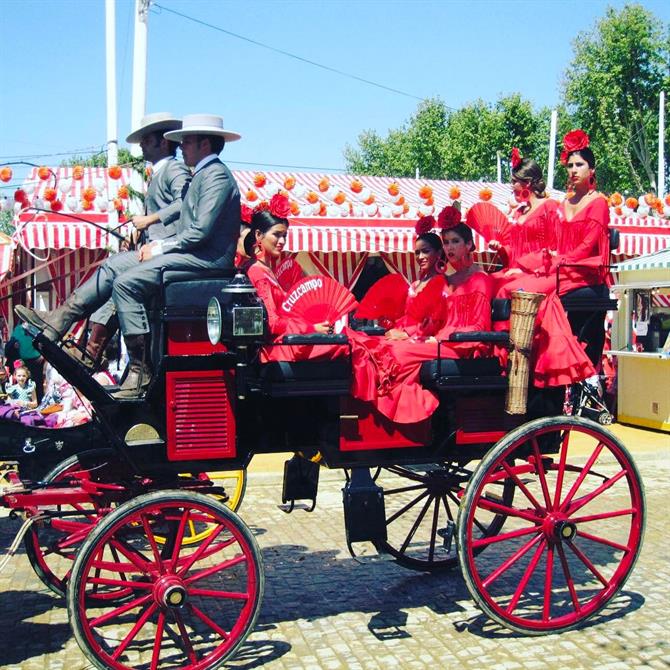 Jaén is often overlooked as a city to visit in southern Spain, but it is a beautiful example of quintessential Andalucia. A city brimming with culture and tradition, Jaén is also famous for gastronomy and is known as 'the cradle of olive oil'. Their olive trees provide half the total production of olive oil in Spain and 20% of the total production in the world. A must visit in this historical city are the Moorish baths which are the last remaining ones in Spain. Wander around the romantic winding streets admiring Renaissance architecture of the impressive cathedral and dip in and out of bars sampling free tapas along the way.
Another one of the best cities to visit in southern Spain for gastronomy is Jerez de la Frontera. This city is famous for its tabancos (traditional sherry bars) and horses. Jerez has been called the underdog of Andalucia but aficionados claim it is the true home of flamenco. For those who want a more authentic cultural offering in southern Spain should rent holiday accommodation in Jerez de la Frontera.
Explore the romantic streets and squares such as Plaza de la Yebra, a myriad of different architecture, bars and cafes. Drink sherry with the locals in the bodegas and sample dry, clear 'finos' to dark and sweet 'olorosos' - two of the locations with the best ambience are 'Tabanco El Pasaje' and 'Tabanco San Pablo'. Don't leave without visiting the gypsy-flamenco neighbourhood of Santiago, characterised by rugged white-washed houses and enchanting streets.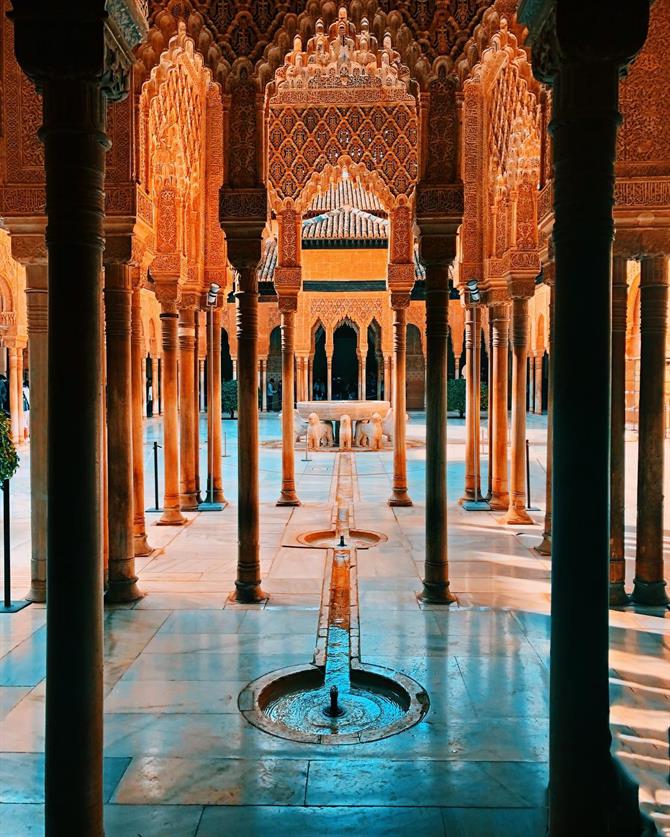 Granada is one of the popular cities to visit in Andalucia, nestled at the foot of the Sierra Nevada mountains, people come to this city for its charm, bustling nightlife and to experience tradition and culture of the south of Spain. Without a doubt, the most emblematic monument of Granada is the Alhambra Palace originating back to the Moorish occupation of the city. Explore the city neighbourhood by neighbourhood, each one depicting a different cultural influence. From Realejo - the old Jewish quarter to the narrow streets of the Albaycin full of markets and cafes.
One of the best times to stay in Granada is during Semana Santa - Holy week. The emotions and excitement that surrounds this celebration are palpable, locals and visitors come together in the streets to watch the famous processions be carried proudly throughout various barrios. Don't leave without seeing a Flamenco show in the Sacromente neighbourhood where gipsies (many from this barrio) perform shows in caves.
Where To Stay for Nightlife in the South of Spain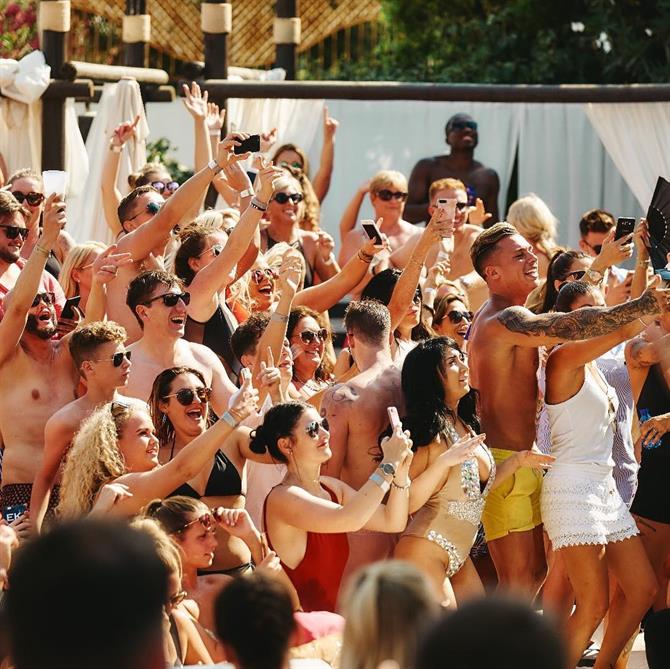 Whether you seek the glamorous atmosphere in Marbella's top beach clubs or the vibrant nightlife in Granada, you are spoilt for choice with places to party in the south of Spain.
Marbella has a prolific party scene and there is a reason why it is the stag and hen do capital of southern Spain. With a well-established drinking culture, whether you want to drink champagne in one of the exclusive bars, taste some tapas in a traditional Bodega or scout out the rich and famous on Puerto Banus, there is nightlife for all tastes in Marbella.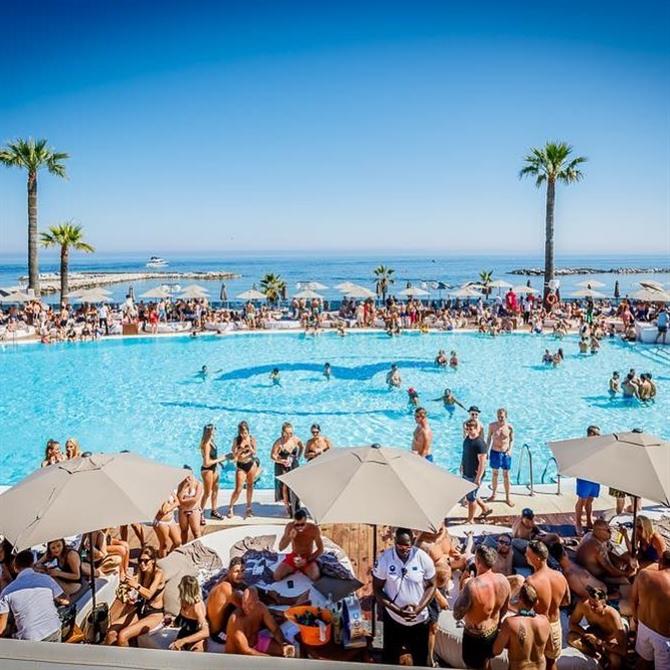 The party atmosphere here starts in the day, mostly in the form of Marbella's famous pool parties. Some of the best venues are Nikki beach, Funky Buddha Beach and La Sala by the Sea, all of which are located on the beachfront in Marbella. Rent a cabana for the day, bask in the warm sun and chill-out to DJ's spinning the latest tunes. These venues have a variety of events throughout the summer, be sure to check the calendar before you go as these events are often ticketed.
Marbella is home to some of the worlds most exclusive and expensive bars in the south of Spain. If you are staying in Puerto Banús you will be situated next to the most opulent venues such as Seven which attracts glamorous and wealthy clientele and La Sala which has some of the most sought-after tables in Marbella, offering panoramic views of Puerto Banus. If these kinds of bars are not your scene Marbella has bars for all party tastes. For cocktails head to Astral cocktail bar on Puerto Banus or Barrocco Cafe Cocktail bar on the Paseo Maritimo; for a raucous party atmosphere, join in with the 'craic' at The Hogans Stand or The Claddagh Irish.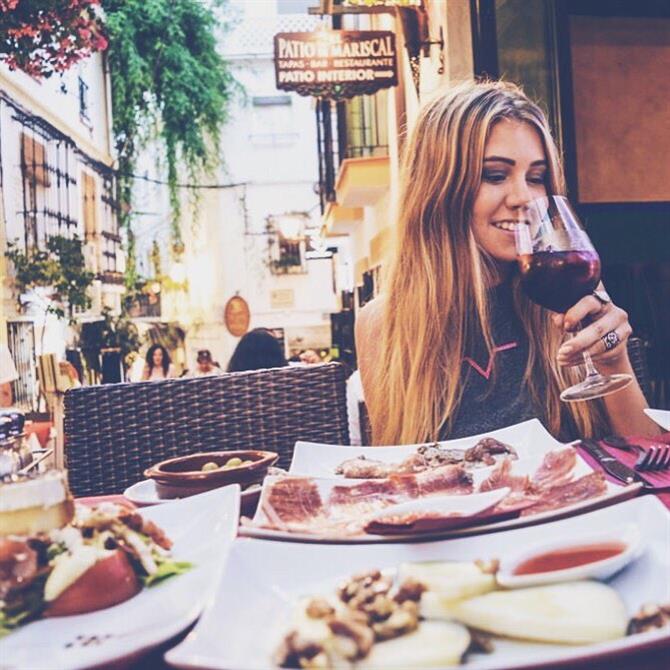 Marbella's Old Town often gets overshadowed by the glitz and glam of Puerto Banus but you can find a real sense of Andalucian culture here. With picturesque squares, traditional bodegas and tapas bars, you can experience authentic Spanish nightlife. If you are renting a holiday home in Marbella's Old Town, book a table at El Patio de Mariscal which is over 200 years old or at Bodegas La Venecia-La Fontanilla, full of Andalucian charm with a great menu of traditional tapas.
Some of the best nightlife in southern Spain can be found in Marbella's hottest clubs. Famous for boasting celebrity guest lists, these clubs have a strict dress code, expensive entry fees and drink menus. However, there are always top DJ's frequenting the desks and the vibrant energy is what makes them so popular. Some of the best clubs are Olivia Valère, Pangea and Aqwa Mist.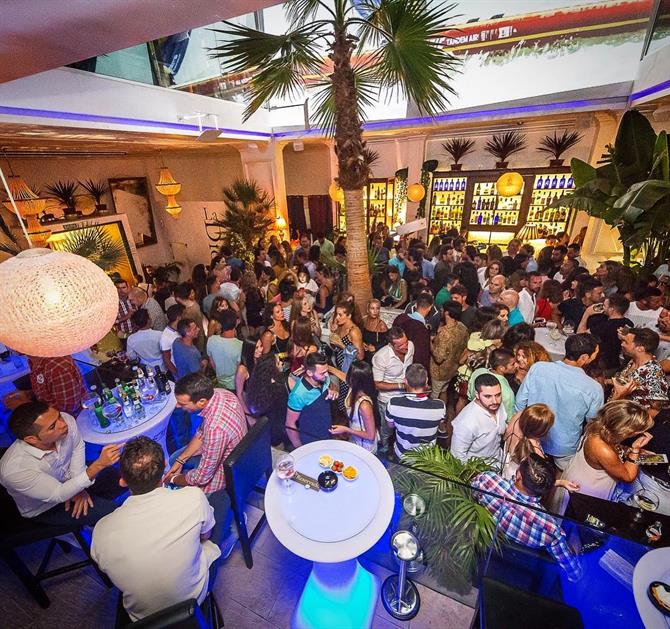 Stay in Tarifa an experience this vibrant and bohemian beach town in Cádiz. This popular destination comes alive in the summer and the atmosphere is palpable. The town centre is a labyrinth of whitewashed houses full of boutiques selling handcrafted items. The nightlife here is fun and energetic. Start the night sampling mouth-watering tapas typical from the area such as 'red tuna of almadraba' at El Lola. Afterwards, wash it all down with a couple of drinks at some of the coolest bars in Tarifa such as La Diosa, then dance the night away at Tarifa's favourite late-night haunt, La Ruina.
Granada is a city known for its culture and tradition but you are also spoilt for choice when it comes to nightlife. There are many streets full of tapas bars and drinking hangouts. The nightlife here is young, vibrant and varied and much of it happens on the street terraces. Socialising in Granada is based around meeting your friends in the evening for tapas and cañas and it is one of the only places in Spain where if you order a drink you will receive free tapas.
If you venture slightly away from the centre you will find Calle Pedro Antonio de Alarcón. The bars and cafes are cheaper here and the tapas are of high quality as it is an area popular with locals and students. A short walk from here you will find Lemon Rock on Calle Montalbán - another great place for tapas as well as live music, housed in a 17th-century building.
The nightlife in southern Spain starts much later and you won't find much of an atmosphere in the drinking bars until at least 10 pm. After tapas and a few beers, carry on the night in Calle Ángel Ganivet. Supersonic is great for cocktails with cool music and a friendly atmosphere. Pub Ganivet 13 is more of a club but perfect if you want to dance to some Spanish hits, with the old English one thrown in the mix. On Calle San Matías you will also find a number of cool bars, try Check-In and Loop Bar & Records.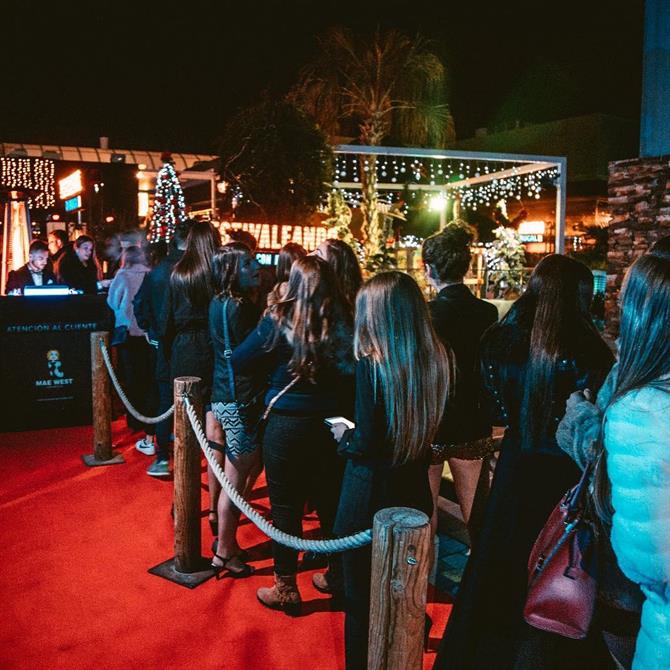 When its time to hit the dance floor, two of the best clubs in Granada are Mae West in the Centro Comercial Neptuno and Discoteca Aliatar on Calle Recogidas. These are not casual haunts and the dress code is fairly smart meaning you may be turned away if you are wearing trainers. Pace yourselves as these venues don't start to fill up until at least 2 am.
From the sand dunes in Cádiz to the rolling hills in the Sierra Nevada, the south of Spain has holidays for every taste. Party on the Costa del Sol, discover spectacular nature and experience some authentic Spanish culture - where will you go first?