Getting away from it all and chilling out sometimes means leaving all your worries behind. What about leaving your luggage at home too? Just remember the swimwear, wet suit, sarong – and of course a high factor sun lotion.

Go naked and visit some of the naturist beaches in Spain - experience a holiday with a difference! Here's a quick tour of the 10 best nudist beaches around Spain.
Spain has a wealth of nudist and naturist beaches where you can tan all over, so let's have a look at ten of them – no close-up shots please!
1. Tenerife – Playa La Tejita
The resort of El Médano is on the island of Tenerife - one of the wonderful Canary Islands. It's a surfers paradise and a pretty cool resort, not only due to the bracing winds but also the bohemian crowd that gathers here, it's got surf, sand and sunshine.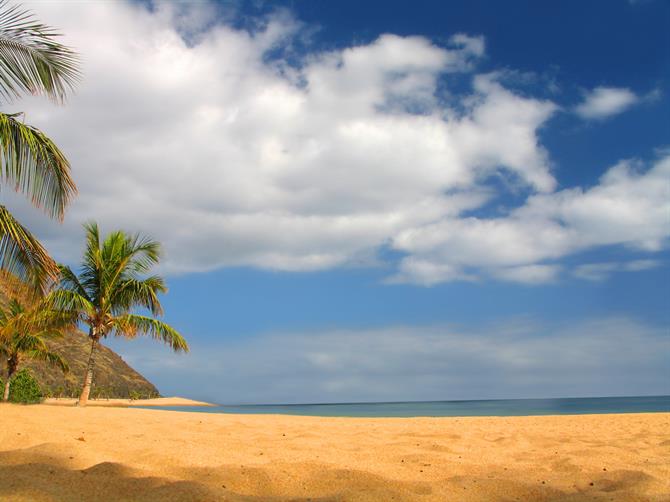 Walk around the sand dunes from the main beach of El Médano heading for Red Mountain – Montaña Roja – and enjoy the pleasant walk at the base of the mountain. You'll come to Playa La Tejita, one of Tenerife's beautiful nudist beaches.
2. Tenerife – Playa de la Pelada
If you are renting a villa in Tenerife, there is a more sheltered and popular nudist beach, also close to the resort of El Médano. Playa de la Pelada is both sheltered and perfectly private, a bit of a scramble down over the rocks means that anyone here will be aiming specifically for it, so it's not overrun with passers-by or curious sightseeing crowds. As the name suggests, you can 'peel' off here in peace!
3. Almeria – Cabo de Gata and San José
Almeria makes for a magnificent break, either visit the city for a long weekend or take a trip and see the other locations close to it. But if you want to find a naturist enclave, then the Cabo de Gata is the place to head for.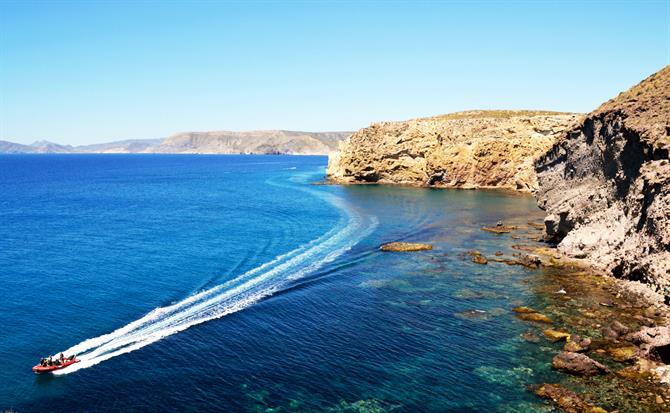 There are more than one, but San José and its Cala de Los Amarillos is hard to beat with clear crystalline waters, fine sand and sunshine. Cala Carbón is another popular nudist haunt, in fact, it's mixed, clothed and non-clothed.
4. Cadiz – Faro de Trafalgar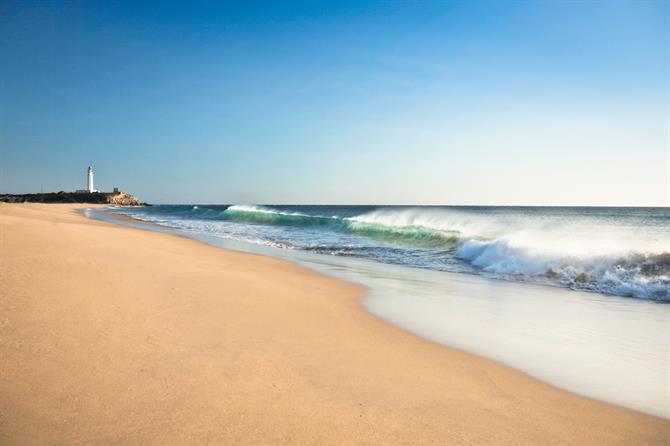 Cadiz is a wonderful city, it leaves you with a feeling of sailing away, the city is so placed that it's almost like a big cruise ship, but don't need sea legs to visit the beach at Faro de Trafalgar. The wind can be a little forceful, so the clothes optional rule may be welcome. There are also strong currents here, so be careful if you've brought the kids on your holiday to Cadiz.
5. Marbella – Cabo Pino
Extending along the Dunas de Artola, Cabo Pino also known as Artola beach is a well known and pleasant nudist beach close to Marbella. Known for its designer boutiques, you'll have to be content with a designer towel on your holiday to Marbella, as you mingle with the young and fashionable crowd.
6. Gran Canaria – Maspalomas Beach
Back to the warm and wonderful Canary Islands, this time Gran Canaria and the beach at Maspalomas. Renting an apartment in Gran Canaria promises miles of sand dunes so you'll feel as though you are in the middle of the Sahara desert. Between the Maspalomas lighthouse and the resort of Playa del Ingles, you'll find the nudist section, just one of Gran Canaria's numerous nudist beaches.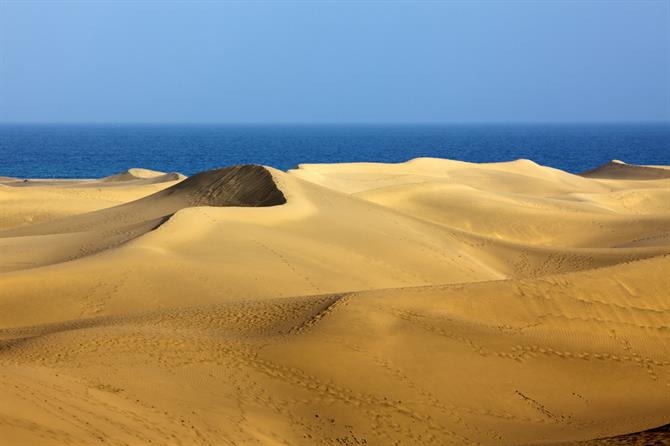 7. Tarragona – Playa de El Torn
A large, long, popular and well-known beach, Playa de El Torn is in Tarragona just along the coast from the vibrant city of Barcelona. Again it's clothing optional, but naturists are very common. Moderate waves and gravel rather than sand base doesn't put off the hundreds of people who flock here every year.
8. Sitges – Cala de Home Mort
Staying up North, rent a villa in Sitges, the gay capital of Spain. LGBTQ festivals, bars and marches get a mention throughout the year, it's also a hot spot for beaches which are both gay-friendly and nudist-friendly.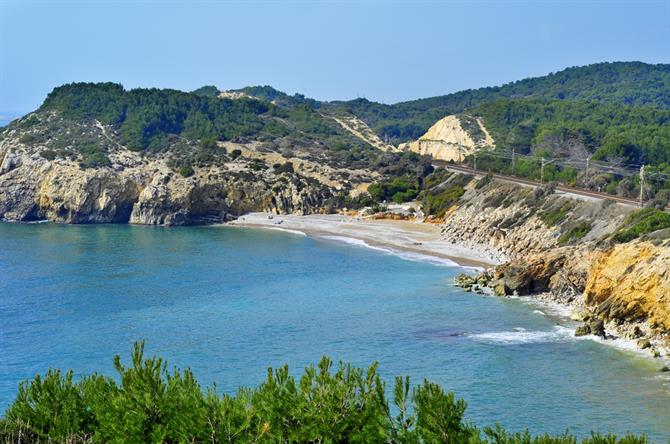 Cala de Home Mort is just one of these and there are more if you explore the coastline. Most of the beaches here are clothing optional anyway.
9. Mallorca – Es Trenc
Blue sea, white sand, calm waters and quiet sand dunes - you've reached Es Trenc, the most famous nudist beach on the island of Mallorca. Two kilometres of soft sand stretches out to reach the never-ending sea.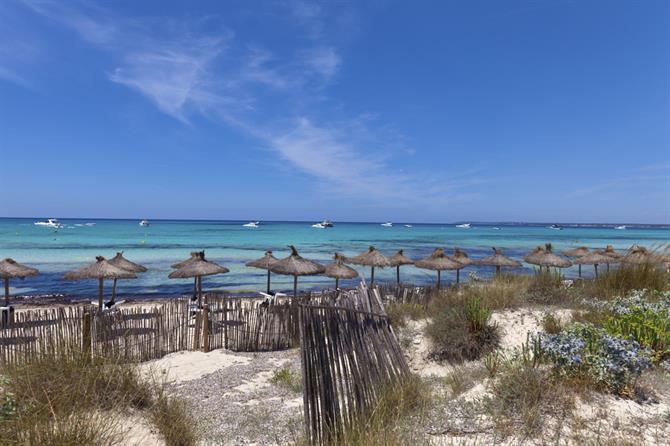 This Balearic Island is a must-visit destination for so many reasons, make it yours and rent a holiday villa in Mallorca.
10. Granada – La Herradura
You don't tend to think of a beach when your mind is filled with images of the Alhambra, mountains and ski resorts. But take a trip down to the Granada's Costa Tropical coast and you'll find plenty of beaches, often uncrowded, quiet, and quite Spanish. La Herradura – the Horseshoe for its shape – is close to the better known Almuñécar on the Costa Tropical.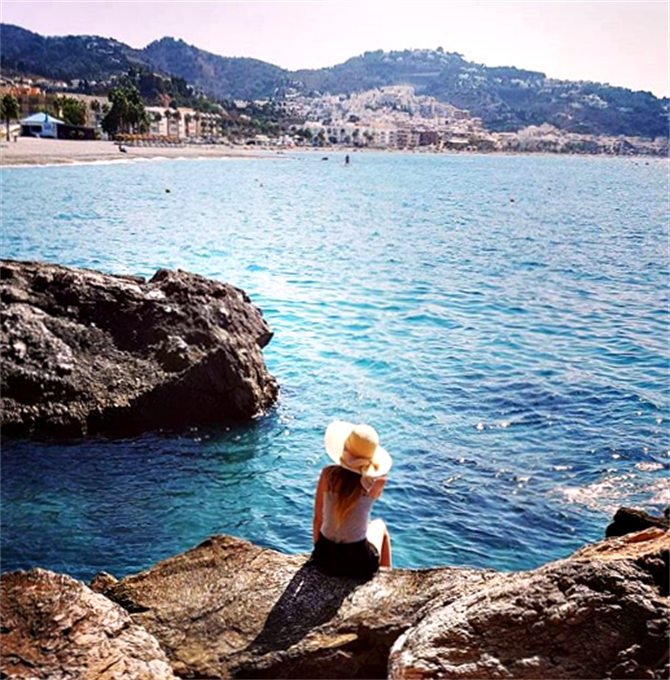 Cantarriján is the naturist beach and it's set off just West of the resort of La Herradura. Two delightful side-by-side beaches, protected and sheltered, offer you the choice of nude or not and you won't be disappointed with the location.
That's it – 10 of the best naturist and nudist beaches in Spain for you to visit when you take your next longed-for trip!