Even if most visitors to Tenerife never leave their resorts, the two places many think they know well are Costa Adeje and Playa de las Américas in the south of the island. One represents the chic and stylish face of Tenerife's tourist market, the other represents the cheap 'n' cheerful,
party all night brigade
.
Except that's not quite a true picture. Many visitors and even quite a few expat residents don't actually know the difference between Playa de las Américas and Costa Adeje, or where the boundary between the two resorts lie.
Playa de las Américas has been labelled with a down-market tag for years whilst Costa Adeje has basked in 'the upmarket face of Tenerife' label. Neither are 100% accurate.
Our guide to the different faces of Costa Adeje reveals why and what those different faces are really like.
The difference between Costa Adeje and Playa de las Américas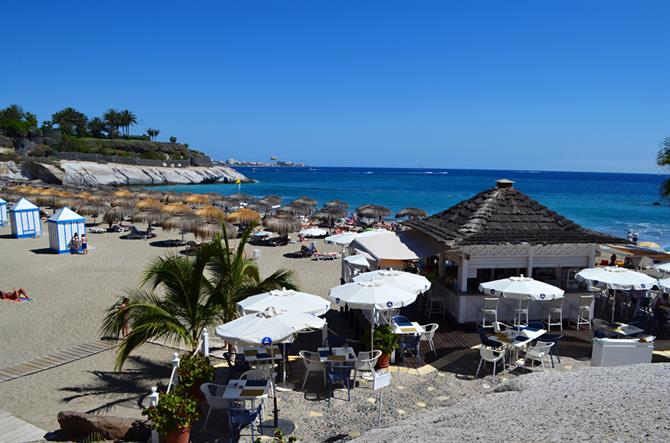 Costa Adeje simply means Adeje's coast, Adeje being the municipality which administers the area. Playa de las Américas, on the other hand, is part of neighbouring Arona municipality. The border between the two is the Barranco del Rey which reaches the coast between C.C. Veronicas and Playa Troya II.

The confusion started many years ago when the name Costa Adeje was just a twinkle in a marketing department's eye and most visitors to the biggest resort in the south believed the place they were staying was called Playa de las Américas.
As the brand name 'Costa Adeje' became better known and the word 'upmarket' was increasingly used to precede the name, Adeje started to 'reclaim' parts of what had popularly been known as Las Américas. Even beach names were changed, Playa de las Américas I and II became Troya I and II.

The confusion hasn't been helped by the fact that the Playa de las Américas bus station and the Playa de las Américas casino are both in Costa Adeje. However, it won't be long before both lose the Las Américas part of their name.

To regular visitors these changes didn't fundamentally affect the resort they knew and loved. However, for first timers to this part of Tenerife, there is a danger of being mislead by the 'upmarket' tag that is applied across the Costa Adeje board.

To add to the confusion, La Caleta, Playa Paraiso and Callao Salvaje also fall under the Costa Adeje umbrella, but in this instance I'm concentrating on the Costa Adeje resorts that blend into each other and Playa de las Américas.
Resorts in Costa Adeje
Del Duque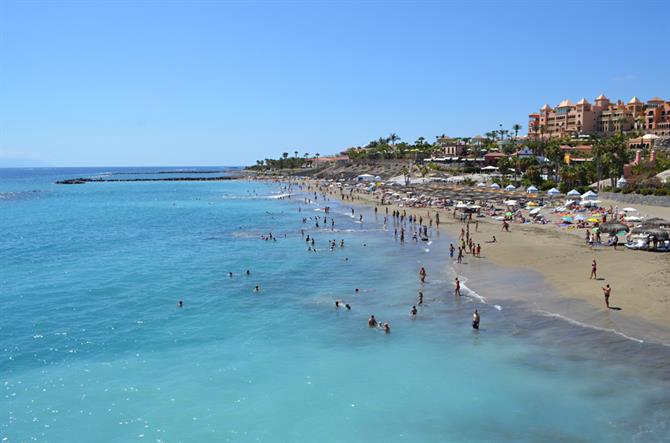 The western end of Costa Adeje deserves the upmarket label. Hotels and accommodation here are mostly of the luxury variety with attractive individualist architecture. Playa del Duque is the sexiest looking beach in the south of Tenerife with white sand lapped by turquoise water. It's cut off from the rest of Costa Adeje by a creamy volcanic headland that adds to an air of exclusivity. Chic restaurants and cafés line the back of the beach, separated by a smart walkway where stylishly dressed tourists from various countries promenade as the sun sets. Del Duque exudes a refined, wealthy vibe. When people talk about the upmarket part of Costa Adeje, this is what they are really referring to.
Fañabe
Walk a couple of hundred yards further south and there's a change of scene and atmosphere. Fañabe is a mix of mid-range accommodation and restaurants that are more budget friendly than those of the classier neighbour. Behind the long beach that spans the resort, there are plenty of restaurants and shops to suit less demanding/discerning visitors. Walk up any of the side streets and an army of restaurant touts are ready to pounce. There's plenty of choice for families but, despite the thatched beach bars and Balinese beds on the sand, much of Fañabe isn't what you'd call upmarket.
Torviscas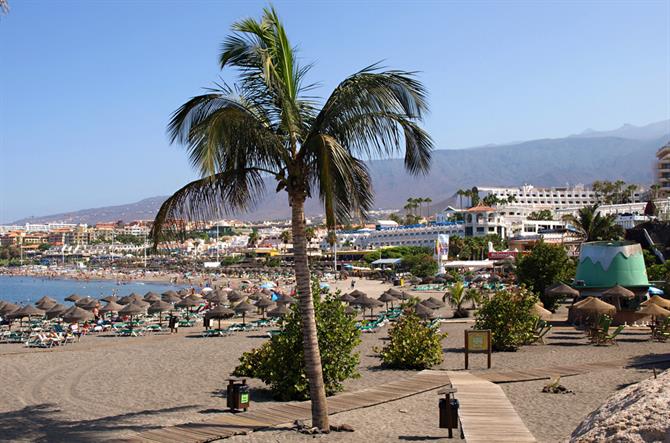 At its southern border, Fañabe morphs into Torviscas. Torviscas is exactly the sort of fun in the sun resort people might imagine when they hear the term 'Tenerife resort'. Plenty of cheap eats, live music bars and pints of lager for a Euro. It offers good holiday fun, but again, not upmarket.
Puerto Colón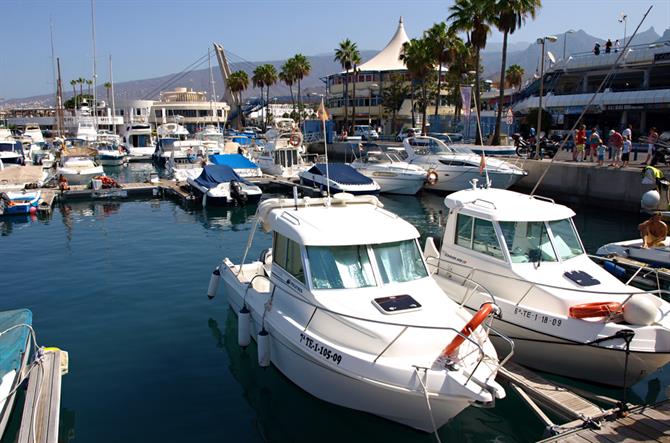 Puerto Colón offers a bit of a mix of styles. It has a nice little family beach, a marina full of sleek yachts, some super stylish bars and inviting restaurants... as well as a lot of places offering all day British breakfasts at low prices that look as though they haven't changed much since the 1980s. It's another good budget area for families and is a fun resort but, although it has its stylish parts, once again it's not deserving of the upmarket tag.
San Eugenio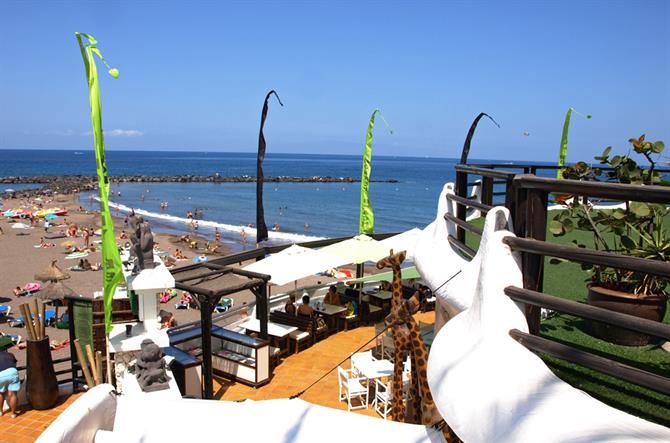 The area around San Eugenio is where Costa Adeje meets Playa de las Américas and subsequently, many people might think San Eugenio, with its rows of mainly unremarkable restaurants and bars backing Playa del Bobo and the two Troya beaches, is Playa de las Américas. It isn't. The holiday scene carries on in much the same theme as Puerto Colón and Torviscas before, ironically, looking more stylish around the Monkey Beach Club area just as it reaches Playa de las Américas.

Fundamentally Costa Adeje is no different from Playa de las Américas. Both have chic and sleek areas which have modernised to meet more sophisticated 21st century tastes and both have other parts where businesses continue to offer cheap eats and booze in surroundings that aren't exactly what you'd refer to as salubrious.

Walking from the Las Américas end of Costa Adeje westward is generally a case of passing a sophisticated section then budget area, stylish bars and attractive restaurants followed by Euro a pint joints and interchangeable places offering crowd pleasing 'steak, chicken, pizza' menus until you reach Del Duque where everything really is of the upmarket variety.