Barcelona is unquestionably one of the most exciting cities in the world. With so much happening, it is the perfect city to unravel and explore. Something just as perfect, however, is its location. Have your very own Catalan adventure by renting a holiday home in the region of Catalonia, or take excursions from the comfort of the Catalan capital itself.
There is so much to experience in this region that borders France. Take the opportunity to see for yourself how different this part of Spain is. A region that has its own culture, food, and even its own language.
Planning some day trips around Barcelona will ensure you get to immerse yourself in the Catalonia experience. It's an itinerary you'll be glad you traveled. Peruse our guide to personalize your stay.
The Mountains and Monestry of Montserrat

The Costa Brava

Montblanc

Girona

Tarragona

Begur

The

Penedés
Sitges
PortAventura
La Roca Village
The Mountains of Montserrat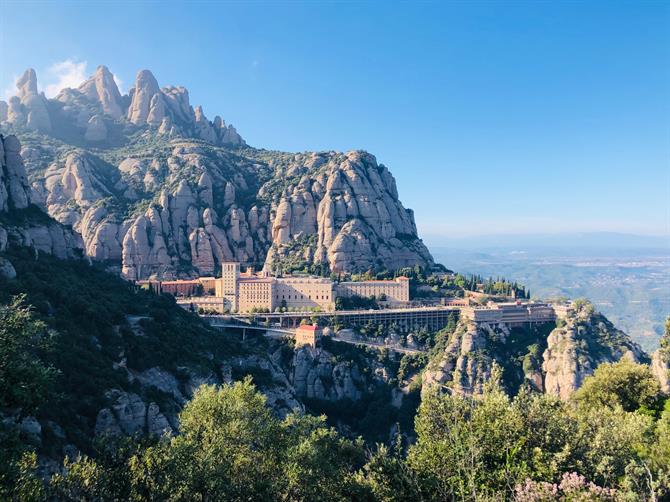 If Barcelona is the heart of Catalonia, then Montserrat is the lungs. Leave the buzz of the city behind and within an hour you can be chilling in the mountains, breathing in nature at its best. The Montserrat range is so-called because of its unusual serrated appearance. It's a great place to go for a hike at your own pace or with the many organized hikes arranged throughout the mountain range.
The peak of Sant Jeroni offers some fantastic views of the valley below. The trails vary in difficulty and if energy levels aren't the best then a simple stroll, enjoying your surroundings could be just what you need.
Throughout Montserrat is a funicular railway network which means you don't even have to walk to enjoy the astounding landscape. Accompanied by a leisurely picnic, it is an idyllic way to spend a day away from busy Barcelona and lose yourself in the extraordinary views this area provides. Be sure to check out the view from the viewing point of La Creu de Saint Miquel - you won't be disappointed!
Day trips from Barcelona to Montserrat aren't just for nature-lovers. There's culture to be had in the mountains too. An 11th-century Benedictine monastery was built in amongst its towering peaks and here you will learn about the history of this fascinating building and the statue 'La Moreneta', the 'Black Madonna'. The monastery can be reached by an unforgettable cable car journey or by a funicular railway. Once there, you can explore the surrounding area, complete with eateries, shops, a couple of museums, and an ancient library.
Montserrat can be reached by car from Barcelona in around 40 minutes. Buses also leave regularly from the city but if you are looking for a day trip from Barcelona by train then this would be the one not to miss. It's an easy, gloriously scenic way to travel to Montserrat that drops you around the corner from the cable car up the mountain. Simple!
The Costa Brava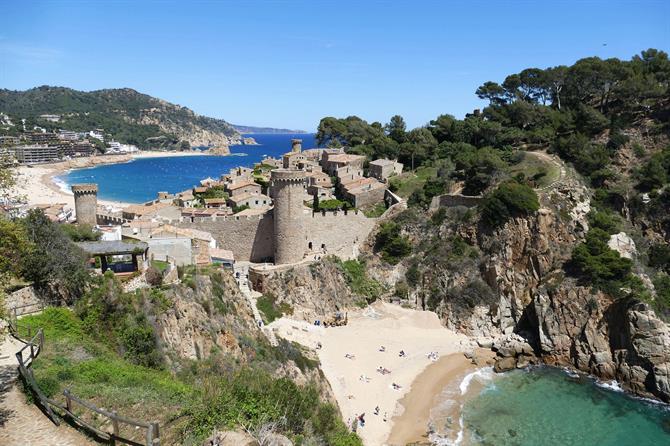 Costa Brava, translated as the 'Wild Coast' is a beautiful coastline to explore. Day trips from Barcelona could solely consist of memorable days visiting the eclectic mix of towns and villages that edge this part of the Mediterranean Sea. It's not easy to pick the 'must-see' places and if you hire a car it would be perfect to spend some of your stay exploring the coves and remote fishing villages along the natural, rugged coastline.
One such place is Llafranc, a beautiful old fishing village of white houses that almost merge into the fishing boats sitting on the golden sands of the bay. There are also the hidden coves and secluded beaches of Tamariu - the ideal location to lose yourself for the day. Blanes, the southernmost point of the Costa Brava is a great place to take the family. Over the years it has perfected the art of tourism and you can be sure to find all the amenities expected for a day at the beach, no matter what your age.
The Costa Brava is so much more than a day out at the beach. It's an area full of history and beauty. The town of Tossa de Mar is a quirky mix of both, where a medieval fortress sits on the sands of the main beach. A great backdrop for your selfies!
Montblanc
Montblanc is a fascinating day trip from Barcelona. By train, it takes about two hours. By car, it's around an hour and a half. It's a history buff's ideal day out. The town was built in 1163 as a line of defense and the preservation of the fortified stone walls of the medieval old town is one of the finest examples in the whole of Spain.
The town exudes charm and is best experienced just by wandering its narrow cobbled streets and admiring the ancient architecture.
One of Montblanc's claims to fame is that it is the town in which the Catalans believe St George slew the dragon. Sant Jordi (St George) is the patron saint of Catalonia. During April, Montblanc usually holds a medieval fair with jousting, re-enactments, a medieval banquet, and other delights to celebrate the legend. It's the perfect time of year to visit if you are planning on taking a day trip around Barcelona.
Girona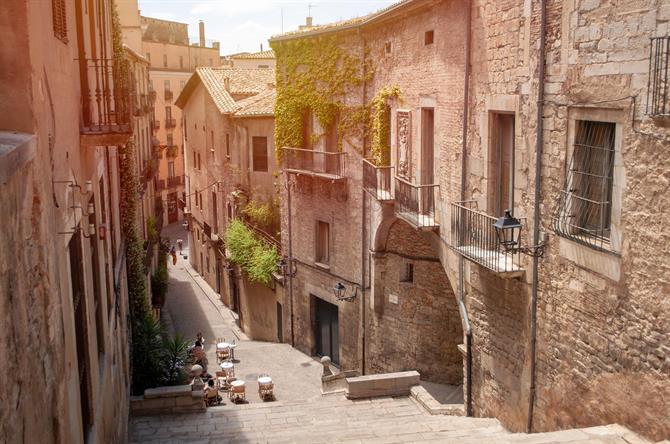 Known as the 'Venice of Catalonia'- Girona sits in the Ter valley, the point where 4 rivers merge. Throughout the city, there are no fewer than 11 bridges. Built throughout different periods, they vary considerably in design. The picturesque Onyar River can be traversed via a wooden footbridge as well as ones made of stone and wrought iron. The most famous bridge is the one whose architect was Gustave Eiffel. He later went on to construct the Eiffel Tower in Paris. Girona is world-famous for its unusually colored old buildings that edge the Onyar River and can be best admired from the bridges.
The province of Girona borders France and so it's not surprising that the city has a hint of 'Je ne sais quoi'! It's a popular day trip for French tourists crossing the Pyrenees to visit the ancient town with one of the oldest and well-kept Jewish quarters in Europe.
As part of your meanderings through the narrow alleyways and along the river be sure to make time to sit and relax in one of the many lovely cafes, bars, and restaurants. A day trip to Girona from Barcelona by train will give you an idea of how very different cities can be in Spain even in the same region. You won't find two provincial capitals so closely related in proximity but as different as night and day as that of Girona and Barcelona.
Tarragona
Tarragona is a beautiful and historical coastal town. It's an easy day trip from Barcelona by train, heading south it takes about 1 hour and 15 minutes. Over 30 trains run each day so it's super easy to plan.
The town is speckled with roman ruins dating back from its time when it was a Roman colony, known as Tarraco. The ramparts can be walked and it is a great place to take in the view of the city. Tarragona has its very own La Rambla or more accurately known as La Rambla Nova. It's an enjoyable way to take in the city with a tree-lined boulevard with beautiful buildings and plenty of shops and cafes to chill and people watch.
The Roman amphitheater built in the 2nd-century, with a capacity of 15,000 is another focal point, not just for how well-preserved it is, but for its location so close to the sea. This brings us to another reason why Tarragona is a great day trip outside of Barcelona - the beaches. The Costa Daurada is famous for its calm, shallow waters and fine, golden sands. The name means 'Gold Coast' and is home to some of the finest beaches in the area. Tarragona is the perfect day trip from Barcelona to combine history, beaches, and Catalonian culture.
Begur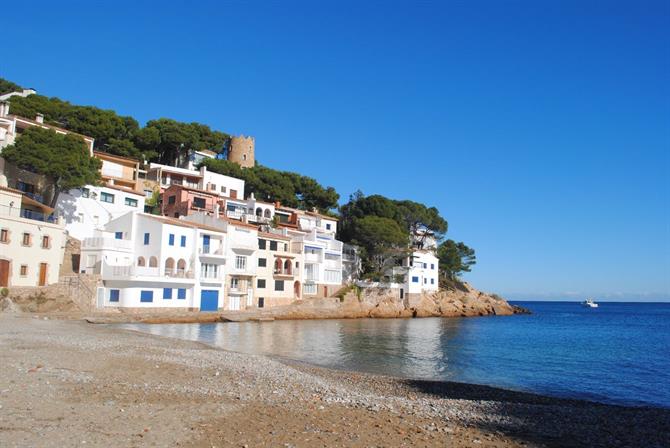 Begur is a popular tourist destination that makes for an unusual day trip from Barcelona. The town lies on a beautiful coastline of coves and crystal-clear waters. Begur itself is an intriguing place. It has links to Cuba! So no surprise that you will find mojitos and salsa dancing within its streets.
Locals tell of a time when families emigrated from Begur to Cuba to seek their fortune. Over the years, many returned once they had made their riches. With them, they brought back touches of Cuban architecture which can be seen in the style of the houses they built on their return. They also brought a taste of Cuban food and culture and to this day, Begur has a unique vibrant West Indian vibe.
Every year there is a festival where the locals' West Indian ancestry is celebrated in style. A unique place to visit any time of the year, but particularly popular when the festival is held in September.
It's a 1-hour 45-minute journey by car from Barcelona and if you're looking for a day trip from Barcelona by train, get tickets to Flaçá and then take a bus or taxi the rest of the way. Not too far to go to get a taste of Cuba!
The Penedés
No visit to Barcelona would be complete without a day trip to the nearby Penedés wine region. It's the heart of wine-making in Catalonia that goes back centuries. The stunning vineyards are scattered throughout the gorgeous countryside. Many offer a wine-tasting experience, often accompanied by tapas or a more hearty lunch. It's an enjoyable excursion from Barcelona that will leave you feeling relaxed as well as informed as to how the region produces its gorgeous wine.
If you want to experience something truly unique, be sure to plan a day trip from Barcelona that includes a visit to a Cava-producing vineyard. Spain's delicious sparkling wine originated in this region in the mid-1800s when Spanish wine producers introduced champagne-making processes used by their French neighbors. The result is Cava which has gained much popularity and a great reputation around the world.
As well as visiting the vineyards, a lovely day trip from Barcelona by train is to the town known as 'the capital of Cava' Sant Saduni d'Anoia. It lies 50 minutes by train outside of Barcelona, in Penedés. Once there, you can immerse yourself in the history of cava-making and guided tours are available if you want something a little more structured. There's plenty to see and do here and, of course, plenty of Cava to sample!
Sitges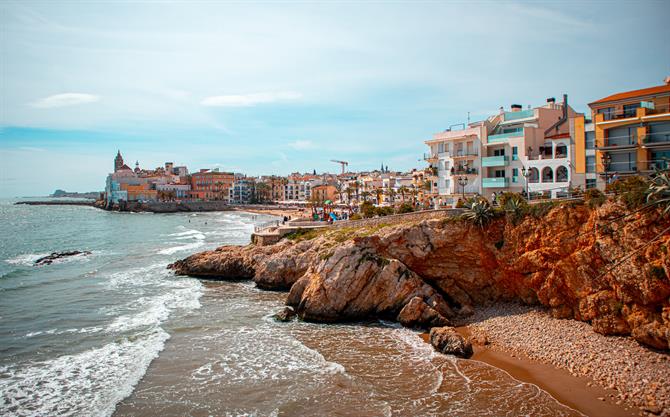 Sitges is a popular place to visit near Barcelona. It's a favored beachside town for the wealthy to buy holiday homes which has given it a cosmopolitan feel. Celebrities and footballers have been known to frequent the town. As you can imagine, the town is geared towards entertainment and is gaining a reputation for the many fiestas it holds. These include an annual film festival, a vintage car rally that runs from Barcelona to Sitges, a gay pride festival, and many more.
It's within easy access to the Catalan capital and if you haven't got a car, no worries. Sitges can be reached within 30 minutes by train from Barcelona. Once you arrive, you can enjoy a day on the beach and meander along the promenade. The pretty avenues of the town are also well worth strolling through.
For a little more culture, explore the Museums, Cau Ferrat, and Museu Maricel, where pieces from world-renowned artists are displayed. There's also the Maricel Palace with a beautiful interior and an even more striking setting on the edge of the sea. Sitges is a short day trip from Barcelona that will leave you feeling you are a million miles away from the Gaudi-inspired city.
PortAventura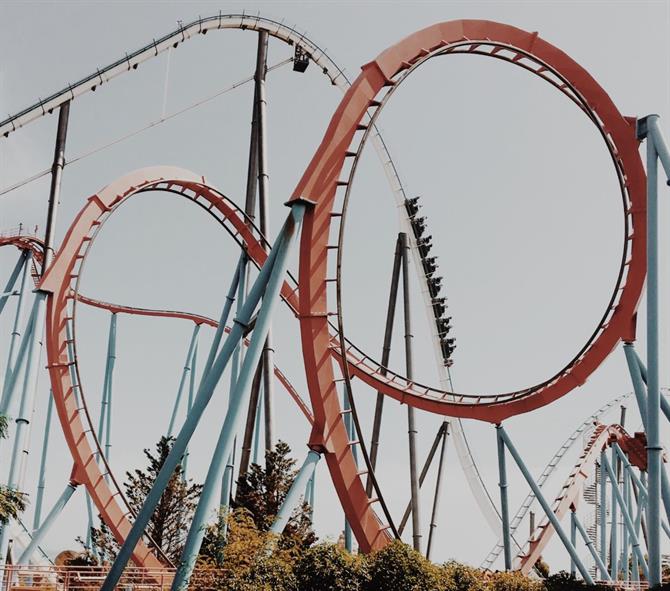 For a fun day trip outside of Barcelona for all the family visit PortAventura. A themed leisure park where you can venture into the heart of Imperial China and come face to face with the Dragon Khan, an 8-looped roller coaster. It's the most visited theme park in Spain and one of the most popular in Europe. There are six themed areas to choose from where you can travel the world from the Wild West to Polynesia. There's also a children's area - Sésamo Aventura (Sesame Street).
Thrill-seekers are well-catered for. The park is currently home to the tallest and fastest roller-coaster in Europe - Red Force. Also, for those brave enough, you have the opportunity to become a human catapult - 0 to 135km/h in 3 seconds!
As well as the rides there are 40 shows performed each day to entertain in each area. The cancan, tribal dances, acrobatic displays, and a banquet of restaurants all add to an adrenaline-filled day trip that will leave you wanting to return to Barcelona for a quiet night to recuperate!
PortAventura is in Salou on the Costa Daurada. If you are planning on using public transport, the best way to get to PortAventura from Barcelona is by train. On average there are about 5 trains running each day and the journey takes about an hour and a half. This theme park is also easily accessed by car and several private operators can get you there and back.
La Roca Village
La Roca Village is a fabulous day out for fashion-conscious bargain-hunters who love designer outlets. It's the perfect day if you want to do something a little different than sightseeing. The 140 shops offer up to 60% discounts off recommended retail prices all year round in an atmosphere that caters to a relaxing day out. Of course, if you want to shop until you drop, you can, but with a good range of restaurants and cafes, a children's play area, and a five-star shopping experience that includes a hands-free service where you shop and staff collect your purchases, you can just as easily shop until you chill with a glass of vino! On top of the discounts available, there is an instant tax refund for clientele from outside the EU and a chance to earn miles or points with connected travel partners.
There are ample car parks if you are traveling here by car. It is also conveniently located for public transport. Buses depart from Barcelona city regularly. Or if you prefer, it's a quick 30-minute day trip from Barcelona by train. La Roca Village also provides a private chauffeur service for those occasions when the bags seem to have multiplied all by themselves!
The Takeaway...
So when your dreams of experiencing the city of Barcelona with Las Ramblas, the Gothic Quarter, and Gaudi's architecture have come true - dream even bigger! Be inspired to explore beyond Barcelona into the gorgeous region of Catalonia.
From mountains to turquoise seas, adventure and relaxation await. These excursions from Barcelona are ones that you really won't want to miss.
Suggested reading for you