The Tropical Coast
Where is it? The Costa Tropical is that strip of coastline that comes after the Costa del Sol, reaching its sandy fingers eastwards along the bottom of Spain, before the salad-growing Costa Almería. It's traditional and Spanish. Smallish towns, tiny seaside villages, a quieter approach to a Spanish summer holiday. Siesta with the locals, and discover the best places to park up that parasol, with this round up of 5 favourite family beaches on the Costa Tropical, in Andalucía.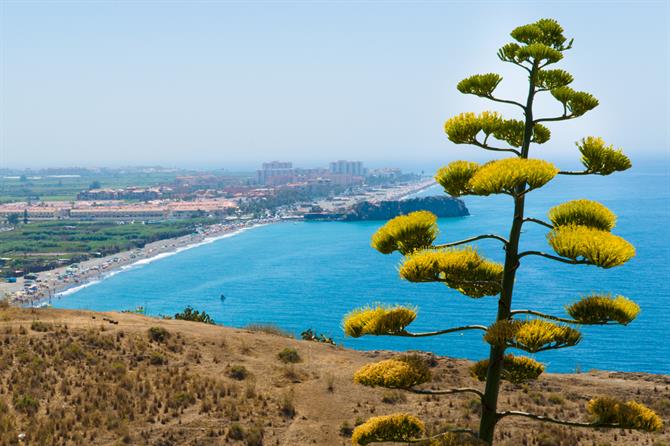 Low rise, low key
The Costa Tropical is a more intimate coast to explore, particularly with bucket, spade and family in tow. Take the motorway and exit at a pre chosen destination, or meander on the old road, flanked by shady Pine and Palm, and discover the hidden coves and blue depths around each corner. Forget high rise, think traditional Spanish villages, watchtowers, lighthouses, flat roofed houses and fishermen's cottages, placed perfectly by the clear and clean Mediterranean sea. The Costa Tropical gets its name from the produce grown there, the tropical fruit that's sent all over the world.
Family favourites
When we occasionally take the long road down our mountain, it's usually for another reason, a town based errand, a hospital appointment, a Sunday morning rummage at the Rastro, or a long wait for official business. So it's always good to throw a little R&R into the day, and we have a few favourite spots. Since our children were little, we have built up a list of top contenders that we return to, again and again. Not so much a list of the best beaches, but a personal recommendation of the ones we love, as a family. So, let's share...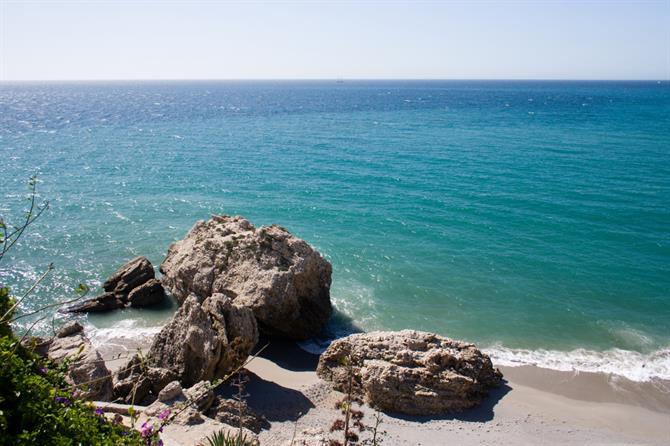 1. Calahonda
Now, before I confuse you, there is more than one Calahonda! This one is in Granada Province, and although it attracts a good crowd in high summer, it still retains the traditional vibe. The sight of the coloured fishing fleet bobbing in the harbour always lifts my spirits as we take the bend on the road high above the rocky coastline, it's such a perfect arc, what do you think?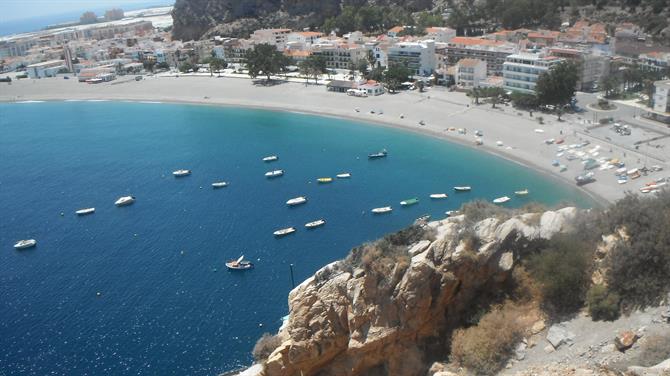 *Top Tip for Calahonda: The best seafood is at El Ancla Restaurant by the traffic lights on the main road in, but be warned, after 2pm you won't get a seat, it's really popular, especially with Spanish families at the weekend.
2. La Rijana
This beach is really a cove, an unexpected piece of heaven on a hot day as you depart the road and swing back underneath the motorway. You have to park just before, and walk down onto the beach. It's still a bit of a well kept secret, although on high season weekends that secret seems to be out! There are lots of reasons to take a trip to Rijana, but one in particular - the snorkelling is 'clearly' fantastic. Teens and accomplished swimmers will love it. John wrote about his family trip there, read it here.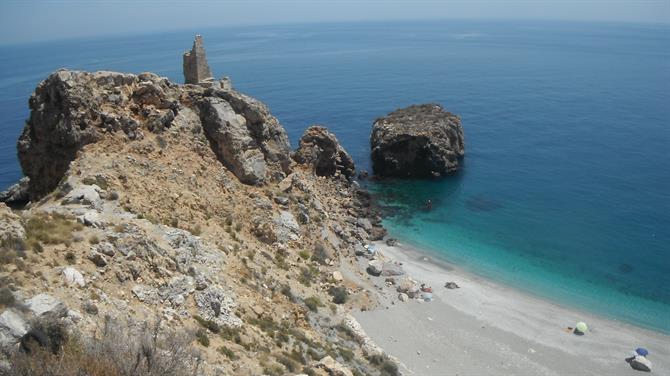 *Top Tip for La Rijana: Bring plenty of drinks/water and snacks, sometimes there's a little bar/shack open there, sometimes not. Remember the snorkelling gear too! There's also no shade so don't forget to pack the parasol and high factor sun-cream.
3. Castell de Ferro
Next stop after Rijanna, and you'll find yourself in Castell de Ferro. Perhaps it's time for lunch? Afterwards, wander down to the white balustrade enclosed beach and walk it off. You'll see fishermen at work here, repairing nets or hauling the catch in the morning. Here's your first view of Castell de Ferro as you come around the headland...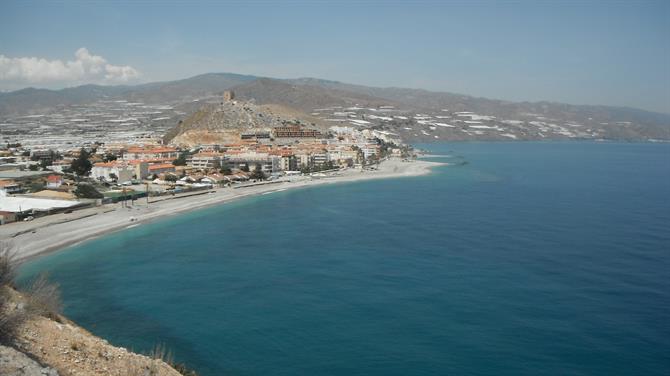 *Top Tip for Castell de Ferro: Eat at the confusingly named Costa Sol restaurant, just back from the beach with a red awning. Run by a couple of brothers, it's the best menu for miles, there are 3 set Menu del Día options, and children are, of course, treated as kings!
4. La Mamola
Further east again, with little jetties pointing out towards the African coast across the glistening Mediterranean. La Mamola has gently shelving sand for safe bathing - ideal for younger children and non swimmers. A plethora of restaurants and bars line the long promenade, and there are also designated play areas and plenty of rocks for scrambling and exploring, net in hand. Clean and clear water.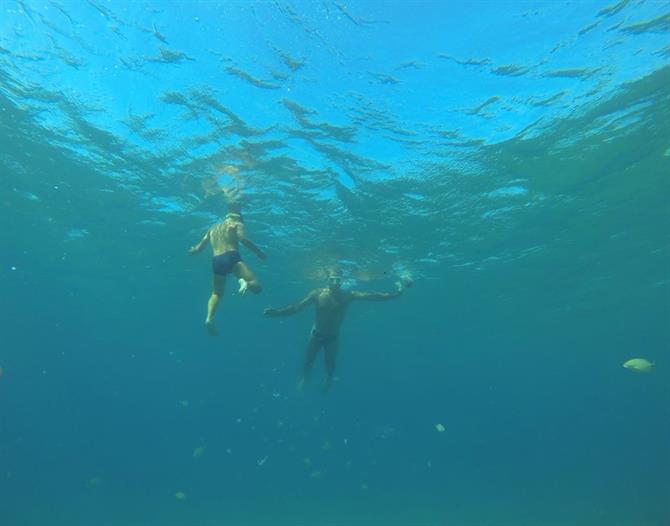 *TopTip for La Mamola: Binoculars! Schools of Dolphin in the distance can often be spotted from the beach.
5. La Herradura
Back in the other direction almost, but not quite, into Málaga province, and La Herradura, or The Horsehoe - named of course, after its shape. Pretty and neat, the bay is stunning and well sheltered from the winds that can whip up this coastline. Scuba diving and water sports are popular here and there's history too. Far beneath the sea, there lie the remains of 25 Spanish naval galleons, they were wrecked in a storm back in 1562.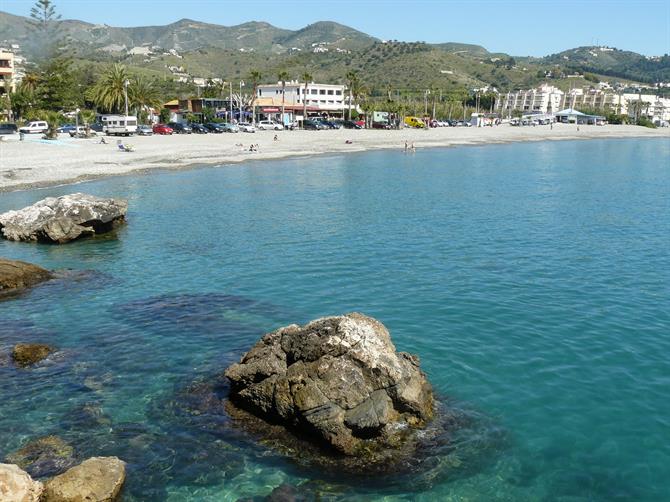 *Top Tip for La Herradura: Go west young man. Perhaps just for those determined to travel light, this one. Just west of La Herradura is the beach at Cantarriján, which is nudist or naturist, and one of the nicest beaches in the whole area.