If Extremadura is not captivating hearts and saving lives with its beautiful landscapes, nature and picturesque villages, it will definitely win your heart directly through your stomach, and not just with its famous, delicious and irresistible ham. Extremadura´s cuisine is rich and varied, something its locals are very proud of.
Let´s take advantage of the fact that Extremadura's capital city of Mérida is the Latin American Capital of Gastronomic Culture 2016 and escape to southwest Spain with a single goal: to taste Extremadura. Let´s metaphorically walk the region of Extremadura from north to south and visit some of the most notable dining destinations, featuring some local specialities and restaurant suggestions.
Valle de Jerte
If you have heard of Valle del Jerte, it is possibly for the Cherry Blossom Festival which takes place here every year. With spring comes a thick, delicately scented blanket of white flowers and petals, covering the stepped land of this valley. It's a unique and natural spectacle that attracts thousands of visitors every year but sadly lasts just two weeks. "Pillory" is a variety of highly appreciated cherry and is native to Valle del Jerte. It is present in numerous recipes of the area, both in desserts and gazpacho (cold tomato soup), plus accompanying sauces for meats, salads and spirits.
Although the pillory cherry is the main attraction, other fruits like chestnuts, prunes and figs are common ingredients in recipes of the area. The River Jerte which runs through the valley also provides trout, eating it "Jerte-style" typical of the town of Navaconcejo, involves lightly frying it and then cooking in the oven with garlic, ham and pine nuts.
Suggestions for places to eat in the Valle del Jerte:
Restaurante Típico Valle del Jerte (Calle Gargantilla 16 and Plaza Independencia 13, Jerte)
Garza Real (Plaza Mayor, Valdastillas)
La Vera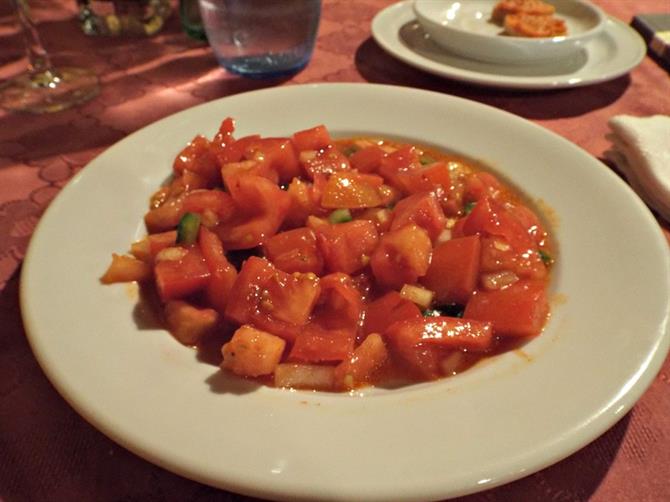 Across the valley is the region of La Vera, known for its famous paprika. This ingredient is used in all versions (sweet, spicy or semisweet) of many dishes, such as Verato-style Migas or a "rin-ran salad" which is prepared with tomatoes, onion, green pepper and olive oil.
One of La Vera's most famous fried dishes is a stew of lamb or goat with green pepper, dry "choricero" pepper, bay leaf, white wine and paprika, it's one delicious dish you cannot miss on your visit. Finish this meal with a glass of licor de gloria, unless you are the designated driver, of course. This liqueur, originally from the town of Guijo de Santa Barbara in Cáceres has a sweet taste and is made from grape "mosto" which is a non-alcoholic wine.
Suggestions for places to eat in La Vera:
Villa Xarahiz (Ctra. EX203 km 32,800, Jaraíz de la Vera)
Restaurante La Fragua (Calle Toril 4, Garganta la Olla)
Do you enjoy frying things? If so, why not try a typical Spanish recipe of mini fried prawn tortillas! Enjoy a taste of Spain in your very own home with our simple and easy-to-follow video recipe for Tortillas de Camarones.

Cáceres Area
In this area, which was named Spanish Capital of Gastronomy 2015, you will find the most varied cuisine of the region. The Old Town of Cáceres is full of restaurants serving everything from the most traditional to the most innovative dishes from Extremadura. Try the Extremadura stew, the pestorejo (pig's face) and the pasteles borrachos (drunks cakes).
The Torta del Casar, one of the most famous products of Extremadura, comes from the nearby town of Casar de Cáceres. It isn't actually a cake, as the name suggests, but a large wheel of sheep's cheese. It boasts a very intense flavour and a creamy texture which you can try in many ways. Melt the middle and eat with hot bread slathered in various entrees or use as a sauce for meat dishes such as Iberian pork.
If you are a cheese-lover and would like to discover more about the tasty and varied cheeses of Spain, then check out this article about the best Spanish cheeses!
Suggestions for places to eat in Cáceres:
La Minerva (Plaza Mayor 26)
Eustaquio Blanco (Avda. Ruta de la Plata 2)
Torre de Sande (Calle Condes 3)
Atrio (Plaza de San Mateo 1)
Mérida Area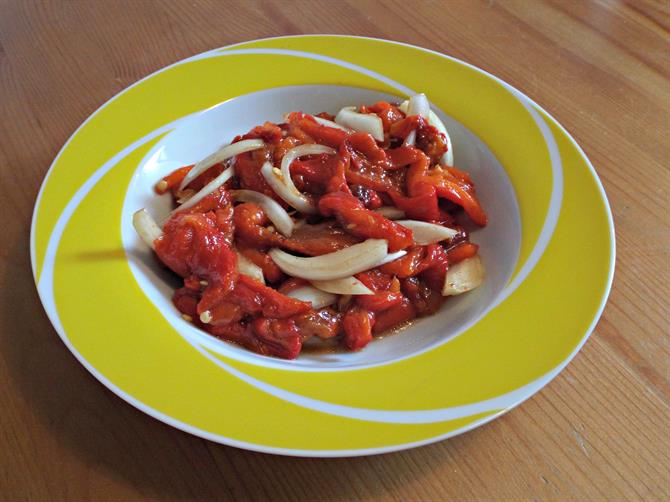 The capital of Extremadura is one of the cities with the most interesting and varied gastronomy on offer to the traveller, either for tapas, set menus or formal dinners. This year, the city of Mérida holds the title of Latin American Capital of Gastronomic Culture 2016, so it's a good reason to visit.
Mérida is an area where you can find an abundance of cold salads with curious names. An example is the "cojondongo" (garlic, bread, olive oil, onions, tomatoes and peppers) and "zorongollo" (roasted peppers), these dishes are also common in northern Extremadura as well. Do not forget to try the carne de retinto (beef with red wine), a specific breed of cow which is only found in Extremadura and Western Andalusia.
Suggestions for places to eat in Merida:
Rex Numitor (Calle Castelar 1)
A de Arco (Calle Trajano 18)
Tierra de Barros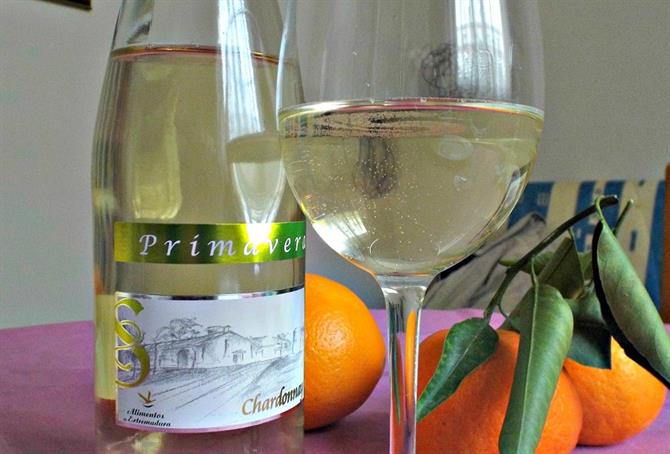 Continuing south you will reach wine land. The city of Almendralejo is home to the Denominación de Origen Ribera del Guadiana (a wine production association) and houses some of the most important wineries such as Bodegas Sani, Bodega San Marcos and the Peña del Valle Bodega. Whether white or red wines, the wines of this region are perfect to accompany specialities of the region such as bacalao a la cantina (cod), tomato soup and garlic soup.
In addition to wine, Almendralejo also has some of the best wine cellars, such as the Via de la Plata and the Marquis de Badajoz.
Suggestions for places to eat in Almendralejo:
Ñ Restaurante (Hotel Acosta Centro, in the Plaza de Extremadura s/n, Almendralejo)
Restaurante Museo del Vino (Calle Altozano 1, Almendralejo)
Zafra and Tentudía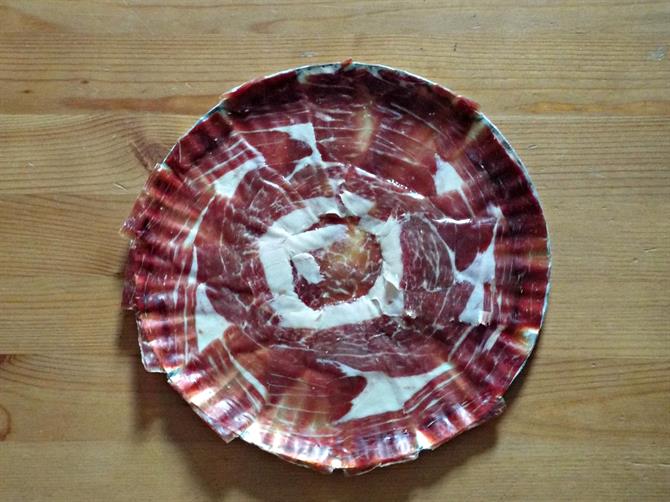 Our itinerary ends in Plena Dehesa in the south of Badajoz. Finally, let's enjoy the Extremadura delicacy of excellence: the Iberian ham. There are three types of ham and their flavours depend on the type of feed which the farmers give to the pigs. To be considered an "acorn" flavoured ham, the pig must spend a period of time (October to February) known as the "montanera period", freely grazing in a pasture and feeding only on acorns. If the pigs feed only on acorns and pig feed, the ham will be considered "de recebo". If the pigs eat only regular pig food, the ham will be just the normal meat.
El Día del Jamón de Monesterio (The Monesterio Ham Day) is a celebration of regional tourist interest, where you can try the local exquisite Iberian ham for free. The next edition will be held on 10th September, so don't miss it!
Suggestions for places to eat in Zafra:
La Rebotica (Calle de las Boticas 12)
Restaurante Plaza Grande (Plaza Grande s/n – Calle Pasteleros 2)
If you enjoyed this article then why not check out our other culinary articles? Perhaps you´d like to try your hand at making a Spanish tapas feast at home or if you prefer to eat out then have a read of our guide to the best restaurants in Malaga with the most beautiful views. Or, if you fancy a bit of a different dining experience, check out our guide to some of the more quirky restaurants on the island of Tenerife.