Views, views and more views, that is what we want. We all love to dine in cosy places with fantastic environments and surroundings that help to create a unique dining experience.
Let us present to you, a guide of 15 restaurants with the best views in Málaga. After reading this, you will definitely want a book a table at one of these restaurants. Either dine with a view looking out over the Mediterranean or overlooking the historic city centre of Málaga, find out where they are…
Refectorium El Campanario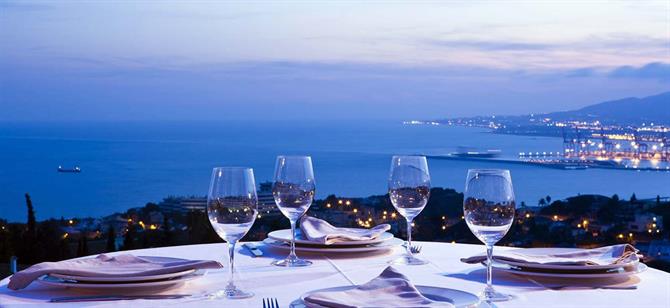 The restaurant Refectorium El Campanario is located in one of the best places to stay in Málaga, Cerrado de Calderón. Despite how hard it can seem to find this hidden temple of culinary craftsmanship, it is definitely worth a wander through the streets. It is small and its walls are the same bright blue as the sky of this amazing city.
In summer the restaurant opens its outdoor terrace, the photograph above shows the breathtaking views that this establishment offers to diners. If you love good Mediterranean food with subtle touches of modernity and a generous wine selection, do not hesitate to visit this restaurant.
Information:
Paseo de la Sierra 36
Urb. Cerrado de Calderón 29018
Málaga, Spain
Phone: +34 952 203 935
www.elrefectorium.net
Medium Price: 35€ - 40€
Parador de Gibralfaro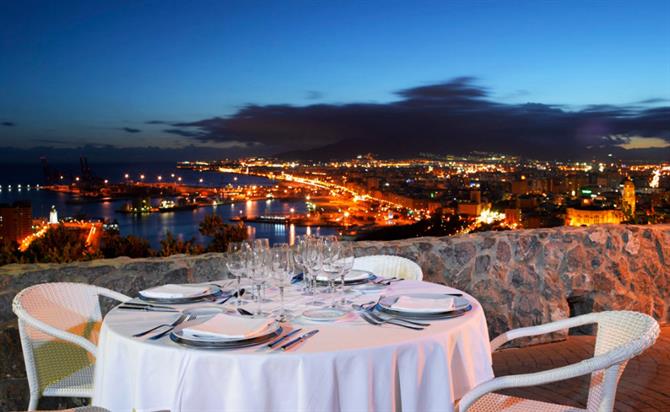 If you are searching for another hidden gem near your holiday apartment in Málaga city and the perfect place to enjoy a romantic evening, we suggest this restaurant camouflaged high up above the city, among pine trees and rocks. It's full of stories and apparently does not want to be found. Undoubtedly, it is one of the most beautiful and most visited places in Málaga, where you can enjoy spectacular views of the bay. The Gibralfaro restaurant offers a menu full of flavours to delight you, with recipes rooted in the traditions of Andalusian cuisine and especially fresh produce from the province.
Information:
Castillo de Gibralfaro
s/n 29016 Málaga
Phone: +34 952 221 902
Restaurant El Higuerón
The Higueron restaurant is located at the foot of the Mediterranean highway in Fuengirola and besides surprising customers with excellent cuisine, it has one of the best views of Málaga. Its privileged position coexists with an elegant and mixed decor of rustic and modern and you can enjoy a fusion of Andalusian and Asturian cuisine.
Information:
Autovia Costa del Sol, 217
29640 Benalmádena
Phone: +34 952 119 163
www.elhigueron.com
Medium Price: 30€ - 40€
Toro Muelle Uno

Let´s return to the centre of Málaga, in particular, the spectacular Pier One. This restaurant is located on the harbour and from its terrace it offers spectacular photo-worthy views of the sea and the beautiful city of Málaga. When night comes, the walls of the Gibralfaro Castle and the Alcazaba burst from the landscape, filled with colour and light and igniting the surrounds with enchantment and a sense of the magical. All you have to do is sit back and enjoy traditional Spanish cuisine in a relaxed avant-garde atmosphere.
Information:
Muelle Uno,
29001 Málaga, Spain
Phone: +34 951 109 209
Medium Price: 25€ - 30€
La Caleta Playa

After a good day at one of Málaga city's best beaches, head out for a dinner of fresh and traditional seafood. If you fancy a more casual dining experience, feeling the refreshing breeze of the Mediterranean sea hitting your skin, this snack bar called La Caleta is a great choice. Opened in Málaga in 1983, it offers the best seafood of Málaga bay and here you can taste anchovies, jurelitos, sardines, clams and other delicacies. This renovated snack bar surrounded by palm trees, grass, sand and sea is just over 5 minutes from the city centre.
Information:
Paseo Marítimo Pablo Ruiz Picasso, 23
29016 Málaga, Spain
Phone: +34 952 11 08 48
www.caletaplaya.com
L'expérience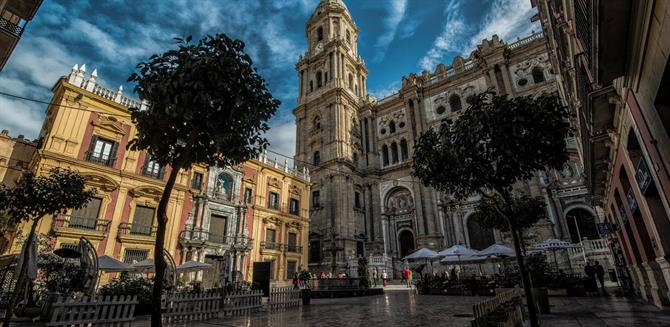 The spectacular Plaza de Obispo hides the small and charming restaurant L 'Experience, deep in the historic centre. It may be the last stop after an afternoon of shopping and long walks through the Málaga city.
In L'Experience you'll find a Mediterranean menu, all made with fresh products. Be sure to reserve a table on the terrace and enjoy the outdoors, complete with views of the colossal cathedral of Málaga, known as La Manquita.
Photo: Bernardo Ruiz
Information:
Plaza del Obispo 4
29015 Málaga
Phone: +34 952 608 784
www.plazadelobispo.com
Medium Price: 15€ - 20€
El Pimpi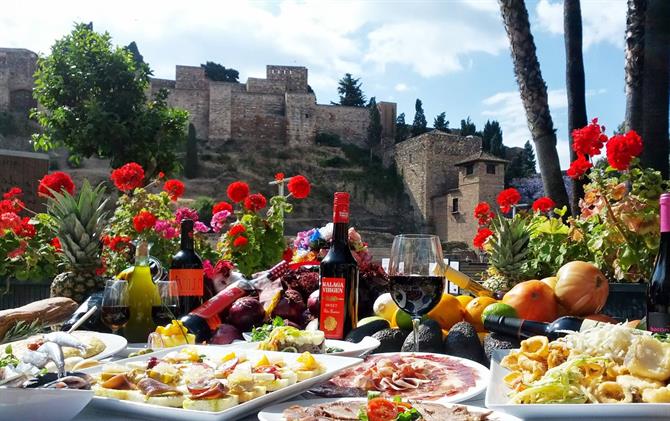 El Pimpi is a classic in Málaga and truly offers a flavour of this city. El Pimpi Marinero is a new project, it is modern and has fantastic views of the Roman Theatre and the Alcazaba.
This Málaga-based company has over 40 years of success, showing everyone who wants it, gastronomy, traditions and popular culture in Málaga.
Information:
Calle Granada, 62 and Calle Alcazabilla
29015 Málaga
Phone: +34 952 228 990
La Piscina Lounge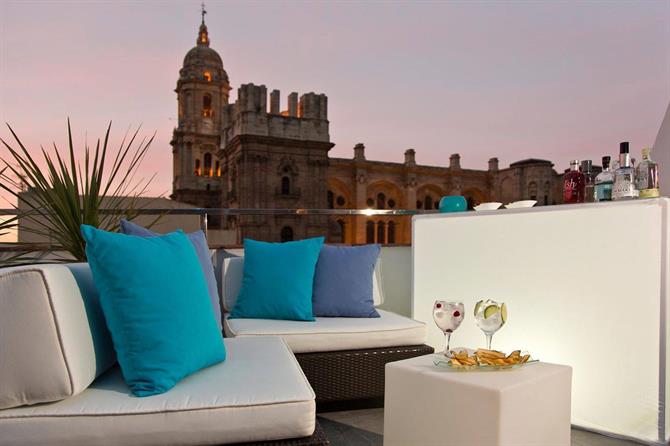 La Piscina Lounge is small and charming, a visit here allows you to unleash your imagination by providing a panoramic, 360° view of the city of Málaga. It´s one of those places that has something special about it, perfect for relaxing and spending some quality time in a chilled-out atmosphere - one of the coolest places in town. This terrace gives you the opportunity to taste a different and daring menu.
Discover more of Málaga´s city rooftops for the summer.
Information:
Molina Lario, 20-22
29015 Málaga
Spain
Phone: +34 952 062 002
Candado Beach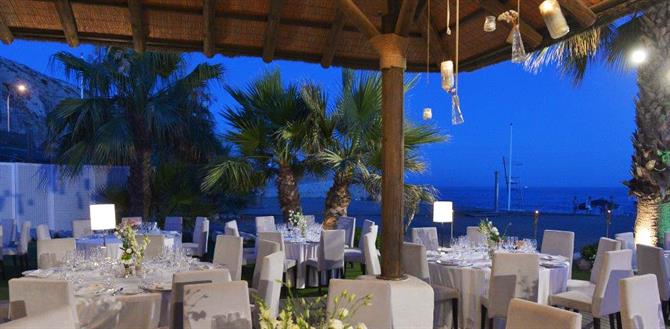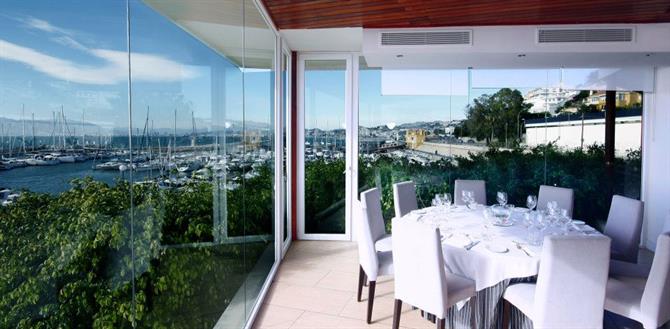 Next is the Club Náutico del Candado. Don´t worry, we aren´t getting on a boat, instead, let´s enjoy the view that the Candado Beach restaurant has to offer from its privileged location in the east of Málaga. This spot boasts a spectacular view of the Mediterranean sea resting in a small cove, it´s surface speckled with small pleasure yachts bobbing and floating, waiting to get out to sea.
The dishes coming out of this kitchen are light Andalucian style, simple and flavourful, fresh and very nice. An ideal place for lunch with kids on account of its outdoor area and playground.
Information:
Club Náutico El Candado
Ctra. de Almería s/n
El Palo, 29018 Málaga, Spain
Phone: +34952 206 346
www.candadobeach.es
Medium Price: 26€ - 35€
The weekend menu for 22€ is great value.
Restaurante Amador

The Amador restaurant is located in Málaga in the residential area of El Atabal, near the historic city centre. It is famous for its excellent cuisine, high-quality products and very consistent prices.
Amador and his brother decided to settle in this corner of Málaga after training in some of the best restaurants in Vietnam, France, Holland and England. They now offer a cuisine full of flavours complimented by unique views of the city in an elegant and tranquil atmosphere.
Information:
Urb. El Atabal
629190 Spain
Phone:+ 34 952 432 862
Restaurante Blankko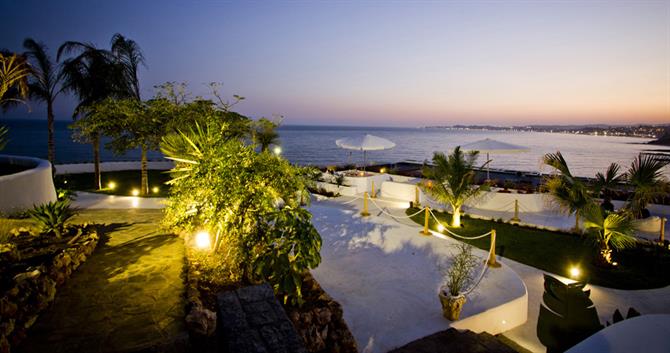 Blankko is a restaurant "lounge-bar" located in Benalmádena Costa. Inside, you can enjoy a young and relaxed atmosphere in true Ibiza-style with the best DJs, amazing live performances and big events.
The menu is contemporary and seductive with Mediterranean touches. If you like gin and tonics, do not hesitate to browse their extensive and generous cocktail menu.
Information:
Pso. De Bellavista, 7
Benalmadena 29639, Málaga
Phone: +34 952 44 33 98
Restaurante Avanto

Avanto Restaurant is one of those privileged sites nestled in an exceptional natural environment, next to the beach and near the holiday villas in Mijas. This tastefully decorated restaurant transmits a very quiet and relaxed feeling to its guests and offers a fantastic menu complete with superb modern touches all crafted by the hands of Chef, Rafael Garcia.
Information:
Urb. Torrenueva-Playa
29649 Mijas
Spain
Phone: +34 952 587 539
Restaurante El Lago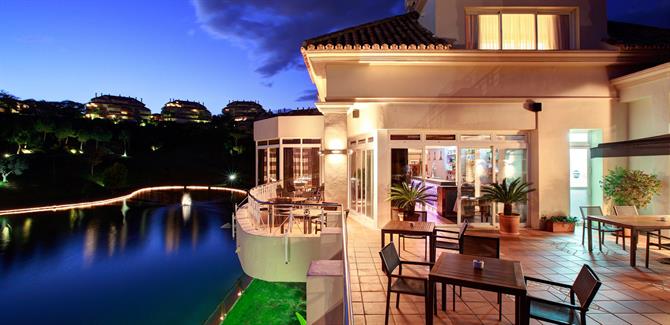 If you hear us talking about a restaurant with two suns in the Repsol guide and a Michelin star in Málaga we are referring to the restaurant, El Lago. Its location is beautiful - surrounded by green fairways, trees and a beautiful golf course with a lake, located in the area of Elviria.
Chef Diego del Rio works in a kitchen filled with local produce, the dishes may seem simple but offer an explosion of flavours and textures - the incredible results of hours and hours of cooking.
El Lago opens only in the evening, where outdoor lighting provides the ambience for the minimalist but mouthwatering dishes, a true culinary experience for the senses.
Information:
Urb. Elviria Hills
Avda. La Cumbres s/n 29604
Marbella, Spain
Phone: +34 952 832 371
The Great Gatsby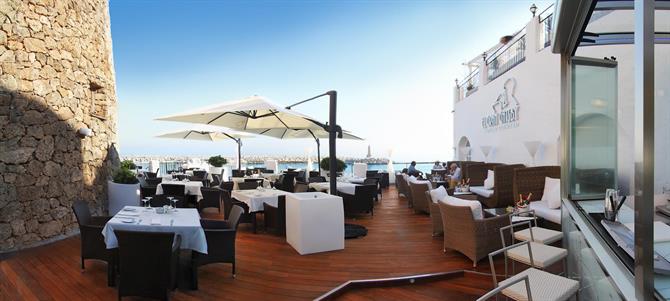 Continuing now to Marbella lets go to one of the areas that offers its visitors luxury and glamour - Puerto Banus. Here you will discover an avant-garde restaurant named after the film "The Great Gatsby".
It has the best views of Puerto Banus and offers a fusion of Catalan and Mediterranean cuisine. If you are looking for somewhere special for a romantic meal, this place is perfect. The Great Gatsby is full of surprises, the Lounge Dance Bar is an exclusive space located on an outdoor terrace, ideal for a drink after dinner listening to DJs or live bands.
Information:
Muelle de Honor s/n
Edificio del Mar
Puerto Banús, 29660
Nueva Andalucía
Phone: +34 951 778 797
Restaurante Albacara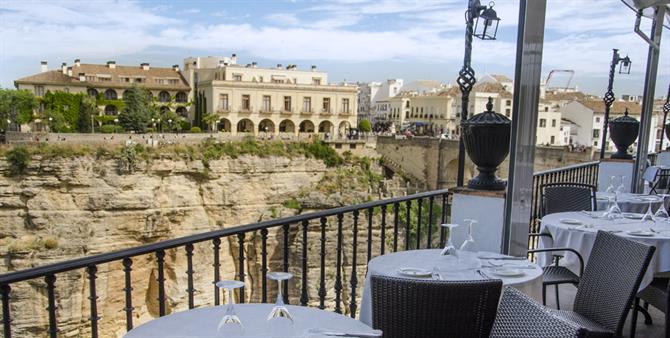 Let us venture into the interior of Málaga - to Ronda, one of the most beautiful cities to visit in the province. The town of Ronda rests on a plateau that rises defiantly from the Earth, much to the visual delight of visitors.
Near the precipice, we found a restaurant that serves great Mediterranean cuisine, whose terraces are supported between two plateaus and give us a unique view of the Tajo de Ronda.
Ideal for lunch or dinner, the menu is prepared with care and the best products of this Mediterranean destination. A visit to this restaurant would be the perfect way to end a day of unique experiences touring the Ronda wine route and visiting wineries such as the emblematic Descalzos Viejos.
Information:
C/ Tenorio nº 8
29400 Ronda Málaga
Phone: +34 952873855
If you're a lover of gastronomy and good food, discover the best tapas bars in Málaga and 11 of the best international restaurants in Málaga.
Map To Dine With A View in Málaga