Autumn is one of the best times of year to visit Granada, its not too cold and has a wonderfully festive atmosphere. Snowfall can often be seen in the nearby mountain range of the Sierra Nevada. Its streets are filled with young people during the winter months as it is one of the most popular university cities in Spain. In contrast, during the summer months it is almost deserted, it is one of those cities you must visit at least once in your life.
You must experience the contrast of its streets and colourful neighbourhoods, the breathtaking Alhambra and the best ski resort in Spain, (even if it is quite small). Which other city has the beach in an hour and a half´s drive and the snow in half an hours drive from the city, plus a truly enviable climate. Take a 24-hour tour around Granada to discover the spectacular corners of this Moorish city, each one brimming with charm and mystery.
Ready for a 24-hour tour?
Cafe Fútbol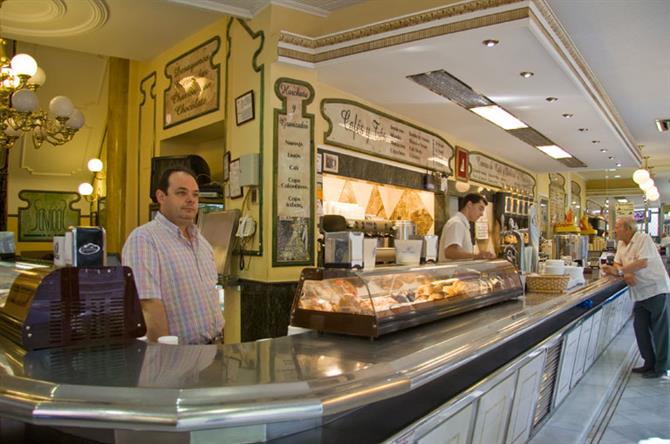 Let's start the day with a tasty breakfast in Café Fútbol. This cafeteria is one of those establishments that over time, has managed to retain that traditional atmosphere of yesteryear. Its doors have been open since 1903, originally by Antonio Suarez (the grandfather of the current Antonio Suarez) and it is now run by four generations of the Suarez family. The family are faithful to the traditions of preparing their dishes, here you can taste the best churros in Granada and don´t forget the exquisite ´leche rizada´ - the best in Granada.
Location:
Plaza de Mariana Pineda, 6
Granada
Phone: +34 958 22 66 62
The Alhambra

Now we are ready to explore one of the most transcendent monuments in Granada, in Spain and the world. This imposing fortress, which is surrounded by lush forest, was declared a UNESCO World Heritage Site in 1994. It is also known as "The Red One", due to the effect that the light at twilight has on the outer walls - staining them a deep red as the sun sets.
The Alhambra is a marvel and the world's oldest Moorish fortress. Inside you can enjoy a chronological tour, remembering the kings who lived here many years ago. It is full of amazing and impressive spaces such as the The Palace of Muhammad V, the Hall of Mozárabes, the Mirador of Daraxa or the Generalife Gardens, which are all wonderful.
Calle Reyes Católicos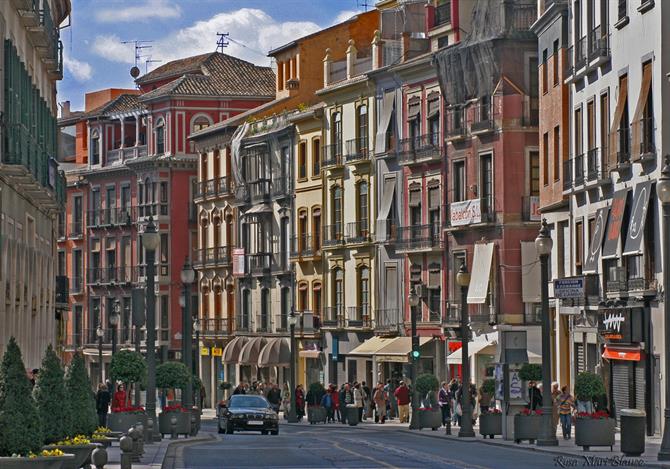 Now it's time to spend some money on souvenirs and any other things you fancy, the best area to do this is on the main street known as Calle Reyes Católicos. This street, near the Gran Via, the Recogidas and the Camino de Ronda are the most important street in Granada and it is also where the main business district is located. Curiously, the shape of this street is serpentine because the river Darro used to run underneath it between 1854 and 1884.
Take a stroll through some of the nearby streets, you are bound to find some surprises.
Photo courtesy ROSAMARI (Flickr)
Cathedral of Granada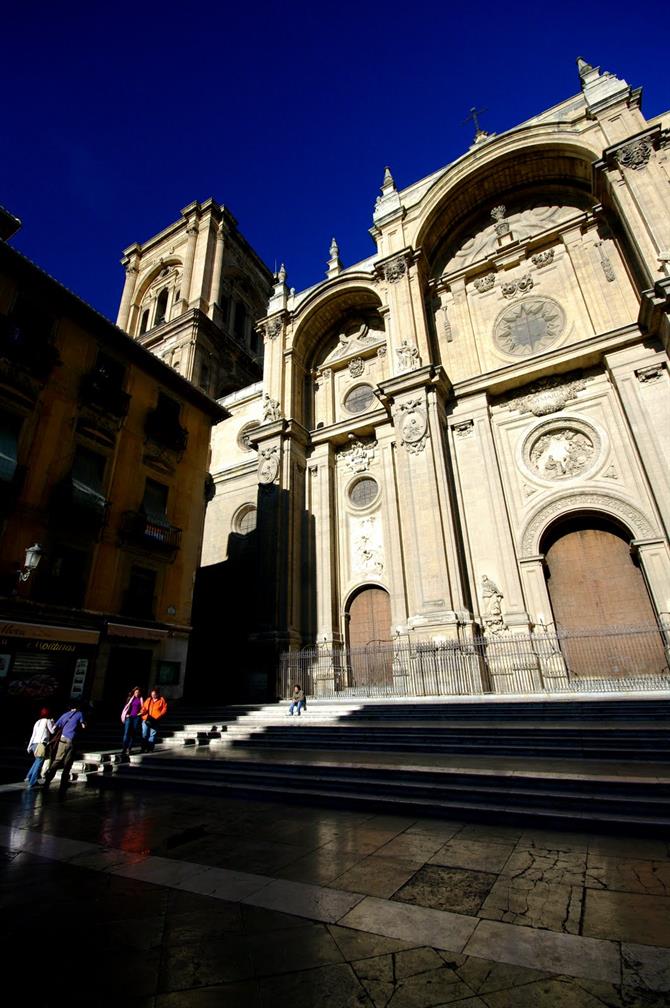 Every great city is worthy of offering its visitors architecture steeped in history. This is the case with the Cathedral of Granada, which is divided into five naves plus the main chapel in which you can see the statues of the Reyes Católicos.
Location:
Calle Gran Vía de Colón, 5
18001 Granada
Phone: +34 958 22 29 59
Gran Vía de Colón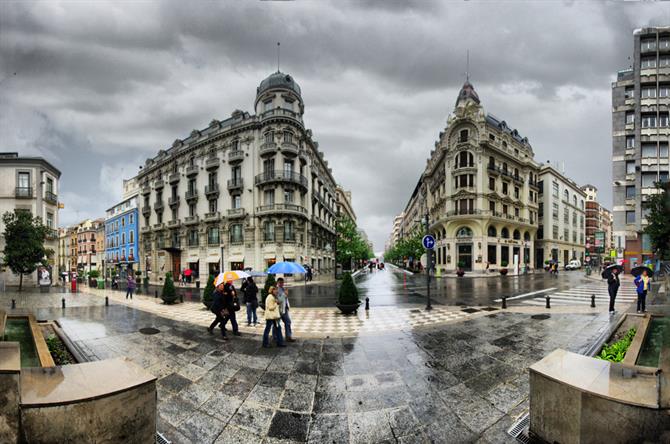 This is one of the most important roads in the city and strolling between its 19th century buildings is a great experience. Its narrow streets give you access to various shops which lead you to the Plaza de Isabel la Catolica.
Photo courtesy of puma3023 (Flickr)
Where can you go to eat tapas in Granada?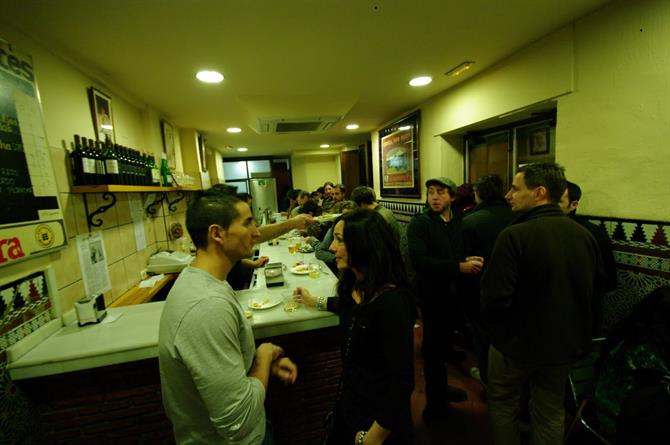 If you just want a snack and to melt into the atmosphere of the Granada dining experience, then going to a tapas bar is definitely worth it. In most establishments, each drink comes with its own tapas and in some cases they are really generous, the majority of places provide the tapas for you, you do not choose it yourself. Most of these places do not exceed €2 for a drink and a tapas.
For the best tapas places, we recommend the area known as Chana, especially if it's sunny because their outdoor terraces are ideal for a beer accompanied by some of the best tapas in Granada and they are extremely generous. Another great area for tapas is Realejo near the Campo del Principe, the Zaidín neighbourhood and another area that never disappoints is Calle San Matias.
Some well-known bars and typical tapas spots are:
Cafe Bar Avila on Calle Veronica (try their roasted ham)

El Reventaero

La

Taberna de Jam in Realejo

La Tana on Calle Rosario

The old bodega Castañeda

Los Diamantes

El Sol in San Matias
Student-friendly bars:
K-ito - a very small but charming bar

Mariano el Pescador
In the Chana neighbourhood:
El Guijarreño

El Tinao

La Bodeguita

El Locura Del Rey

El Dcuadros Deluxe
Lunch in La Gondoliere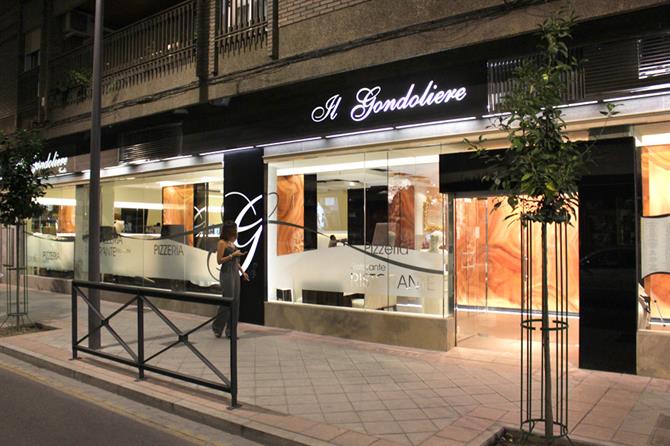 If you prefer a quiet but light lunch, we recommend La Gondoliere. This Italian restaurant in the heart of Granada has been open since 1989 and has not stopped growing. Its award-winning Italian cuisine is a delight, as is its elegant, minimalist decor and cosy atmosphere.
Location:
Calle Martínez Campos, 24
18002 Granada
Phone: +34 958 25 18 34
El Parque de las Ciencias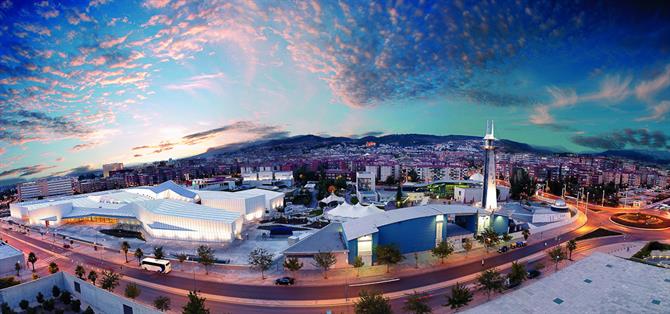 Just 15 minutes from downtown you will find a fantastic museum, which is sure to delight both young and old. This interactive museum will provide a fabulous journey through topics as diverse as the human body, the scientific and technological legacy of al-Andalus or new technologies.
On its exterior you'll discover new surprises as well as a botanical tour of the Garden of Astronomy and the Astronomical Observatory among others. You can enjoy an uninterrupted view of Granada from the observation tower, which stands at 37 metres.
Location:
Avda. de la Ciencia s/n
18006 Granada
Phone: +34 958 131 900
www.parqueciencias.com
Teashops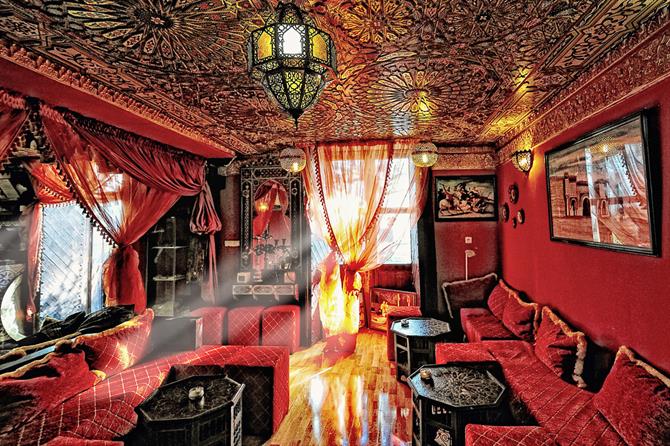 Muslim heritage is omnipresent in this city, try to visit as many places as you can as each of these places are wonderful and full of incredible detail. Teashops remind us of the past Arab influence and not only that, the smells are so appealing. The best teashops can be found in Calle Calderería Nueva, better known as "The Teahouses Street". Forget the diet and try a puff pastry dessert with honey, that crackling sound inside your mouth along with those sweet flavours and nuts are a real temptation for anyone. If you have not yet tried this yourself, you must break your diet for one day!
Photo courtesy Abariltur (Flickr)
Bathe in history, enjoy an Arab bath...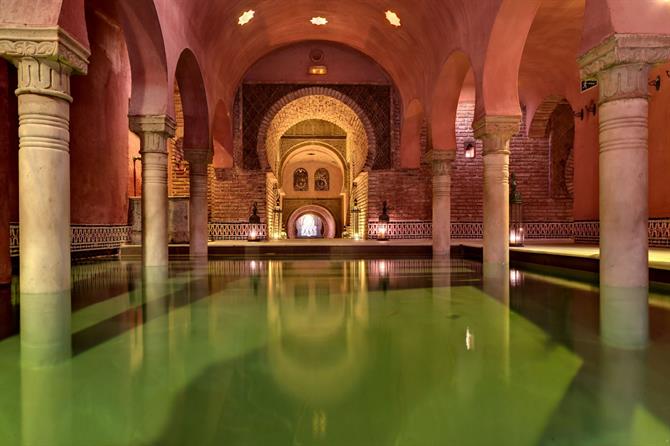 Bathe in history, these places convey the mystery of the past, where time seems to have stopped.
The decor and atmosphere creates the perfect atmosphere for spending a few hours in the comforting aromas and flavours for resting and relaxing the body. I suggest visiting this Arab bath near Albayzín - The Hammam Al Andalus.
Location:
C/Santa Anna, 16
18009, Granada
Phone: +34 958 229 978
A stroll through the Albayzín...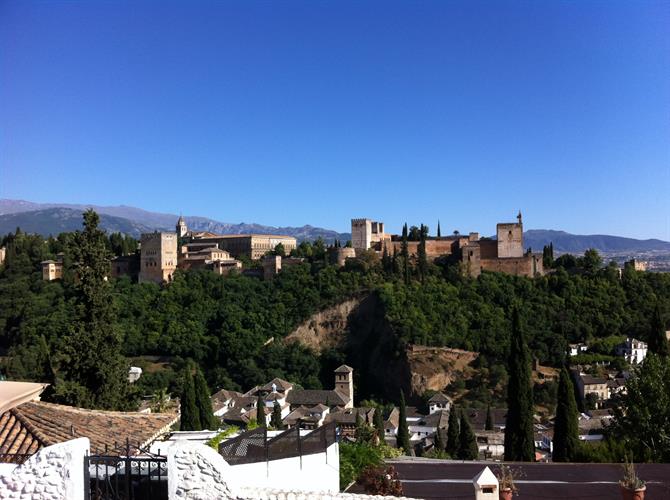 This is one of the treasures of Granada, its steep streets lead to one of the best views of the Alhambra, such as the Mirador de San Nicolas. If you visit the museum Zambra Maria La Canastera, you will find a very special charming place - its walls featuring pure flamenco history.
No doubt the Albaycín is one of the most emblematic and beautiful areas of Spain, able to knock the most athletic and love the most skeptical of mortals. Its streets, colours, smells and people will not leave you indifferent.
When you finish your walk, this neighbourhood gives you one of its greatest treasures - the best and most beautiful sunset you can see. A silhouette of the Alhambra interrupts the skyline, the sunlight stains the old stone walls of this ancient palace and we are treated to one of the most beautiful scenes in the world.
Dining at El Carmen del Agua

A perfect end to a perfect day full of emotion and feeling, visit the restaurant El Carmen del Agua. The hidden access is an adventure for tourists visiting for the first time through these streets, it is located in the Placeta del Aljibe de Trillo. Besides its incredible cuisine, the views from this place are breathtaking.
Location:
Placeta del Alijibe de Trillo, 7
18010, Granada
Phone: +34 958 22 43 56
To end, some words from Mexican poet Francisco A. de Icaza...
"Dale limosna mujer
que no hay en la vida nada
como la pena de ser
ciego en Granada"
"Give him charity woman
because there is nothing in life
like the pity of being
blind in Granada"
Map: Eating tapas in Granada...