Granada - the Capital of the Kingdom of the Moors and ideal for those wanting to try something a little different. Whether you're a family, a couple, or a solo traveller, Granada offers an incredible vacation experience. A small city that packs a big punch! Here's how to spend a few days in Granada and experience a lifetime of culture, history, and entertainment. What could be more perfect than having an insider's guide to the best places to stay in Granada to get the most out of your visit?
Granada city is only 50 minutes to the beautiful coast of Granada and bordered by the majestic Sierra Nevada mountain range that boasts the highest point on mainland Spain - Mulhacén. Nourished by two rivers, surrounded by protected natural parks and areas of natural beauty - The historic city of Granada is unique and is the last place in Europe that was occupied by the Moors and the first place to stage the impassioned dance of Flamenco.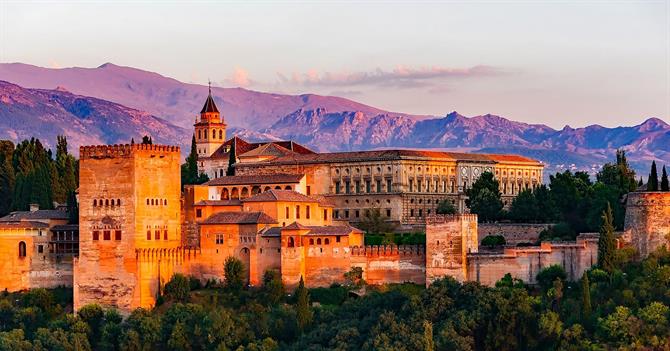 Granada city is made up of barrios or neighbourhoods that each offer a very different vibe. It will come as no surprise that it is thought that Granada's name originates from the Arabic for 'strangers on a hill' when you discover how many different peoples over the centuries have come to call this city home. There's an Arab quarter of course, but also a Jewish quarter, and a gypsy quarter that was well-established by the 16th century.
Nowadays, Granada is a thriving university city, continuing the process of welcoming strangers and adapting accordingly. A city accommodating students ensures that there is always something to do any time of the day, any time of the year, and on a budget if need be.
Granada province is one of the last remaining places in Spain that still serves free tapas. Tapa means lid or cover and originally a cover was placed over your drink laden with olives, cheese, jamón or some other delicious titbit. The tradition continues, which means when you order a drink in a traditional bar in Granada it will come with a little something to nibble on - a tapa.
So if you are looking for the best neighbourhoods to stay in Granada, here's the lowdown.
The Alhambra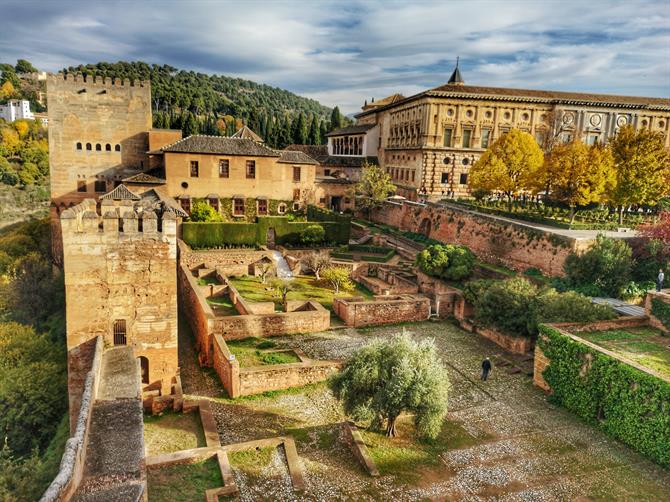 The Alhambra is a UNESCO World Heritage Site. Ancient records show that this 'Alcazaba' was a refuge for the Moors as early as 899CE. The total area of the complex has expanded over the years and now covers a vast amount of land, planted powerfully above Granada with bird's-eye views of its magnificent setting. Paradisiac gardens and water features along with exquisite stonework and architecture are just some of the features that make visiting this site a must when staying in the area.
The Alhambra is one of the best places to stay in Granada for sheer luxury. Described as a fortress and royal palace and the most visited site year after year in Spain, few realise they can experience a unique stay within the walls of the Alhambra itself. However, most choose to stay within a stone's throw of the Alhambra so they can experience what lies on both sides of the wall. Holiday rentals in Granada won't disappoint and will leave you feeling like you have stayed within the company of ancient kings.
Albaicín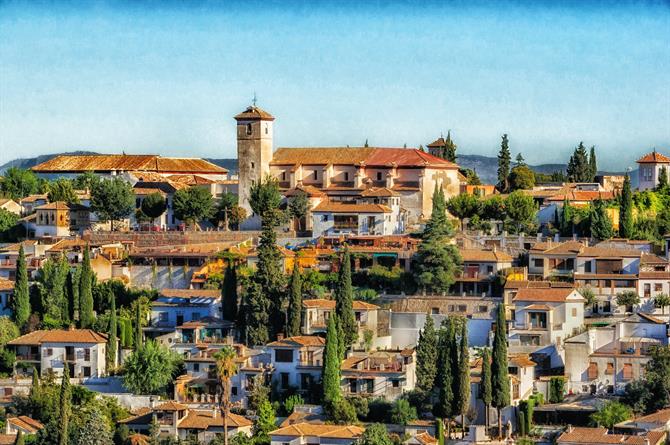 The Albaicín is the best area of Granada to stay in if you are looking to experience the Arabic ambience of the city. It is one of the oldest areas of Granada and a fabulous place to stay if you want a unique experience away from the hustle and bustle of the centre. But that means it's also a trek through cobblestone roads to Granada's main attractions and more lively bars and restaurants, so something to consider. However, you can't beat the array of eateries that provide delicious local cuisine and great views of the Alhambra. Arab tea rooms bedecked in cushions and lanterns are what you will find here. Staying in the Albaicín can leave you feeling like you had a taste of two continents - where the east meets the west.
Barrio Realejo
Situated on the south side of the Alhambra is the old Jewish quarter with its leafy plazas surrounded by Arab and Roman architecture, along with more modern-day touches of colourful murals, and intriguing lines from Spanish poets. It has the winding streets and spectacular views of its neighbour, Albaicín but with a bit more life. The Realejo becomes even more animated as the sun goes down when locals and visitors alike head to the atmospheric tapas bars to enjoy a drink and a bite to eat. You'll find a lavish number of traditional Granada tapas bars and restaurants here.
It's one of the best neighbourhoods to stay in Granada if you want an authentic feel but with the convenience of having a choice of places to eat on your doorstep. Another plus is that it has easy access to the city centre, the Alhambra and other barrios.
It's a great location to make as a base to explore Granada city and province to your heart's content.
Sacromonte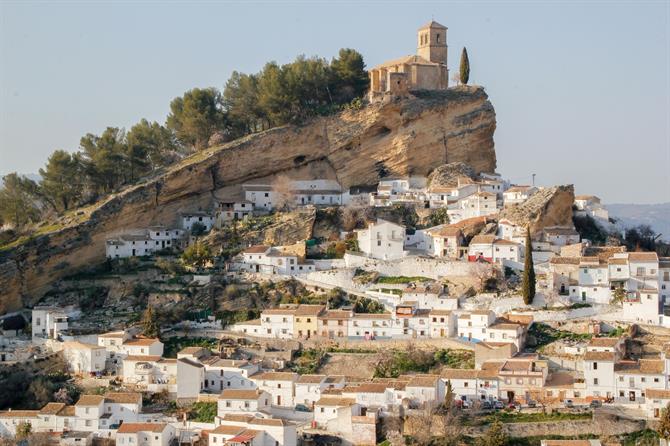 Where time stands still. The Sacromonte is speckled with caves and white houses nestled on the hill of Valparaíso. Definitely, the best neighbourhood to stay in Granada if you want to step back and lose yourself in your surroundings. The miradors or viewing points from Sacromonte offer the most beautiful panoramic views of the Alhambra, the city, and the landscape beyond. Nevertheless, it is also a manageable walk to the centre of Granada, making it a convenient but out-of-the-way place to stay.
Many of the caves, originally inhabited by gypsies and Arabs fleeing for safety from the Spanish royal invasion in 1492, are still permanent homes for locals. Others have been turned into museums and holiday homes for those intrigued by how these caves were inhabited over the centuries. Some of these cave houses are also occupied by tradesmen selling their arts and crafts as well as painters inspired by this neighbourhood. Tourism is a part of this area but it still holds on to its gypsy origins. At night some of the caves become the scene for dramatic performances, which some say are the best displays of Flamenco in the whole of Spain. Royalty from around the world and other well-known names have come to this neighbourhood on the cusp of Granada to appreciate the gypsy caves filled with the earthy tones of La Zambra; the gypsy dance with roots that are that bit closer to the Moors' style of dance than is modern-day Flamenco. If you immerse yourself in your stay in Sacromonte it will leave you with echoes of how the people here have survived adversity through the pure notes of guitar, song, and dance.
La Chana
La Chana is fast becoming the best place to stay in Granada for great transport links. It's an ideal base for families who want to get around conveniently on a budget, or for those who might have a car and want easy access to the road network. It's close to the university, so there's a focus on entertainment here. Bars and highly rated restaurants are abundant, along with a good selection of live music. La Chana isn't the big tourist spot in Granada just yet but can easily be considered as one of the best places to stay in Granada if you want to travel around but also enjoy great facilities on the doorstep.
El Centro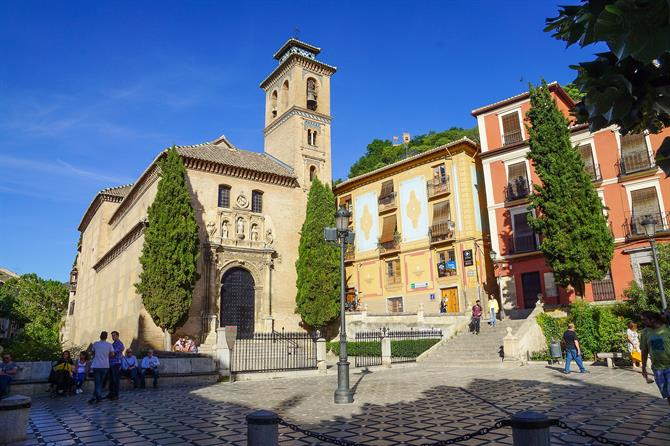 If you want to be in the heart of Granada you can't stay anywhere better than in the historic centre. It's a great place to stay if you want to roll out of your holiday rental and experience the winding streets full of tapas bars, cafes, and restaurants. Calle Navas is one of the busier streets where you'll find tourists, students, and locals alike tucking into some of the most varied and original tapas on offer in Granada. It's the most popular place to stay in Granada if you want nightlife but it doesn't mean you will be left wanting for a little culture. The 16th- century cathedral and some lovely squares and fountains will keep you satisfied. El Centro has one of the prettiest plazas in Granada - Plaza Bib Rambla- a beautiful spot to relax, both day and night.
Genil
Genil lies on the southeast edge of Granada City and is popular with those who have their own transport and don't mind a short car journey to their favourite tourist hotspots. The river Genil runs through the quiet suburb and along with the nature reserve which lies adjacent to it, guarantees that this is the best place in Granada to enjoy a tranquil stay. It requires a little planning to see all that Granada has to offer but Genil is a neighbourhood in Granada that offers good value for money.
Granada Province
A guide to places for a vacation in Granada wouldn't be complete without mentioning the Sierra Nevada. The mountain range stretches across the province and sits majestically in the background of many a holiday snap. Skiing, snowboarding, and sledging are all popular activities here during the winter months. Lessons and equipment hire are available, so it's accessible to anyone who wants to experience the snow-filled mountains of Spain. It has more than 110km of pistes and several bars and restaurants scattered throughout the resorts to ensure you enjoy your off-piste activities too. Pradollano and Borreguilles are perfect for family fun but there are crèches providing activities for the children if you want to concentrate on the slopes.
Don't think you will miss out on the stunning landscape of Sierra Nevada if you come at other times of the year. Guided walks and trails allow you to experience the natural beauty of this area from your holiday home in Sierra Nevada whatever the time of year.
Less than an hour from the centre of Granada, but still within Granada province lie the villages of Las Alpujarras: Life doesn't change much here and it is easy to understand why authors and poets over the centuries have been inspired amongst the rugged, natural scenery of enclosed valleys, sheer gorges, and precipices which defy anyone not to be in awe of nature's grandeur.
One of the white-washed villages of the Alpujarra is Trevélez, renowned for being one of the highest villages in Spain and also for its famous ham. Pampaneira is often voted as the prettiest village in Las Alpujarras. It's no surprise that it is one of the best areas to stay in Granada if you are looking to escape the rat race, and with a backpack at the ready, explore the trails and culture of this region.
For the less energetic, traversing the winding roads by car will plunge you into amazing views at every turn. Dipping into the villages throughout Las Alpujarras is an adventure whatever way you travel.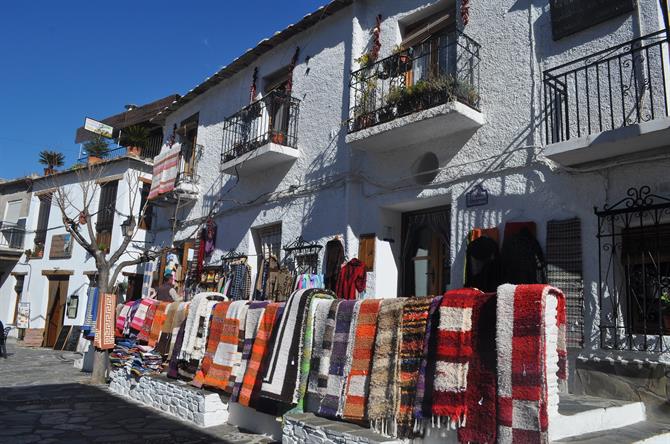 Montefrío lies to the west of Granada city. A medieval town that has been voted by National Geographic as one of the most beautiful in the world and is said to come with some of the best views in the world too. There's plenty to see and do in Montefrío and this area of Granada province is a great place to stay to explore this and other nearby regions.
For a unique vacation in Granada, on the north face of the Sierra Nevada lies one of the less-travelled landscapes, encompassing the desert region of Gorafe and other hidden gems that include an area of more than 2000 troglodyte caves. Rent a holiday home in Guadix, a cave-dwelling neighbourhood that has now been transformed to accommodate 21st-century living and eco-tourism and is a special way of experiencing what this region has to offer.
Geo-thermal spas are scattered throughout Granada. Thanks to the natural geology of this landscape these oases are a real treat, as well as having health benefits. Alicún de las Torres is one such place where people have been enjoying its thermal waters since Roman times.
The takeaway...
Wherever you choose to stay in Granada be sure to experience the diversity this magical area has to offer while staying in some of the best locations.
Granada is a hidden treasure trove that will leave you wanting to return and dig beneath its surface again and again…
Suggested reading for you