Las Palmas de Gran Canaria is not regarded as one of Spain's prettier cities, but you'll be able to take some memorable photos here. After all, the camera never lies. Here are 10 sights, in no particular order, which deserve a space in your holiday album.
Auditorio Alfredo Kraus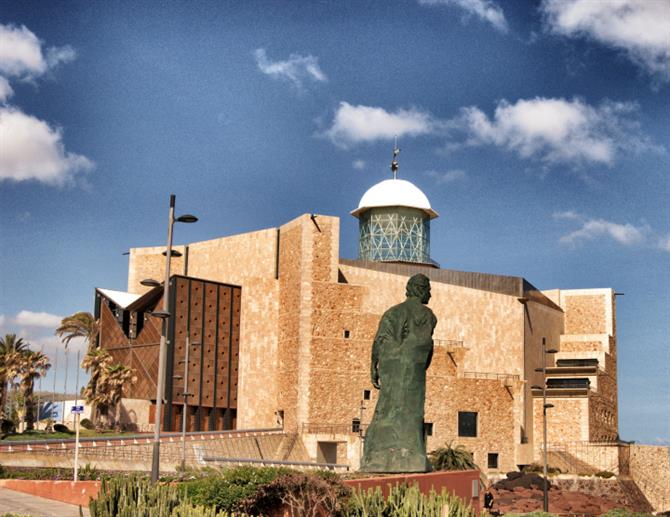 Marking the westerly end of Las Canteras beach, the Auditorio Alfredo Kraus features a statue of the great tenor it's named after. Built between 1993 and 1997, it overlooks La Cicer, the part of Canteras beach whose surging Atlantic waves attract surfers. As well as opera performances, the auditorium hosts jazz, pop, and rock concerts.
Teatro Pérez Galdós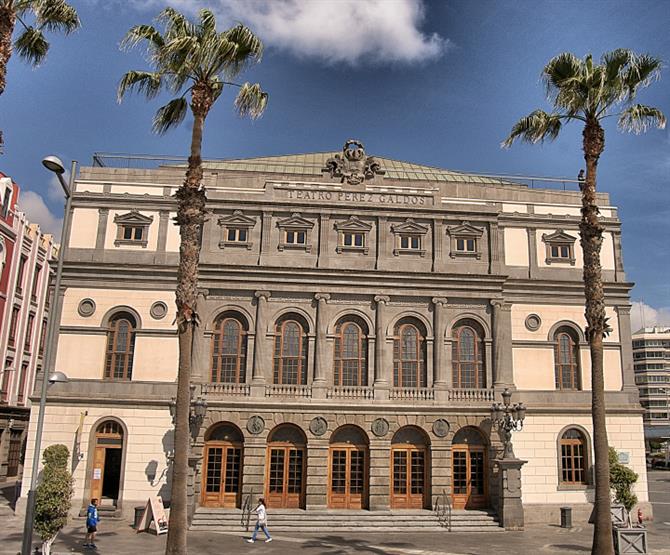 Benito Peréz Galdós is regarded in literary circles as second only to Cervantes as far as Spanish novelists go. You can find out more about him at the Casa-Museo Pérez Galdós. The nearby theatre, also in Triana, puts on theatrical performances as well as internationally-famous musicals.
Mercado de Vegueta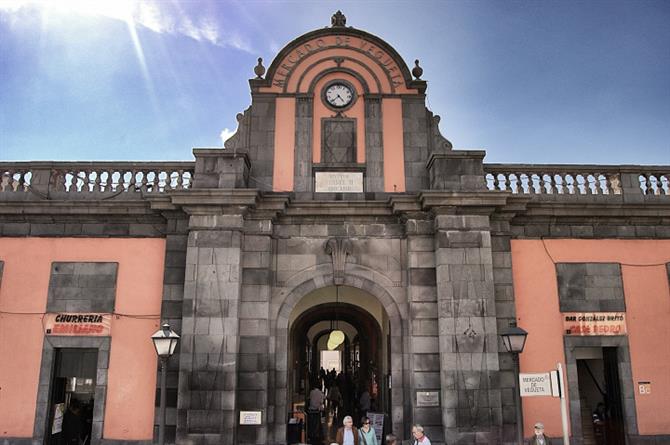 Opposite the Teatro Pérez Galdós, you'll find Las Palmas de Gran Canaria's oldest market. The market hall dates back to 1856. Visit the Mercado de Vegueta to both try and buy fresh fruit, along with vegetables similarly grown on the island's fertile soil.
Casa de Colón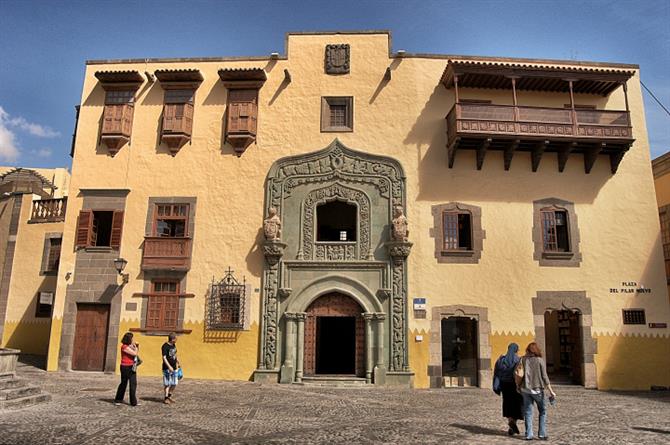 It's almost definitely not the house Christopher Columbus aka Cristobál Colón stayed in on his brief stopover in the city on the way to discovering America in 1492. Nevertheless, if you want to follow in the footsteps of Christopher Columbus in Las Palmas de Gran Canaria, Vegueta's Casa de Colón's a great place to start. Before visiting another building with a Columbus connection just around the corner, the Ermita de San Antonio Abad.
Catedral de Santa Ana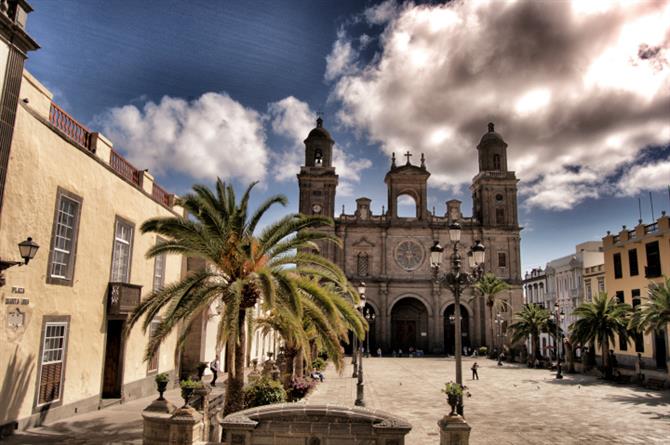 Las Palmas de Gran Canaria's cathedral backs onto the Casa de Colón. However, for an altogether better view, walk around to Plaza de Santa Ana. For the best photo, ascend the steps which lead to the Casas Consistoriales at the very rear of the square.
Plaza Cairasco
Challenging Plaza de Santa Ana for the title of Las Palmas de Gran Canaria's most photogenic square's Plaza Cairasco. Located in neighbouring Triana, it's a perfect spot to watch the world go by. Especially during the Semana Santa processions.
Palacete Rodríguez Quegles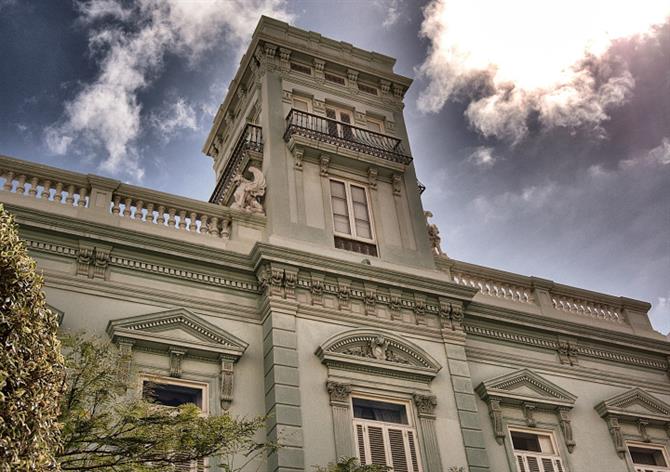 Bear left past Plaza Cairasco's striking Gabinete Literario, walking in a northerly direction towards Arenales and within five minutes you'll reach arguably an even more attractive building. The Palacete Rodríguez Quegles started to be constructed in 1900, a love letter in art noveau form from magnate Domingo Rodríguez Quegles to future bride María Teresa González. Nowadays, it's the headquarters of the Canarian Ministry of Culture and Sports.
Quiosco San Telmo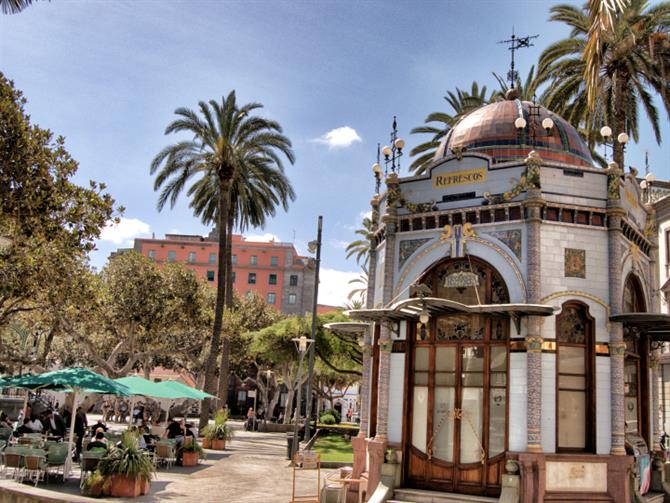 Travel by bus into Las Palmas de Gran Canaria and the first sight you'll get of the city on walking out of the main San Telmo terminal's a beautiful park. You might want to enjoy a leisurely drink in Parque San Telmo's art-deco cafe which dates back to 1923. There's no inside seating, but the parasols, and, indeed, palms and other trees provide plenty of shade.
El Obelisco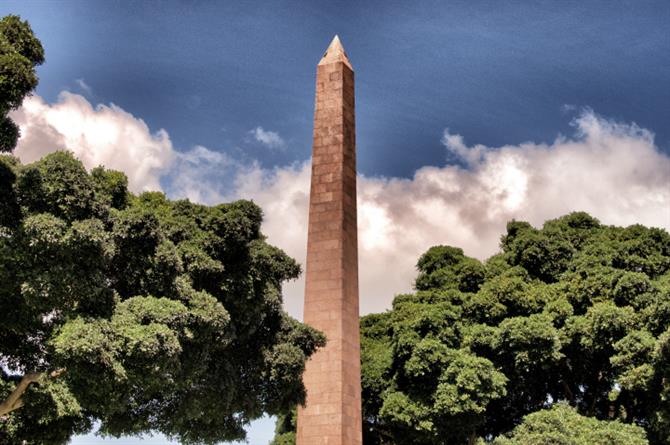 Unless your boots were made for walking, you're unlikely to see this obelisk on foot. However, if you catch one of the yellow 2, 25, or 81 buses, you'll be able to enjoy this as you travel south along Paseo Tomas Morales or north along Calle de Pérez del Toro. Especially if you've managed to bag a windowside seat.
Playa de las Canteras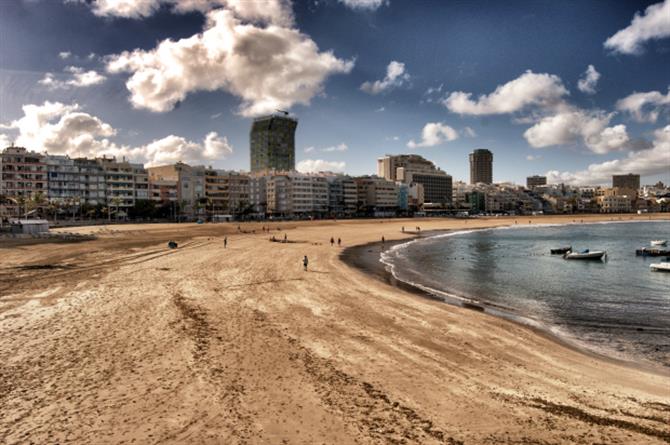 There's some debate in Spain as to which is the country's best urban beach. Some say San Sebastián's Playa de la Concha whilst others rave about Barcelona's Barceloneta. It's only at Las Palmas de Gran Canaria's Las Canteras, however, that you'll find the promenade temperature boards displaying 26°C at 10:30am of an April morning, as I did just prior to taking the above photograph.