The charming seaside town of Los Gigantes has maintained its popularity throughout Tenerife´s travel boom years. Los Gigantes is located on the sunny, west coast of the island, approximately a 45 minutes drive from Tenerife´s southern airport Reina Sofia.
Los Gigantes is one of the most attractive natural wonders on Tenerife. The town is protected by impressive rock cliffs up to 800 metres high and which drop down to the sea almost vertically.
Los Gigantes - The Cliffs of the Giants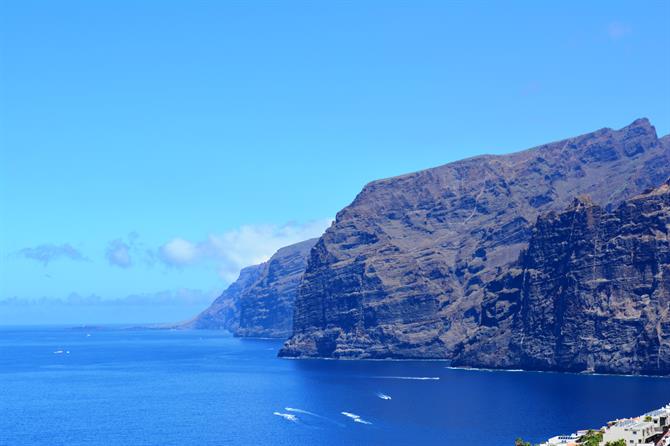 Acantilados de los Gigantes translates to "cliffs of the giants". These massive cliffs gave this pretty town its name and they extend from Los Gigantes to Punta de Teno which is the most westerly point of the whole island. When arriving to this small coastal town these cliffs offer quite an impressive view, located only a mere 30 kilometres away from the popular holiday areas of Los Cristianos and Playa de las Américas.
Over time the town of Los Gigantes has grown together with the neighbouring holiday resorts of Puerto de Santiago and Playa de la Arena. These three areas are very close to each other and the best way to move around is by foot.
Los Gigantes is a fantastic option for those who are looking for a quieter holiday resort. Los Gigantes has lots of shops, cafés, restaurants and family bars around and the town enjoys the best weather conditions on the whole island.
The Black Beaches of Los Gigantes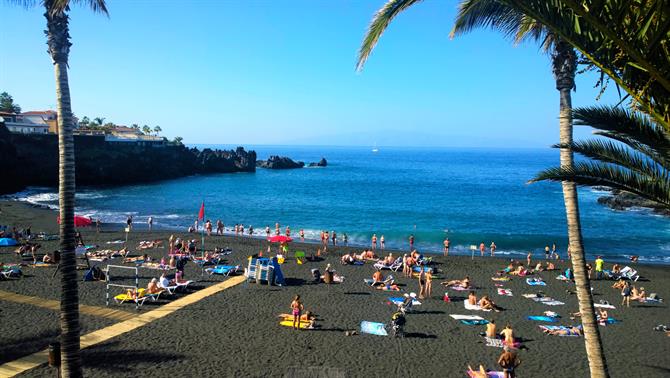 Tenerife´s natural beaches can be recognised from the volcanic black sand. Most of the golden beaches in the southern part of the island are man-made and the sand is often imported from the Sahara Desert. The Los Gigantes area is very volcanic due to its proximity to island´s very own volcano - Mount Teide. The majority of swimming spots here are ravines and rocky bays, but there are few exceptions.
The only sandy beach in Los Gigantes is located right next to the marina. The small, clean Los Guios Beach is only 180 metres long and is very rarely crowded. You´ll find sun loungers and public toilets on the beach, but parking can be challenging in the small marina area. Although the beach is probably not the best one in the area, it is the only one that offers an amazing view of the colosal Los Gigantes cliffs.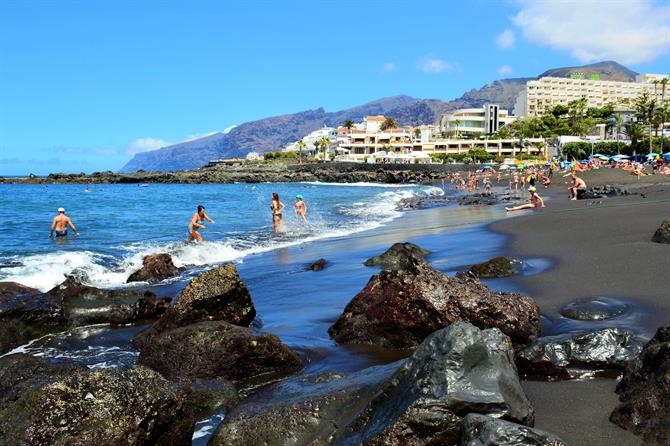 You can easily walk from Los Gigantes to the next holiday resort of Puerto de Santiago, most of the locals live in this former fishing village which has retained some of the old, authentic Canarian feel and atmosphere. Puerto Santiago has a small black sand beach where locals spend their weekends, but it lacks facilities and size and therefore visitors prefer the more convenient beach of Playa de la Arena, which is the next area after Puerto de Santiago.
The increasingly popular holiday destination of Playa de la Arena attracts more and more travellers every year. Also, the beach of Playa de la Arena is more appealing to visitors in the area and it can get very crowded on sunny days. Playa de la Arena´s black sand beach has carried the reputable Blue Flag since 1989. You´ll find sun loungers and parasols available for rent and many beach-side restaurants just next to the beach. Remember that the black, volcanic sand gets burning hot on sunny days, so make sure you bring suitable footwear when heading to this beach. The waves here can get dangerous, so be aware of any warning flags displayed on the sand.
Refreshing Natural Pools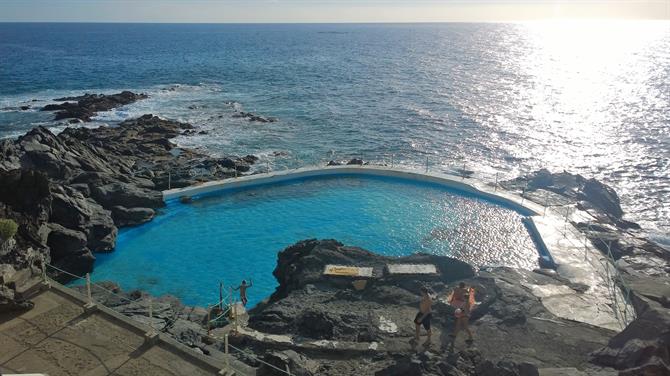 There are plenty of natural seawater pools on Tenerife, most of them are entirely natural and some of them have had a little help from human hands. You can find a few of these natural swimming pools in Los Gigantes. Probably the most popular of them is Isla Cangrejo, which is a large, natural pool located between Los Gigantes and Puerto de Santiago. The edges of the pool are man-made, protecting it from large sea waves, swimming here is a very refreshing and interesting experience.
It´s not always easy to find these pools because they are normally located in quite remote areas. The best way to find Isla Cangrejo is by heading to Calle Magnolia in Puerto Santiago, which is approximately a 20 minute walk from the Los Gigantes marina.
Los Gigantes - Magical Mecca of Water Beasts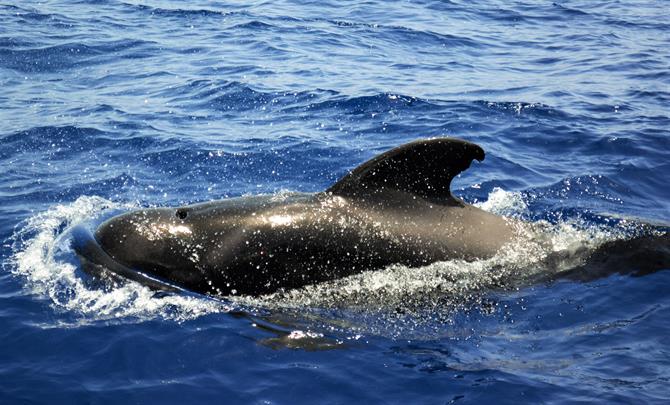 There are a number of water sport rental companies in the Los Gigantes area offering a large selection of equipment hire. Whether you are looking to hire a boat or a speedy jet ski, you´ll find plenty of options in the Los Gigantes marina. Many travellers pack up their picnic bags, rent a motorboat and enjoy a relaxing cruise and a close up view of the magnificent Los Gigantes cliffs. You can also take part in one of the guided boat tours that goes out to the remote beach of Masca Valley.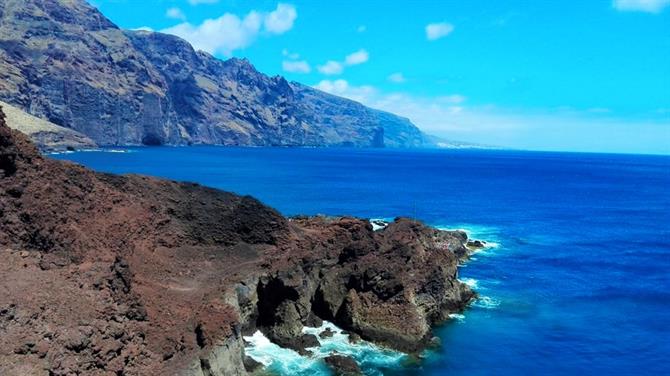 It is been said that over a third of all whale and dolphin species pass through the waters surrounding the Canary Islands and going out to see these amazing mammals is an increasingly popular activity in Tenerife. The Los Gigantes coast is home to a large population of whales and dolphins and you can see them by going on one of the many boat expeditions which are offered by the tour companies which operate in the marina. The tours normally include some snacks and drinks and you´ll often be spoiled with a short dip in the refreshing waters of the quiet beaches in front of the cliffs.
Shopping and Sightseeing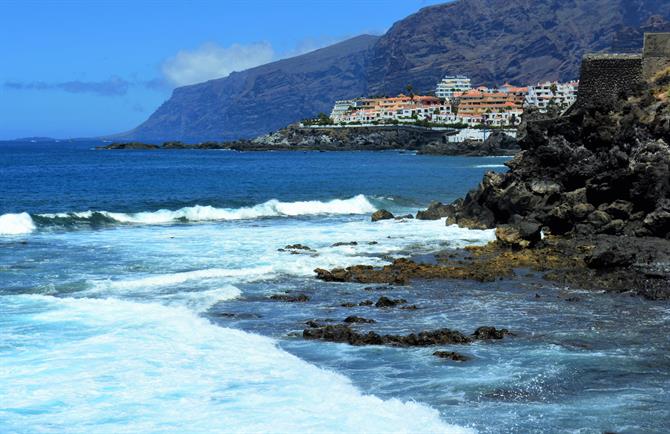 There´s a small shopping centre near the marina which has a large supermarket, shops and cafés. There are a few nice shopping choices in the narrow streets of the area including designer, brand and specialty shops and also a few smaller souvenir shops and supermarkets.
You´ll find lots of lovely restaurants in Los Gigantes to suit a range of budgets. You can´t walk for more than few minutes without tripping over a restaurant or a café. There are plenty of good restaurants serving local and traditional Canarian cuisine, so take the opportunity to discover and experience the fabulous food on the island!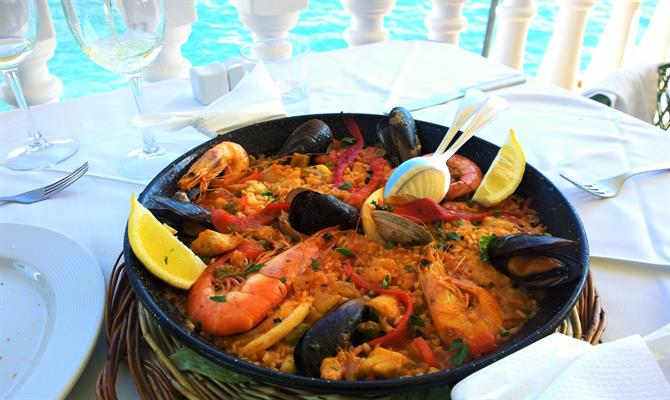 There are great opportunities for sightseeing and day trips in and around Los Gigantes. You can easily hire a car and drive to the amazing Mount Teide volcano, which is located 98 kilometres from Los Gigantes. There´s also Siam Park, which is one of the most popular water parks in not only Tenerife but the whole of Europe and it´s only a half an hour drive away. You can also discover some of the lovely fishing villages along the southern coast or take a tour around one of the wineries of the island. No matter what time of the year you visit Los Gigantes, don´t miss a day trip to the magical Masca valley!
Map