Important notice October 2017: This market is currently closed and is due to reopen under new management.
No wonder though, Málaga boasts wonderful
places full of life where tourists and locals alike enjoy themselves. Málaga is a place where you can take advantage of cool neighbourhoods, museums, gastronomical temples, and food markets. Make sure to try the Málaga fried fish or check out the alternative Soho neighbourhood's graffiti, and not to mention visit the spectacular Muelle Uno port.
A new favourite is the gourmet market or gastronomical centre known as Mercado de la Merced. It reopened on September 26, 2015, and is located right next to the famous Plaza de la Merced. Mercado de la Merced is modern and cosmopolitan, creating a different kind of atmosphere than the typical market that Malagueños are used to.
We invite you to stroll through, check out it's many stalls, and taste the delicious snacks you will find. It is a perfect combination between tradition and the artistic side that is growing throughout the city. This market is ready to capture any hint of artistry, whether music, cinema, theatre or any kind of expression capable of being harboured within its four walls.
20 exquisite food stalls at Mercado de la Merced
The stalls you can find at Mercado de la Merced are all diverse and for every taste, from the classic Málaga fried fish, to mini burgers, grilled meats, sweet wines, exclusive cheeses, sushi, a special vegan place, and more.
1. La Chesseria "The house of cheeses"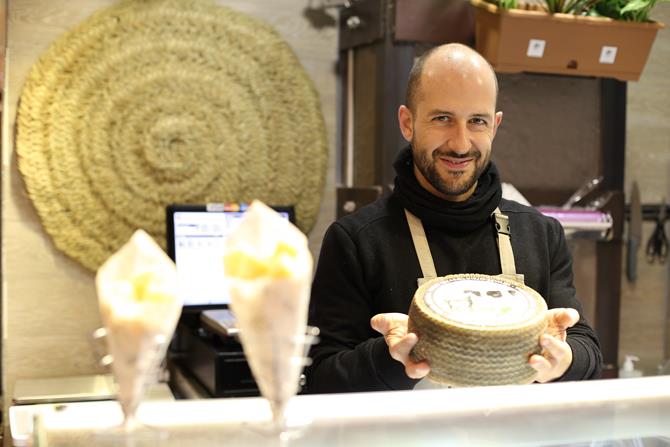 If you love good cheese (don't we all?), this market stand will soon become one of your favourites. Their wide variety of goat, sheep or cow cheeses, all 100% Spanish, have each been specially selected for their unique characteristics. Some have even been recognized at the prestigious World Cheese Awards.
2. Beher - "Top quality Iberico ham"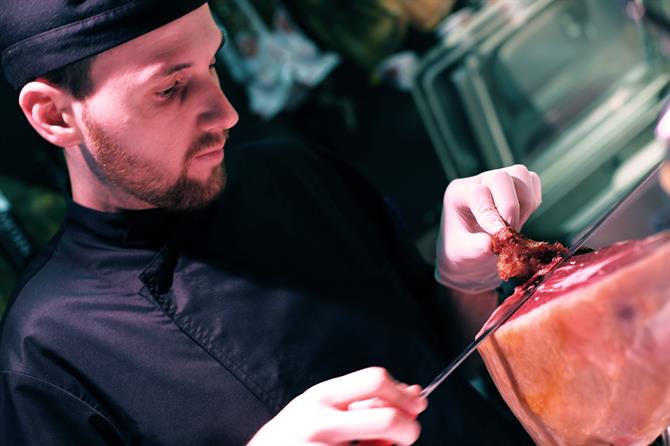 Beher is one of the largest and most spectacular market stalls of Mercado de la Merced; a family business that has adapted throughout the times. It's incredible to watch as one of the most famous Iberian hams in the world is sliced thinly before your eyes.
Make sure to sample some of their products - you can order their ham as a sandwich snack, a
portion or in a cone (my favourite).
3. La Croquetería - "Croqueta lovers, this is our spot"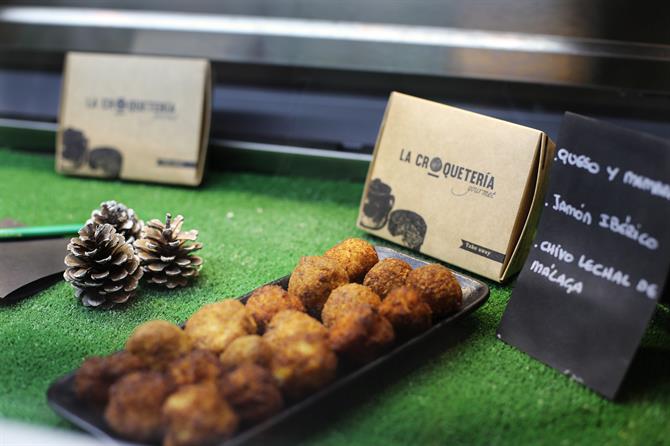 I love this spot and the variety of
croquetas
that will make your mouth water just thinking about trying each. This stall is a project that comes from Ribero del Duero from the hand of
Alberto Soto, chef of the famous Cepa 21 restaurant
. The croquetas are prepared daily and are filled with ham, oxtail, mushrooms, truffles with spinach, Gorgonzola, ratatouille, quince cheese, and Málaga
sausage. All are delicious!
4. Antigua Casa de Guardia - "An icon of the city"
You don't have to go far to try true
Málaga wines
; this corner of the Merced Market has "almost" all of them. The attentive sommelier will happily tell you about each.
You will be able to enjoy each straight from the barrel, like the famous house vermouth, Pajarete, which follows this tradition so characteristic of these types of wines.
5. La Paradita
You'll notice La Paradita's eye-catching sign from across the market hall. This place is for all lovers of good fish and tasty seafood. If you want to try some good tuna, all you have to do is ask.
6. Dame la Lata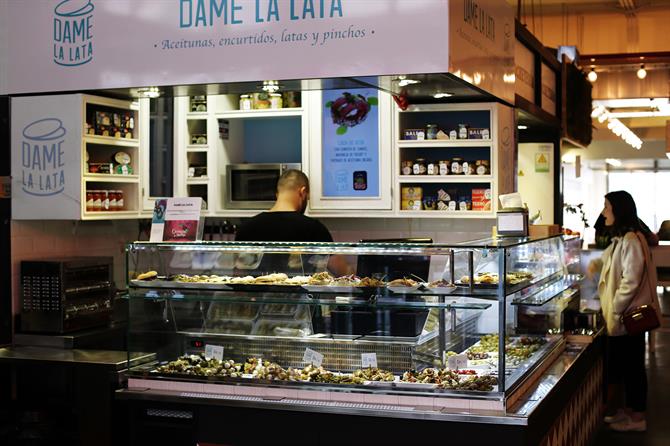 This stall is interesting because of the varied and unique products. Olives, pickles and canned goods are the stars, and can also be matched to create original pinchos ready to be savoured on spot.
7. Baga - "The burger kingdom"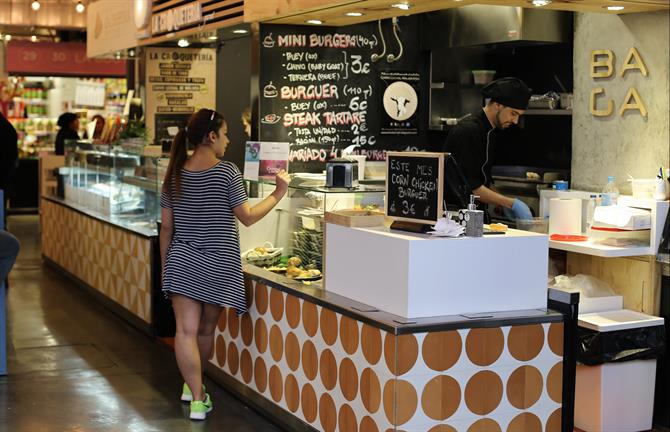 It's not surprising that the Baga burger stand is popular among many. These little burgers made with beef from Sierra de Guadarrama, those made from Málaga suckling goat, and the ox burgers will make your mouth water. All burgers are completely customizable, from the meat itself, to the bun and savoury sauces.
8. Carnes & Cía (Meat & Co.) - "The grill house"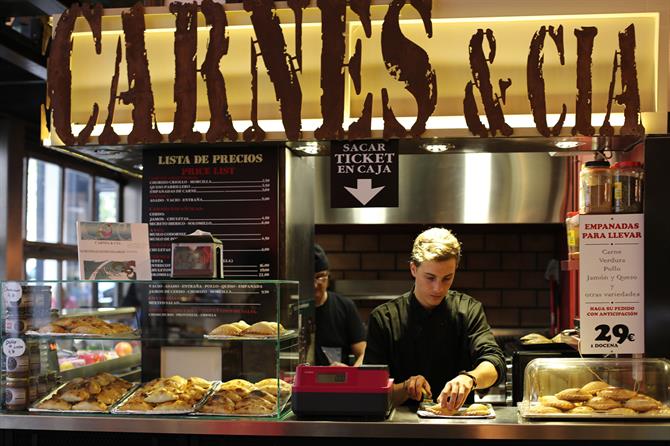 They always say that
Argentinean barbecues are the best
and this stall will prove this to be true.
Just
getting close by, there's no way
you won't want to try the chorizo, the asado, the tenderloin or the sirloin beef grilled over coals.
Oh, and don't forget to try their secret chimichurri sauces.
9. POF - "A special pastry shop"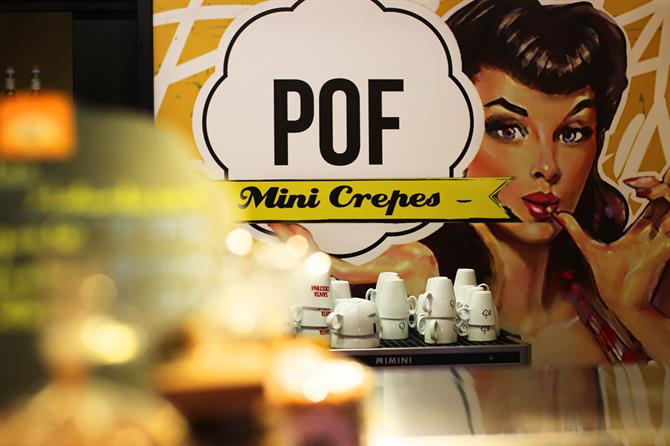 You'll notice POF's bright yellow sign from far off, it will invite you to come near, then intoxicate you with delicious homemade pastries that will be your downfall. That's how we felt when we were first there anyways.
So what can you try? Tempting mini Nutella crêpes, fluffy tiramisu, a couple brownies... why not, right?
10. Okami - "The Japanese spot"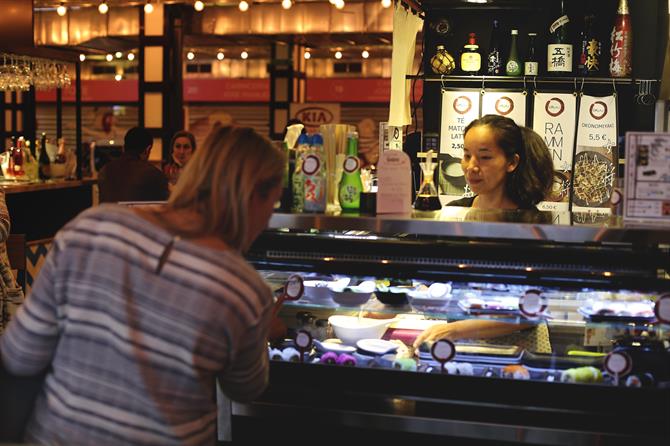 Today, any great gastronomic centre has a sushi bar on spot. Okami is the restaurant that represents this 100% Japanese cuisine at Mercado de la Merced. You'll find
sushi, nigiri, yakitori, okonomiyaki, Japanese curry, Matcha tea and chocolate dorayaki.
You'll see that there are a variety of options, all delicious.
11. Cot-Cot - "With these eggs we won't be hungry"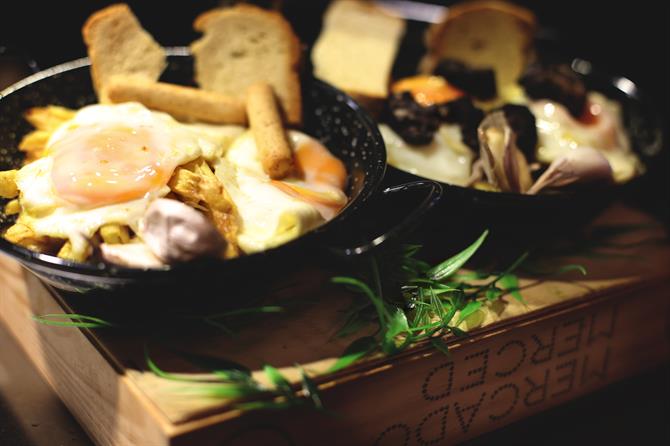 If you want to have a lunch made with typical Spanish products, we recommend the stall with the egg logo. Cot-Cot combines 100% free-range eggs with high quality potatoes to produce dishes that are an absolute delight.
You can savour these dishes in many forms, from a casserole with potatoes and fried eggs on top, to tasty tortillas (Spanish omelettes) with delicious ingredients: onion, bacon and cheese, peppers, asparagus, mushrooms... the list goes on.
12. Arequipa - "A Michelin star chef in Mercado de la Merced"
Diego Gallegos has earned a place among the stars of the culinary world by showing off daring cuisine at his restaurant, El Sollo, in Fuengirola. He received his first Michelin star this year.
This restless chef has now embarked on a new adventure called Arequipa, located at Mercado de la Merced. Sticking to his principles, he continues to produce extraordinary dishes based off of catches from the river: caviar and eco-sturgeon, eel, trout and salmon appear here, and you can taste his Brazilian roots and a Peruvian influence.
13. The Beer Experience - "With two fingers of foam"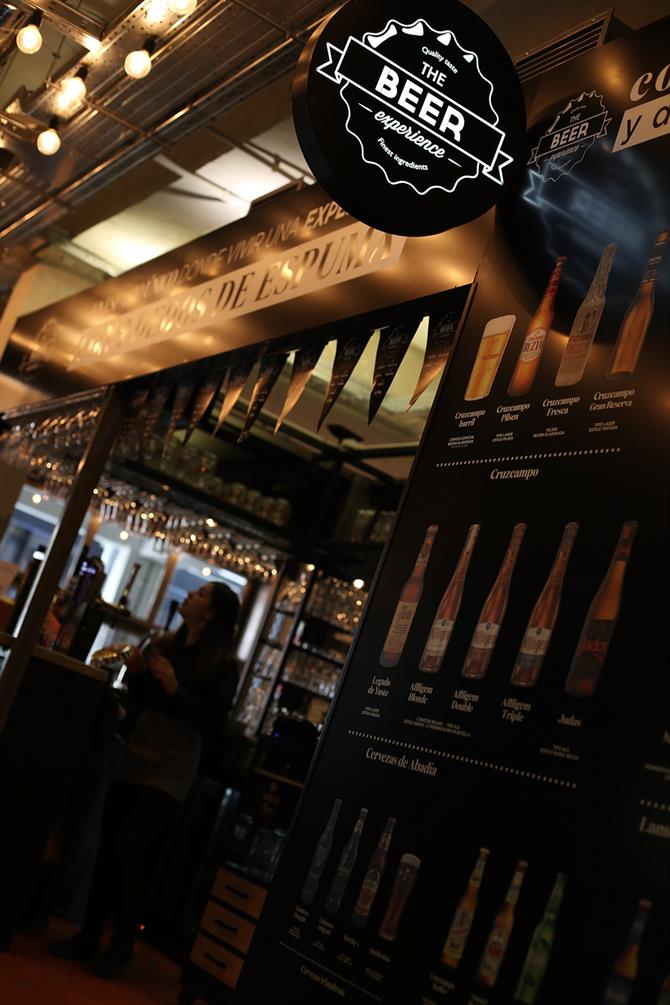 There's no better start to the culinary tour from this point in the market. The Beer Experience is a cozy corner where the tall glasses on the bar, the diverse colours, and the graphic labels of the bottles will do all the talking. All you need to do is ask for one of their
34 beers from around the world to start your adventure.
14. Taninos - "More than wines"
Wine always has a place in any great gastronomic centre. Taninos specializes in wines, and their team of sommeliers will be happy to tell you about more than 60 varieties from all over Spain. Try them by the bottle or by the glass.
15. Brochetería Stick - "Skewers in every way you could ever dream of"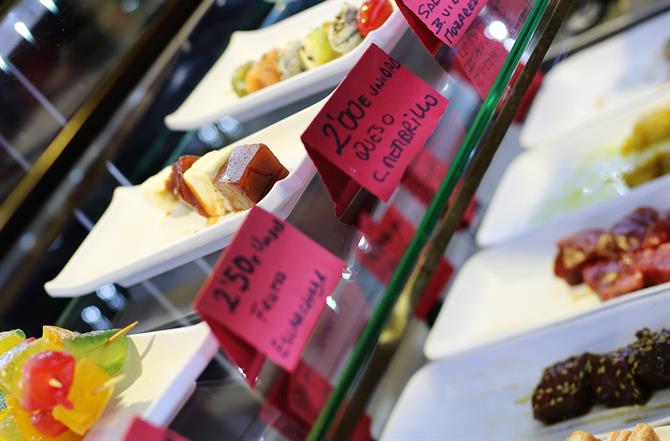 This place is amazing. Walking along you'll notice a stall packed with skewers, and the closer you get the more delighted you will be. Get ready for everything from the traditional
teriyaki chicken and lamb
skewers, to
steak with mango, to dessert skewers with fruit or candy.
16. Vegetalmente - "The vegan place"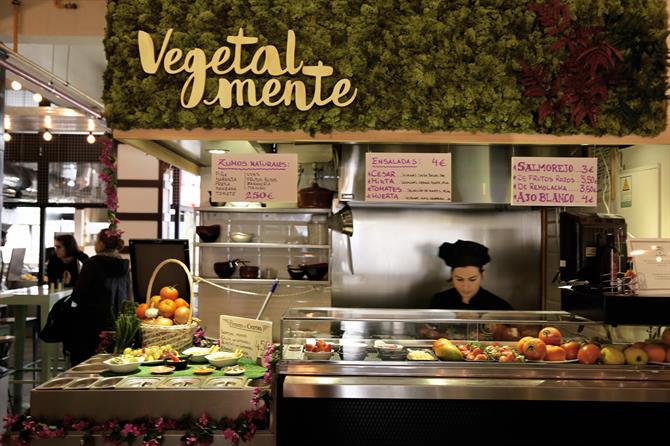 If you're vegetarian or vegan you're in luck because this is soon going to be your favourite place at the market. Vegetalmente offers delicious custom salads; all you have to do is decide what you want to eat and what should accompany it.
17. La fábrica de cerveza - The Cruzcampo brewery
Want to enjoy a freshly brewed beer? Cruzcampo has made this possible by bringing an authentic brewery straight to Mercado de la Merced.
Are you wondering how they do it? The beer comes directly from the factory to the market, unpasteurized and without any added carbon, this way they can make sure that the taste and freshness are always perfect, always chilled at -2°C.
18. A la Rusa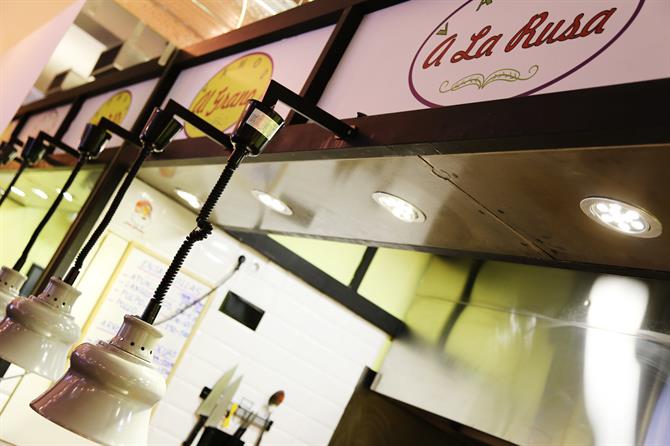 A la Rusa gets straight to the point. Do you want arroz a banda, a mixed paella or with vegetables, black rice and calamari, cuttlefish and prawns? No problem, they will cook up your choice in no time.
One thing I'm sure of is that most will want to try out their
ensaladilla rusa
tapas - but which of the three kinds to choose? Will it be the shrimp, tuna or chicken with pickles?
19. Pizzeria Da Toto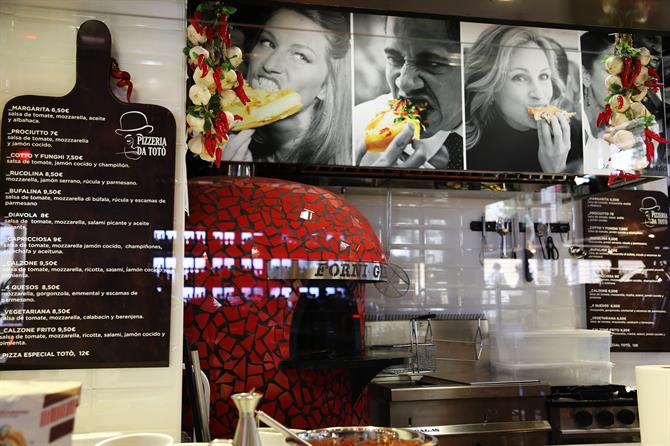 Pizzeria Da Toto was the last stall to arrive to this exclusive market. Now it's oven is running at 100% and the tomato sauce is fully prepared to add that Italian flavour that was previously missing from the mercado. You'll find calzones, all kinds of pizza, and much more in this fantastic spot.
20. Lemon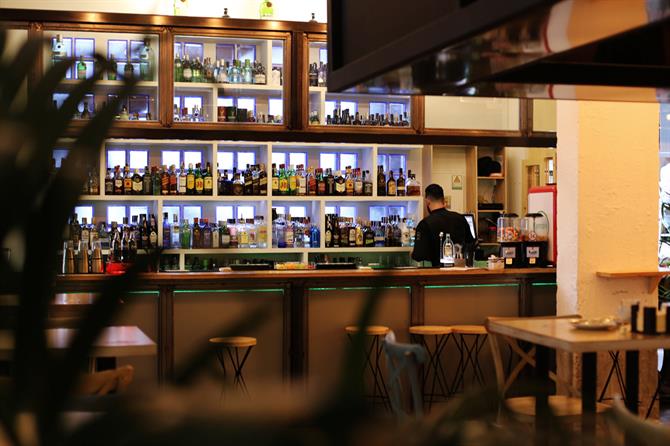 After so much sampling, what could be better than having a last drink in this area of Mercado de la Merced? Lemon is an emblematic bar that has risen from the ashes of the 80s and 90s to offer amazing cocktails, drinks and 100% natural juices in a modern and hip locale.
Mercado de la Merced Schedule
Market stalls are open on weekdays from 11:00 to 24:00. Weekends from 11:00 to 2:00 in the morning. Sunday from 11:00 to 24:00. The food stalls only open in the mornings.
More Málaga reads:
The iconic Churrerías of Málaga
16 restaurants with the best views in Málaga
The 7 most mouthwatering breakfast spots in Málaga
Mercado de la Merced Map