Breakfast is said to be the most important meal of the day and that is absolutely true, especially if you are on holiday with the time to relax and indulge. So many kinds of foods are accepted as breakfast options and Spain has its very own delicious take.

What does a typical Spanish breakfast look like?
A typical Spanish breakfast can look like a lot of different things. Here are a few options you'll see around often. Coffee, orange juice and a good muffin, a small pitufo sandwich, croissant, viena bread or a baguette with a drizzle of extra virgin olive oil, some jamón serrano and freshly made tomato spread, or the classic ham and cheese over butter (never fails).
Other options include:
- Tostado with butter and jam
- Tostado with cheese
- Small bowls filled with spicy sausage and various spreads to be put on toast, including manteca colorada, an Andalusian favourite
For this article, we have tracked down some of the best breakfasts that you can find in the beautiful city of Málaga, all accompanied by great coffee.
(Let's say we've had fun writing this article and eaten a lot along the way).
Astrid Tapas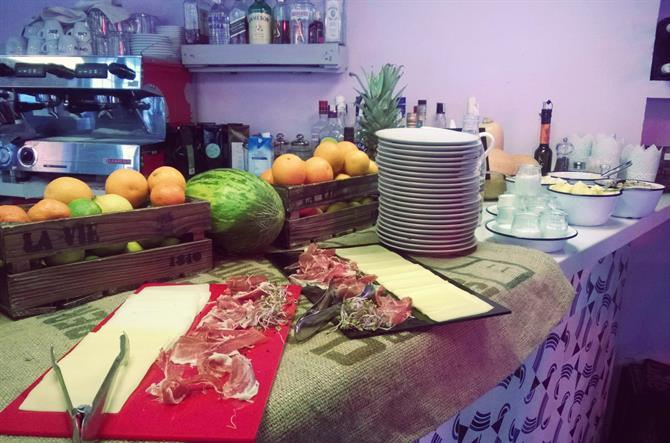 It's hard to find a better place than Astrid Tapas. So far it is the only spot in Málaga (excluding hotels) to offer a buffet breakfast, and at the great price of €3.95 per person. We also need to add that they specialize in high-quality organic products.
This organic breakfast buffet is available daily from 9:00 until 11:00, and believe me, it's worth getting up to enjoy a start this spectacular to the day.
The service is very friendly and you'll find lots of different options presented on the counter. Jamón serrano, cheese, olive tapenade, and fresh tomato spread for those who prefer savoury mornings. On the sweet side you'll find yogurt, fruit, cereal and lots of delicious organic jams and spreads, as well as different types of bread.
Prices:
Buffet breakfast - €3.95 per person
Address:
Calle Calderón de la Barca 6, Málaga
Tel: 34 952 220 350
Hours:
Monday to Thursday: 9:00-23:00
Saturday: 9:00-00:00
Sunday: 9:00-16:00
Café de Estraperlo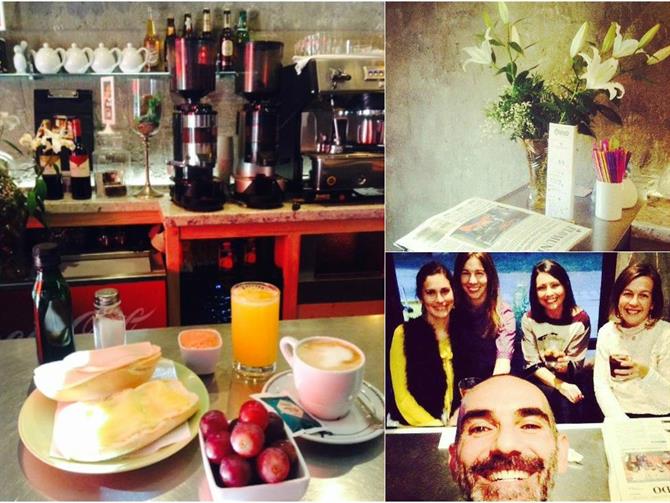 Jose and Mark are the creators of this unique and pleasant restaurant
located in Soho Málaga
, next to Plaza de la Marina.
In Café de Estraperlo, you're always welcomed and greeted with a big smile. We recommend the freshly squeezed orange juice (delicious), and for the sweet tooth, don't miss their homemade Tiramisu accompanied by excellent coffee.
The place is not very big, but it is very cozy thanks to their design filled with warm colours. This cafe loves to share experiences and make use of a very special gallery where their customers are the stars. Check it out on their Instagram and Facebook page.
Prices:
Café con leche - €1.20
Tostado mixto - €2.20
Coffee + toast with butter and jam - €2.20

Address:
Plaza poeta Alfonso Canales 4, Málaga
Hours:
Tuesday - Friday: 9:30-23:00 (until the last customer leaves)
Saturday: 12:00-00:30 (
until the last customer leaves
)
Sunday: 12:30-00:00 (until the last customer leaves)
Noviembre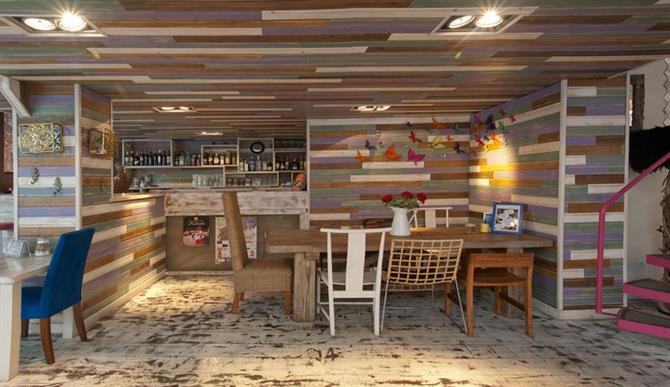 Inspired by the success of La Galerna, a place well-known by the residents of the seaside El Palo neibourhood in the eastern part of the city, the owners decided to take the concept to the centre of Málaga. This is where Noviembre was born.

Noviembre is a very special place to have breakfast and start your day. The cafe is home to an exquisite decor, full of pieces from Bali and Indonesia, each with many traditional details. The menu is extensive and varied. We love the natural juices and delicious sandwiches.
Their breakfast menu offers healthy juices. The donuts are as varied as they are unique, but they are all really delicious.
All products are fresh, healthy and environmentally friendly, with a range of gluten-free bread. It is also worth mentioning that Noviembre can be your office away from home as it has wifi and is quiet and cozy.
Prices
Café con leche - €1.50
Fruit salad - €3.50
Bagel with eggs, bacon and cheddar cheese - €4.50
Address:
Calle Álamos 18, 29012 Málaga
Tel: 34 952 222 654
Hours:
Sunday-Thursday: 9:00-1:00
Friday-Saturday: 9:00-2:00
Recyclo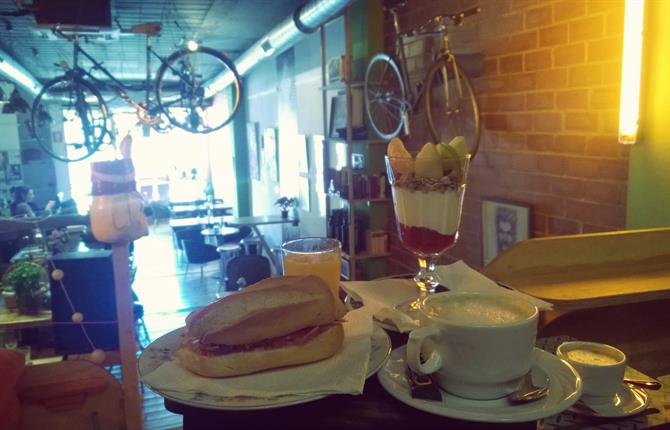 If you're a bike lover, this is a place for you; all of the decor revolves around the world of cycling. Recyclo is located in central Málaga, close by Astrid Tapas (above).
The atmosphere incomparable, with excellent food, service, and a fun and creative interior design. The first things that definitely jump out are the low prices and high-quality food.
Its staff are young and friendly and make you feel completely at home, so don't be surprised if you find hours fly when you thought you were just going in for breakfast.
Prices:
Café con leche - €1.30
Pitufo + coffee + orange juice - €3.00
Scrambled eggs on toast - €2.00
Fruit salad - €2.00
Muesli + yogurt + fruit - €3.00
Address:
Calle Marqués de Villafiel 4, Málaga
Tel: 34 722 468 254
Hours:
Monday-Thursday: 09:00-00:00
Saturday: 9:00-2:00
La Recova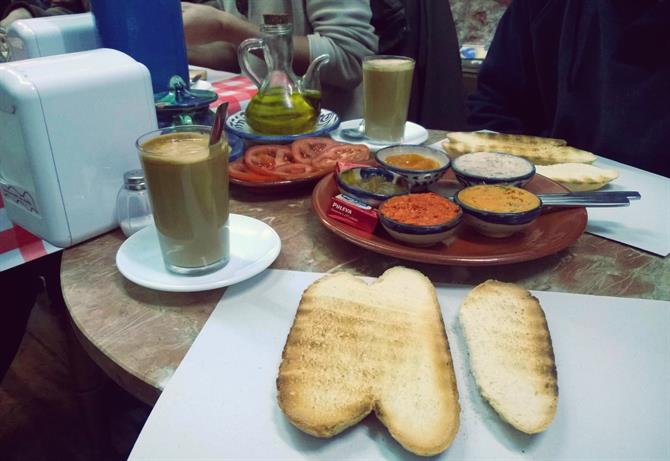 In La Recova you will find one of the most traditional and typical breakfasts in Málaga. Hidden in the historic centre, it is an incredible and cozy place to get to know local flavours.
The prices? They're unbeatable. You can get two coffees with milk, accompanied by small bowls of various foods such as spicy sausage, delicious manteca colorada, butter and jam to spread on slices of toast for about €4.40.
Prices:
Address:
Pasaje. Ntra. Sra. de los Dolores de San Juan 5 (beside the church - Iglesia San Juan), 29005 Málaga
Hours:
Monday-Friday: 9:30-13:30 and 17:00-20:30
Saturday: 10:00-14:00
El Ultimo Mono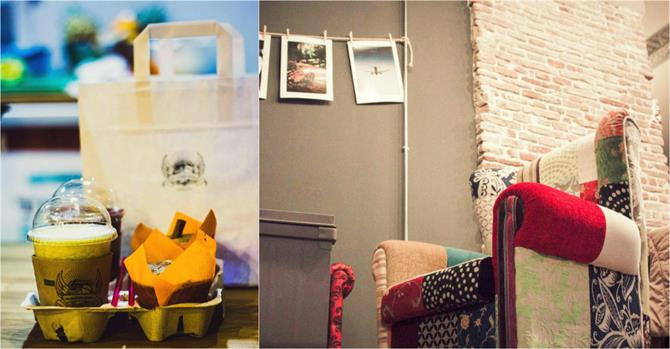 I love this place. It's one of those bars with its own style and identity, and possibly the largest selection of juices, cocktails and homemade pastries in Málaga. Everything is organic and made on spot. You won't be able to forget the smell of the freshly brewed organic coffee.
Sergio and Víctor try to contribute positively to the neighbourhood by supporting local initiatives such as helping emerging local artists, showing support for small businesses. They have also organized yearly 'Movember' events for the collection of funds towards the fight against prostate cancer.
They have done an incredible job over the years and have gained a well-deserved great reputation and loyal clientele.
Prices:
Fresh fruit juice -
€
2.50
Address:
Calle Santa María 9, 29015 Málaga
Tel: +34 951 392 976
Hours:
Monday-Sunday: 9:00-21:00
Dulces Dreams Boutique Hostel & Café Gallery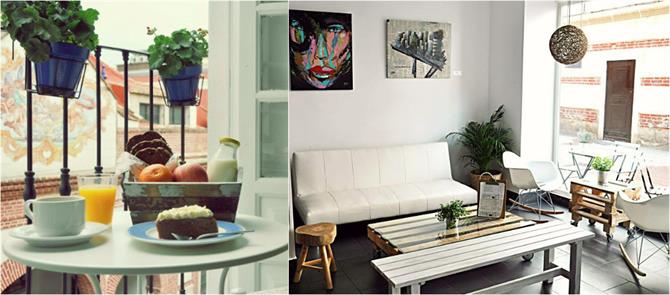 You'll find this boutique hostel in the historic centre of Málaga in the midst of narrow streets with its fresh, modern decor standing in contrast with the beautiful old town.
As for breakfast, there are some delicious options at Dulces Dreams. We recommend the 'Desayuno Completo', which consists of yogurt with fruit and oatmeal, toast with butter and jam (or freshly made tomato spread and a drizzle of extra olive oil), orange juice and organic coffee, all for €5.00.
Their homemade cakes and fruit smoothies are also worth trying.
Prices:
Café con leche - €1.40
Yogurt with fruit, oatmeal and honey - €2.95
Toast with tomate and avocado oil - €1.95
Warm croissant with jam and butter - €1.70
Carrot cake - €3.00
Address:
Plaza de los Martires 6, 29008 Málaga
Tel: +34 951 357 869
Hours:
Monday-Sunday: 8:00-20:00
Related articles:
The Best Places to Drink Craft Beer in Malaga
Malaga's Best Chiringuitos and Beachfront Restaurants
Semana Santa in Málaga, Andalusia: the processions of Holy Week
The 10 best tapas bars in Malaga