Although there's no exact definition of what a craft beer is, craft breweries are usually small and independent. They manufacture their products using only natural ingredients; malted barley, wheat, hops, yeast and water, without additives or artificial colouring. Their beers are matured in casks or bottles as opposed to beers that had been artificially carbonated.
The term craft beer originated in the UK to describe the micro breweries that began popping up in the 1970s. These days craft breweries are gaining popularity all over the world, Forbes magazine recently ran a piece calling them Americas hottest startups.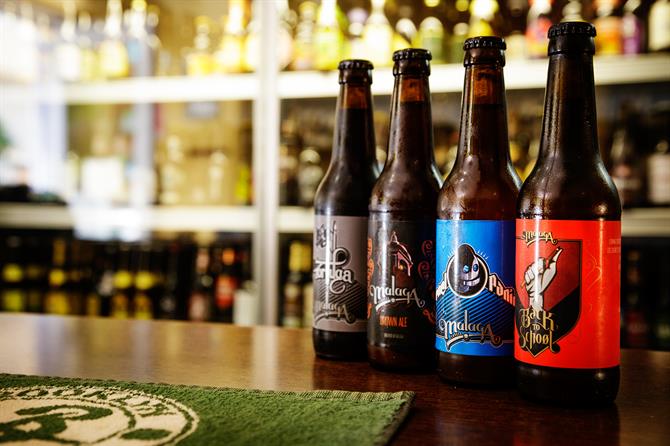 A few years ago, a beer in Malaga was a glass of ice-cold fizzy lager from a tap - una caña. Cruzcampo, San Miguel and if feeling particularly adventurous and lucky, you'd get Malaga's own Victoria beer. Cold and refreshing, yes. Full of flavour and character, not really.
Craft beers have taken Malaga by storm over the last few years. The city is now home to one of the best beer scenes in the whole of Spain. You are never far from an establishment selling traditional ales, stout or wheat beer.
This increased choice, combined with the fact, that Malaga is now the fourth cheapest place in the world to have a beer, just behind Bratislava, Slovakia, make the city a beer lover's paradise.
Here are some of our favourite bars to drink craft beer in Malaga.
1 Cervecería Arte & Sana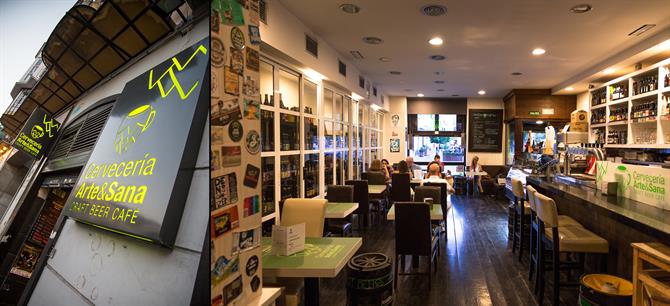 Arte & Saña was opened in 2013 and is situated right on the Plaza de Merced.
Within a year of opening, Arte & Saña established itself as the place to have a beer in Malaga. The feel is distinctively minimalist with wooden paneling and seating.
The choice is most definitely yours, with over 750 beers from all over the world. Including the locally brewed La Kernel Panic from Málaga beers and the renowned Danish beer Mikkeller.
They also offer tapas and have a selection of Malaga's wines.
Address:
Plaza de la Merced 5
Tel: 951 00 42 00
www.arteysana.com/
Opening hours:
Monday - Thursday from 19:00. Friday - Sunday from 14:00.
2 Hop Scotch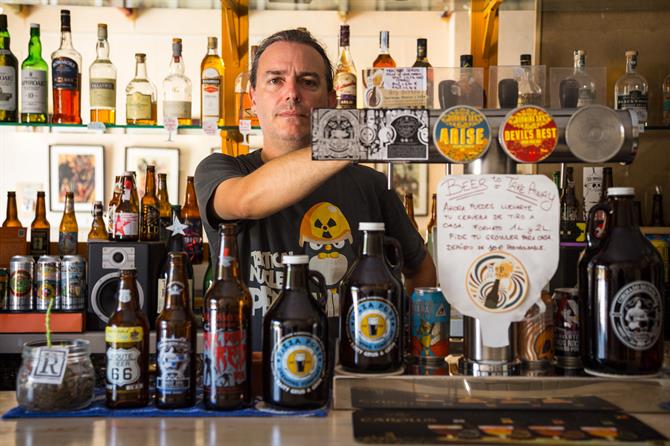 Hop Scotch was opened by Javier (Javi) Toledano and Ana Nuñez and quickly developed into one of Malaga's most popular bars. The beers are carefully selected and regularly changed.
At last count, they had over 200 different kinds, with six on tap. People don't just come for the beers. Hop Scotch is also home to some fantastic food. House specialities include vegan and vegetarian dishes and some surprisingly good Thai curries.
The place is small but cozy. The walls are decorated with photographs and local art expositions. The atmosphere is what really sets Hop Scotch apart. The owners are super friendly and speak English. A visit is highly recommended.
Address:
Calle Correo de Andalucía, 6
29004 Málaga
Tel: 627 08 35 24
Opening hours:
From Wednesday to Sunday, 18:00 onwards.
3 La Botica de la Cerveza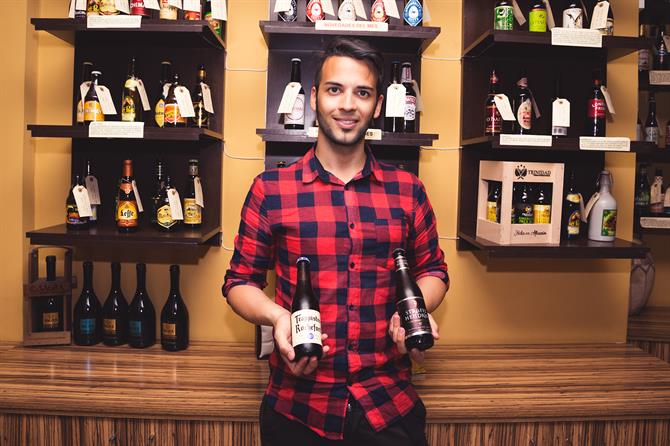 Quality products, a great service and a prime location have ensured that La botica de la cerveza was an instantaneous success since it's opening in 2013.
The minimalist design and feel, has been described by some as "a bottle shop you can drink in." Yet behind this rather bleak facade lies one of the best bars in Malaga.
Run by Miguel Arrabal, from Nerja, the prices are reasonable, the craft beer selection is vast (over 300 beers) and the atmosphere is laid back and inviting .
Address:
Calle Victoria, 13
29012 Málaga
Tel: 951 02 27 77
laboticadelacerveza.com

Opening hours:
Daily from 13:00 to 15:00 & 19:00 to 1:00


4 Central Beers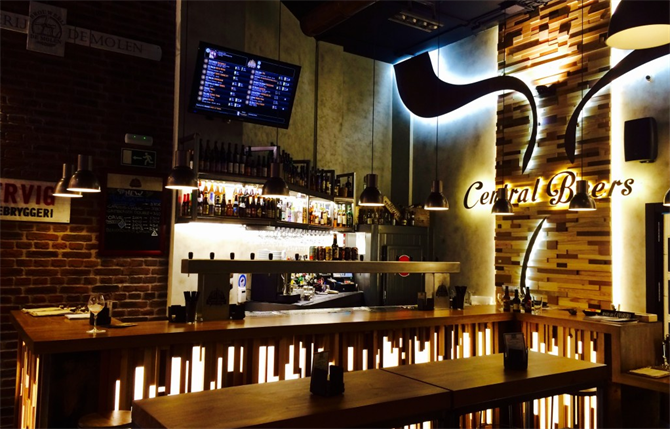 Central Beers is a cosmopolitan and trendy bar located in the centre of Malaga.
They have a fairly wide selection of beers with 15 on tap and over a hundred more in bottles. The bar provides detailed information on the different names, production methods, alcohol content, colour and style of each beer.
Like most of the other bars on this list, they also offer a basic food menu. With a selection of cheeses, hummus, nachos, burgers and salads.
Address:
C/ Cárcer 6,
29006, Málaga
Tel: 952 22 77 86
Opening hours:
Daily from 13:00 onwards.
5 El Rincón del Cervecero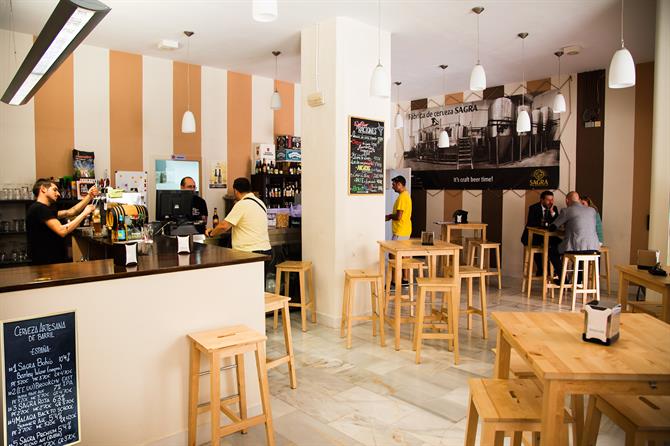 El rincon del cervecero is located right in the heart of Malaga's Soho district.
David is the owner and a true lover of craft beer. The smell of hops seems to reach you even before entering the bar. A passionate micro brewer himself, David offers courses for both beginners and advanced homebrewers. They usually take place on Sundays and you can buy all the necessary equipment at them.
El rincon del cervecero currently offers 182 craft beers. The highlight of which, has to be the beer brewed by David himself. And soon to be the flagship beer of this brewery. Watch this space.
Address:
Calle Casas de Campos, 5
29001 Málaga
Tel: 952 22 64 26
elrincondelcervecero.com
Opening hours:
Monday - Thursday 12:00 – 16:00, 18:30 – 22:30
Thursday - Saturday 12:00 – 16:00, 18:30 – 12:30
Sunday - 12:00 – 16:00
6 Amsterdam Café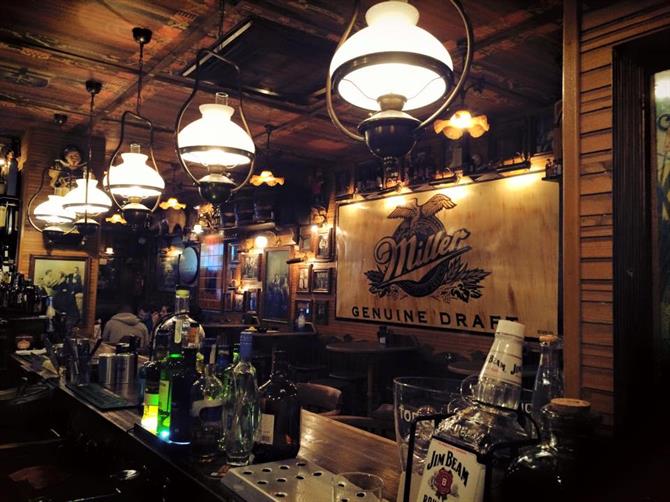 One of the oldest bars on this list, the Amsterdam Cafe was founded in 2008 and is situated near the university in Teatinos. The Irish themed bar is a regular haunt for young students and is known for it's relaxed and welcoming atmosphere.
They offer more than 75 different kinds of craft beers and have plenty more different kinds of drinks on the menu.
Address:
Av. de Plutarco, 63
Málaga
Tel: 635 68 16 20
Opening hours:
Monday - Thursday 16:00 – 2:00
Thursday - Sunday 16:00 – 3:00
7 Cerveceria - Het Beste Biertje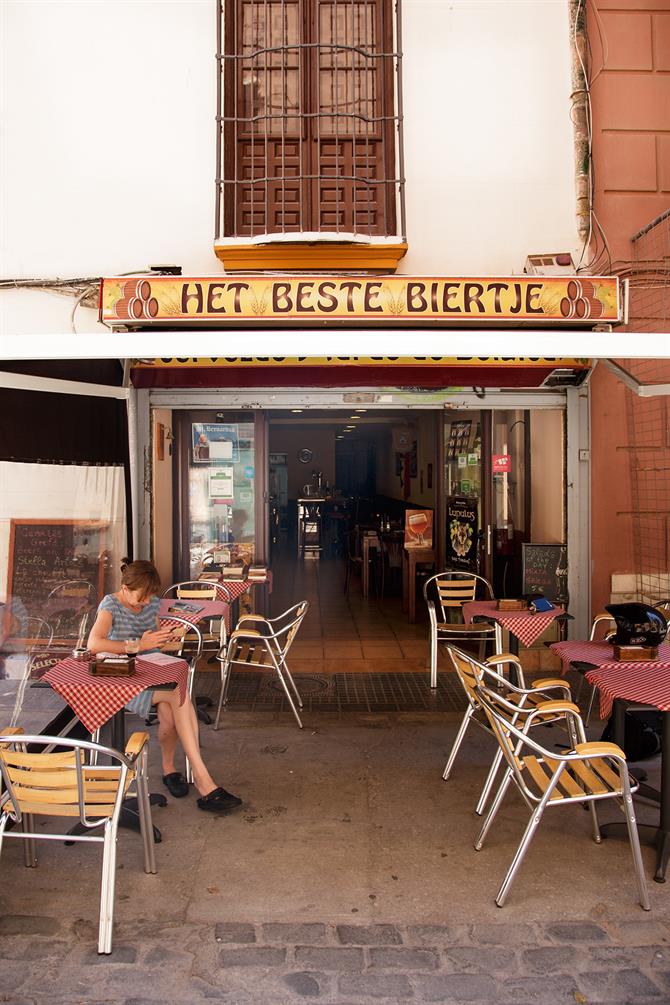 If you like Belgian beers, this is the place for you.
Het Beste Biertje opened in 2011 and is situated right in the heart of Soho. Although the focus is most on definitely on Belgian beers, they offer a wide selection of craft beers, including India pale ale and Pilsen on tap.
The highlights are the bottled Trappist, Cantillon & Kriek beers. Het Beste Biertje has gained a reputation for serving some of the best food in the area. The homemade tortillas, German sausages and lamb dishes are all recommended.
Address:
C/Trinidad Grund,7
Málaga
Tel.: 656 25 44 34
Opening hours:
Monday - Thursday 17:30 – 23:40
Thursday - Sunday 12:00 pm – 12:00 am

For additional Malaga city themed articles see:
Malaga's Best Chiringuitos and Beachfront Restaurants
The iconic Churrerías of Málaga
Soho Málaga: 9 Businesses with personality in the Arts District
Vegetarian restaurants in Malaga
Google Map of Malaga's best craft breweries and bars