Majorca or Menorca, they are both sunny mediterranean islands. They have more than 300 days of sun a year - with a record of 12 hours a day in summer!
Both islands offer the most amazing beaches and attractions for a fun holiday. But what exactly? How do they differ? Majorca and Menorca both belong to the Balearic group and have things in common.
Which island would you choose for your holiday if ...?
1. ... you go mainly for the beaches?
Es Trenc, for example, is a pure white sandy beach of almost two kilometres with turquoise, transparent water. It is the kind of beach that gives Majorca so much appeal as a destination. You would think you are in the Caribbean!
Port de Pollensa is another example of Majorca's picture postcard beaches, with the Tramuntana hills in the background but at the same time plenty of bars, restaurants, a marina, a promenade and other facilities, including water sports.
Because Majorca has long received more tourists than Menorca, there are usually more facilities and possibilities for entertainment. This also means, however, that its beaches can be a lot busier.
Some of the most spectacular beaches in Menorca are Son Saura, Cala Turqueta and Cala Macarella. The renowned Cala Macarella, which offers - within the same bay - the remote little nudist beach of Cala Macarelleta, is situated about 16 km from Ciutadella city.
2. ... you love to visit nice towns or villages on holiday?
Because they are relatively small, the towns of Menorca offer a relaxing day out. Take a nice stroll in the romantic old town of Ciutadella. Or go on a boat trip in the second largest natural harbour in the world, in Mahón!
4. … you prefer local and authentic to busy and popular?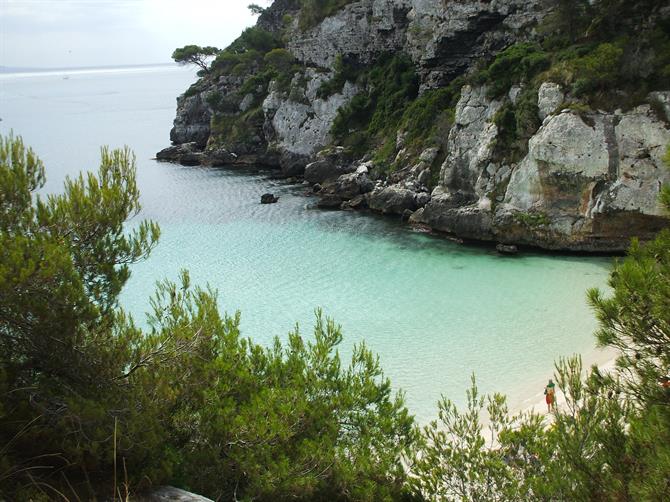 natural spaces where you can go and relax.
Both Mallorca and Menorca offer visitors ample opportunities to enjoy local life. Just go and visit the local markets in towns like Palma and Alcudia in Mallorca.
5. ... you want to explore the local gastronomy?
6. … you like to enjoy nature on your holiday?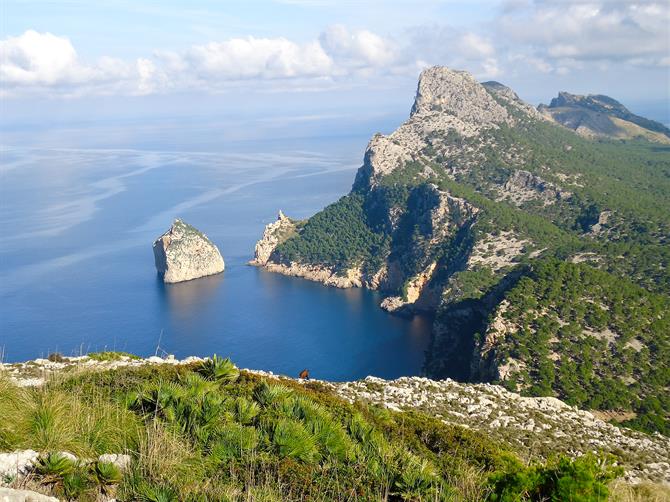 Nearly half of Menorca's beaches are not directly accessible by car, and some only by sea. That explains why many boats and yachts anchor in the beach coves. Another option to get to the beaches is by kayak.
7. … walking or cycling is your favourite activity on holiday?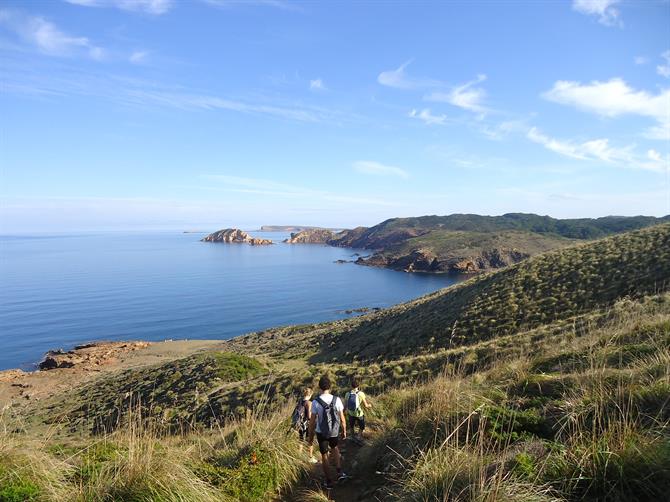 The scenery is very beautiful in the Balearic Islands, especially in spring with numerous flowers. It is a good idea to go there for an active holiday between September and June, when there are fewer travellers but still plenty of days of sun and little rain. Spring and autumn are also great to enjoy the beaches without the crowds.
8. ... You're traveling with children?
Majorca and Menorca offer a lot of beaches and natural spaces for children to play outside and enjoy all kinds of outdoor activities such as horse riding. The towns are not too big or busy either.
9. ... you or your children are a fan of water sports or other outdoor activities?
Cala Galdana in Menorca is another large beach bay known for its excellent facilities, including water sports.
Menorca is perfect for snorkeling and diving. Its warm turquoise water offers numerous caves, colorful fish and even shipwrecks to discover and explore.
10. ... you take an interest in local traditions and celebrations?