There is a lot to explore in the city of Valencia, from culture and gastronomy to the cosmopolitan atmosphere and historic monuments. Along the coast, you have the best beaches and the most relaxing areas. However, for city explorers, you will find in many parks, museums, and cultural attractions, as well as the impressive City of Arts and Sciences in the centre. As the third-largest city in Spain, rent a holiday apartment in Valencia, whether you are looking for a beach holiday, a family break, a party-filled weekend, or a romantic getaway there is something for everyone.
Where to stay in Valencia for families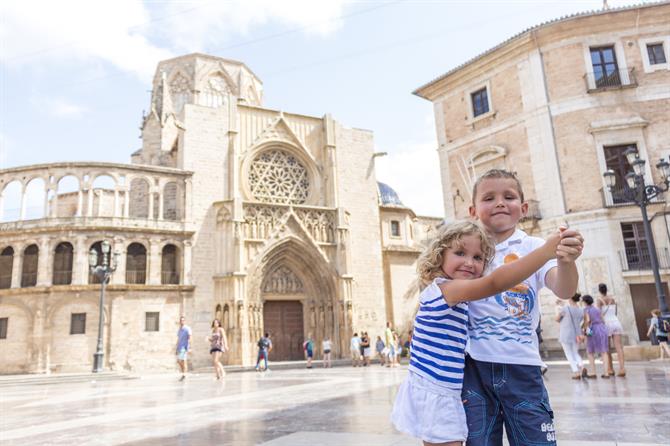 Valencia is without a doubt a destination to explore with your family. The list of activities for holidays with children in Valencia is fun and varied. If you are travelling with children, you should bear in mind that there are quieter areas in Valencia and those closer to the main attractions. Rent an apartment in the City of Arts and Sciences, you will save time getting to this huge and modern complex, a must-visit for the whole family. Your children will enjoy seeing the different marine species in this wonderful aquarium at the Oceanogràfic, as well as the largest dolphinarium in Europe.
Closer to Valencia city centre, you can rent a holiday home in Olivereta near two great attractions. One of them is the Bioparc, where animal lovers will enjoy an unforgettable day at the zoo, located on the former course of the Turia river. If your children love castles, you can surprise them by visiting the fortified towers of Valencia: Torres de Quart and Serranos. These buildings are what is left of the old fortified wall that surrounded the castle.
Ciutat Vella is the historic heart of the city and a perfect area to spend a few days with your family. You have everything in close proximity: restaurants, shops, museums and parks. The emblematic Jardín del Turia (Turia Gardens) crosses through the centre of Valencia. These are the "green lungs" of the city and one of the largest urban parks in Spain; with more than 7 km of land where your children can enjoy playing free of city traffic.
If you stay in Ciutat Vella, you will be one step away from this oasis. Your children will enjoy climbing the rope pyramids, gliding down the slides of Gulliver Park, or playing mini-golf. The Jardín del Turia is also an excellent place for family runs and bike rides. Wherever you decide to stay, a holiday apartment in Valencia is a perfect base for you and your kids to explore the city together.
Where to stay in Valencia near the beach
Valencia has almost 20 km of natural beaches and they are easy to access both by walking and by public transport. Almost all the beaches in Valencia have been awarded the Blue Flag, which guarantees the cleanliness and transparency of its waters, in addition to having different services available. Whatever your preferences are, whether you like a lively urban beach with a great atmosphere, or if you prefer to relax among the dunes of the Valencian wild beaches and disconnect, combine a city break with a beach holiday to Valencia.
Without straying too far from the city centre, find accommodation on Malvarrosa Beach, which together with Playa del Cabanyal - Las Arenas, are the most popular urban beaches and the perfect places to rent a villa near the beach in Valencia. Its long stretches of fine sand are perfect for families, and here you will find many places to get a delicious Valencian paella in the restaurants just a few steps from the beach.
To the south, the sand dunes and the Albufera National Park offer some of the wildest and most idyllic landscapes in Valencia. The beaches of La Garrofera and El Saler are especially spectacular. Rent a holiday home in El Saler to enjoy long stretches of fine white sand and crystal clear waters. This beach is also a popular spot for kitesurfing and windsurfing lovers. If you are looking for a naturist beach in Valencia, parts of this beach are dedicated to this.
Be on the beach in minutes by renting a holiday home in Algirós. Take line 5 on the Metro, as this area is only 2 km from the beach and is a quieter neighbourhood than the bustling districts of downtown Valencia.
Where to stay in Valencia for culture
The City of Arts and Sciences is probably the first image that comes in your mind when thinking of a holiday in Valencia. This modern architectural complex is a must-see for lovers of culture and photography. This venue hosts temporary exhibitions from a number of different artists throughout the year. The area surrounding the city of Arts and Sciences is made up of trees and plants, providing the perfect setting for a picnic.
Valencia is the perfect city for cycling in Spain. It has bike paths through most of the tourist areas, being one of the most popular means of transport to reach the City of Arts and Sciences. Hop on a bike and take your family on a tour of the city at your own pace.
Valencia also conserves a rich heritage from different periods: Romanesque, Gothic, Baroque, Modernist and Avant-Garde. Stay in Valencia's old town (Ciutat Vella), to experience the unique culture of the city, from the nightlife and cuisine to the architecture and atmosphere. Visit La Seu - Valencia's impressive cathedral and one of the city's best examples of gothic architecture. Climb up to the bell tower (El Miguelete). At 61 metres in height, enjoy a panoramic view of the whole city.
Spend a day visiting some of Valencia's Museums and immerse yourself in Valencian art, heritage, culture, history and traditions of the city. Some of the most popular are IVAM - Valencian Institute of Modern Art, The Museum of the Valencia Cathedral, Museo Fallero, The National Museum of Ceramics, and The Museum of Prehistory.
The biggest cultural event in Valencia is the festival of Fallas. In March, each neighbourhood in the city celebrates this festival in their own way. Expect a whole week of bonfires, lights, traditional clothing and processions with Ninots (huge statues made of papier-mache, cardboard, wood, or plaster).
Where to stay in Valencia for a luxury holiday
One of the best areas to stay in Valencia for a luxury holiday is in Ciutat Vella. With marbled squares and pretty cobbled streets, this district is home to iconic monuments, some of the best restaurants, bars and museums in the city.
Visit La Lonja de la Seda (the Silk Exchange) a stunning example of 15th-century Gothic architecture and a UNESCO listed site. Since the Arabs introduced the mulberry trees in the 8th century, the production of silk has been very much at the centre of the city's industry and culture. Find some this special handicraft in traditional shops such as Albaes, Amparo Fabra or Aguas de Marzo. With designs ranging from simple, classic patterns to elaborate floral compositions, as well as many other accessories and sample dresses. Look out the most precious design of all which is hand-made and known as espolin, the perfect luxury souvenir.
If you are looking for a spot of retail therapy, head to, Calle Colón. This street is the most famous shopping area in Valencia and the 5th most expensive street in Spain. Shop for unique pieces from Valencian designers and wander along to Carrer del Poeta Querol and Plaza del Ayuntamiento to find luxury brands from Louis Vuitton to Salvatore Ferragamo.
The district of Ruzafa is ideal for a luxury escape to Valencia. This area has transformed from being a run-down part of town to the city's hub of art and culture with chic cafes and restaurants. One of Spain's most innovative chefs, Ricard Camarena opened up Canalla Bistro in this trendy neighbourhood. The restaurant has been awarded a Michelin Star for its highly creative take on Mediterranean dishes. Spend the day exploring the various art galleries and take coffee breaks in stylish cafeterias.
Where to stay in Valencia for a cheap holiday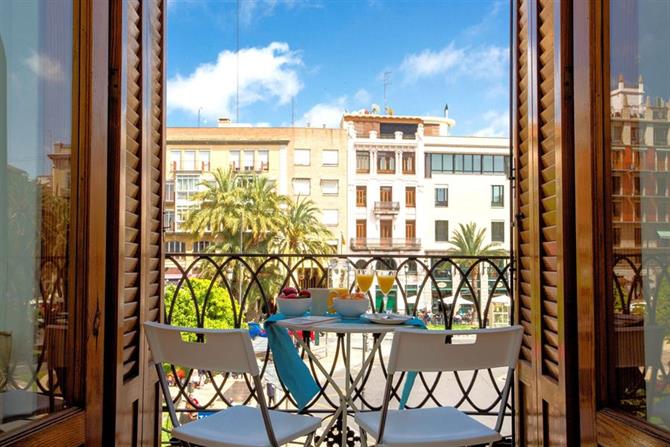 Valencia is a city which offers many opportunities to have a holiday on a smaller budget. Enjoy the city beaches, marvel at the architecture and wander around each unique neighbourhood. Furthermore, many of the museums in Valencia are free to enter such as the Museum of Fine Arts and the Fallas Museum.
One of the cheapest areas to rent an apartment in Valencia is Algirós. This charming neighbourhood is popular with students and is located halfway between the beach of La Malvarrosa and the old town. The area has many restaurants, shops and bars to suit all budgets and is a short distance from Valencia's city beaches.
Another cheaper neighbourhood in Valencia is Benimaclet. Just a 15-minute bus ride from the city centre, this district is also popular with students and families. This quirky part of the city has charming narrow streets, old buildings and street art at every corner. This barrio used to be a separate town and many people still say it's laid-back, village-like atmosphere can still be felt. Rent a holiday apartment in Benimaclet and explore this vibrant neighbourhood, from street markets and lively cafes to pretty squares and family-run shops.
Where to stay in Valencia for gastronomy
Valencia is not only the third-largest city in Spain, after Madrid and Barcelona, ​but also competes gastronomically with these great Spanish cities. The food culture in Valencia is one of the main attractions for thousands of tourists who visit every year. The Ciutat Vella is essential not only to explore the historical past of the city but also to sample a large part of Valencian gastronomy.
The El Carmen neighbourhood is an emblematic place in Valencia, full of restaurants and terraces where you can enjoy rich Valencian gastronomy. You will find restaurants of all kinds and not overly expensive, they offer high-quality dishes. From Mediterranean to modern cuisine, including creperies, pizzerias, tapas bars, sushi restaurants and, of course, restaurants specialised in the best Valencian rice. As expected, there is no better place than Valencia to taste the perfect fideuá and the best Valencian paella. LAVOE Arroz y Mar Restaurant is one of the best rice restaurants in Valencia old town, next to Calle La Paz and Plaza de la Reina.
Just in front of the Cathedral, find the charming Central Market of Valencia - one of the most visited places in the centre of Valencia. Be amazed by its impressive modernist architecture, a unique place to walk around colourful stalls and enjoy some delicious tapas in the market bars with the freshest of ingredients.
The Albufera lagoon guarantees an unforgettable gastronomic experience. Here you will find rice cultivation fields. As a tourist attraction, boat trips through the Albufera can be combined with a delicious dish of paella on board. You will not be able to experience anything more authentic than this.
As paella is the star dish of Valencia, "horchata" is the most delicious and refreshing natural drink with its origins also in the region. Its main ingredient is the tiger nut, which together with water, sugar and other ingredients such as cinnamon and lemon peel, results in this delicious drink that quenches thirst on hot summer days. Local people from Valencia traditionally accompanied horchata with a fartón, which is a typical sweet treat from Valencia. One of the oldest and most traditional "horchaterías" of Valencia is Horchatería Santa Catalina, also located in the neighbourhood of El Carmen which has stood here for two centuries.
For lovers of street food, head to the Ruzafa neighbourhood, where you will find the San Valero Market. With ten different bars, here you can taste everything from traditional to exotic foods. Choose from the fresh products and chefs will cook them in front of you. Here there is something for all tastes; for meat-eaters, veggies and for the health-conscious. The typical custom here is to share a table with people you don't know, strike up an informal conversation and enjoy the relaxed atmosphere.
Where to stay in Valencia for a romantic holiday
Rent a private holiday apartment in Valencia for a romantic getaway with your partner. Stroll through the romantic streets of the old town, Ciutat Vella and Barrio del Carmen. Climb to the top of the bell tower of the Cathedral - El Miguelete - for a wonderful view of Valencia. Walk along the beach, on Playa de la Malvarrosa, El Cabanyal or Las Arenas. Relax, reconnect and enjoy a drink in one of the beach bars on the promenade. If you want to seal your love in Valencia, head to Parque de la Cabecera and attach a padlock with your names to the bridge.
Away from the bustling city centre, catch some spectacular sunsets in the Albufera wetlands during a boat trip, where the waters turn ocher and reddish in colour. Another option is to visit the viewpoint of the Albufera which overlooks this extraordinary landscape. Probably the most romantic place in the whole area of Valencia.
Where to stay in Valencia for nightlife
In the evening you'll find terraces, cocktail bars and nightclubs for all tastes throughout the city. The district of Eixample is one of the most modern places in town, and there you will find the hipster neighbourhood in Valencia, Ruzafa, the area with more bars per square metre in Valencia.
Rent a holiday apartment in Ruzafa if you seek the authentic nightlife in Valencia. Start gently in one of the gastro bars, vegetarian restaurants or modern cuisine restaurants. If you are looking for a lively place to have a drink after dinner in Ruzafa, Olhöps Craft Beer House is a place with a minimalist design and one of the best places for craft beers in Valencia. If you want to take the night further, head to one of Ruzafa's clubs.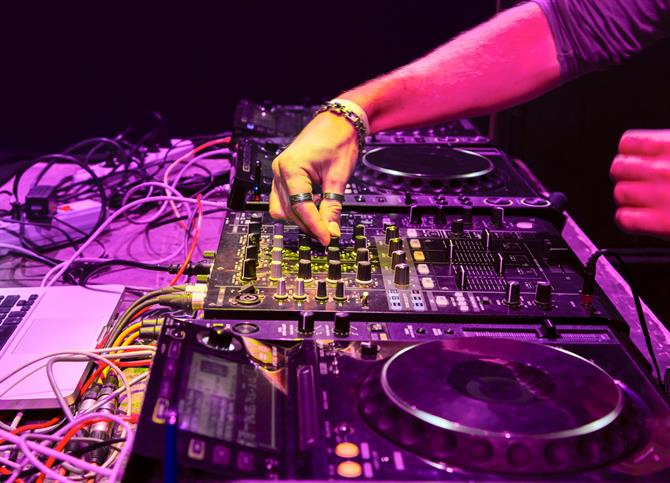 Ciutat Vella offers many opportunities for a fun-filled night out in Valencia. Within the old town, Barrio de El Carmen has restaurants to start your evening with a delicious dinner for example at La Lola, which specialises in Valencian rice or at La Comisaría, with Asian-Mediterranean fusion tapas.
Continue onto the pubs and discos in the cosy neighbourhood of El Carmen. Fox Congo is ideal for a few drinks before going to a club. Alternatively, you can enjoy indie music concerts at Peter Rock Club or Jimmy Jazz Glass Bar, with live jazz in an intimate setting. The most emblematic and traditional pub in El Carmen is Radio City and if you want to give it everything on the dance floor, Whitehouse Valencia plays the best music on Wednesdays, Thursdays, Fridays and Saturdays nights.
In the student neighbourhood of Beniamclet, you can find a great selection of pubs and restaurants. If you are looking for a young environment, this is the best place for you to party in Valencia. The Glop is an alternative pub and a classic in Benimaclet, and at the London Lounge Bar, you will find the best cocktails and gin and tonics.
Summer nights are especially unique at the beach. Marina Beach Club Valencia, very close to Cabañal and La Malvarrosa, is the spot to enjoy the warm nights and listen to music from great DJs.