The city of Valencia is Spain's third-largest city and has several beaches to visit. Mostly undeveloped, traditional and family-friendly they are perfect for a relaxing beach holiday in Valencia.
Valencia is the perfect destination for everyone who enjoys both city life and beach fun. There's no need to sacrifice one for the other when you book a holiday home in Valencia.
1. La Malvarrosa beach
The most popular beach in Valencia that attracts the most visitors is the one that is nearest to the city, La Malvarrosa.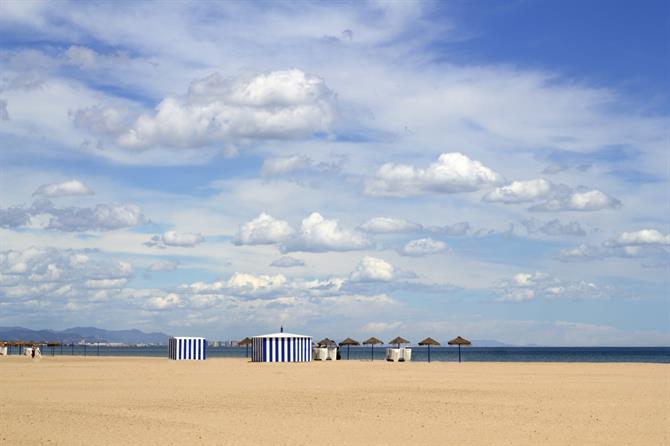 With plenty of space for everyone, this particular Valencian beach has never seen a lot of development, especially if you compare it to other large beaches in the area such as Benidorm. La Malvarrosa remains, clean, safe and popular with the locals. As a result, it doesn't feel touristy and has a pleasant local feel to it.
The beach offers the luxury of space and all the main facilities. There is a large promenade lined with palm trees and plenty of restaurants and bars, serving excellent local dishes like Paella and Fideuà.
La Malvarrosa beach is split into three main areas, which are the Malvarrosa, Las Arenas and Patacona beaches, all of which are clean, family-friendly and a great place to relax.
How to get there
Another plus is that these city beaches are easily accessible by bus or tram, or even by bicycle or on foot. You can stay in a holiday apartment in Valencia city, enjoying time at the beach in between cultural activities or going out in the city.
2. El Saler beach
Slightly further out of Valencia and again, very popular with the locals and those 'in the know,' is the beach of El Saler. This beach is located about 13 kilometres to the south of the city.
The Valencian beach is a windswept natural sandy area almost six kilometres in length and surrounded by wonderful sand dunes, just waiting to be explored.
This beach also has a well-known golf club, the 'Campo de Golf El Saler.' Many famous names from the golfing world have tackled its challenging course.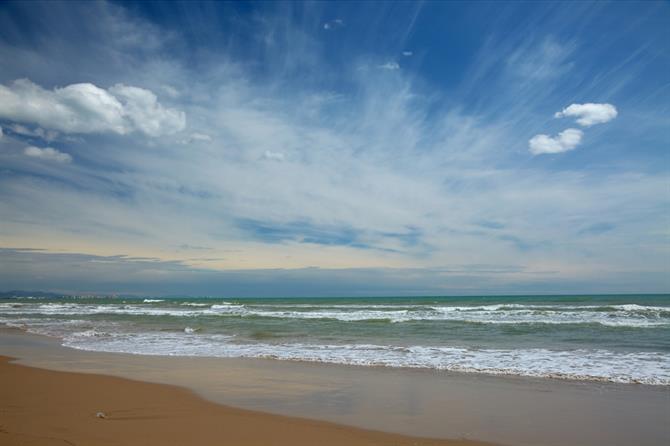 El Saler is adjacent to La Albufera Natural Park, a beautiful area that is recommended to explore via the various boat trips that are available out onto the natural lake. With rice fields and fish, it is also famous for its delicious local produce and among locals is known as one of the best places in Valencia to have Paella.
El Saler is a very peaceful place. Perfect for spotting wildlife and gazing in awe at the crystal clear blue skies above.
How to get there
El Saler is accessed by road only, via the V-30 road and then the CV-500 heading for El Saler. There is also a bus service from the city centre.
3. Port Saplaya beach
This beach is also quiet but has better facilities as many Valencianos actually live here. Port Saplaya is a colourful building complex right next to the beach and just seven kilometres north of Valencia city.
Port Saplaya emerged from an old seaport area which used to be used for the exportation of the famous chufa or tiger nuts that are grown in the area. These little nuts that grow in the fields around the port are made into the traditional drink of Horchata, which you have to try if you visit. Today Port Saplaya is a residential area with a marina.
The beachfront boasts some great places to have a drink, or a cold glass of Horchata, which in English would translate to something like 'Tiger nut milk'.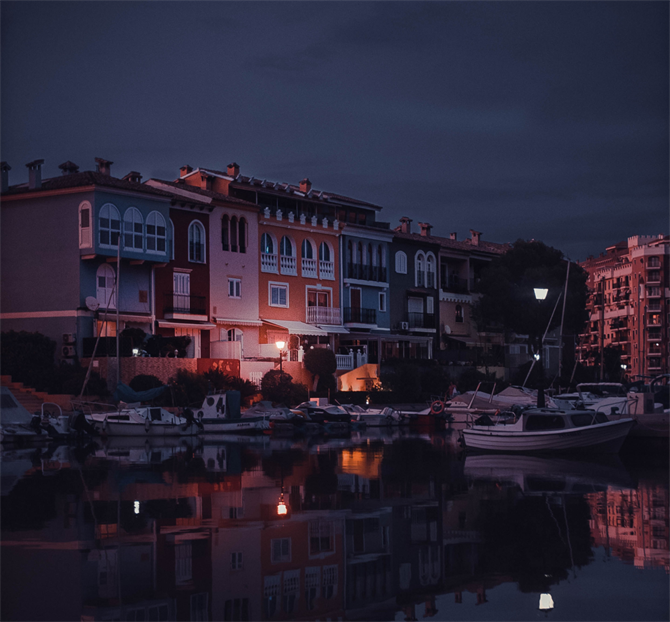 Not only does Port Saplaya have one of the best beaches in Valencia, but there are shops too. Mostly located in the Alcampo shopping centre across from the beach, which also has various cafes and restaurants.
Stay in Port Saplaya for a unique beach holiday in Valencia, find yourself amongst boats moored next to tropical gardens, bars and lovely terraces, this area is often described as Valencia's little Venice.
How to get there
It is easily reached by the dual carriageway V-21, or by Metro tube train towards Rafelbunyol. Get off at the Palmaret stop in the village of Alboraya, and from there you can take a bus or taxi from the station to the Port Saplaya beach area.
4. Sagunto beach
The beach of Sagunto is a bit further out of Valencia city. This Valencian beach has many bars and restaurants along the main road which skirts along the edge of the beach area. It is also disabled-friendly in many parts of the beach, with special ramps and wooden walkways enabling those with wheelchairs and prams etc, to access the golden sands. This beach is perfect for a family holiday to Valencia.
The town itself is also worth a look around, especially in the main square and the Roman remains of which there are many, including the ancient Roman amphitheatre of Sagunto.
Sagunto is an ancient Roman settlement and is divided into the town of Sagunto itself and the beach area, which is quite busy in the summer and stretches for about a mile and a half.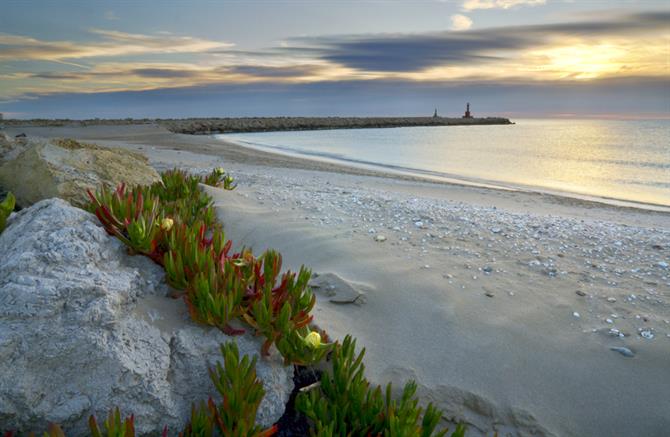 How to get there
Easily reached by the road (V-23) as we as by train from the city centre. It is also around a 20-minute drive from Valencia airport.
5. Cullera, Northern Costa Blanca
Like many Mediterranean towns, Cullera is split into two parts: the town and the beaches, dominated by a small mountain known as the 'Munt de l'Or'.
Upon arrival, you will find a real Spanish town and authentic beaches enjoyed by locals and also Spanish tourists from Madrid. It is rare to see or hear many foreign tourists here. The beaches in Cullera are an ideal getaway for those who want some peace and a variety of beaches to choose from.
You will find many traditional Spanish restaurants in Cullera serving the finest in local cuisine at affordable prices. Rent a holiday home in Cullera, villa or apartment for a minimum of one week, so you can fully relax into the chilled lifestyle here.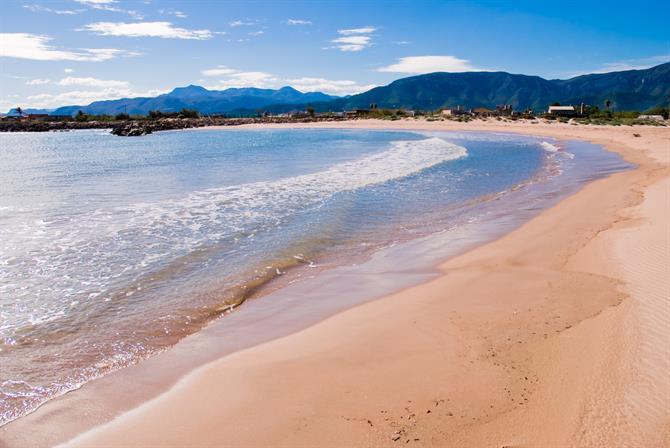 Visit the San Lorenzo lagoon, which is located at the very edge of the Albufera Natural Park mentioned earlier. You can also go and see the Santa Ana tower which looks out across the beach and the ancient and mysterious Cave of Dragut, once the home of pirates!
How to get there
If you are not staying in Cullera itself, you can easily get here from Valencia city. By car or bus, the journey is 45 minutes and the train only takes 35 minutes.
The takeaway...
Some of Spain's best beaches are in Valencia city and its surroundings. All of these beaches are easily accessible from the city centre and there is a beach for every taste. Holidays to Valencia are unique in that they provide the perfect mix of a cultural escape and a beach break. Which one will you visit first?
Suggested reading for you: