So you have visited all the must-see parts of Granada… the Arab, Jewish, and Gypsy quarters and el Centro. You've spent a day at the magnificent Alhambra, of course! Make sure it doesn't stop there - Granada is a fantastic base to rent a holiday home and explore further afield. Consider day trips just a stone's throw from the city. Some are available as organized coach trips or are accessible by public transport, but hiring a car allows you the opportunity to experience the freedom of being in control of your own itinerary.
Here are some ideas that might entice you onto the road to somewhere unforgettable.
Sierra Nevada
The mountain range of Sierra Nevada lies southeast of Granada and is a big part of life in the province. Pradollano is 31km from the city and is the main leisure location, where skiing, snowboarding, and sledding are all popular activities during the winter months.
When the snow isn't blanketing the 110km of pistes the Sierra Nevada is still a great day trip from Granada for guided walks, hiking and cycling- the stunning landscape and flora and fauna won't fail to impress. Wild cats, wild boar, foxes, badgers, Spanish Ibex, and raptors are just some of the wildlife that inhabit the mountain, as well as over 2000 species of plant life.
On the north face of the Sierra Nevada lies one of the less-traveled landscapes, encompassing the desert region of Gorafe and other ancient gems that include an area of troglodyte caves in Guadix. This cave-dwelling neighborhood looks like a set on a Star Wars film and has the largest population of cave dwellers in Spain.
On the south slopes of the Sierra Nevada lie the white-washed villages of Las Alpujarras. The rugged, natural scenery of enclosed valleys and steep gorges are home to a scattering of villages, one of which is Trevélez, renowned for being one of the highest villages in Spain and also for its famous ham. There's also Pampaneira which is often voted as the prettiest village in Las Alpujarras.
Dipping into the villages throughout Las Alpujarras is an adventurous day trip from Granada which will take you on beautiful winding roads with a view at every turn.
Granada is the perfect base to explore more of the white-washed villages, which lie outside the Sierra Nevada- the Pueblos Blancos of Andalusia. Each of our top 3 below offer something to make your day trip around Granada really special.
The Pueblos Blancos - White-whitewashed villages of Andalusia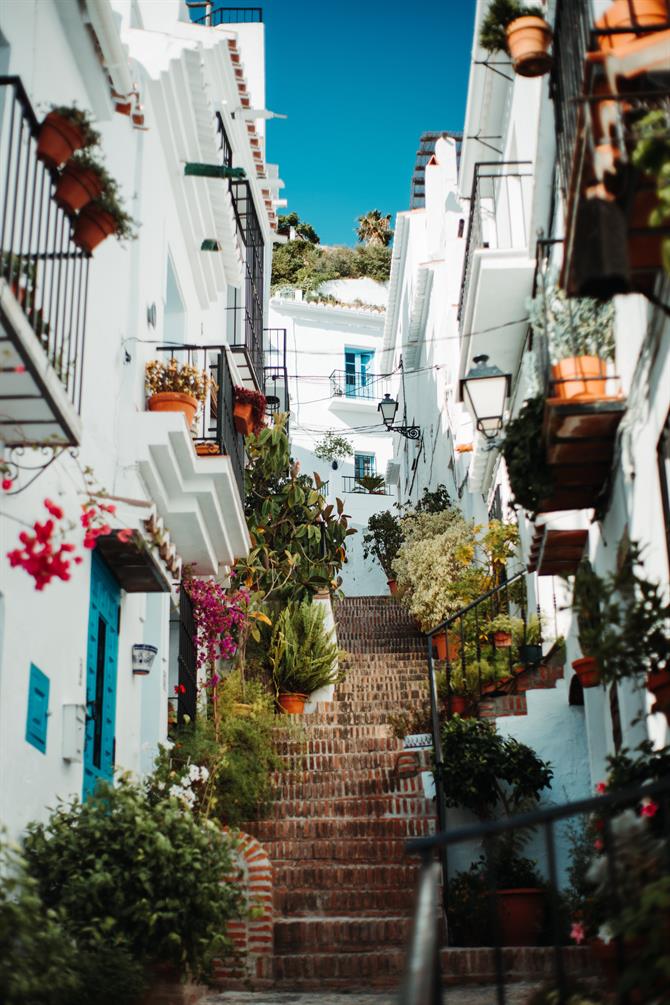 The Pueblos Blancos are unique to this region and your trip to Granada wouldn't be complete without visiting at least one of them. They are scattered throughout the region and some are more appealing than others.
National Geographic voted Montefrío in the top ten towns in the world with the best views. It is one of those day trips from Granada that will inspire nature lovers and those looking for a relaxing escape. The town's biggest asset is its many viewing points from which to enjoy these award-winning vistas. The National Geographic view can be found on the outskirts of the town on Calle Tocón, about a 15-minute walk from the center of town.
Numerous churches dominate the architecture of Montefrío, including "the round church" said to be inspired by the Pantheon in Rome. This is the most photographed church in Montefrío. Now no longer used for worship, it sits alongside the castle on the town's highest point- the rock that juts out above the town. For those who can't get enough of the views of Montefrío, it is possible to climb the 111- stepped spiral staircase of the church's bell tower to surround yourself with 360-degrees of the town and the landscape.
Another lovely experience is to walk to the less well-known viewing point of Las Peñas. There are some wonderful views to take in from here within a lovely location, edging the mountain that includes a cave house and a refreshing fountain. If you like hiking, there are some lovely walks from Montefrío which take you to waterfalls, natural pools, and olive groves.
The picturesque white-washed village of Mijas Pueblo lies in the hills of the Sierra de Mijas. It is a fittingly beautiful backdrop for a village that has held on to its olde-worlde charm but has also embraced the modern traveler. It is one of the excursions from Granada that is really worth traveling that little bit further for.
Narrow streets open up to plazas, or to breathtaking views of the Mediterranean coastline below. A lovely way to experience the village is to pre-book a guided tour in an electric tuk-tuk or why not try the more traditional mode of transport here, of donkey taxi or horse and carriage?
On Wednesday and Saturday mornings, the main Plaza holds a small artisan market and an atmospheric open-air, free flamenco show.
Cafes, restaurants, patisseries, arts and crafts shops abound here. Museums galore to choose from too, including the mind-boggling Miniature Museum and the Wine Museum with the added bonus of a wine-tasting and tapa experience. And if all that isn't enough, there is a chocolate factory- need I say more?!
The best advice when visiting Mijas Pueblo is to explore. You'll be sure to continually come across something that you would never have wanted to miss!
Frigiliana is an easy day trip from Granada. Like so many of the white-washed villages, it has won awards for its beauty and it is clear to see why when you visit. It has a laid-back feel and if you are looking to get away from the tourist atmosphere then this could be right up your street. Smaller than Mijas Pueblo, it is still well worth a visit- even it is for a morning stop-off before traveling to the coast. A selection of restaurants and arts and crafts stores is enough to keep you busy for half a day unless of course, you decide to linger over the views and lunch!
Nature offerings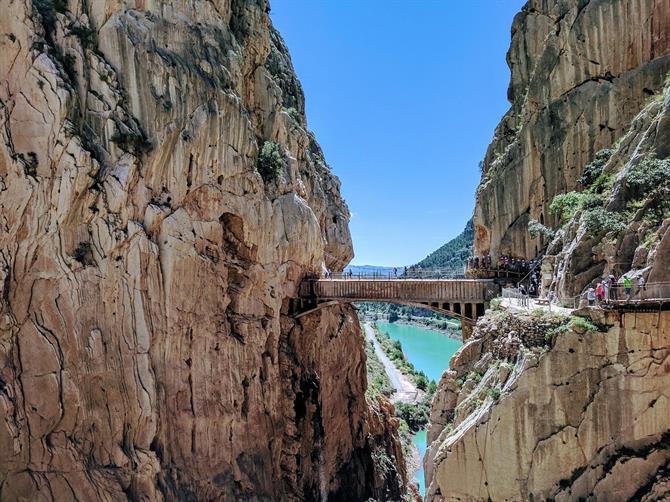 El Torcal de Antequera is an area of natural beauty with the most unusual rock formations that resemble a giant's playground. At the car park, there is a visitor's center, gift shop, and café and from there you can choose from 3 circular hiking routes to take you into the heart of the limestone rock features. Be sure to wear sensible walking shoes as some of the routes require a scramble over some, often slippy, rocks. And don't forget to spend time looking up too. Frequently, on the top of the balanced discs of limestone, wild Spanish Ibex mountain goat stand as centinels, surveying their land, adeptly demonstrating how to nimbly traverse the seemingly precarious terrain. If you don't feel up to the hikes, it is still a lovely day out visiting the café and then walking across to the viewing point for some spectacular views!
Another way to experience the beauty on offer in Andalusia is to pre-book an excursion from Granada to the Caminito del Rey. It is a thrilling if sometimes hair-raising 7.7km walk on a three feet wide walkway, pinned into the rocks, suspended 300 feet above the river flowing in the gorge below. The current walkway was renovated and completed in 2015, replacing the original 1901 wooden trail, which can still be seen in parts, below. The views will take your breath away- that is, if you've got any air left after hyperventilating! Book in advance and be sure to check out the local town of El Chorro and the beautiful reservoirs while you're there.
Iznájar lake will be a surprise day trip from Granada. Traveling inland you wouldn't normally expect to come across golden sands, complete with beach umbrellas and beach cafes! But that's what you'll experience on a relaxing day out at the largest man-made lake in Andalusia, stretching 32km into the distance. Valdearenas Beach is the perfect spot to enjoy what the lake offers. Swimming, canoeing, sailing, and other water sports are allowed here. Boats can be hired and messing about on the water without the waves is an enjoyable way to spend the day. If at all possible, avoid the weekends in the Summer- midweek leaves you plenty of room to find a perfect spot for your beach towel.
It is worth considering stopping off at Iznájar village for great views of the lake and to enjoy the local cuisine in a traditional Pueblo Blanco. A perfect two-for-one day trip near Granada.
Beach town excursions from Granada
Salobreña, Almuñecar, and Nerja provide a gorgeous day out by the sea. Any of these towns could count as one of the best day trips from Granada. Salobreña and its beaches on the Costa Tropical is a popular choice- it is an easy 50-minute drive. Paddleboard, kayaking, windsurfing, scuba diving, and snorkeling are all available here. The long promenade is great for a gentle stroll or cycling. There is a huge selection of bars and restaurants to choose from, along with shops and boutiques.
Almuñecar is a beautiful coastal village on Granada's Costa. With a history that can be traced back to the 9th century. It is a busy seaside location and with all the amenities you will need to make your excursion an enjoyable one. If you are looking for a relaxing day soaking up the Sun on the beach, it will be a breeze with 19km of beachfront to enjoy.
Nerja borders the Granada Tropical coastline but actually lies on the northern tip of Málaga's Costa del Sol. Once upon a time it was a fishing village and is still a town that, to its credit, has resisted over-development. Some of the best beaches in the area, stunning views from the Bálcon de Europa and some delicious food and drink make Nerja a popular day trip from Granada. An added bonus is that nearby you can book a visit to the caves of Nerja- a series of caverns, filled with stalactites and stalagmites, stretching for almost 5miles and home to the world's largest column.
Nearby cities…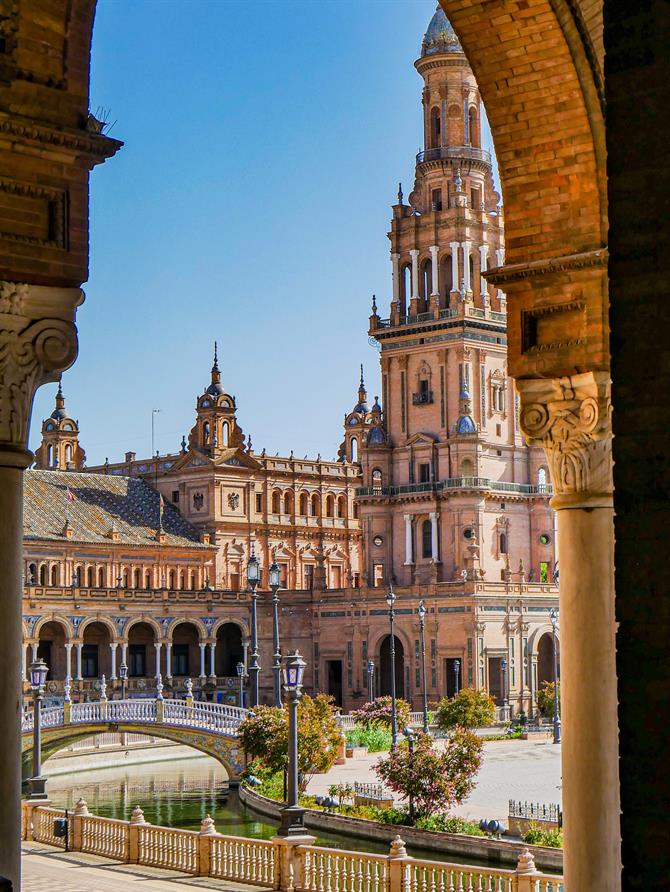 Málaga is one of those cities that you might not initially think of as a tourist destination, but it is definitely on our list of best day trips from Granada. It would be a real pity if you missed out on what this lively city has to offer. It is the capital of Málaga province and sits on the coast within easy access from Granada. What is appealing about Málaga is that it is the perfect excursion to do a bit of historical site-seeing, shopping, eating and drinking, and sunbathing on the beach all on the same day!
There's an atmospheric old town and a marina to enjoy. There's a castle built by the Moors with great views of Málaga and the sea. There's also an impressive cathedral that will leave you taken back at its grandeur and detailed Renaissance architecture. Also, as the city is the birthplace of Picasso, there is naturally a museum dedicated to the artist.
Málaga never disappoints! You'll be spoilt for choice for places to eat and drink but maybe the marina with views of the luxury yachts…? Or the old town in a traditional tapas bar or taverna…? Or the beach in a chiringuito…? (bidding for your fish dinner at 'El Tintero' is always a favorite). The choice is yours and the great thing about Málaga is everything is within easy walking distance.
Seville, the capital of Andalusia is steeped in history and beauty. Another great day trip from Granada, but it is worth considering that it takes about 2 hours 45 minutes to get there. However, there's such a lot to greet you on your arrival.
Be sure to visit the Alcázar Palace, a blend of Moor and Christian architecture, which still accommodates the Spanish Royal family when they visit Seville. It is a short walk to the Cathedral from here, recorded as the largest Gothic cathedral in the world. From here, explore the narrow streets of Santa Cruz, previously known as the Jewish quarter, and enjoy people-watching in one of the traditional tapas bars and restaurants. And then there is the area of Triana, the Gypsy quarter with a history entrenched in bullfighting and flamenco. If your trip takes you into the evening and early hours, head for the Alameda de Hércules where you can wine and dine and soak up the city as it comes to life with live music, song, and dance. After all, in a city that doesn't seem to sleep, why should you?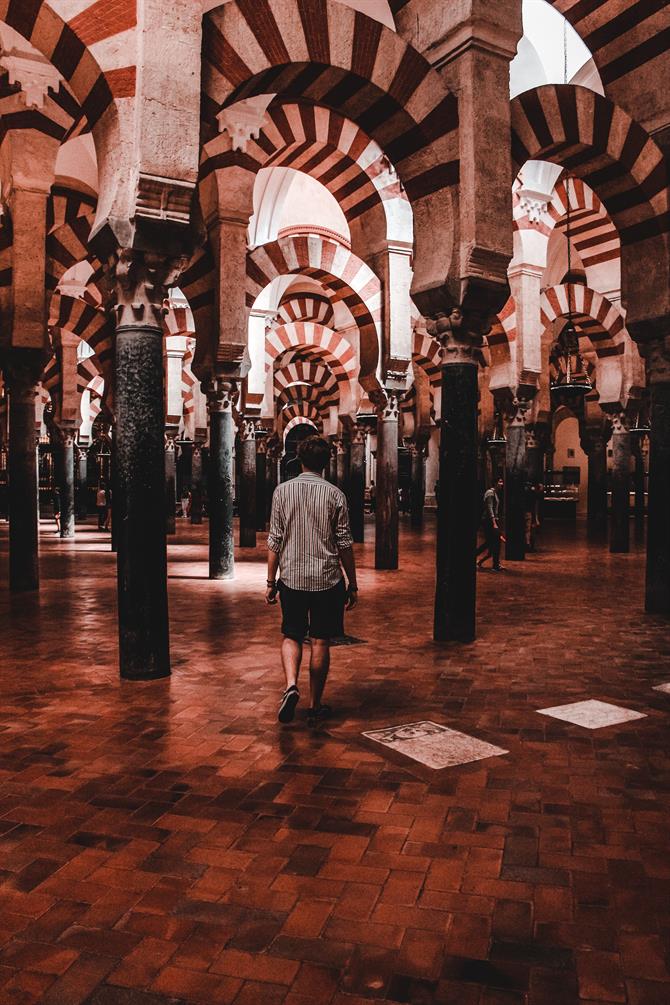 Córdaba is probably most famous for its Mezquita, completed in 987 AD. Built as a mosque and then transformed into a cathedral, today it is open to the public as a historical and architectural work of art. The main hall is supported by over 850 double-arched columns, which give a sense of how grand this building is.
Directly opposite the Mezquita is the river Guadalquivir whose banks are connected by a 10th-century Roman bridge. Walking over it provides you with a spectacular view of the Mezquita. A little further down, is the Alcázar, home to beautiful gardens, and panoramic views of Córdoba from its towers.
In the San Basilio area, you can explore the patios festooned with pots of plants and flowers and if you are fortunate to be visiting in May, Córdoba's residents open up their patios for the Feria de Los Patios.
A day trip wouldn't be complete without losing yourself in the Jewish quarter and to top it off, if you are in the mood for a gastronomic delight then head for the Mercado Victoria where you'll be spoilt for choice with over 30 stalls selling delicious cuisine and beverages, including the local Montilla-Moriles wine, produced exclusively in Córdoba.
With so much to see and do in and around Granada you may want to include some pampering, so why not book a day trip from Granada to one of its many geothermal spas? Thanks to the natural geology of this landscape these oases are scattered throughout the area and are well documented for having health benefits. Alicún de las Torres is one such place where people have been enjoying its thermal waters since Roman times. A day trip will leave you feeling chilled and raring to explore more of what Granada has in store for you.
The takeaway...
Staying in Granada makes perfect sense. It's the ideal holiday destination for those who want to see Spain at its best and explore the intriguing land of Andalusia.
Suggested reading for you