Barcelona's Park Güell is a public park filled with gardens and unique architectural features. It is located in the upper part of Barcelona on the southern slope of Mount Carmelo, which is part of the Sierra de Collserola mountain range.
The park was designed by famous Catalan architect Antoni Gaudí, who is Catalonia's greatest representation of modernism. Gaudí is also the architect of many other famous works in the city including the much-visited Sagrada Familia and Casa Batlló. Park Güell was commissioned by wealthy entrepreneur Eusebi Güell, who gives the park its name.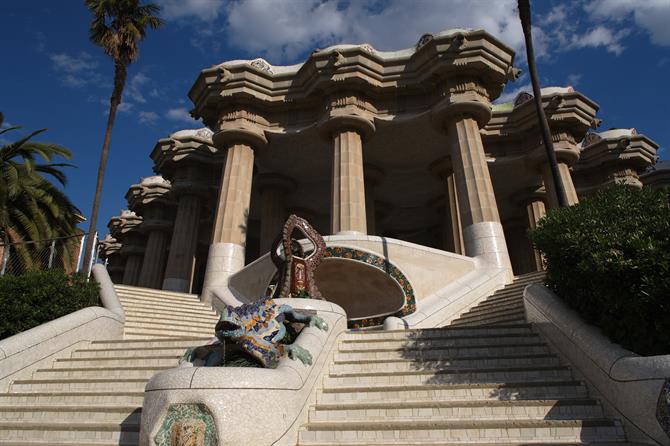 © Copyright Turismo de España (TURESPAÑA)
Let's take a tour of Park Güell. You know it will be breathtaking - it's on the UNESCO World Heritage Centre list of Works of Antoni Gaudí.
History of Park Güell
Park Güell is named after Eusebi Güell, a wealthy Catalonian entrepreneur and influential member the Barcelona bourgeoisie. A close friend of Gaudí, he commissioned several of his works including Palau Güell, Bodegas Güell, Pabellones de la Finca Güell and the Colonia Güell crypt.
Park Güell's story begins in 1899 when Eusebi Güell bought two plots of land from Montaña Pelada, known today as today Monte Carmelo. His idea was to have Gaudí convert the land into a garden city, inspired by English gardens (so much so that the park's official name even took after English "park".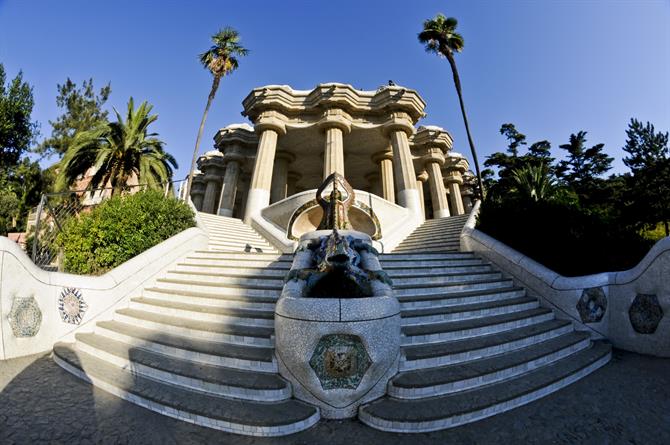 © Copyright Turismo de España (TURESPAÑA)
Despite Güell and Gaudí's dedication to the project, it was a commercial failure. It was thought that it would be possible to develop the area into a high-class residential neighbourhood with magnificent views overlooking Barcelona, but the high pricing and location a little outside of the city centre made it that only two plots of land were sold at the time. The current Casa-Museo Gaudí (Gaudí Museum House), where the architect lived between 1906 and 1925, was originally built to be a model home.
Work on Park Güell began in November 1900. During the first three years, Gaudí devoted himself to building the walls that surround the park, the entrance pavilion, a shelter for cars, the main entrance stairs, roads, viaducts, and sewers. Between 1904 and 1906 Gaudí built what is now the Gaudí Museum House, which was to be a model home. Around this time, Eusebi Güell realized that his plan for an entire residential neighbourhood would not be successful. However, work continued on, in particular the construction of the common areas of the residential park. In 1914, the beginning of the First World War put an end to Gaudí's work.
© Copyright Turismo de España (TURESPAÑA)
After Eusebi Güell's death in 1918, his heirs decided to sell the land to the Barcelona city hall be be turned into a public park, opening in 1926, the year of Gaudí's death. Since then, Park Güell has been one of the most important points of interest in the city of Barcelona where many shows and public events take place. It has also become a must-visit tourist attraction.
In 1969, Park Güell was named a Historic and Artistic Monument of National Character. In 1984, the park was added to the list of Works of Antoni Gaudí recognized by the UNESCO World Heritage Centre.
Visiting Park Güell
The 17.18-hectare park has many incredible architectural details that clearly show Gaudí's efforts to make this space unique. Look to the wavy shapes reminiscent of flowing lava, the covered walkways with columns shaped like trees, the icicle and geometric shapes, and the use of ceramic and coloured glass, to name a few characteristics that make this park like no other.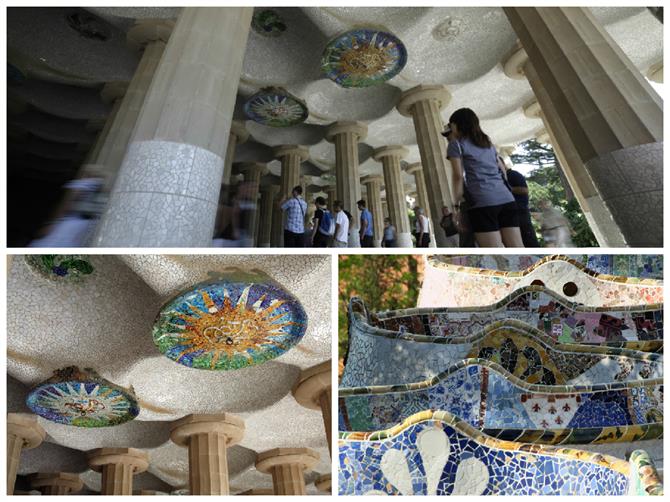 © Copyright Turismo de España (TURESPAÑA)
In addition, the park's location on the edge of central Barcelona and its high altitude strongly contrasts with the noise and frenzy of the Catalan capital. It is a place of peace and tranquillity.
Gaudí also sought to integrate the park into the natural surroundings; he built stone columns in the real-life shape and size of tree trunks, as well as created icicle-like formations and natural caves.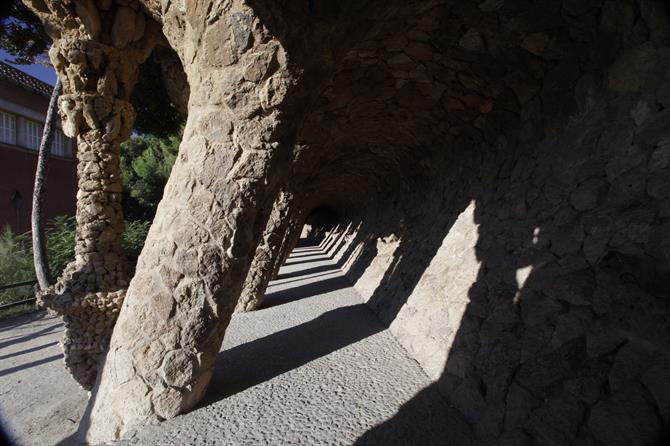 © Copyright Turismo de España (TURESPAÑA)
Park Güell also has a children's playground, fountains, a bar, a library, museum, bathrooms, and a dog park.
Practical information
How to get there
Address: C/ Olot, 08024 Barcelona

Metro: Line L3, Lesseps station, then follow the tourist signs
Bus: Nº 24 - 31 - 32 - H6 - 92 - Bus del Barri 112
Tourist Bus: blue line
Car: Next to Park Güell, there is a bus parking (C/ del Carmen, 20), as well as several parking spaces for cars nearby
Opening hours
The park is open daily from 8:00-21:00
Rates
While entrance to the park is free, you must pay to enter the museum and other main buildings
Rates: There are two rates depending on whether you buy your ticket on-site (€ 8) or online (€ 7). For more information about rates, please visit the official Park Güell website.
If you buy your entry ticket at the park's ticket office or from the machines located in the park or the Lesseps/Vallcarca metro stations (L3), availability is subject to the number of visitors (up to 400 visitors are allowed every half hour)
It is recommended that you buy your tickets online
Map - where is Barcelona's Park Güell?
Additional information
Here are other travel articles about Barcelona that could interest you and help you prepare for your stay in this beautiful city.
- Cheap Eats in Barcelona: tips for eating cheaply in Barcelona
- 48 Hours in Barcelona: what to see and do in Barcelona over a weekend
- The Ultimate Gaudí Guide: a guide to known and unknown Gaudí buildings in Barcelona
- Barcelona city guide: Gràcia, an independent 'city': visiting Barcelona's Gràcia district
- Barcelona's Palo Alto Market caught on Instagram: things to do at Barcelona's hipster market
- BYOB: Bring your own bike (into Barcelona's bike-friendly bars): a guide to bike-friendsly bars, cafés and restaurants in Barcelona
- The genius of Gaudí: Casa Batlló, Barcelona: a Barcelona must-visit, Gaudí's Casa Batlló