Barcelona is an amazing city. It is perfect for just strolling around and having lunch and dinner at whatever restaurant you pass by. However, we understand when you are coming with children that you would like be a little bit prepared and have a list with restaurants that do not only offer good food, but are also child friendly.
As long as you are not going to a star restaurant, almost any restaurant in Barcelona is fine for going with children. However, we have made a list of 5 restaurants that might make the experience for you and the children a bit nicer, since they have a special fun factor!
1. Bun Bo Vietnam, in Barrio Gótico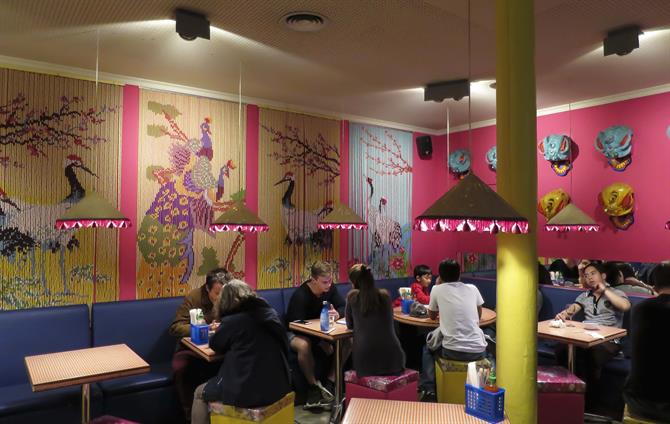 This place has a really nice decoration, full of colour and fantasy, with paper lanterns, masks, and playmobil figures. This makes it a lovely restaurant and children will love it. Besides the plainer options like rice with chicken, they also offer fries for example. You can find their whole menu on the website, so you can take a look in advance if you would like (http://www.bunbovietnam.com). The food is really tasty and it is not expensive at all. For example a
day menu costs 10 euro
, which includes several courses. This is one of the reasons why this restaurant was also included in our
top 10 of budget restaurants in Barcelona.
Its location couldn't be much more centric, and it has a great, colourful terrace next to a cosy square. You will also find a wall full of pictures that are showing "happy moments", and these pictures together have the shape of a kiss. It's located close to the cathedral, in the beautiful Gothic neighbourhood (Calle Sagristans, 3).
2. Bar del Convent, in El Born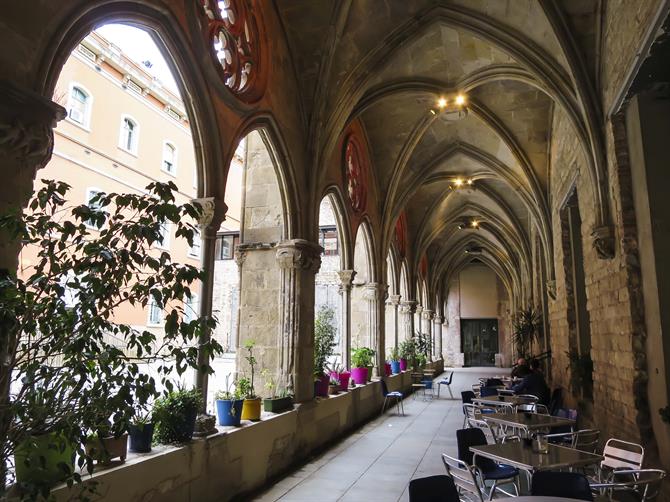 A bar-restaurant in a beautiful cloister? We think that only because of that it is already worth a visit! Bar del Convent (Plaça de la Acadèmia), located in the fashionable neighbourhood El Born is one of a kind with its high Gothic ceilings. It is very spacious, bright and pleasantly cool. There is a lot of space, also for buggies, and there is a little play corner with books and toys for the children. Also outside, in the big patio, it is easy to keep an eye on your playing children while you enjoy a nice cup of coffee. You can go here at any moment, for breakfast, brunch, lunch, or dinner! (You can also take a look at their website: http://conventagusti.com).
Moreover, Bar Convent is located very close to the chocolate museum or Mueseu de la Xocolata. Just in case you would like to make a sweet trip with your children. (Comerç 36; you will find a map below). And besides this, there are many other options and activities in Barcelona that are nice to do with children, about which you can read in this guide.
3. A real chocolatería: a place that seems to be created for children!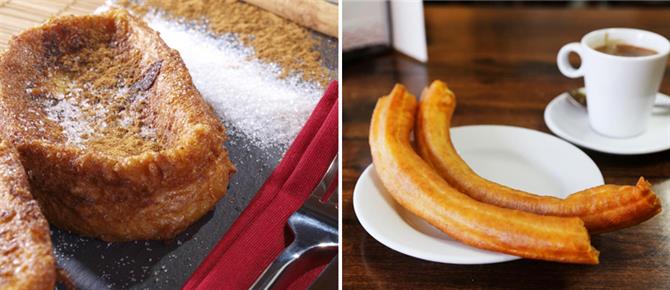 When you are visiting with children, you are actually obliged to visit one of the typical Spanish chocolaterías:
One of our main recommendations is Chocolatería La Nena. They have delicious melindros (long fingers) that you can dip in tasty hot chocolate. This colourful and playful bar is a classic, not only for tourists, but especially for the locals of the Gràcia neighbourhood (Calle Ramón Cajal, 36). If you decide to go, just make sure that you are going on time, to avoid the big crowd. You should keep this in mind especially in winter, when everybody wants to have some hot chocolate (website: http://chocolaterialanena.com).
For more chocolate and sweet stuff you can also go to the more centrally located Gothic neighbourhood where you will find the Valor chocolatería, which is part of a famous chain. The shop in Barcelona is located on Calle Tapineria, number 10 (website: http://chocolateriasvarlor.es).
A third recommendation is Granja M. Viader (which was founded in 1870) which is a classic and has a great reputation. Besides the great quality of all the good and sweet stuff, the authenticity of the interior adds extra value to the experience of going there! It is located on Carrer d'en Xuclà 6 (website: http://granjaviader.cat.mialias.net).
4. Doble Zeroo, in El Born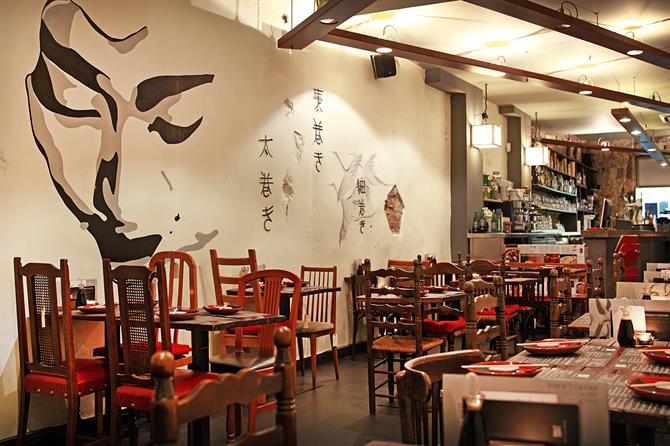 Do you like sushi or other Japanese food, but you are not sure if you can find a nice Japanese place for children in Barcelona? Then we have found the perfect solution for you! At Doble Zeroo (website: http://doblezeroo.com) in the neighbourhood El Born, not far from the Ciutadella Park on Carrer de Jaume Giralt 53, children are more than welcome.
This highly appreciated restaurant offers two special kids menus (for no more than 6.5 euro) with for example rice, vegetables, breaded chicken, a drink and a dessert included in the price, just like in the adult menu. Besides that there is "Kodomoo"(which means child in Japanese), this is a play corner for children and on Saturdays, Sundays and festive days free activities with supervision are offered between 13h and 16h. This gives you, the parents, the opportunity to have a nice long lunch and talk for a while. And trust us, having lunch there is quite an experience with a great mix of Japanese dishes en exotic tapas on the menu.
5. Mika Milan and Ideal, in Poblenou

Poblenouis a neighbourhood on the rise in Barcelona. It even has its own Rambla, banded by trees: it is cosy, with a friendly atmosphere and there are many bars and restaurants. It is called the Rambla de Poblenou, and we could say it is a bit more authentic without the crowd and robbers of the more famous Rambla in the centre of Barcelona. Besides this, there are family friendly restaurants.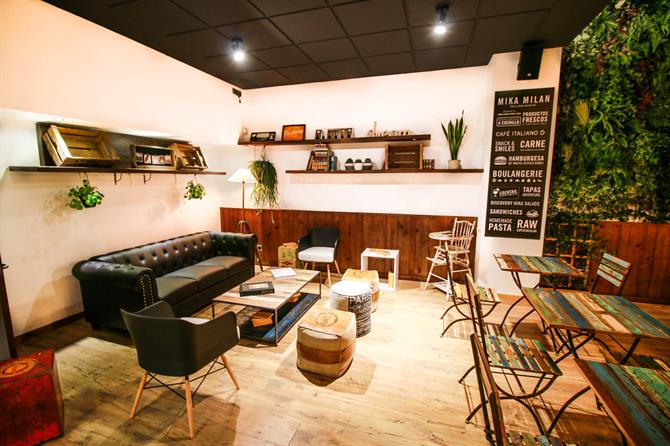 When you are visiting with children Mika Milan is a great choice (Rambla de Poblenou 127 and their website: http://mika-milan.com). Because, let's be real, which kid does not like a nice plate of pasta? And we are talking about real Italian food here, healthy and homemade. Also after lunch Mika Milan is opened for some coffee and cake. The interior of the restaurant is really warm and nice, but also has enough space for buggies and there is a nice room with a big sofa where children like to stay. On the side of the Rambla the restaurant also has a terrace. And this is something completely different than the terraces on the famous, central Rambla where you pay too much for too little quality.
Another child- and dog friendly restaurant that you can find in Poblenou is called Ideal (located on the Carrer de Morià Aguiló 99). This restaurant has a cosy interior design with lovely play corners, wooden chairs and benches with very comfortable pillows, homemade pies, and much more. Also if you are vegetarian, you will find something you love there. You can already have a day menu for only 8 euro! Besides the great price and the cute design, it is also easy accessible with buggies, there is a place to change your baby in the restroom, and there is a pleasant, cool patio where you will feel fresh, even in summer.
6. Els Pollos de Lull, close to the Ciutadella Park and close to the Sagrada Familia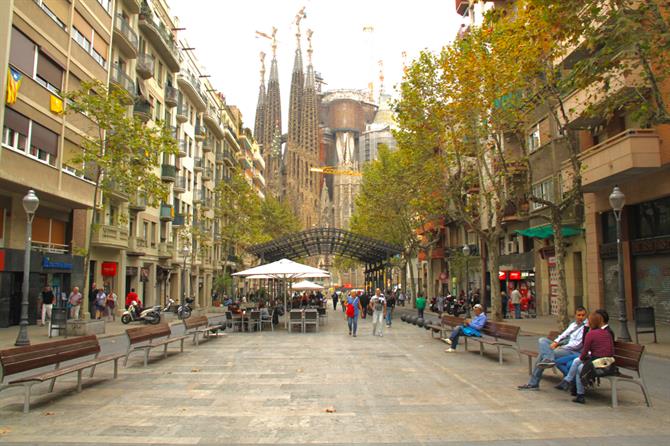 What could be nicer than having a roast chicken ("pollo") with potatoes with the whole family? Exactly; nothing! Especially on Sundays there are many families coming to have some chicken. The restaurant (website: http://elspollos.com) offers a small table in a corner where children can play, read, or colour. However there is not too much room for buggies between the tables, so if you can, try to fold your buggy.
There are two "Els Pollos de Lull"restaurants in Barcelona. One is close to the Ciutadella Park (Carrer de Ramon Turró 13) and the other one is close to Sagrada Familia (Carrer de Nàpols 272). The last one might be the better option, since you can also show your children one of the most amazing churches of this world!
In our Barcelona article you can read more about the Sagrada Familia and other important attractions that you shouldn't miss on your trip to this beautiful city.
Map: Nice places to eat in Barcelona, also for children