Nestled in the centre of Barcelona, Eixample Esquerra is a middle-class neighbourhood of beautiful modernist buildings, buzzing coffeeshops and restaurants, and a few notable landmarks. It's bordered by Montjuic,
Gracia,
and Eixample Dreta, and Ciutat Vella.
The Left Side, but not the Less Side
If Barcelona's Eixample Dreta area is the glamorous, more exuberent one, Eixample Esquerra is the more residential and low-key sister of the Eixample area.
But that doesn't stop it from shining in alternative ways. It's the also called the "Gaixample" for its large and active gay community in the lower mid-side area.
Eixample is a neighbourhood system is a grid, so you won't get lost like in the maze-like centre of El Born or El Gótic. It's dotted with trendy and gorgeous shops and restaurants that you'll be peeking in with curiosity. If you're walking around this Eixample Esquerra, be sure to bring a map. While its straightforward grid system works wonderfully,
they can start to look the same i
f you're not paying attention to the fine details of the architecture or cool shops!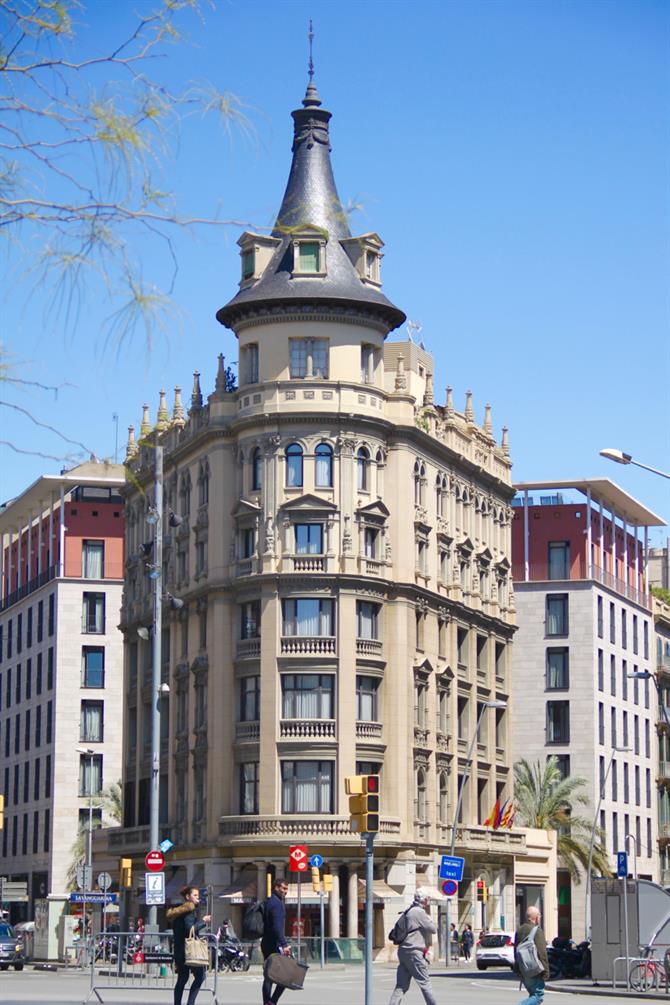 A liberal spirit
Eixample is also known as Gaixample, (pronounced "gay-sham-pluh"). Get it? It has a large homosexual community, which started in the 1980s. Being a tolerant and diverse city, Barcelonans don't make a big whoop about it. It's not surprising to see two men casually holding hands on the street without anyone raising an eyebrow.
While it doesn't necessarily exclude non-homosexuals, there's a small area that has several gay-friendly restaurants, bars, and shops. Most of it is open at nighttime though, so you won't really see any activity during the day. That seems to be changing, though, as a few gay bars have opened their doors in daytime hours.
Mercat de Sant Antoni
This market was designed by Antoni Rovira i Trias in 1882. In neoclassical style, this iron and metal building was the first market that was built after the original city walls were torn down. You can find locals browsing clothing vendors and doing their weekly shopping at the heart of Eixample Esquerra neighbourhood.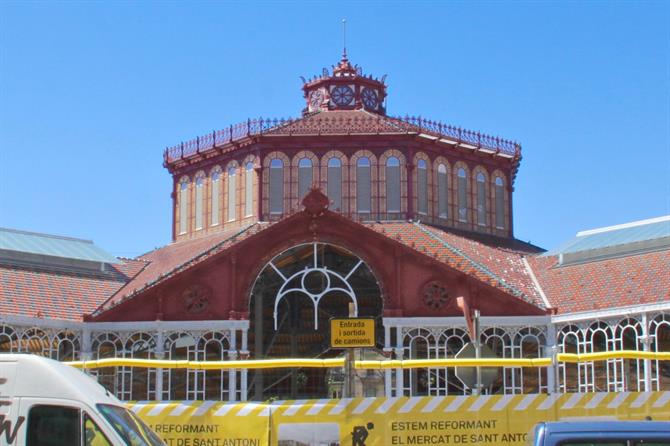 The large structure sells goods on the inside perimeter of the market, such as shoes, fabrics, clothing and homeware. The inside is where you can find the food vendors - colourful fruits and vegetables stands, butchers, and fishmongers. The market is currently being refurbished.
Sunday Collector's market in Sant Antoni
On Sunday mornings until about 1pm, there's a collectors' market near the main Mercat de Sant Antoni that goes full force with visitors. Vendors sell antique and new books, stamps, video games, comics, DVDs, videocassettes, and movie posters. Traders, young and old, also gather outside to trade their collectible cards that's hot on the market. Most people just browse, however, but it tends to get quite crowded towards noontime.
La Carboneria
Near the Mercat de Sant Antoni is La Carboneria likes an "okupa" house. Okupas are people who move into abandoned buildings and create a home for themselves. They've been living in the dilapidated but historic building since 2008, and they feel it's their right to housing since home prices have skyrocketed.
The Carboneria building since painted the facade twice -- first an intricate tree and now a colourful hot-air balloon. It's not hard to miss since the building takes up a whole chamfered street corner. Police tried to evict the okupas in 2008, but their presence doesn't seem to disappear. Today it's also a social centre.
Centro Comercial Las Arenas
Housed in a historical building, the Centro Comercial Las Arenas may have the most unique and beautiful structure of all the shopping centres in Barcelona. Having a large circular shape, Las Arenas was formerly called the Plaça de Toros de Les Arenes, a popular bullring which could seat up to 16,000 spectators. It was inaugurated in 1900, in a neo-Moorish style.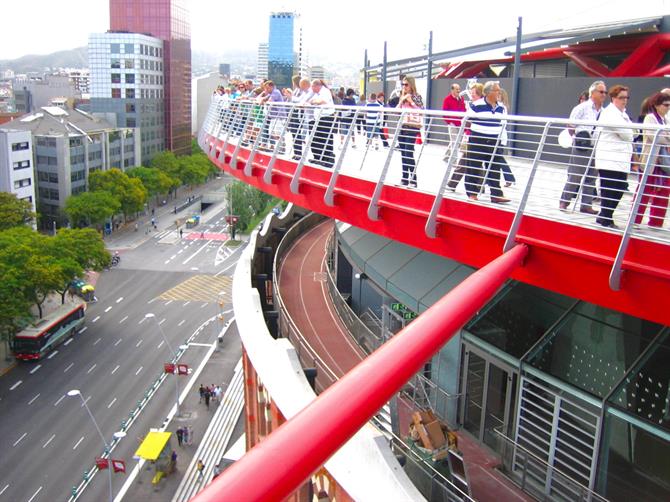 Bullfighting never reached its popularity in Catalonia, so the last bullfight here was in 1977. (Eventually bullfighting was completely banned in 2012.) The bullring stood empty for decades until 1999 when the City Council proposed to turn it into the shopping complex it is today. They also decided to conserve the memorable brick facade.
Today, it has four stories of shops, restaurants, and bars. There's also an event space in the copula. The best part? The roof terrace. It has a 360º panoramic view, where you can see the Parc de Joan Miró, Plaça Espanya, and more.
Want more shopping? Check out more shopping areas in Barcelona
here.
Parc de Joan Miro
Bearing the former name "Parc de l'Excorxador" (slaughterhouse park), this park was built in what used to be the grounds where animals were butchered for food. Now, its name is dedicated to the famous Catalan artist, Joan Miró, whose colourful works are scattered beautifully throughout the city. His 22-foot sculpture "Dona i Ocell" ("woman and bird") was erected in 1983, a few months shy of the artist's death.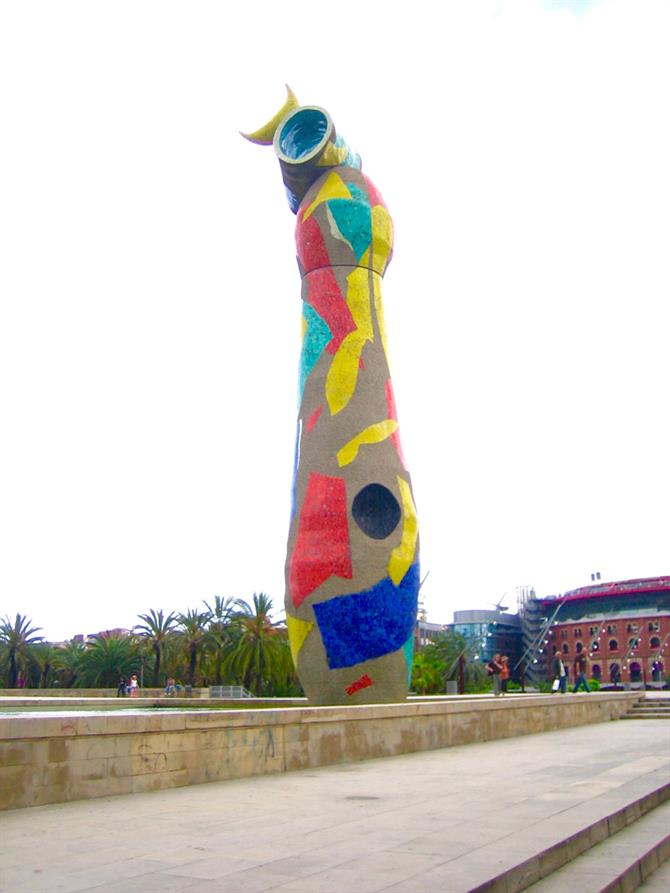 If you look carefully, the actual shape of the sculpture looks like a phallus, but on one side, it has another feature of a woman's body. (I'll leave it at that. Talk about being openly suggestive.)
The park itself is spans four city blocks long, and it's a great place to walk around if you're near the Centre Comercial Las Arenas or Plaza Espanya. It's got plenty of pine trees for shade, a small decorative pool, snack bars, sports facilities, and four playgrounds for the kids. Get to know other Barcelona parks
here.