Spain has almost 5000 km of coastline with resorts sitting in the Mediterranean sea and others on the Atlantic ocean. From the Costas to the islands whether you seek rugged bays in isolated locations or urban stretches with all the amenities, find Spanish beaches for all tastes. Historically, tourists have favoured the beaches along the Costa del Sol and the Costa Blanca, and whilst you can find stunning beaches in these locations, discover some of the other beaches in Spain.
Port de Pollensa - Mallorca
Sotavetnto - Fuerteventura
Monsul - Andalusia
Cala Turqueta - Menorca
Cala Sant Vincent - Ibiza
Cala Fonda - Catalonia
La Concha - Basque Country
Ses Illetas - Formentera
Las Catedrales - Galicia
Bolonia - Cadiz
Port de Pollença, Mallorca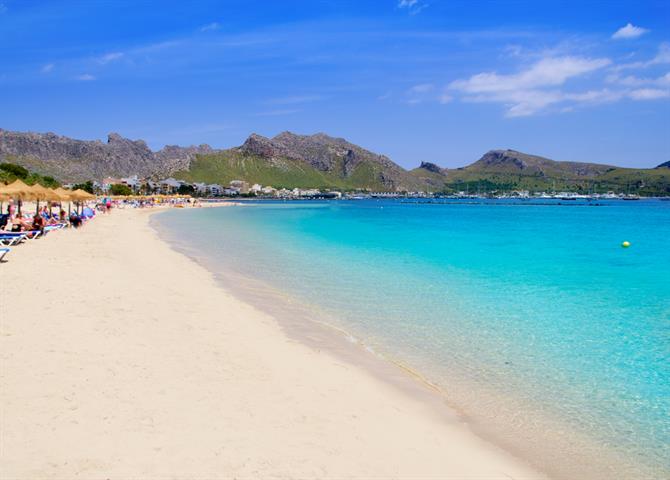 Mallorca is home to some of the nicest beaches in Spain. At Port de Pollensa beach the Serra de Tramuntana provides the perfect backdrop to sparkling turquoise waters and fine white sand. If you are renting a beach villa in Mallorca, this bay is a must-visit, not only for the stunning scenery but also for the long promenade with traditional shops and restaurants.
- See more of Mallorca's best beaches.
Sotavento, Fuerteventura
More of Spain's best beaches can be found in Fuerteventura. Perfect for beach hopping, this Canary Island is a QualityCoast award-winning destination. Find beaches for families and those ideal for surfing. Sotavento is an untouched natural beach in the south-east of Fuerteventura stretching over 9 km of soft golden sand and turquoise waters. At low tide, a sandbank appears between 100 and 300 metres from the shore creating a 3 km long shallow lagoon ideal for practising watersports.
- See more of the best beaches in Fuerteventura.
Monsul, Andalucia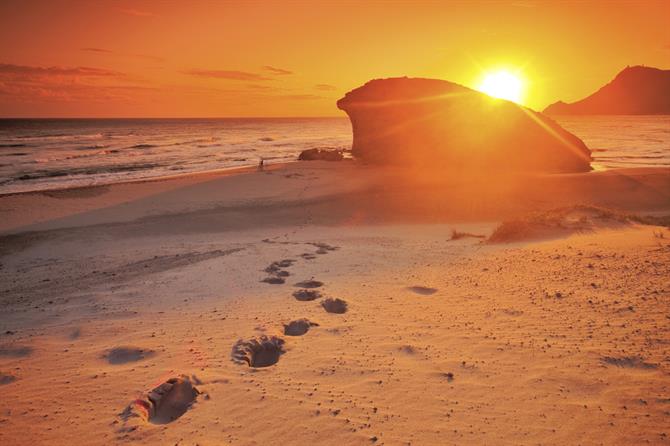 The Coast of Almería makes for an ideal tour some of Spain's most beautiful beaches. Home to the Parque Natural de Cabo de Gata, this is Andalucia's longest protected coastline and one of the best destinations for a holiday in southern Spain. The beauty of the beaches in Cabo de Gata is breathtaking. The lack of mass tourism in the area has meant this location has kept its rugged natural form. Here you will find the famous beach of Monsul, considered by Stephen Spielberg, who filmed an Indiana Jones movie here, to be "the best beach in Spain".
- Discover some of the best beaches in Andalusia.
Cala Turqueta, Menorca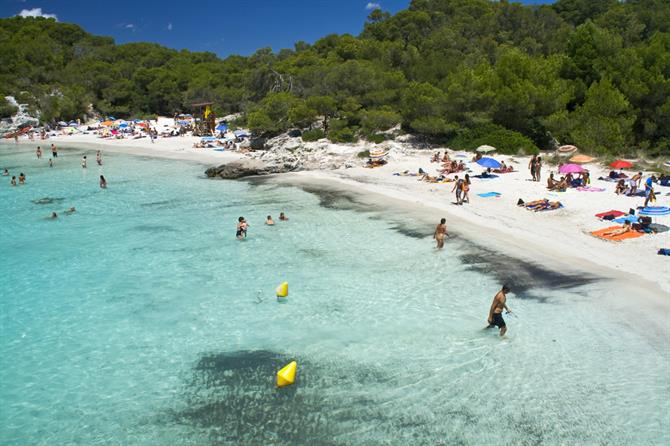 Reach Cala Turqueta from Ciutadella in the south of Menorca. This beach is well signposted from the road as it is the most famous beach in Menorca. You can also walk here from Cala Macarella, along the Camí de Cavalls. This pine-fringed cove is arguably one of the best beaches in Spain due to its fine white sand and unbelievably clear turquoise waters.
- See more of the best beaches in Menorca.
Cala Sant Vicent, Ibiza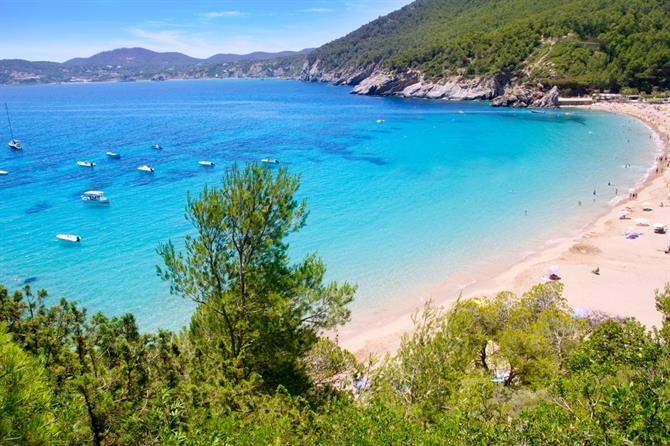 Some of Spain's best beaches can be found on the island of Ibiza. Cala de Sant Vicent attracts people to its shores with bright fine sandy beach and crystal clear, shallow water, which shimmers in many shades of turquoise. Hills and beautiful pine trees protect this bay and just 200 metres above this cala you will find the most important archaeological cave on the island - Cova des Culleram.
Cala Fonda, Catalonia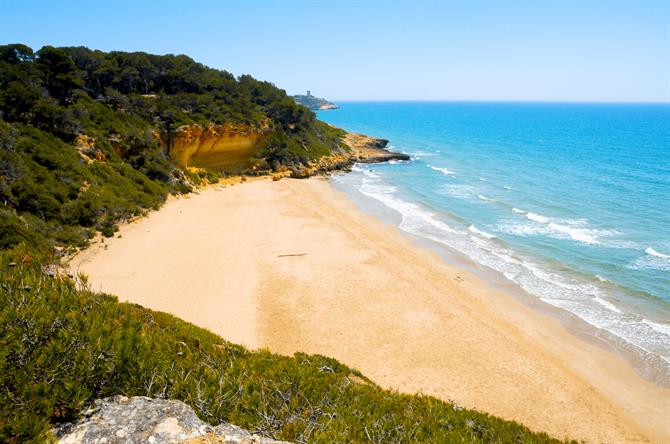 Cala Fonda in Tarragona, also called Waikiki (after the best beach in Hawaii) is a hidden paradise between cliffs. This beach is popular with nudists, due to its intimate location and the fact its not so easy to access. Cala Fonda makes it onto the list of the best beaches in Spain as it remains a spot of rugged beauty along this coastline with lush vegetation, limestone cliffs and calm shallow waters.
La Concha, Basque Country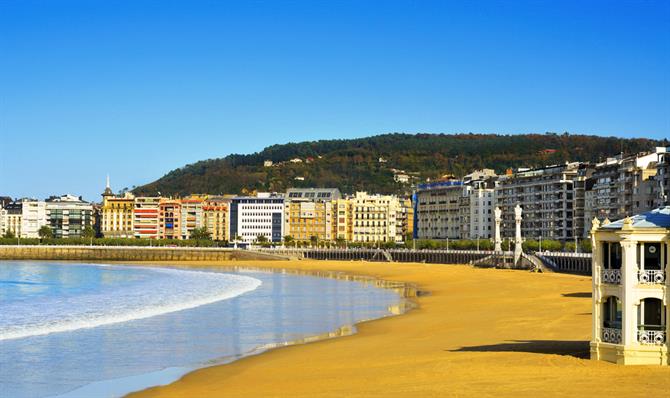 San Sebastian is one of the best beach destinations in northern Spain. The locals are understandably proud to have Spain's famous urban beach on their doorstep. La Concha gets its name from its shell-like shape, Which has made it one of the most popular beaches in the whole of Europe. The natural surroundings are spectacular as the beach is framed by two mountains, Urgull and Igeldo with fine golden sand and breathtaking views of Santa Clara island.
Ses Illetas, Formentera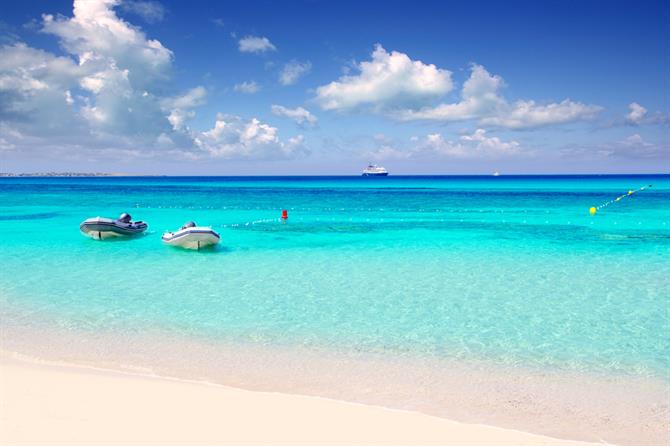 It's easy to disconnect on holiday in Formentera, the least developed island in the Balearics. Illetas Beach beach was traditionally popular with the island's artistic community and hippie community This beach is one of the most iconic in Spain due to its special pink-hued shoreline and bright turquoise waters, synonymous with those in the Bahamas or Indonesia.
As Catedrais, Galicia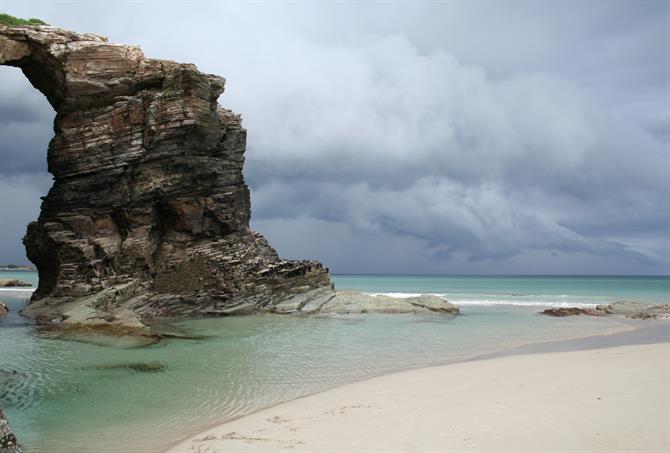 Las Catedrales, this is a true gem in the region of Galicia. The official name is Praia de Augas Santas - Holy Waters Beach. Famous for its distinctive rock formations, it is best to visit at low tide to be able to walk around the beaches caves and arches. To protect the beach there is a restriction to the number of visitors per day so you need to request an online authorisation for the day you want to go.
- Discover more of the best beaches in Galicia.
Playa Bolonia, Cadiz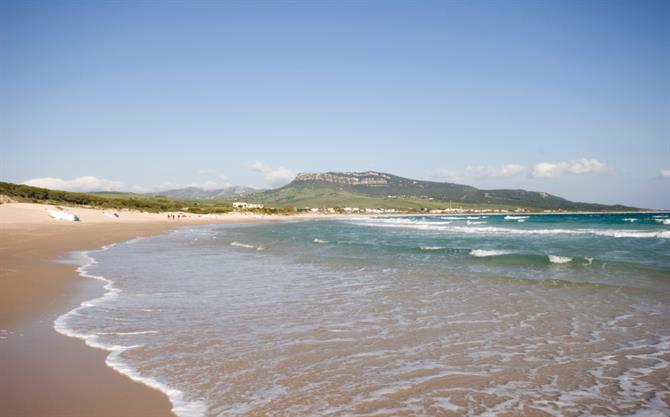 Rent a villa in a somnolent village in Cádiz and visit Bolonia Beach. Probably the most famous beach in Cadiz, it stretches over 4 kilometres with fine white sand and turquoise sea contrasting with lush green vegetation. The protected dune system is moving constantly due to the frequent strong winds. Check the strength of the winds before you go as sometimes they are too strong for bathing.