Costa del Sol, the classic destination of sun, sea and sand but with much more to offer. Located in the south of Spain (Andalusia), the Costa stretches from Nerja (east) to Manilva (west).
This holiday destination lets you enjoy 320 days of sunshine a year, to explore natural landscapes, beaches, history, museums and the gastronomy. Malaga - Costa del Sol airport has connections with more than one hundred European cities, with established connections to the UK.
So if you are thinking about booking a holiday here are some of the
places to stay on the Costa del Sol
, a destination that attracts millions of tourists from all over the world every year.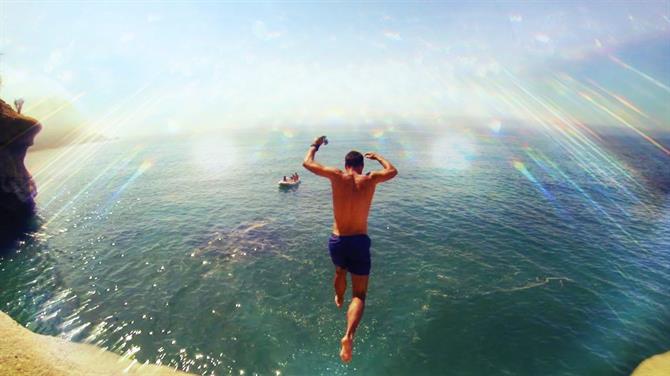 Or if its the famous night life that you seek from the Costa del Sol have a look at staying in Nerja, Torremolinos, Marbella and the center of Malaga guarantee the best nightlife.
Where To Stay On The Costa Del Sol For A City Break
Culturally, Malaga City has a lot to offer with the Picasso Museum, Carmen Thyssen Museum, Pompidou Center and the
Russian Museum
as well as La Alcabaza - a grand palatial forte. Malaga is an attractive city and has become one of the most visited European cities.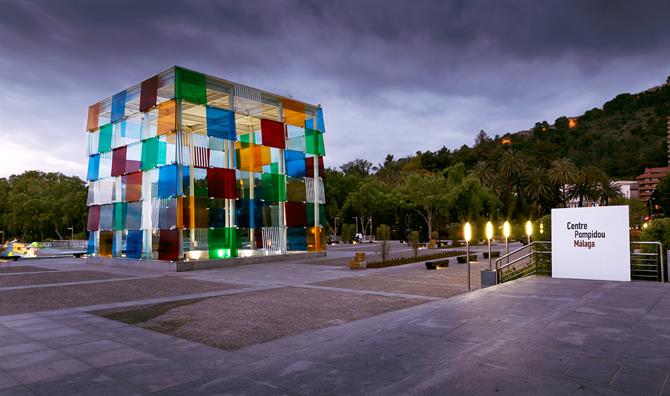 Malaga has some excellent vegetarian restaurants as well as vegan and gluten-free options too. Those looking for gluten free restaurants in Malaga, here is a couple of suggestions:
Cañadú vegetarian restaurant, which in addition to obtaining very good reviews among its guests, is a restaurant that offers a gluten-free menu clearly indicated and suitable for celiacs (location: Plaza de la Merced 21).
The ice cream shop Yummy Helados (location: Calle Molina Lario 6) only sells gluten-free ice creams.
There is no visitor who arrives to
Malaga city
and does not stop at
El Pimpi
. This legendary winery frequently visited by hundreds of national and international artists, has a restaurant where you can taste fried fish from Malaga bay (pescaito frito), including a glass of Malaga sweet wine.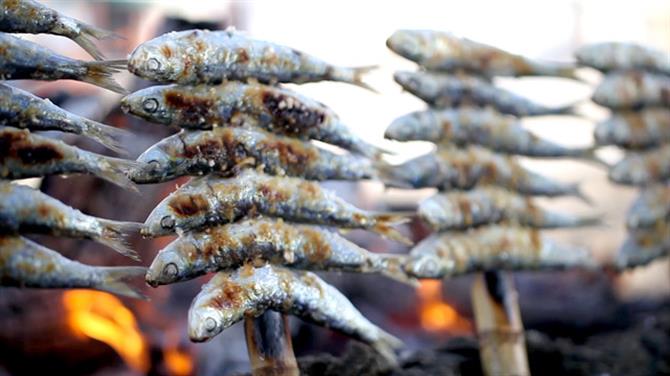 To catch a beautiful sunset, go to El Balneario (Baños del Carmen), a 3 km walk from the city center along the beach promenade (you can also get there by bus line number 11) which stops at the entrance. This place used to be a spa for the bourgeoisie during the 1920s decade. Today the place is the best location for your sunset photos in Málaga.
Want to see the city from a bird eye view? Head up to Gibralfaro Castle to have a panoramic view of the city, the classic picture of any Malaga postcard. Once there, you will have a wonderful view of the
Malaga Port - Muelle Uno
, the Cathedral, the town Hall Gardens, the Malagueta Bullring and Malaga Park.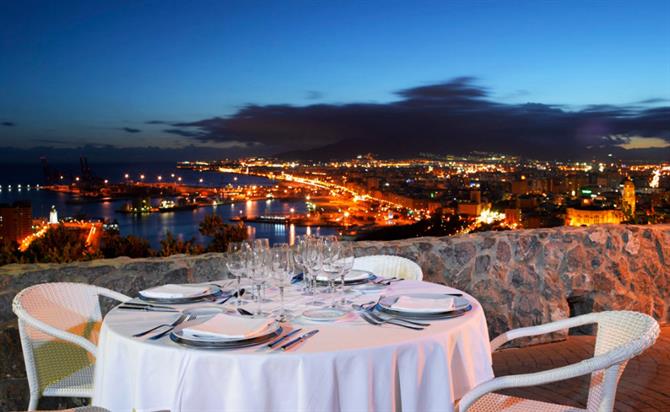 To complete a day in the city, have a drink in one of the cafe terraces located in Plaza de la Merced (famous for being Picasso's birthplace), and recover after a busy day of exploring this fantastic city.
A Beach Break On The Costa Del Sol
The family friendly beaches on the Costa del Sol are welcoming, many of which have great facilities and wheelchair access. On some parts of the coast there are nudist beaches as well as some of the most glamorous beach clubs (Marbella).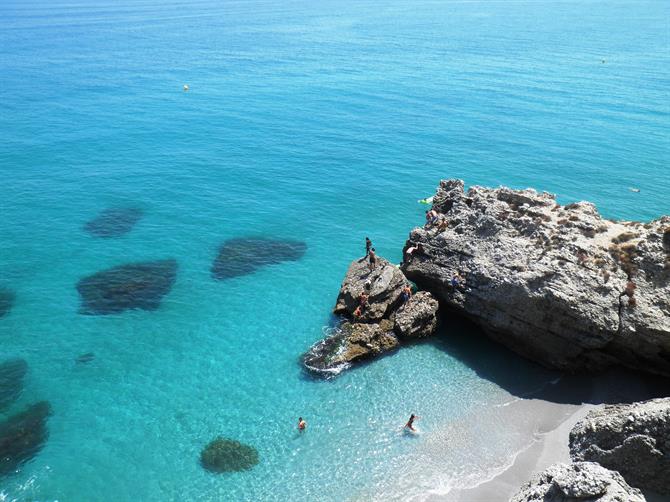 From Manilva to Nerja there are 161 kms of coastline, with beaches for all tastes and the best destinations to spend your holidays on the beach on the Costa del Sol.
If you are looking for
top beaches in Marbella
and prefer shallow waters, Cabopino beach is one of the most recommended. It is a family beach with all the facilities for spending the whole day. The most eastern side of the beach is sheltered by the Artola dunes, this is a naturist area and one of the favorite beaches among the gay community.
For a more natural environment, we recommend
spending your holidays in Nerja
. In fact, many Malaga locals love to spend their weekends on many of its impressive beaches.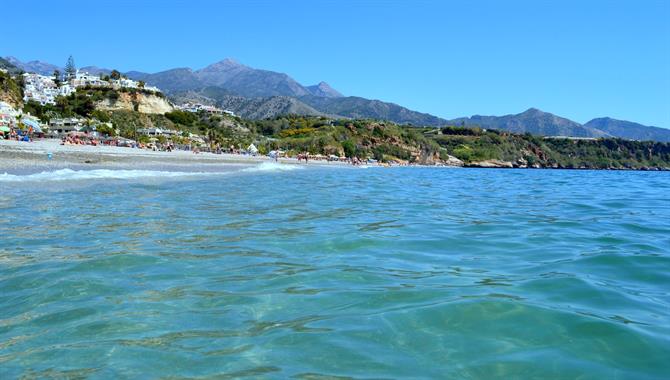 Three Nerja beaches that you can not miss:
Playa de Burriana is well known on Costa del Sol, not only for being an excellent and clean beach, but for having one of the most popular paella restaurants (Restaurante Ayo) right on the beach.
Playa de Maro is ideal if you want to try kayaking in crystal blue waters.
Playa de Calahonda is located just below the popular Balcón de Europa (one of the most visited places in Nerja) and is a busy urban beach. Bear in mind that the access is through a stairway.
A Luxury Holiday On The Costa Del Sol
If you are looking for luxury, welcome to Marbella. Marbella has some of the best beach clubs such as Ocean Club and Nikki Beach, where the price for a sunbed can cost you more than 200€ a day. In addition to this you will find the most extravagant and expensive fashion boutiques in Puerto Banús, as well as luxury yachts and gourmet restaurants.
The Golden Mile in Marbella and Puerto Banus are the most glamorous destinations on the Costa del Sol. They have always been the meeting points for the Marbella jetset and for all travelers looking for a luxury holiday on the Costa del Sol.
Take a look at the selection of luxury holiday homes in Puerto Banus and the stunning luxury villas in Marbella, ideal for those looking for the most exclusive and luxury holidays.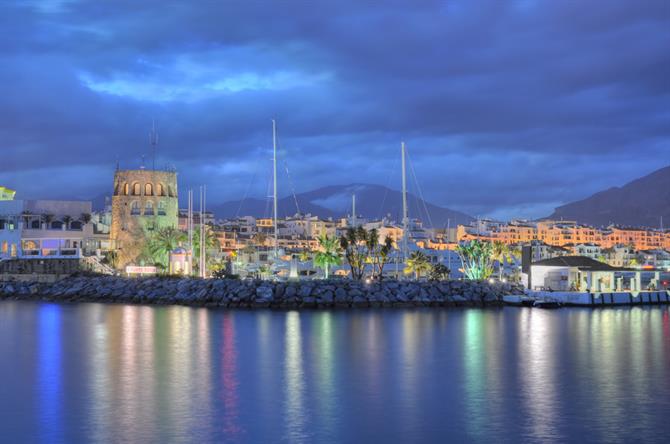 And talking about luxury, there is also a lot to say about eating out in Marbella. Some of the best Michelin stars restaurants are located in the area of Marbella. Dani Garcia´s restaurant and El Lago restaurant offer you a gourmet and Mediterranean experience.
For a piece of paradise, take a day to climb the mountains of Istán (15 km northwest Marbella). You will reach a wonderful natural place called
Charca del Canalón
, an almost secret place with waterfalls, natural pools and crystal clear waters to enjoy an authentic luxury day in the mountains.
A Budget Holiday On The Costa Del Sol
If you want to holiday on a budget, first check out some excellent
cheap accommodation on the Costa del Sol
, all along the coast. Some areas have accommodation where you will not pay more than 30€ per night for a clean well equipped apartment.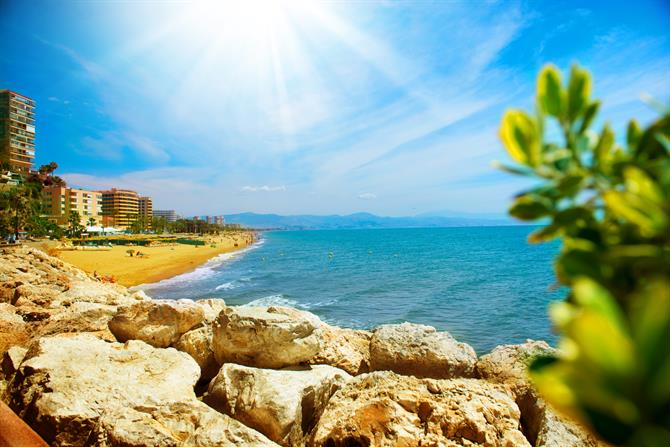 Destinations such as
Torremolinos
, Mijas Costa and Fuengirola are a perfect fit for travelers looking for a holiday on Costa del Sol without spending a lot of money, while still being able to enjoy nice beaches and restaurants/bars with good value for money.
A
holiday home in Torremolinos
will cost you from 30€ per night. We recommend a walk along La Carihuela beach and visit Battery Park where you can ride a bike, skate or have a picnic.
In Torremolinos you can eat well and at an affordable price at the Ajopicao Restaurant (Calle Casablanca 20), a typical Spanish restaurant where you will also have the opportunity to taste "ortiguillas" and the famous red tuna from Cádiz.
From 30€ per night you can rent a
holiday home in Fuengirola
. If you are travelling with children you can take them to see BioParc Fuengirola which is more than a zoo, it is a breeding center for endangered animals. For the best view of Fuengirola, take a trip on the tourist train Fuengirola City Tour which begins its journey on the Paseo Marítimo (beach promenade).
From 36€ per night there are lot's of
places to stay in La Cala de Mijas
, a popular but small town beach destination. La Cala de Mijas beach has a lot of great family facilities and access for wheelchairs.
If you are in Mijas Costa, we recommend walking along the Senda Litoral, a wooden boardwalk that runs along the beach. This path is perfect for a relaxing walk and feel the fresh air of the sea.
Family Holiday Destinations On The Costa Del Sol
If you are coming on holiday with your children, be assured that the Costa del Sol is one of the best destinations for a family holiday. Let´s take a look at some areas that might be suitable to keep the whole family occupied including some great family activities that your kids will love on the Costa del Sol.
Nerja is a beautiful and quiet village popular with families, with a warm microclimate, and the range of family activities in the town and the surrounding areas.
If you want to take an unforgettable kayak trip, there is a beach in Nerja where you can book single or double kayaks to spend a few hours of fun in the sea. You can rent your kayak at the Burriana beach through an specialized company called Educare Aventura. You can also rent kayaks at Maro beach through Salamandra Aventura. Get ready to see an impressive waterfall, rocks shaped like animals and even underwater caves. It is a highly recommended activity to practice with friends or family.
Another good place for families to visit is the Nerja Caves. They are located only 3 km east of Nerja and very close to Maro beach. Enter into a journey between wonderful stalactites and stalagmites in these huge open caves.
To spend some more time with nature take a few hours and hike in Nerja along the Chillar River. It is a route that crosses the river and most of the time with your feet being submerged under the water (don't forget bathing clothes and comfortable sport shoes)
La Cala de Mijas is another top family destination throughout the year. If you go during the summer months, you will probably want to visit the Aquamijas water park with its 5 water slides, minigolf, climbing wall and jacuzzi.
For a quiet place on the Costa del Sol, consider a holiday in Estepona. Surprise your family by taking them to see dolphins or head to the fishing port of Estepona where sailboats are rented for family excursions. With a little bit of luck you will see dolphins, and not only that, but you will also have an incredible view of the northern coast of Africa and even the Rock of Gibraltar.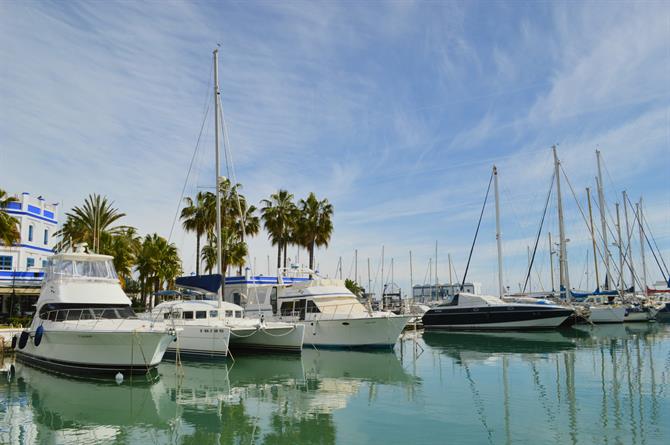 Speaking of Gibraltar, do not miss the chance to take a day trip to Gibraltar to visit the famous Barbary Macaques. It's only 47 km by car or bus, but remember to take your passport to cross the border.
A Rural Holiday On The Costa Del Sol
The inland towns on the Costa del Sol offer you another kind of holiday in the countryside, but at the same time are close to the beach. You can probably see the sea from every point.
Take a trip to some of the Costa del Sol white villages, mountains and impressive hiking trails.
If you are attracted by the picturesque Andalusian white villages with their clean and cobbled streets, walk around and enjoy the balconies adorned with colorful geraniums. These villages are the destinations to stay for your
rural getaway on the Costa del Sol
.
Stay in Frigiliana
: just 6 kilometers from the coast (Nerja), it is one of the prettiest white villages on the Costa del Sol. The most characteristic attraction is its Mudejar neighborhood, still on an impeccable state of conservation. Expect narrow and steep streets, and monuments that are worth a look: La Casa de Apero, el Torreón, la Iglesia de San Antonio or Palacio Renacentista de los Condes de Frigiliana are some of the most visited places.
You can also take a small hiking trail through Frigiliana and climb the "Cerro de la Sabina" mountain, to reach the old Arab castle of Lízar, also known as Frigiliana Castle (Castillo de Frigiliana). It is definitely worth a visit to get a good view of the town.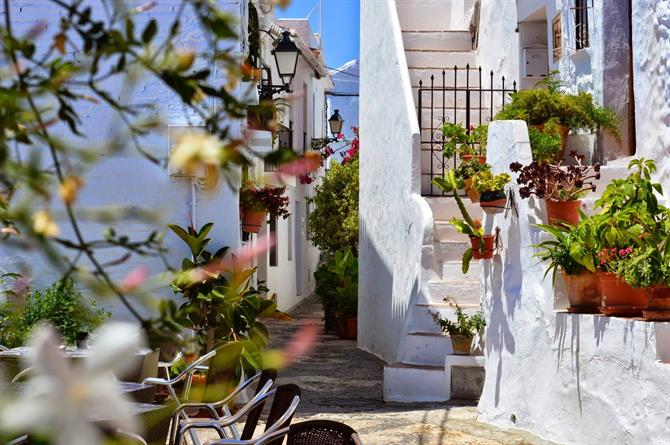 To see another beautiful white village,
stay in Mijas Pueblo
, (western Costa del Sol), not far from Benalmádena, Fuengirola and Marbella. Only 8 kilometers separate this town from Mijas Costa. Here you have a similar picture as Frigiliana, a beautiful andalusian white village, colorful flowers on the balconies, as well as great views to the sea.
This place is also famous for "donkey-taxis", a tourist symbol of Mijas. This is probably the only place in Spain where you can take a ride on donkey to see the main tourist attractions.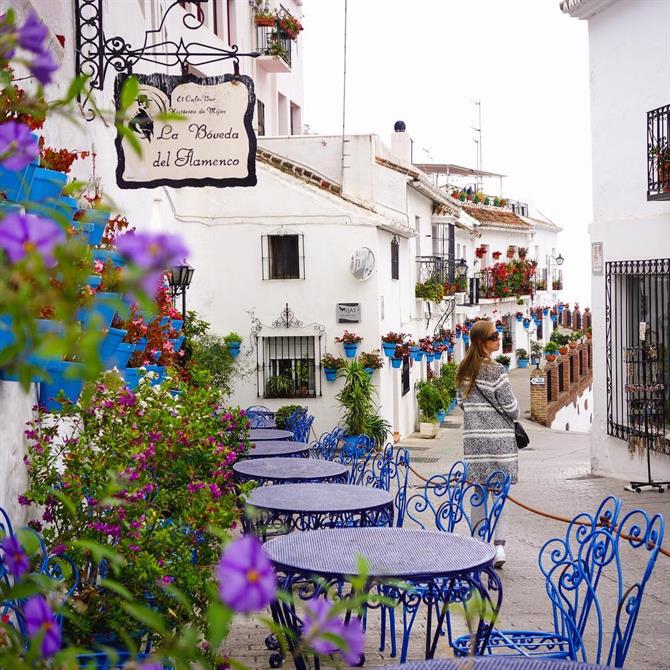 If you have a sweet tooth, visit the Mayan Monkey chocolate factory in the center of Mijas Pueblo. You also have the option of visiting their cafeteria to try handmade chocolates, or even take some chocolates home as a souvenir. They also run chocolate making classes, great to keep the kids happy.
Close to the coast with a more "typical Spanish" atmosphere is the upper part of Benalmádena. Only 6 km separate the
houses in Benalmádena Pueblo
from the vibrant life of the coast, but without losing sight of it. From Benalmádena Pueblo you have beautiful views of the sea.
Discover these white villages, less crowded than the coastal area and enjoy the charms of a typical Andalusian town.
Where To Stay For Nightlife On The Costa Del Sol
The privileged geographical location of the Costa del Sol is great for spending some unique nights under the moonlight.
Nightlife on the Costa del Sol
can take you from the terraces and disco´s of Puerto Marina in Benalmádena, to the beach bars in Torremolinos and Nerja, as well as to the most exclusive nightclubs in Marbella, and cocktail rooftops in the center of Malaga.
Nightlife on the Costa del Sol is so complete that you can choose to party both day and night.
You can start with a party on a boat with your friends, including DJ, drinks and obviously sea views, which you can book in Puerto Marina (Benalmádena). It is one of the most popular options for visiting stag and hen parties.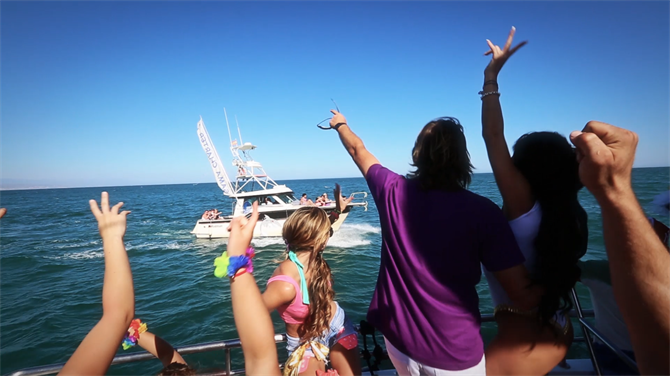 Not a big fan of boat parties? Then you may like to go to the
Marbella beach clubs
but you'll need to have your credit card ready, because dancing together with the high society has its price.
If you are looking for more relaxing evenings, Los Alamos beach in Torremolinos is a very attractive area for summer nights.
If you want LGBT friendly party scene, there are some spots in Torremolinos. Head to Discoteca Passion, located on Avenida Palma de Mallorca. A popular meeting point for the gay community.
In Nerja the best reference for nightlife is the famous Plaza Tutti Frutti (Tutti Frutti square). Here you have options for all tastes.
If you are more to dancing salsa and bachata, we recommend you go on a Friday to La Guarida (Plaza Tutti Frutti), or Saturdays to the Sala Rockefeller (Calle El Chaparil).
Do you prefer a drink or a cocktail and enjoying some breathtaking views? Head to the historical center of Malaga. Visit one of the
Malaga rooftops
with panoramic views of the city.
Terraza Club Chinitas (Pasaje Chinitas 3) is a rooftop in the historic center of Malaga, where you will get the best views of the Cathedral.
Batik
(in Calle Alcazabilla 12) is located next to the Roman Theater. The prices are affordable to enjoy your cocktail overlooking La Alcazaba.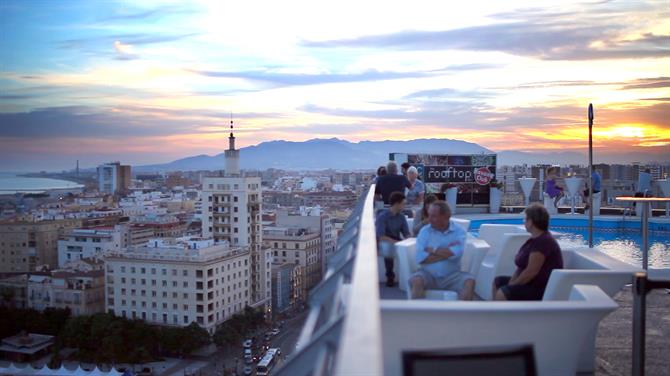 Knowing where and how to choose the right holiday destination can be hard. All this information will help you deciding where to stay on the Costa del Sol according to your preferences. You can be sure of one thing, from Manilva to Nerja there´s always a place to stay on Costa del Sol for all budgets.