There's plenty to see and do in Las Palmas de Gran Canaria. Here, in no particular order, are our top 12 tips for getting most out of your visit to the capital of Gran Canaria.
1. Explore the Neighbourhoods
No holiday to Las Palmas de Gran Canaria is complete without visiting the city centre. However, if you venture a little further out, your efforts will be rewarded. Visit one of the city's neighbourhoods such as Arenales, which is home to both the El Obelisco monument and the inspiring institution, Casa África.
Climb up to the colourful barrios of San Nicolas and San Juan. Sitting at the top of a cliff, this area was one of the first to be inhabited on the island. The irregularity of house shapes is due to the fact that the vast majority were self-constructed homes. Formerly more disadvantaged neighbourhoods, they are now an iconic image of the city. Wander down narrow streets and enjoy panoramic views of the city.
Another neighbourhood worth checking out is La Isleta, which is one of the most historic areas in the city. Here you'll be able to meet the descendants of those who stood up to the naval attack of the fearsome pirate, Sir Francis Drake. This admiral, who is a hero in England was considered more of a villain in Spanish waters.
2. Take a stroll
The residents of Las Palmas de Gran Canaria enjoy the second-best climate in the world. Understandably, they like to take advantage of this and one of the most popular ways of doing so is to cycle, skate or simply walk along the Avenida Marítima.
The Avenida Marítima connects the pretty fishing village of San Cristóbal, arguably the best place to eat in Las Palmas de Gran Canaria (especially if you're a fish and seafood enthusiast), with Playa de Alcaravaneras. Locals also enjoy taking a stroll through Triana - the city's main pedestrianised shopping area, part of the city's historic centre with a mix of emblematic buildings and architecture. Walk along the Paseo de Las Canteras promenade, situated along Las Palmas de Gran Canaria's premier beach - Playa de las Canteras. This promenade is best enjoyed with an ice cream purchased from one of the many parlours.
3. Hit Rock Bottom
Located on the doorstep of the city is a natural wonder called the Caldera de Bandama or the "Cauldron of Bandama". This volcanic crater and geological wonder is located towards the outer limits of the city. The city buses don't go out as far as Caldera de Bandama, instead, take a Global bus heading to Santa Brígida. You can then hike down to the bottom of the 200m-deep cauldron.
4. Discover Botanical Gardens
You can, however, take a city bus to within walking distance of Tafira's Jardín Botánico Viera y Clavijo. Gran Canaria's botanic garden is living proof that anything grows on the island. This garden displays both native and imported plants. Wander around exploring the impressive collection of flora including giant cacti as well as small lakes and streams.
5. Visit Las Palmas de Gran Canaria's Urban Village
Las Palmas de Gran Canaria is home to the Pueblo Canario, a facsimile of a traditional Canarian village in the heart of the capital.
There are free live performances of Canarian folk music here every Thursday afternoon and Sunday morning which you can watch from the comfort of a table on the outdoor terrace, although you'll need to arrive early to secure a seat. The Pueblo Canario also houses the Museo Néstor, one of the city's art galleries.
6. Hit the Beach
Of course one of the best things to do on Las Palmas de Gran Canaria is to visit one of its beautiful beaches. Most people head to one of Spain's finest urban beaches, Las Canteras and who can blame them. But if you prefer to walk on the wild side, visit the rough and rugged El Confital. This beach is famous for surfing with many important world championships being held here drawing professional surfers from all over the world.
Nudism is also allowed on this beach. Despite the good waves that are behind the reef that runs through El Confital, there is also a quiet bathing area as well as small saltwater pools and mini beaches to bathe safely away from the waves.
7. Explore English Heritage
To see Anglo-Saxon influences in Gran Canaria's capital, make your way to the Ciudad Jardín or "City Garden". An oasis in the bustling city, this neighbourhood was established by British residents who dominated the economic life of the region during the late 19th century. In this part of town, you will find many embassies and elegant residential houses set in small gardens, displaying various architectural styles.
As well as housing many of Las Palmas de Gran Canaria's most desirable residences, Ciudad Jardín is also home to the Holy Trinity Church which is the only place that organises fetes in the capital. As well as Parque Doramas, a beautifully landscaped park with water features, statues, a swimming pool and many plants.
8. Hipster Hangouts in Las Palmas de Gran Canaria
Local hipsters love the pedestrianised street that connects Bravo Murillo with the Plaza Cairasco. In Plaza Cairasco you will find many restaurants and bars with terraces. Find the vibrant atmosphere in places such as 200 Gramos and Vai Piano. Pérez Galdós is another great place, there is plenty of historic architecture to capture including the grand Palacete Rodríguez Quegles. Discover more of the best hipster hangouts in Las Palmas de Gran Canaria.
Spend a couple of hours browsing the vintage shops in Las Palmas. Visit Polonium 209 on Carretera del rincón, selling upcycled and pre-owned furniture from the 1940s to 1980s. Admire the items are displayed in a vintage-industrial setting. For vintage clothing, stop by Flamingos Vintage Kilo Las Palmas on Avenida Rafael Cabrera 7 and pick up pieces ranging from the 50s to the 80s at low prices.
9. Enjoy the Park Life
Another activity in Las Palmas de Gran Canaria, to visit one of the parks. With parks that are great for family days out, picnics and those perfect for a romantic stroll, choose one of the top ten parks in Las Palmas. Parque de San Telmo is between the districts of Arenales and Triana, right in the centre of Las Palmas. Admire the art-deco buildings and visit the open-air modernist cafe.
10. Market Town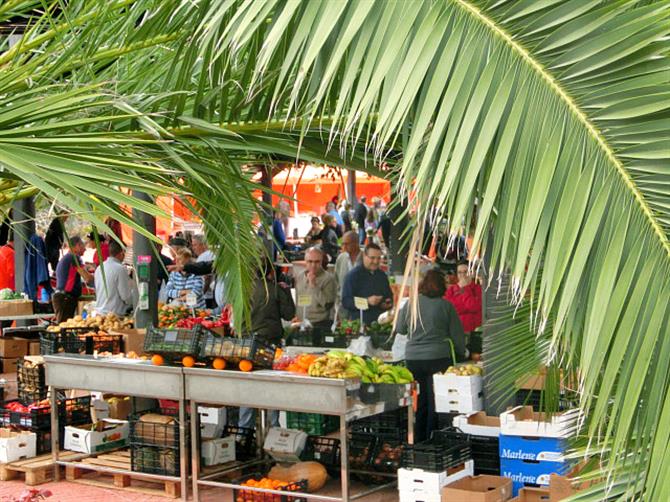 Every day is market day in Las Palmas de Gran Canaria. As well as weekly markets such as the Mercado Central, there are weekend events including Mercadillo de Vegueta which takes place on Sunday mornings where you will find handicraft market and displays of local singing and dancing. San Lorenzo's farmers' market just a 15-minute bus ride outside of the city. Pick up fresh local produce to make delicious meals back at your holiday home in Las Palmas.
The Mercado del Puerto is located by the beach and an excellent mix of tapas bars and stalls selling fresh produce throughout the day. At night, it is a popular drinking and tapas spot with locals and tourists enjoying the vibrant atmosphere of the city.
11. Relax in a Plaza...
One of the best things to do in Las Palmas de Gran Canaria is to sit back and relax in a plaza. As Spain's 9th-largest city, Las Palmas has many beautiful and bustling squares or plazas. Most of them are filled with busy bars and atmospheric restaurants for you to enjoy a beverage, snack or meal. A fine example is Plaza Cairasco, which houses one of the city's coolest establishments.
Plaza del Pilar Nuevo is located in the historic centre and a former gathering place for the women who came to collect water from the central pillar which is the focal point of the square today. Surrounded by stunning buildings from different eras this charming square is where the Craft and Culture Market is held on Sundays.
12. Visit Vegueta
For a historical tour of Las Palmas, start in Vegueta. Here, you can follow in the footsteps of Christopher Columbus at Casa de Colón and another museum worth visiting in the area is Museo Canario. There are also lots of art galleries in Vegueta such as CAAM and the Centro de Cultura Contemporánea San Martín. In addition, Vegueta is home to one of the top 10 religious buildings in Las Palmas de Gran Canaria - The Catedral de Santa Ana which takes pride of place in one of the main Plazas in this neighbourhood.